Registered User
Join Date: Apr 2012
Location: Ridgecrest
Posts: 888
Quote:
Originally Posted by
slickrocksteve
View Post
Ole "Slickrock" has a new to him Wrangler!!

2006, TJ, bone stock, and silver to match his 1 ton Ram 3500!!
Will be going to Goler and camping in the TJ, instead of the XJ, and NOT bringing the pop up trailer, as I don't have a hitch yet. Have the Tri-Tip already marinated, and ready, the Jeep is packed except for the Ice and Frozen stuff, as well as I need MORE BEER!!
MOST important, need more BEER!!
So stoked up, and ready, I think I will have to keep looking at my shorts for "skid marks"!! LOL!!
Way to go Steve! I will try to swing by sometime to see you guys!
---
2004 Jeep Wrangler Rubicon
Member of the Gear Grinders 4WD Club
I am outta here in just a few minutes (work) then home to pack a last few items and off I go! Be good boys and girls while I am gone! LOL
---
HI N LO DESERT RUNNERS-AV, CA. Because Life Begins Where The Pavement Ends!(c)1998
Registered User
Join Date: Apr 2012
Location: Ridgecrest
Posts: 888
Well it was good to see you Dave, Steve, Bill, Berry, and the others, sorry can't remember all of your names.
It was good to get out and spend some time with you and even though I could not stay the night it was fun. Wife was supposed to be out of town for the weekend but got sick on Friday, that and I found out late friday our furnature would be delivered Sunday morning. The stars were way out of align huh?
See you again some time!
---
2004 Jeep Wrangler Rubicon
Member of the Gear Grinders 4WD Club
It was a great trip all in all.

My Dad, myself and our good friend Steve met at my house to finish loading a few items and caravan out from Lancaster, Ca. to Goler, Ca. on Thursday night, early enough to secure a the Edith E. Cabin. Unfortunate that the entire Goler area down by the flats has been vandalized to such a completely sad state there is nearly nothing left in that area. It appears POS and sad examples of humans have proceeded to apply the same decor to the Edith E. Cabin. I remember when this cabin is really quite nice, habitable and a wonderful shelter in horrible weather. It is nearly beyond repair. Just a truly sad state.

We unloaded the necessary items, built a fire and relaxed a little bit before finally turning in for the night. Breakfast around the fire was nice while watching the sun slowly crest the ridgeline immediately west of camp, across Goler Gulch/Wash. Thank you Steve for that coffee! Having had enough of the sad site, we made our way over to Bonanza Gulch to set up camp for the remainder of the trip. Most of the cabins in that area are still in wonderful shape. My group and family have been heading out to this area and mostly stayed in Bonanza Gulch since 1998. Certainly not nearly as long as some folks. But, most definitely long enough to see the wrath of irresponsibility, carelessness and even intentional damage, i.e., shooting windows, trash....the usual shenanigans of those types. It was saddening to say the least. But, none the less, Bonanza as a whole is still a real nice area. However, on the way from Goler to Bonanza, we had few minor problems impeding our travels. We had a cooling fan that did not want to cooperate, causing a little overheating; a cold air intake that isn't fashioned correctly and sucked up extremely hot air truly messing with the EFI's calibration...it was STILL great because we were out on a trail, no one around and NOT at work! Once we made it to Bonanza, we unloaded again and set up for the weekend!

Friday night we grilled some nice little steaks over my homemade BBQ/Smoker (all made from junk at my house for FREE!). It worked great!

Saturday morning, up relatively early and Steve ALREADY had the coffee on! Thanks again Steve! We restoked our fire, set up to cook and did some leftovers and breakfast burritos. Then, I headed out to higher ground to get both signal and better line of sight for the two-way radio and the cell phone, as I had another small group of 4-5 people in two different rigs expected Saturday morning around ten. This is where organization fell apart a bit, lol. It basically took some 2.5 hours to make contact and FINALLY meet up with my expected friends. That was an adventure in itself leading a full size Dodge Cab plus size 4 WD Pickup Truck loaded with a pretty heavy and good sized cab over camper! Towing a trailer with a 650 Dirt bike in the back! Followed by a Montero Sport.....I lead them SLOWLY up Mesquite Canyon to EP 15 and over toward Bickel Camp and then Bonanza. That was a slow.....I mean to say SLOW going process. I never got to lead anyone out wheeling the trails Saturday. Once lead to camp, we all set them up and by then, began to think about simply relaxing (I had been driving the XJ for 4-5 hours virtually straight by now) and making dinner and tossing back a few cold ones. This is precisely what we did. Saturday night, I fired up the homemade BBQ/Smoker and placed the chicken pieces that I had been marinating since Thursday afternoon strategically on the grill and our friends loaded up some great veggies packs in foil and we waited patiently for our dinner, while growing hungrier by the minute smelling that tastiness over the fire! Saturday night, we were joined by our friend Jeff_R-C for a few hours and had a great visit. It sucked he couldn't stay as he had obligations Sunday. But, it was great to see one of the nicest off-roading folks I have ever met. Not to mention seeing his awesome rig personally!

Steve had made a perfect Tri Trip and provided us with some super delicious sandwiches while on the trail Sunday! Super yummy stuff! On Sunday, we headed out and up Bonanza to check out remnants and old remains, foundations, water pumps and wells and managed to get a little hiking in while checking out various rocks and panoramic views. I managed to get a few pics. But, some of the others along on this trip took several each as well. So, we should have a nice batch ultimately. After spending some time up that way toward the Protected Wilderness, we headed back to camp, had some lunch, tidied up and headed down Last Chance Canyon to the Dutch Cleanser Mines, stopping occasionally for pictures and even a couple of petroglyphs! I personally hadn't been down that way in quite some time so this was a nice treat to refresh my memory and see the beautiful contrast of colors and the diversity in terrain and soil. We hiked around in the hills for quite some time taking pics and finding all sorts of wonderful pieces including some crystals! Very, very cool day indeed!

Heading back to camp for one last time, I noticed a rattle under the XJ and could feel it through the floor. It turned out a LCA bolt had worked loose over the 3 days of driving all over those hills. Back at camp, I put a wrench to everything and all was well. We packed up for our last time this trip and headed out into the sunset, stopping at the EP15/HWY 14 entrance to air everyone back up and give everything a once over before hitting the pavement (oh how I hate that word)!

Despite a sort of slow start it turned out to be a great trip with really good people!

Here's a few pics. I will work on photobucket and share the link sometime this week.
---
HI N LO DESERT RUNNERS-AV, CA. Because Life Begins Where The Pavement Ends!(c)1998
---
Last edited by mojavedave; 02-24-2014 at

01:22 PM

. Reason: additional info
Not to be out done, I have a couple of pics to post....
YES!
THAT is the way past to the other canyon, and to adventures you have NOT seen...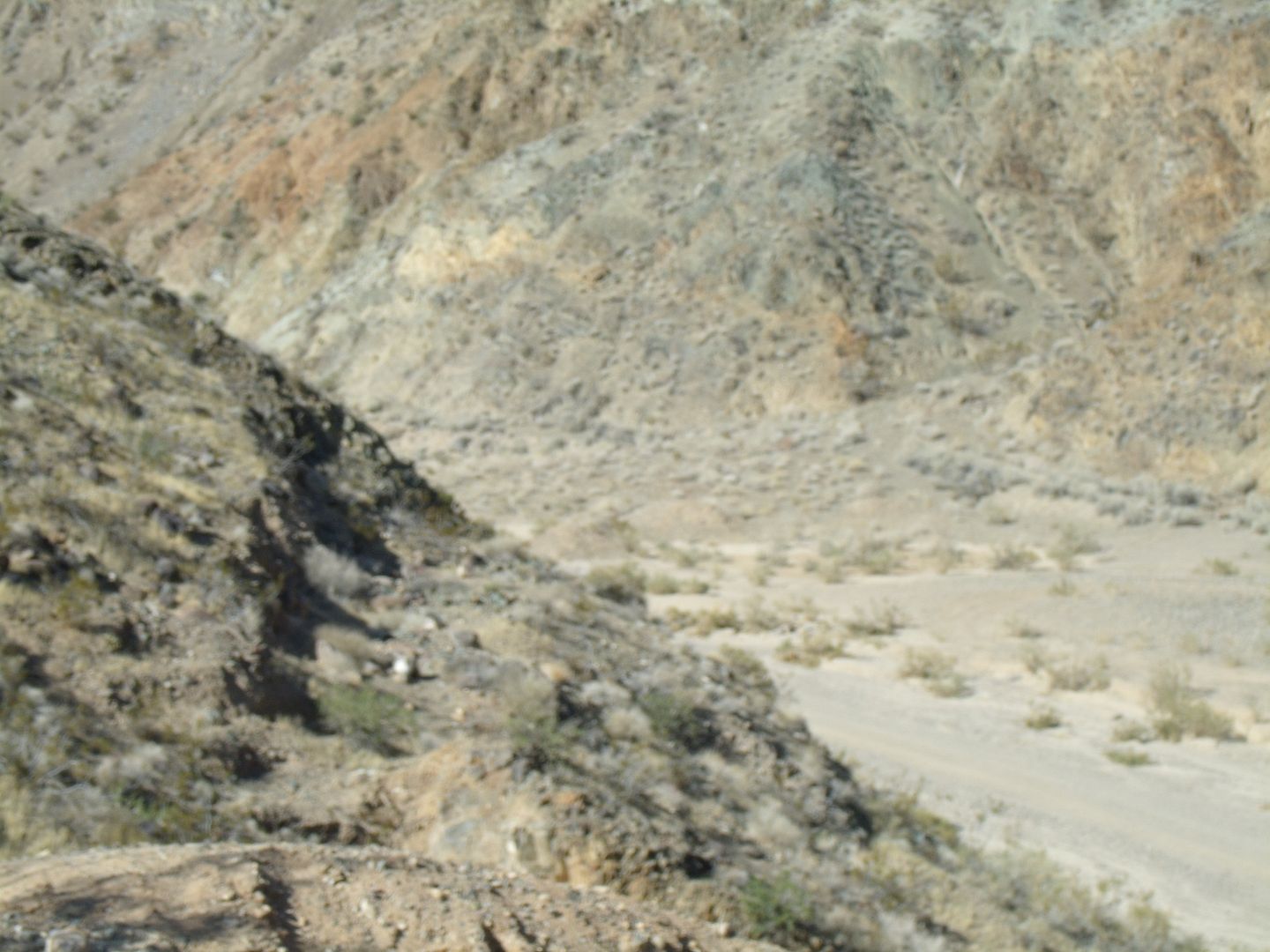 the pink tuft, and black over lay of basalt lava, makes for some cool contrasts!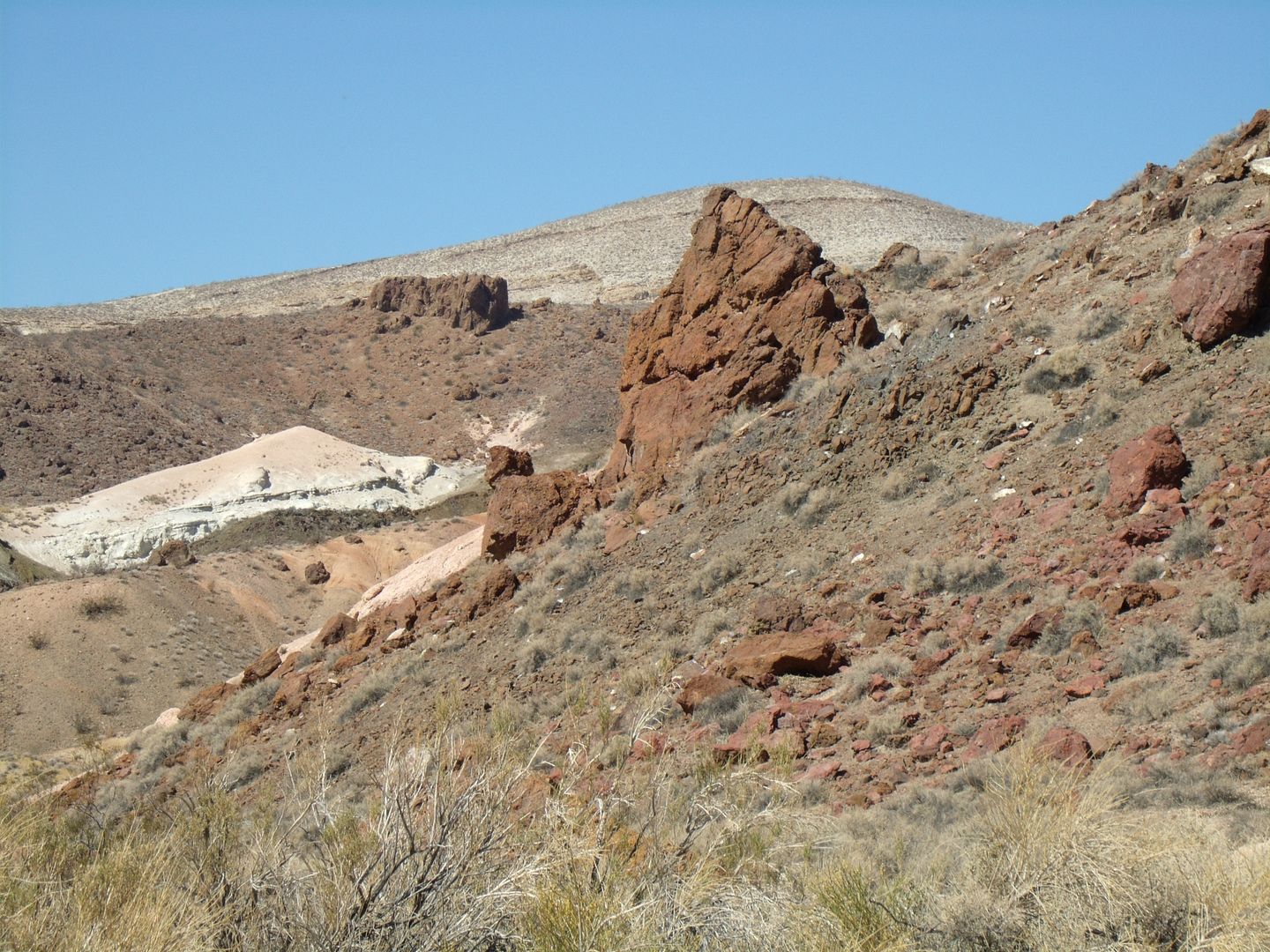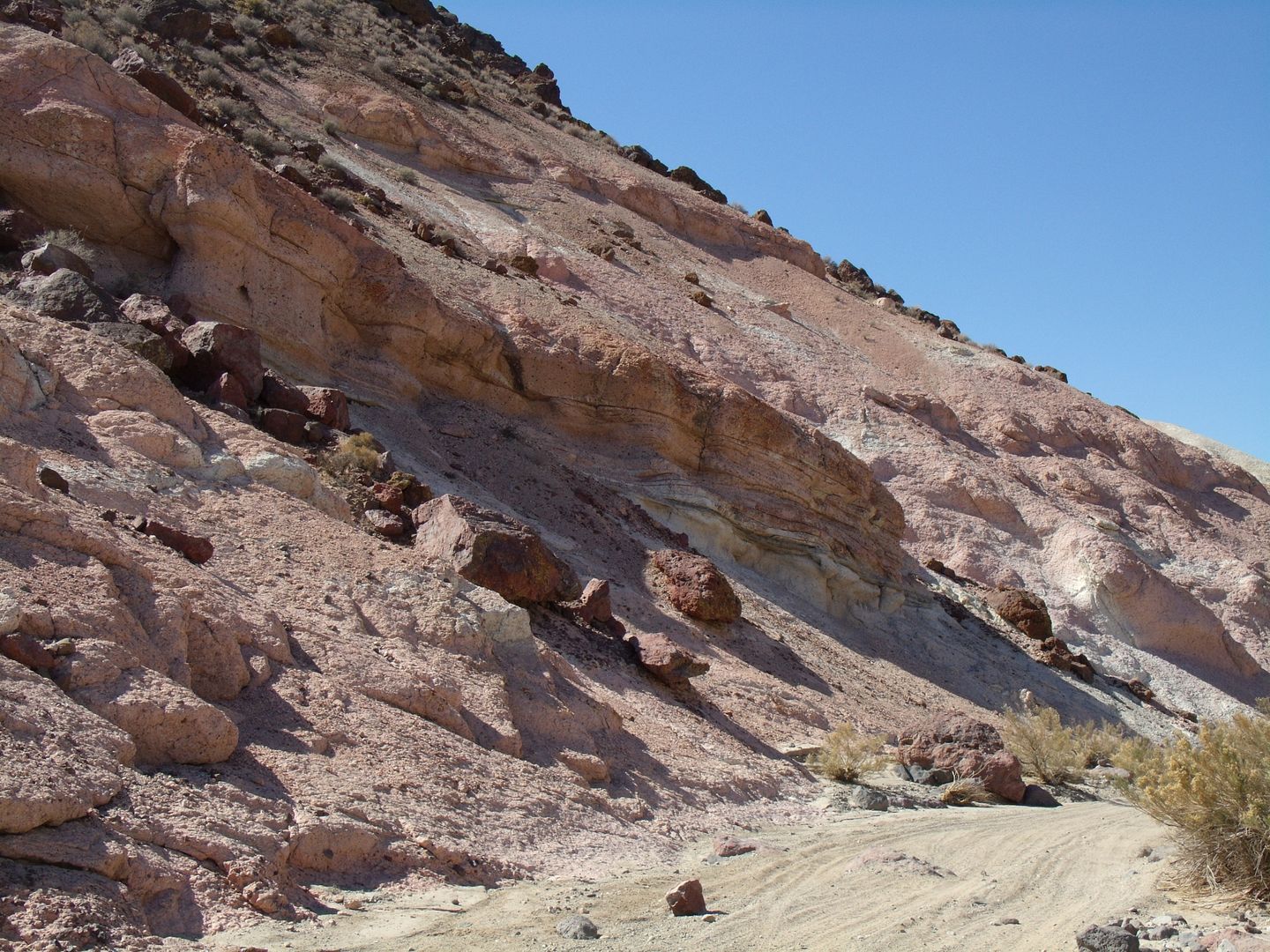 Some of my pics have those awful people in them, but we persevere and look past them to the scenery!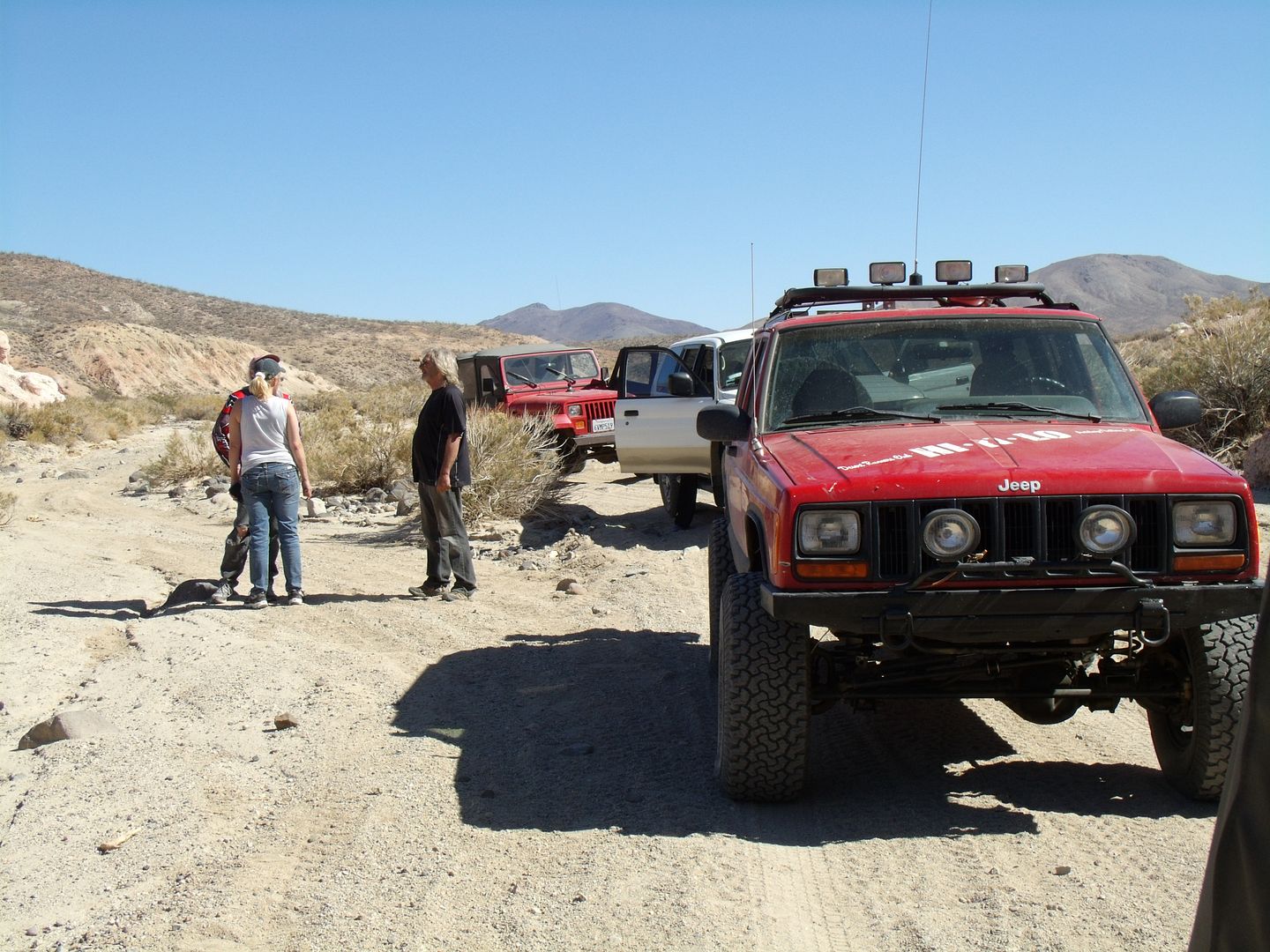 some of the petroglyphs in Last Chance. I do not say where, as some knot heads may try to remove them for a souvenier.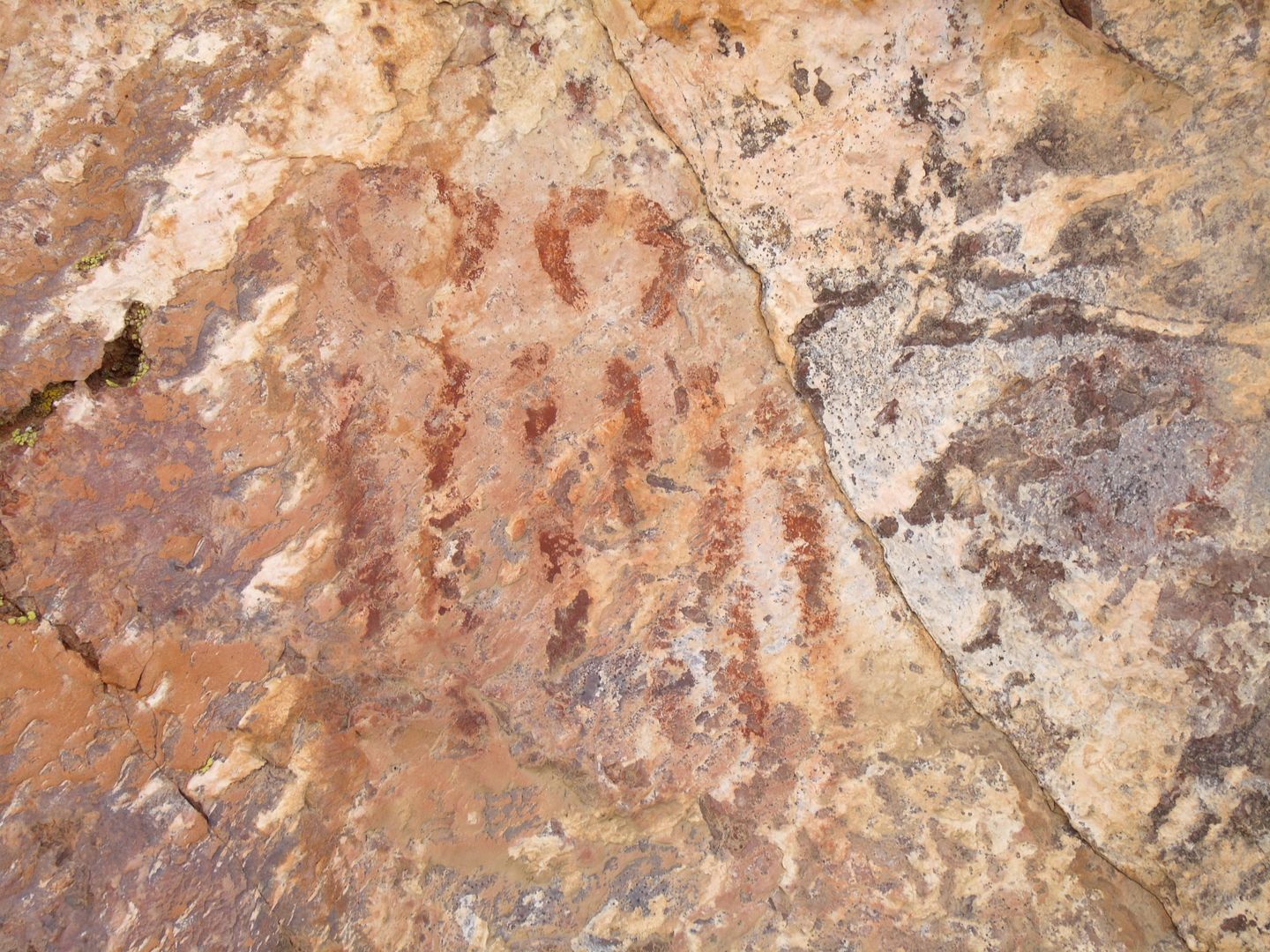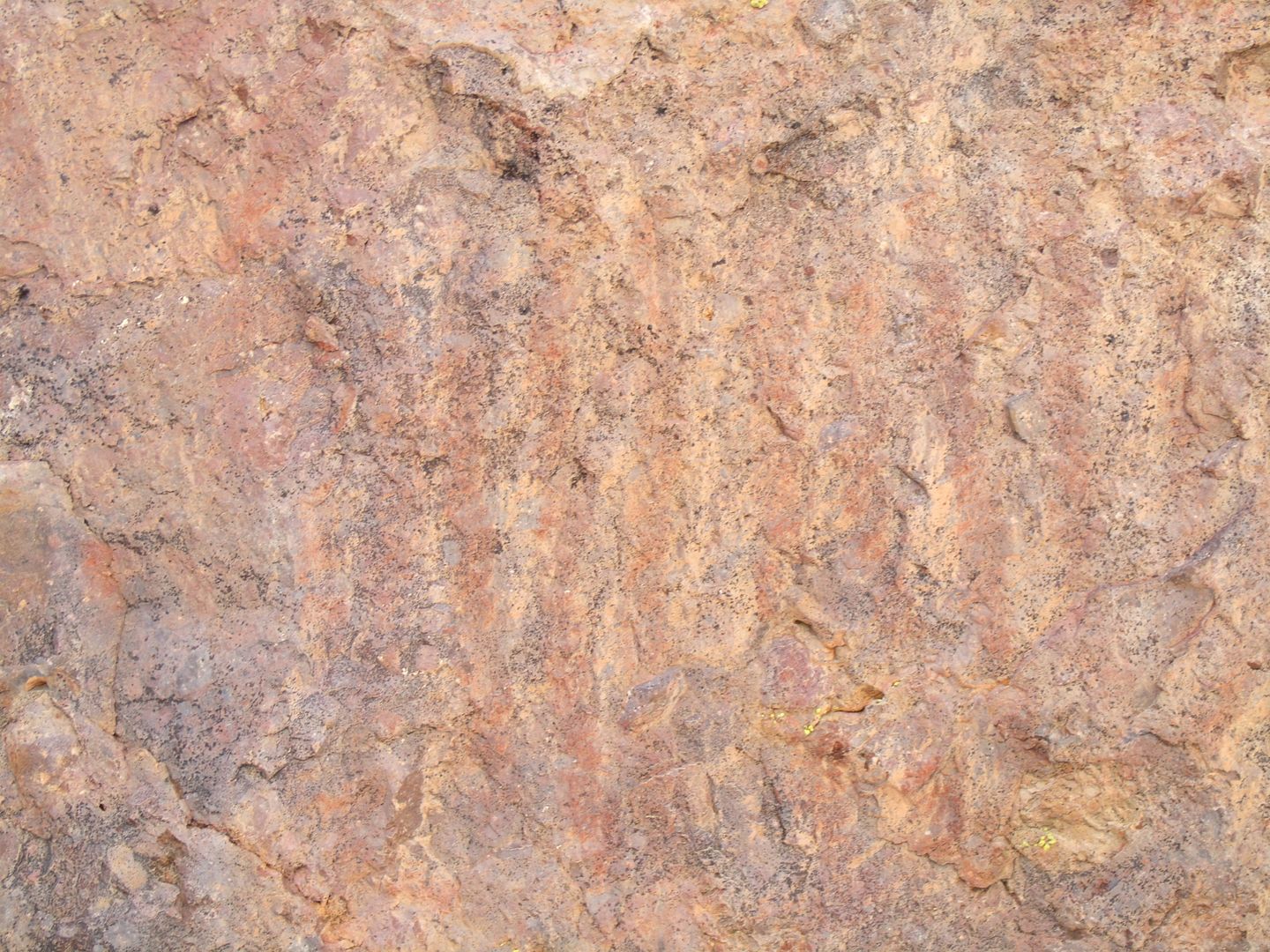 trails...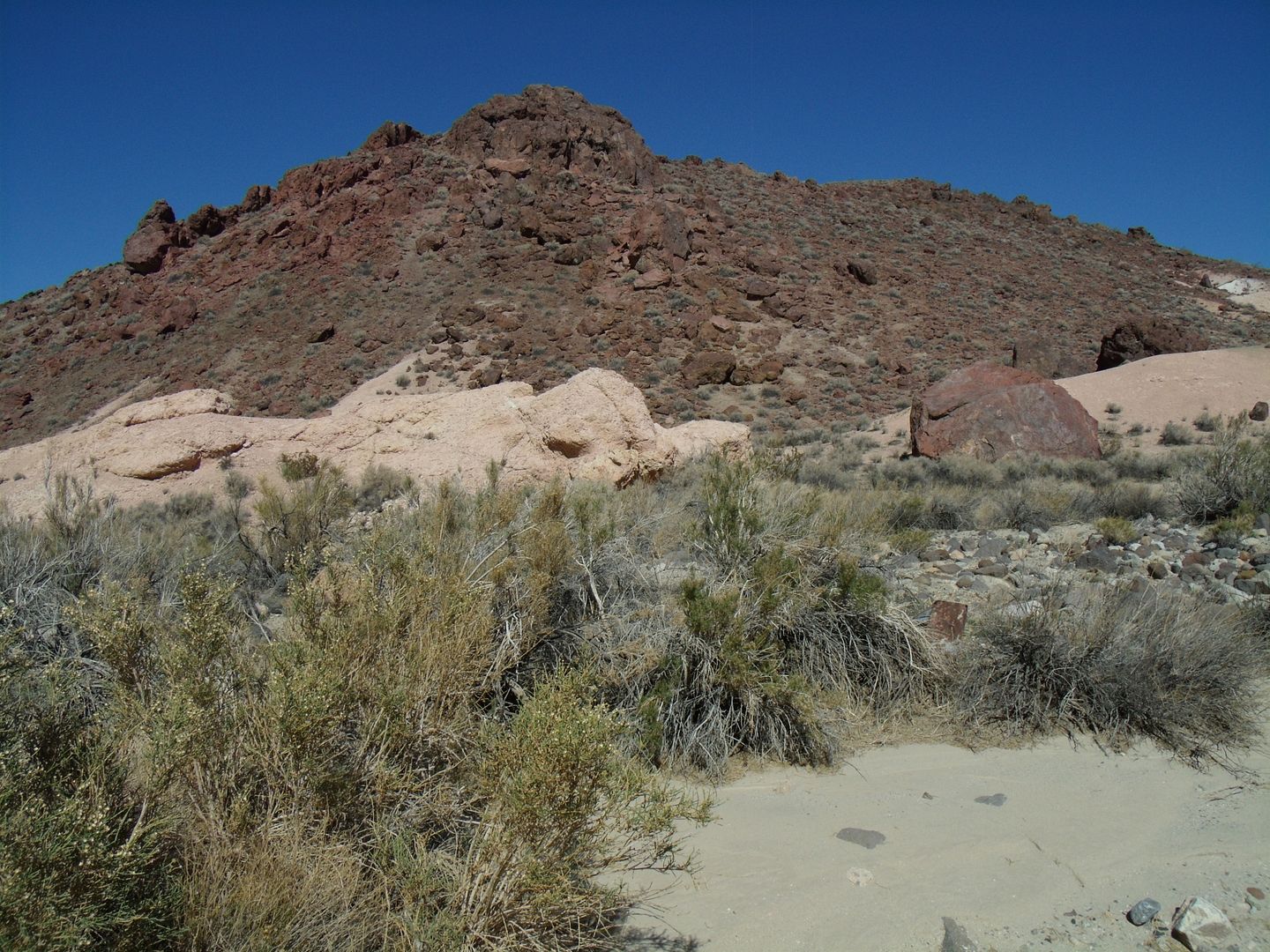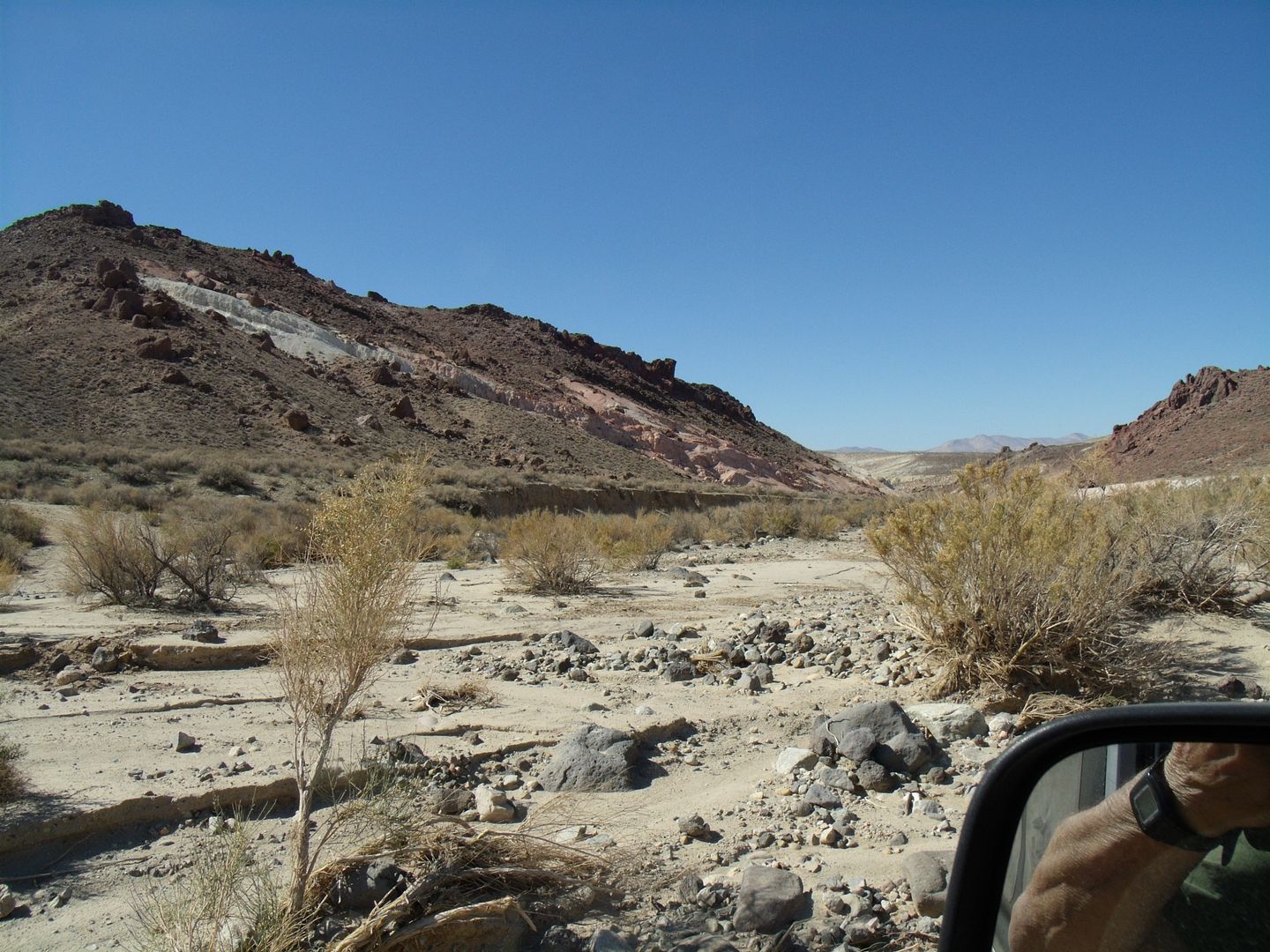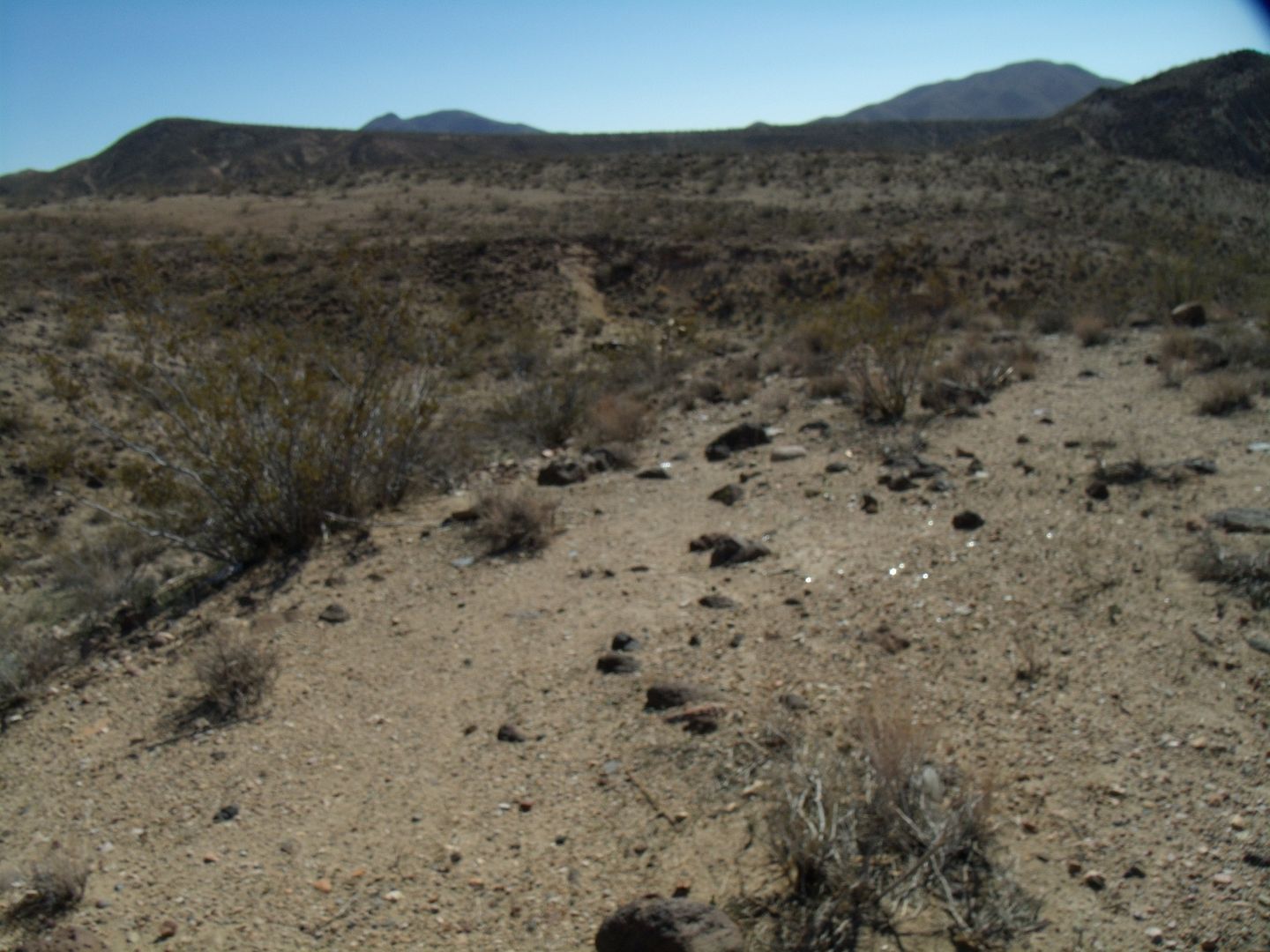 UMMMMM...tri tip!!
and chicken off the barbie!...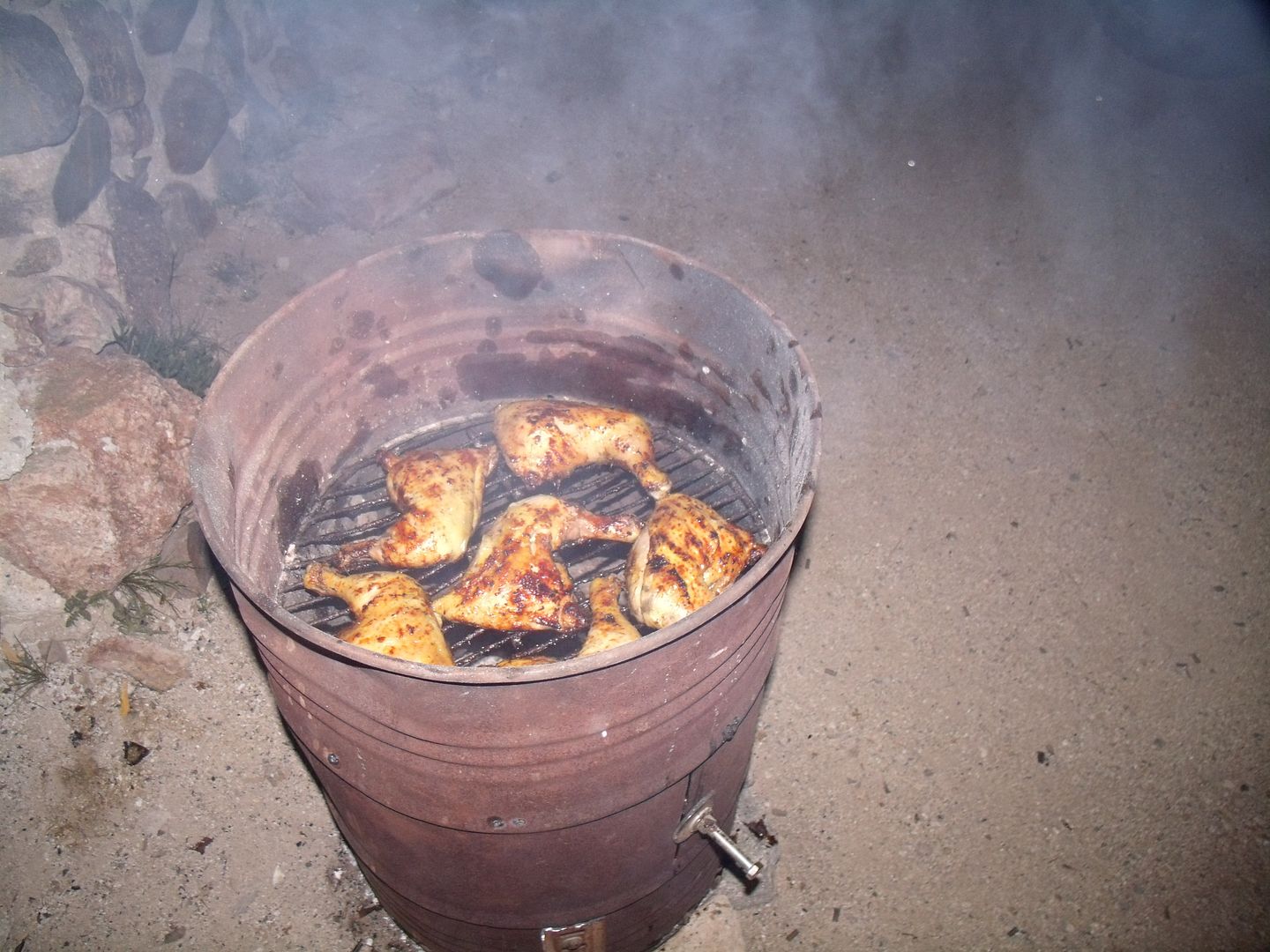 Jeff in Ridgecrest came by in his Rubi that night!!..
Of course he showed up in time for dinner!!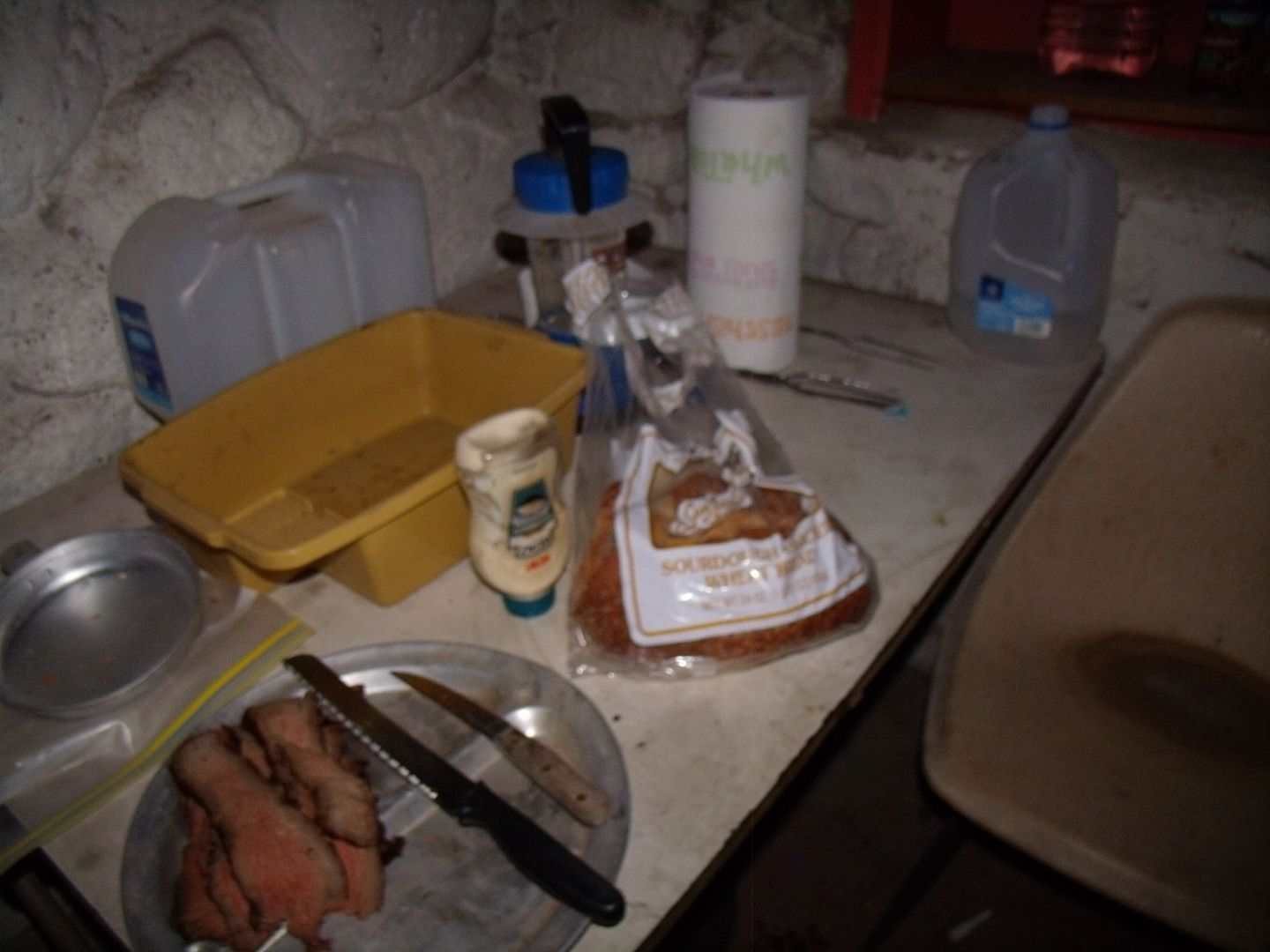 This is the "Joni-Jack" Cabin at the "Two Hearts" mining claim.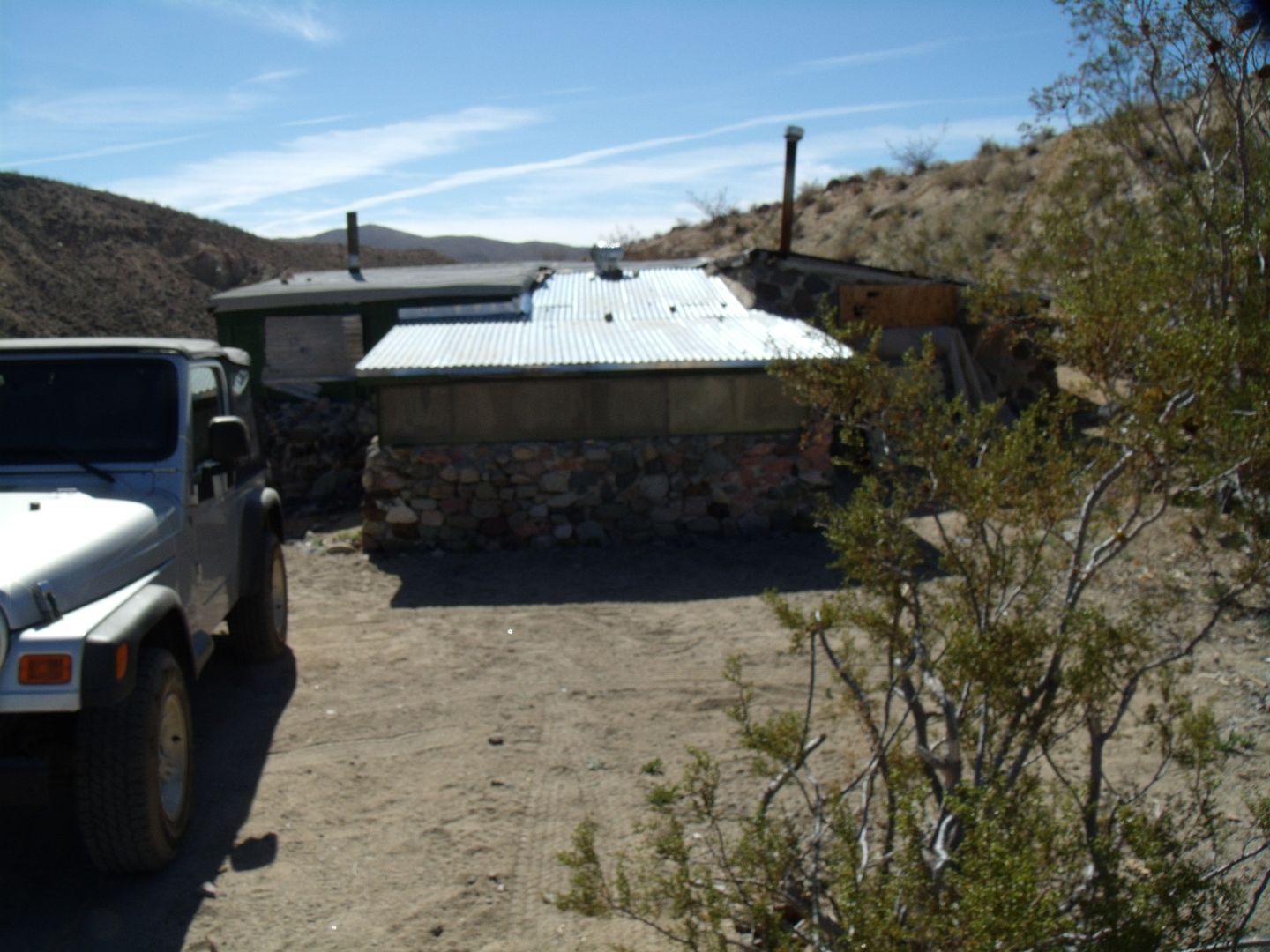 The bunks I slept on. I slept on the bottom, and put my gear on top, so the kangaroo rats did not rummage through them...
the cabin also has a separate room with a double bed, and two living room/cooking areas, as well as a wood heater...
Of course who can forget the "Facilities" house....
Even though we did not get to explore ALL the canyons, and places out here, we had a good time, drank a lot of beer around the campfire, and ate lots of both red and white meats with lots of beans, eggs, noodles, bisquits, gravy, bacon, coffee, chips, even SPAM!!
Pics
---
Thanks Steve for the pics. You got some real nice ones in there!
---
HI N LO DESERT RUNNERS-AV, CA. Because Life Begins Where The Pavement Ends!(c)1998
Some how, some of my pics got deleted. I'll try to replace them now.....
Facilities....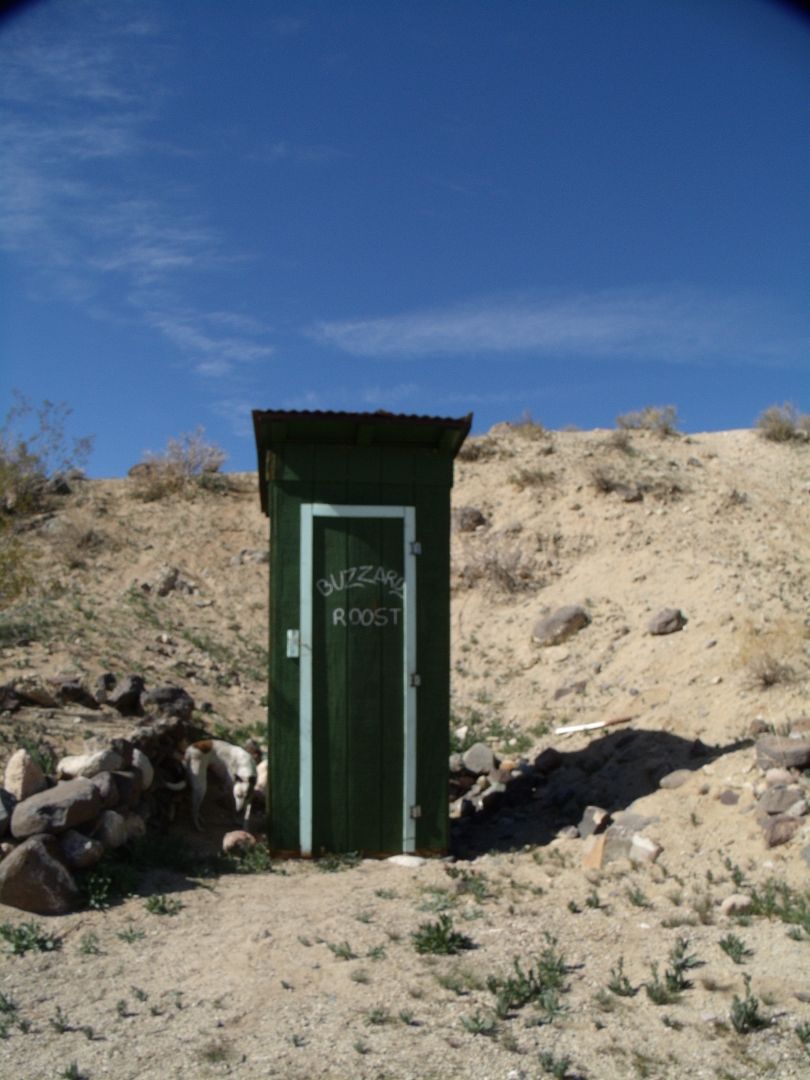 double bed in other room...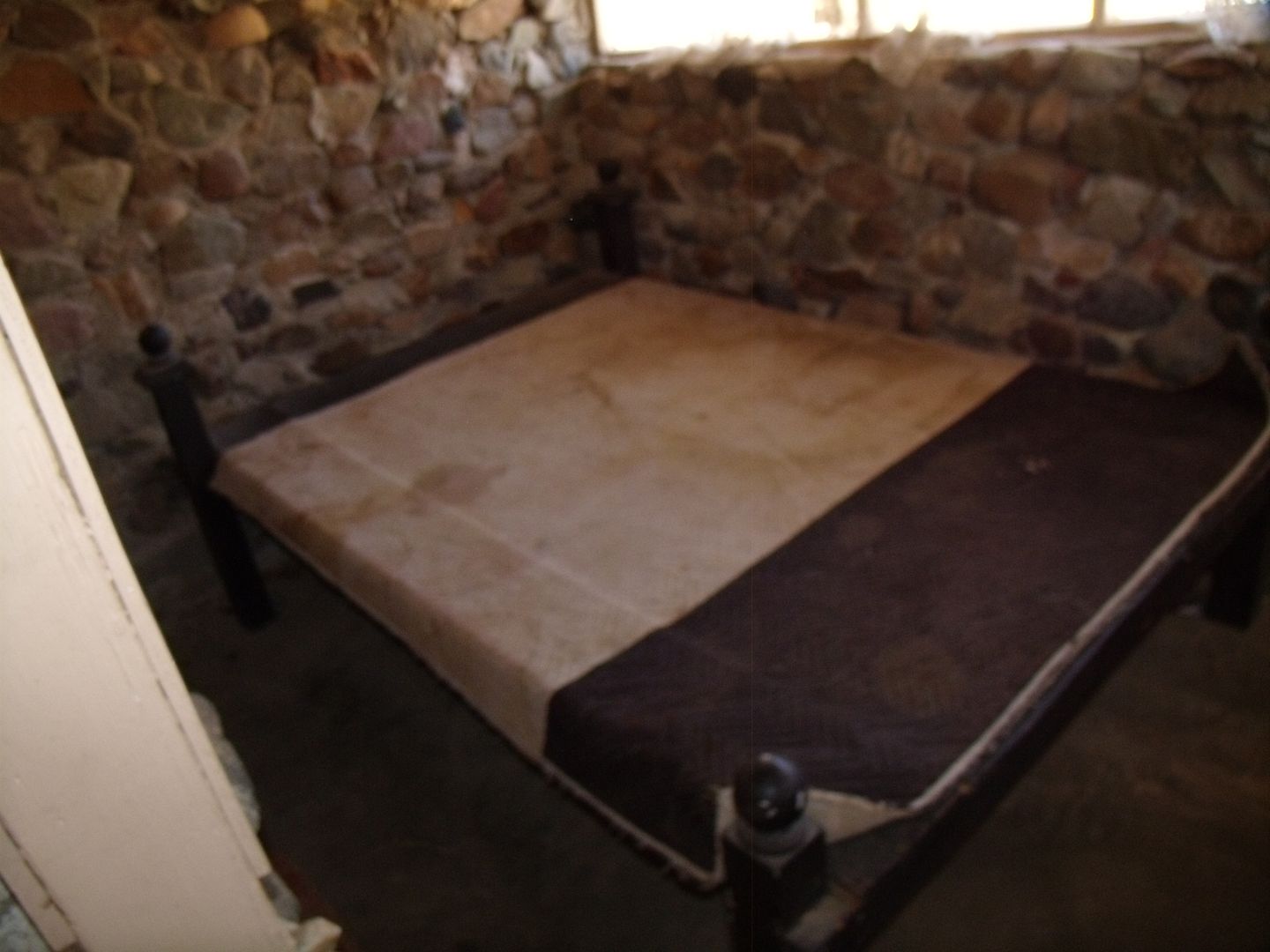 Jeff in Ridgecrest, and his Rubi...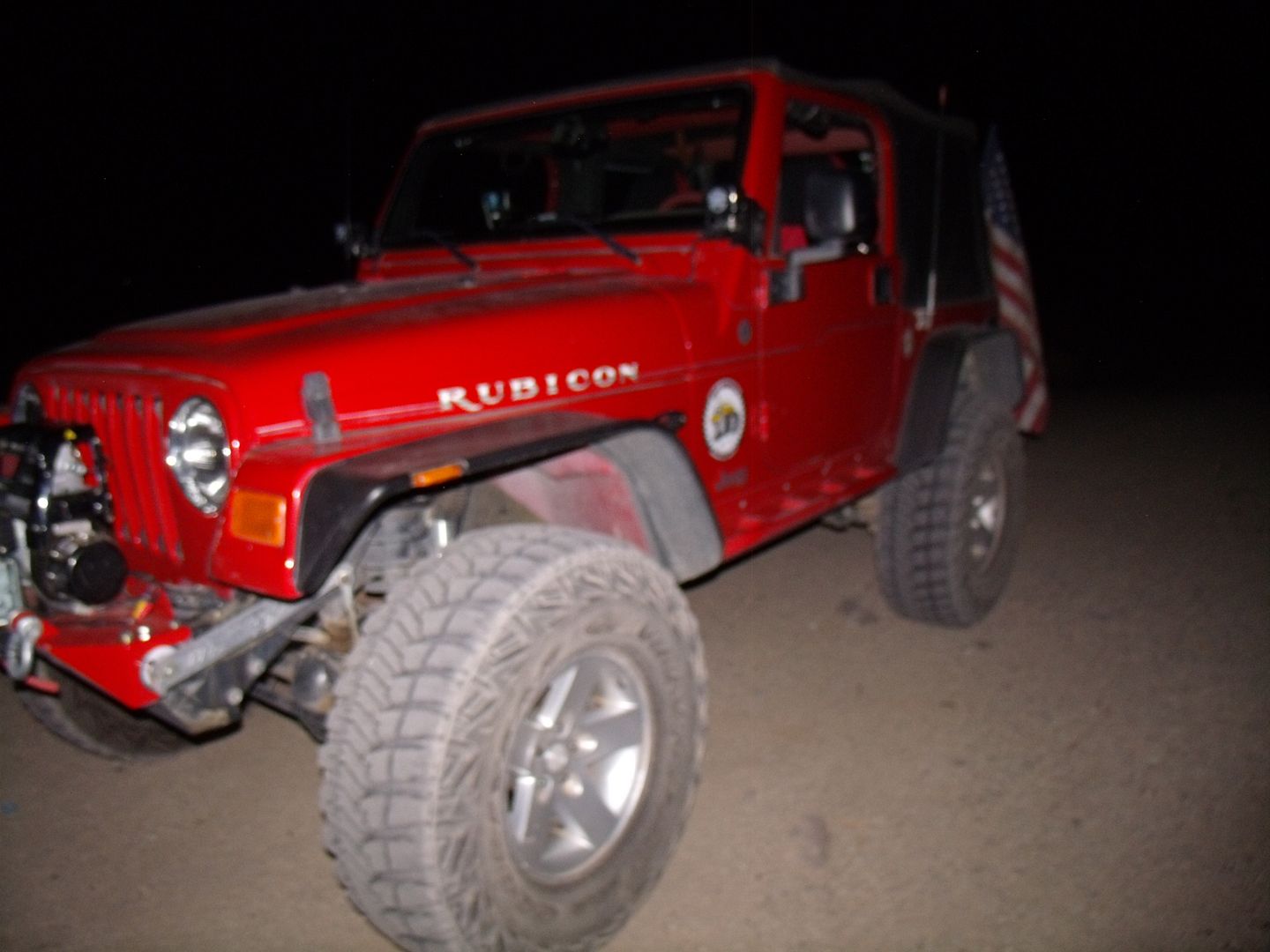 the "whitehouse" cliffs...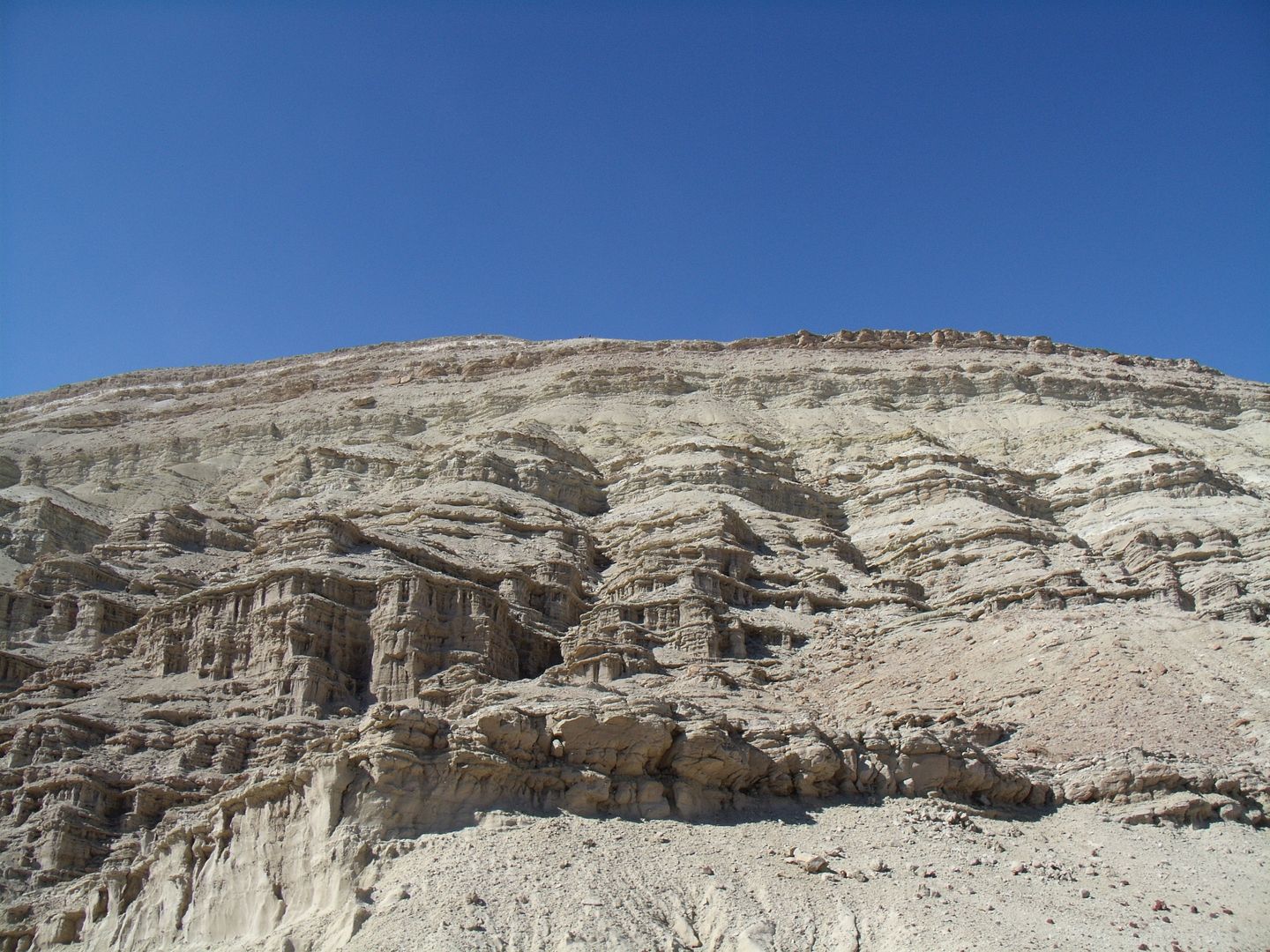 the trail says, "I see ya there!".....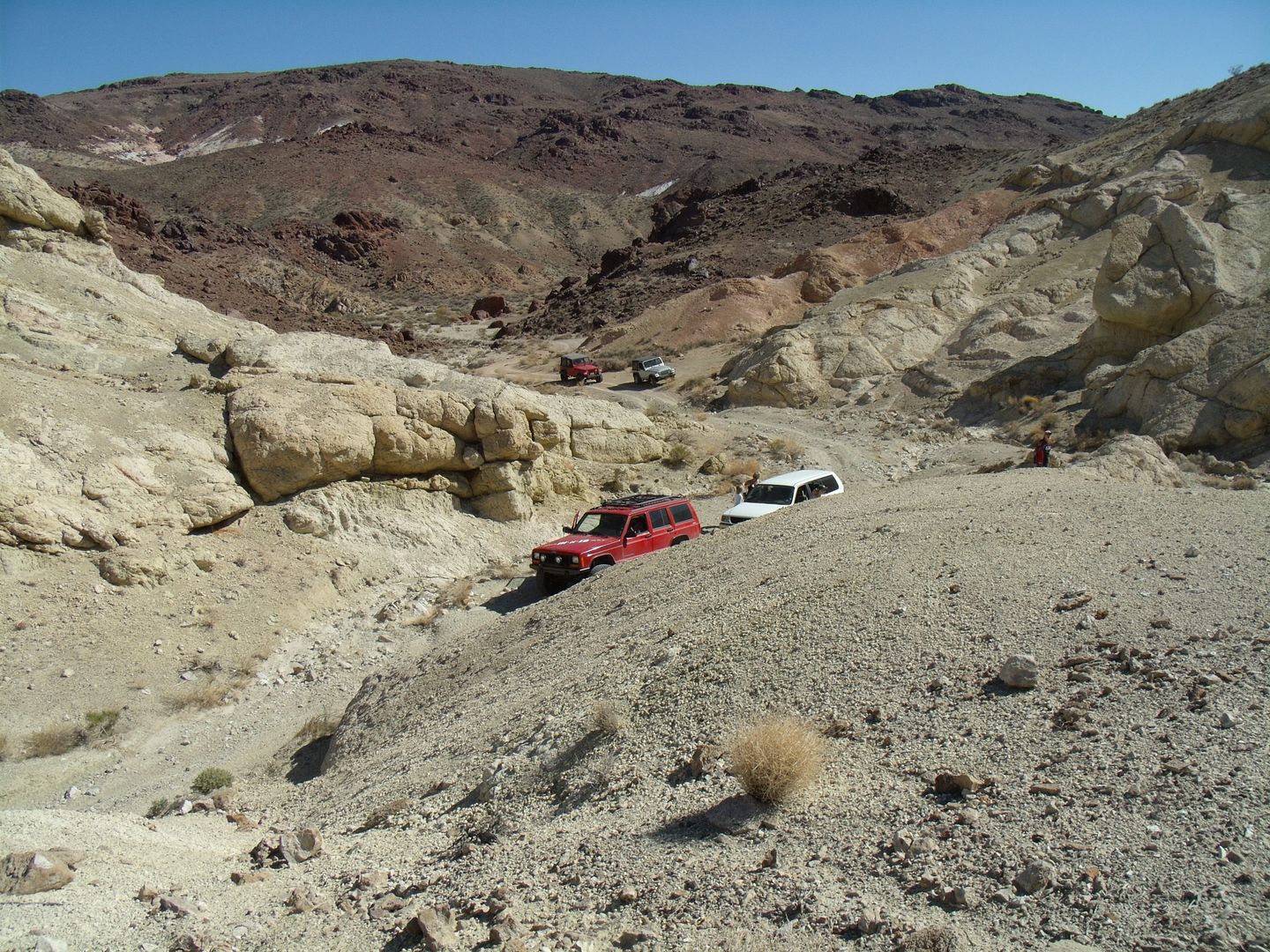 contrasts are ev erywhere....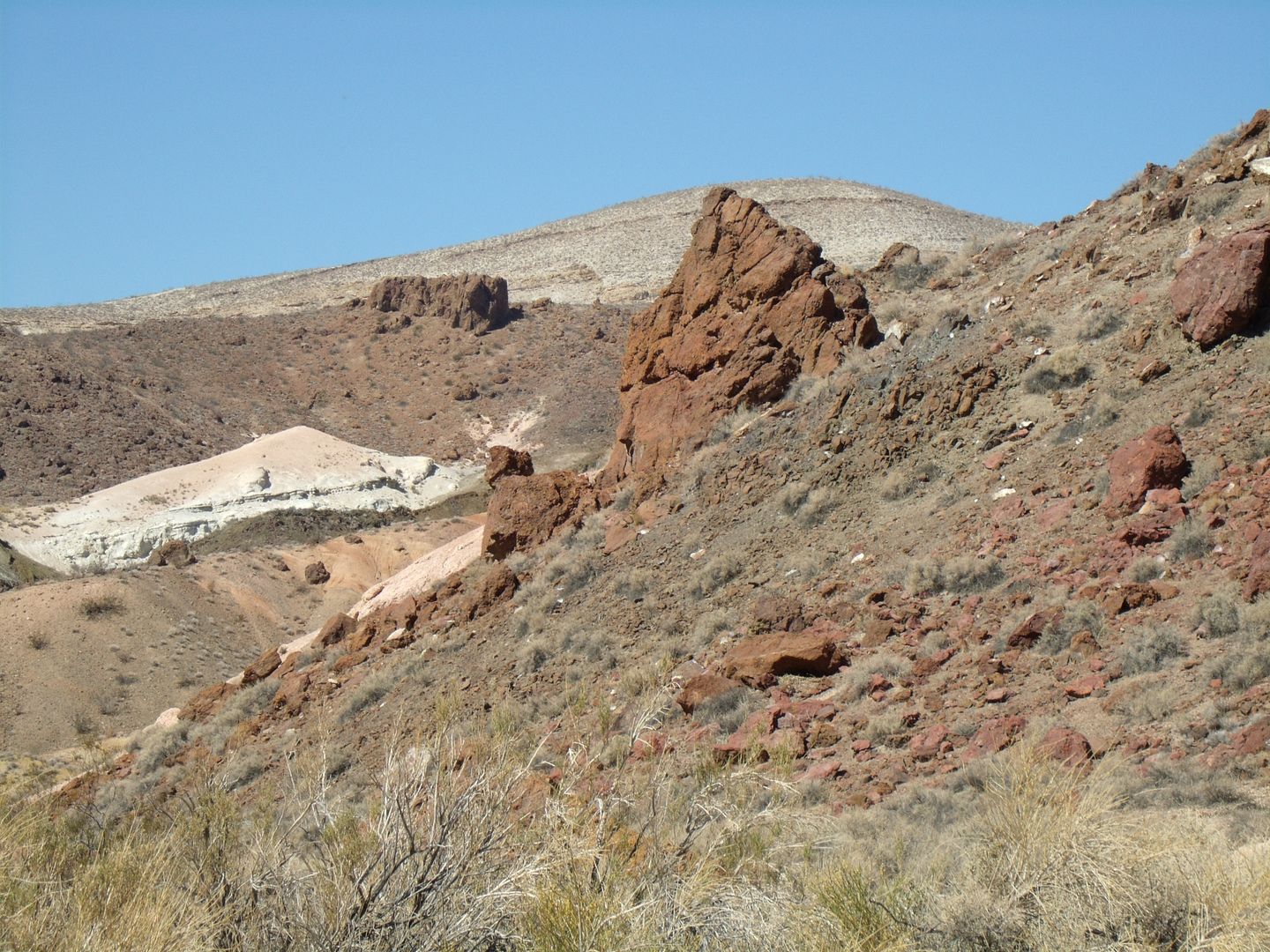 Registered User
Join Date: Mar 2010
Location: Westchester
Posts: 5,268
looks like a good time, wish I could have made it!
---
To view links or images in signatures your post count must be 10 or greater. You currently have 0 posts.
Danielbuck...
We have tossing around heading out again in a couple to a few weeks. I personally am shooting for putting it together for March 21-23 (Friday night - Sunday). Although, we were thinking of camping on the East side of 395 in the Searles Mining District Area and hitting the pinnacles, etc. and exploring the train tracks and stuff. I have a couple others to confirm with first before I post it officially. You, of course, are welcome to come on out!
Keep ya'll posted!
---
HI N LO DESERT RUNNERS-AV, CA. Because Life Begins Where The Pavement Ends!(c)1998
Registered User
Join Date: Mar 2010
Location: Westchester
Posts: 5,268
Yea! Friday evening might not work for me, usually I have to limit trips to just saturday and sunday, but we'll see
---
To view links or images in signatures your post count must be 10 or greater. You currently have 0 posts.
03-22-14 to 03-23-14
---
Hey, daniel....
I am really leaning toward heading out on the Saturday, 03-22-14 and do a one nighter Sat. Night and explore a bit on Sat. afternoon, breakfast Sunday morning, a little exploring Sunday and head home. I am also thinking of staying at a cabin we love in Bonanza Gulch (The Joni Jack/Two Of Hearts Cabin). What do you think?
---
HI N LO DESERT RUNNERS-AV, CA. Because Life Begins Where The Pavement Ends!(c)1998
---
HI N LO DESERT RUNNERS-AV, CA. Because Life Begins Where The Pavement Ends!(c)1998
Currently Active Users Viewing This Thread: 1

(0 members and 1 guests)
Posting Rules

You may post new threads

You may post replies

You may not post attachments

You may not edit your posts

---

HTML code is Off

---