UPDATE - Sept 2013 - Rough Cut In Review (cont...)
Coming out of the grove (which at this point was HOWLING from all the wind) we had initially intended to go left-ish, and start the main hill climb.... the second most challenging aspect of the new trail design....
This proved to be too much for the mini excavator, and the small dozer too.... this also would create a pretty long and steep amount of run off, despite our original efforts to incorporate erosion control.
The decision was made to keep the hill climb aspect of this side, but to make it a bit more technical, all while addressing the more long term issue of winter erosion.
This meant take it right-ish straight out of the grove, then add a couple switch backs, as well as giving us some challenging hill climbing.
Here I've created a
very rough
Mark-up of what i'm talking about:
As you come out of the grove and up this hill, (dont let the pic fool you, it's still pretty steep)
You'll curve around to the left by the large stump up there (top center)
Once you've crested the first climb, and navigated the turn, you'll be travelling along the hillside:
From this point looking back...... you can see that you've made a pretty quick climb up a decent amount of hill:
The terrain here has a fair amount of rock in it, a LITTLE clay in sopts, more in others, and a good amount of rich, decomp like soil....
there's also a few stumps that will have to get dealt with, but the rough cut here is basically done:
After another turn, you make face a substantial climb....this will prove to be a challenge.
As steep and rocky as the original Saddle Up climb, and just about as long.
The trail levels out after these climbing sections, and meanders its way along the hillside towards the original ridge-line:
The tree line you see in the very distant background is where the back entrance used to come up thru the woods....
This is also where the quad trail "Dog Leg" is....
By the time I got to this point the weather had turned even worse.... and it REALLY started coming down.
By the time I made it back down to the Jeep I was soaked.
Thats right about the time Jahmaal Rebb from ODF showed up.
At that point the damage was done.... this would prove to be a common appearance for the both of us for the rest of the day:
We both dawned our own rain gear and hardhats, and set off to the upper section, right about where that last pic was taken.
Past the tree line I pointed out a couple pics ago is a trail called Dog Leg.
PART of this trail will remain, however the lower section will get wiped out, and exist no more.
This is where the second phase of Saddle Up was to continue.
The goal was to tie Saddle Up in with Firebreak 5... a goal that both ODF, and every OHV enthusiast I've talked to has been very excited about. I've taken a small section of the trail map and drawn in another rough mark-up of what this will look like.
We were originally planning on starting work on this next spring.... Jahmaal had other plans, and decided to give us an early Cristmas present!
As I mentioned in an earlier post, ODF has had some time to dedicate to this project, and the equipment to back it up as well.
Over the last week or so, they have managed to get the rough cut-in on a good 3/4 of the tie in to FB5.
Here in this pic you can see the tree line where the old back entrance to Saddle Up came thru, as well as the last lower section of Dog Leg....
What you see in the pic will get torn up and closed, But i'm essentially standing at the crossing point of the second phase of Saddle up and the crossing/tie-in point with Dog Leg.
This part of our new trail is going to be awesome..... I think initially it will (in SOME parts) resemble certain sections of Cedar Tree, it winds its way along the hillside thru trees, and over rocks, and in some places opening up to spectacular views.
There's going to be some widening of the trail in certain areas to allow more two-way traffic in spots,
but here too, the rough cut-in is basically done:
This back half of the trail still has some great elevation changes...oh yes there WILL BE more hill climbs. I wasnt able to take as many pics as I wanted to in here mostly because of the weather.
But the scenery is awesome as the trail continues for some time winding thru the trees: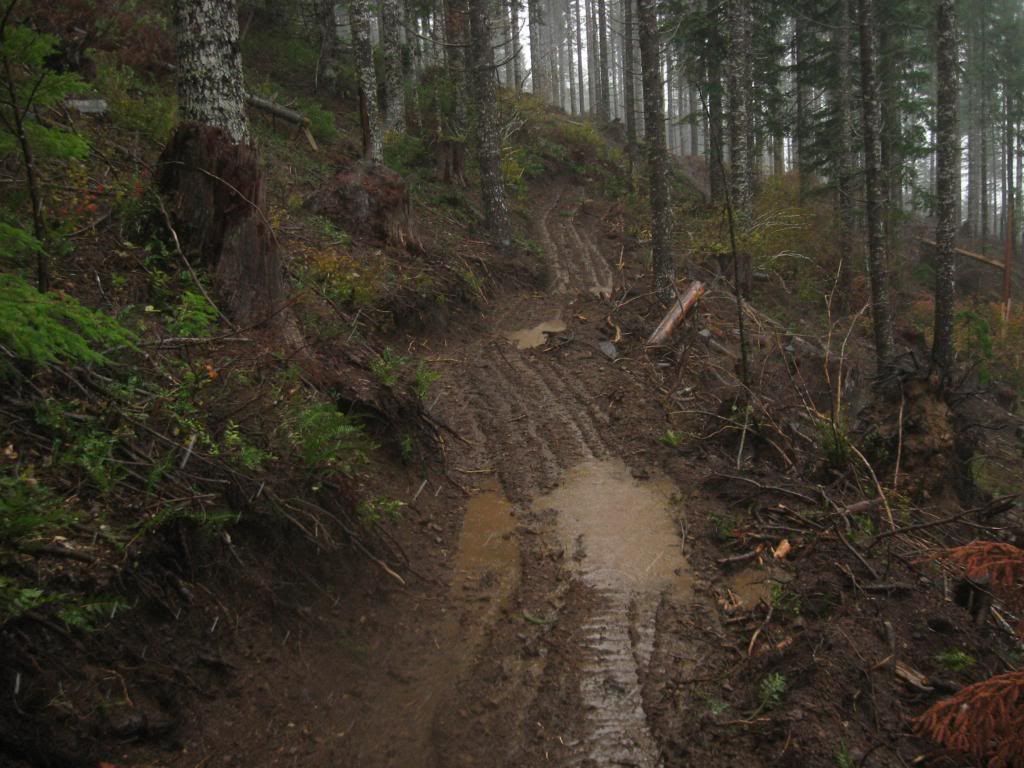 This whole area is strewn with some great, massive, natural rock formations that you can see in this next pic.
The surrounding terrain will eventually erode and the true character of this section of trail will start to show itself.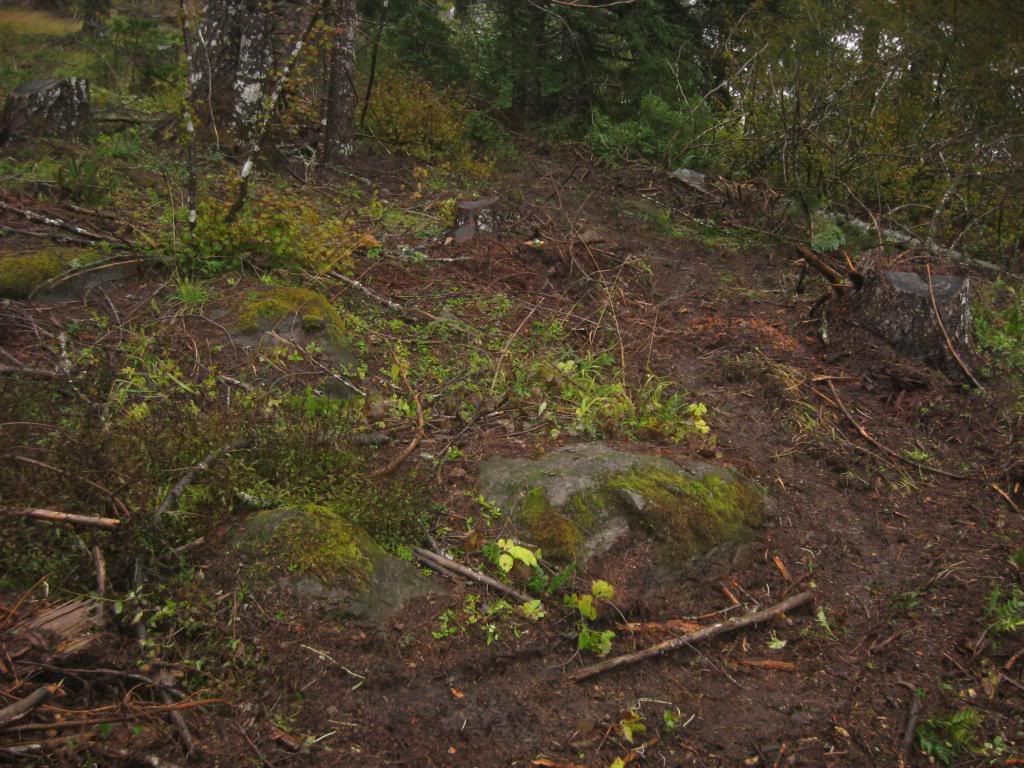 I couldn't be happier with how this trail is developing. Jahmaal has kept our original intentions in mind the whole time, and it's been an absolute pleasure working with him throughout the whole process. There's still alot of work to do, and the trail still needs to go thru a fair amount of compaction before we can open it up. We have to be careful not to open it up too soon either.... if the ground is too saturated before its fully compacted, then we'll end up doing more harm than good by getting rigs on it. Tire spin this early in the game will absolutely destroy a virgin trail like this.
A little moisture is fine, we can deal with that, and will all be apart of how the trail evolves. However we have to take into consideration all the factors involved here. With that said....THERE IS STILL A SLIGHT CHANCE, that we will see this trail open for a short time this fall..... but I'd say plan it it not being available till spring.
I want to run this more than anyone.... but it may come down to us letting the forestry dept. and mother nature do their thing... winter will come and this area will be impassable to most rigs anyways. A good snow pack will really help set the trail in place, and give us a level of compaction we cant get otherwise. The spring melt off will carry away some of the more loose topsoil and reveal more of what the trail really has to offer anyways.
If we bide our time over the winter, come in after the first thaw, and clean things up a bit.... I think we will have one our hands one of the most remarkable new trails this area has seen in some time.
...stay tuned folks, there will be more to come!