Registered User
Join Date: May 2009
Location: Ashland
Posts: 286
I'm not too familiar with anything around Ashland, but I know the area out of Shady Cove (Elk Creek and West Fork) fairly well. Most of what you'll find out there is mud. Mud and snow, depending on the time of year. Not a whole lot of rock crawling areas, at least none that I've seen. There are some decent hills of course, but mainly just a whole lot of muddy roads and pits to play in. Nothing too challenging, really.
Just thought I'd throw this out there, when I got my deer back from the taxidermist, I decided to have a little fun. I stuck him in my passenger seat like so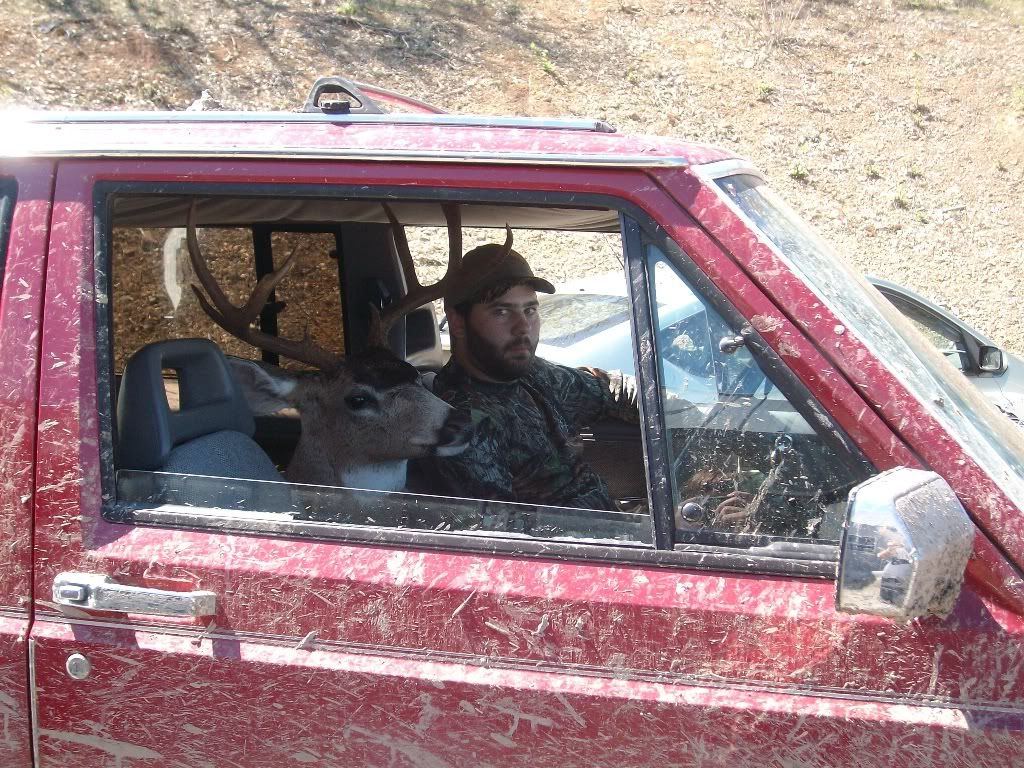 (this is right before I left for Ashland).
Then I headed up to Ashland (I live in Sams Valley, near Gold Hill). I made two or three circuits down the main street of town, counting all the times I got honked at, flipped off, or yelled at. keep in mind, this was early spring on a sunny day, so downtown was absolutely packed. I quit counting at 20 or so on the first run. Didn't even count the second pass. That was the most fun I'd had in a long time, lol.
Registered User
Join Date: Mar 2011
Location: Medford
Posts: 11
thats friggin hilarious! i need to get me one!
That is hilarious!
I wish I coulda seen that in person!
It was an experience, I'll tell you that much. I'm a pretty likeable guy most of the time, and I'm not used to having a lot of people angry at me. So driving into town and becoming unanimously hated by the entire population at once was... interesting, lol. Getting the deer into that position was quite a pain. At first we tried to set him on the seat, but he was way too tall for that. I ended up flipping the seat forward, sticking him behind the center console, and then when I flipped the seat back it kinda help him in place. The icing on the cake was that I was all decked out in camo from a morning of turkey hunting, and I know half the ashlanders who saw me thought I killed that thing that morning
I could only imagine! Haha, yes, Ashlanders tend to be very opposed to that sort of thing.
So, are you new to just the forum, or to Ashland as well?
Just new to the forum, been in Ashland for about 8 years now, moved up from the bay area when I went into 5th grade.
Ah, gotcha. As much as I rag on Ashland, I like it a lot. I don't particularly fit in down in the town, but I would love to live in the foothills around it. Absolutely beautiful place.
Yeah, the Rogue Valley is an amazing place to live. Some of the people, are a little questionable though. haha. But I hear ya, It's a pretty nice place to live.
Well, it isn't nicknamed Methford for nothing, lol. We have our fair share of freaks and goofballs, but overall it ain't too bad. I mostly love the land. I live between the Table Rocks, and it's absolutely beautiful. This is the south Table Rock, from our from patio. I have some pretty awesome pictures from there actually.
Wow, great picture!
Yeah we also have a great view from our house, we just don't have our own land to go with it. Go figure. haha
Registered User
Join Date: Jul 2009
Location: newburgh
Posts: 630
what's up everyone, spring wheeling is starting and time to get outdoors! i will try and keep posting of trail runs on here or check out my facebook page, southwestoregonjeepclub for further info and runs. gonna try to have a bunch of stuff going on this summer including a rig show and rock crawl challenge so keep checking back. If anyone needs any info or just needs jeep help, either contact me, trapshooter, or youngdog17 and we can help you out. also anyone in need of parts this wheeling season get ahold of travis proudfit at
www.creepingrocks.com
, he will hook you up bigtime, just tell hime brian sent you.
---
colorado jeep club member #2006
go hard or go home!!
Hey Brian,
Can't wait to get out there.
I'll keep checking up on this thread
I just added your facebook page by the way.
Thanks,
Eric
Currently Active Users Viewing This Thread: 1

(0 members and 1 guests)
Posting Rules

You may post new threads

You may post replies

You may not post attachments

You may not edit your posts

---

HTML code is Off

---