Registered User
Join Date: Nov 2009
Location: Milwaukie, OR
Posts: 171
1st Annual LaDee Flats 4x4 show
---
Come check out the 1st Annual LaDee Flats 4x4 show with ALL the proceeds going to the LaDee Flats OHV trail system Project.
Date:
Saturday, October 27th, 2012
Start Time:
10:00am
End Time:
4:00pm (or whenever everyone leaves)
Location:
Hard Notched Customs... 1500 Washington st, Vancouver, WA 98660
Link to Facebook event page:
1st Annual LaDee Flats 4x4 show | Facebook
Those Guys Off Road, Grand Krawlers Off-Road, JeepTubes.com and Hard Notched Customs have teamed up to hold an event to help raise funds for the first legal 4x4 trail system in the MT Hood National Forest. In addition to raising funds for the trails, we also want to help put a smile on some kids faces this Christmas by delivering a ton of toys from the 4x4 world to Toys for Tots.
So come on out, raise some funds for the trails, bring a toy for the kids, and show us your mad flex! We'll have an RTI Ramp, a teeter totter, a DJ, a Halloween costume contest, games for the kids, games for the adults, some tasty grub, a raffle of a bunch of cool stuff, and an overall awesome time! So come out, have some fun, learn about the trails, and hang out with all the cool kids!
No charge for the event, but a suggested $10 donation would be much appreciated. Raffle tickets will be a buck a piece. Please bring a new unwrapped toy for the Toys for Tot's drive.
Word for the day......
WET
I rolled in to the empty lot on 15th and Main in Vancouver just after 8am, and immediately started setting up my E-z-Ups... I knew it was going rain all day, and I had to make sure to protect my gear. Extra precaution was taken and I threw a tarp over the two awnings for good measure.
By the time I finally finished getting set up, the perimeter of the lot had already started to fill in.
It didnt take long before all the vendors were set up, and the lot was nearly full. Despite the horrid, relentless, rainy weather, there was a LOT of support. The event was planned and organized in less than six weeks, and you never would have been able to tell.
Concessions and raffle were set up in record time
And the guys from Northwest Offroad Outfitters started cooking right away:
The list of vendor support was a mile long, ok well not really but impressive none the less.
Tread Lightly! was of course represented
Lance Corporal Fender with the United States Marine Corps was there with Toys for Tots... we made sure the little Ford Ranger he drove in was nearly full of toys when he left. LITERALLY.
(that can you see next to him was filled and emptied SEVERAL times throughout the day)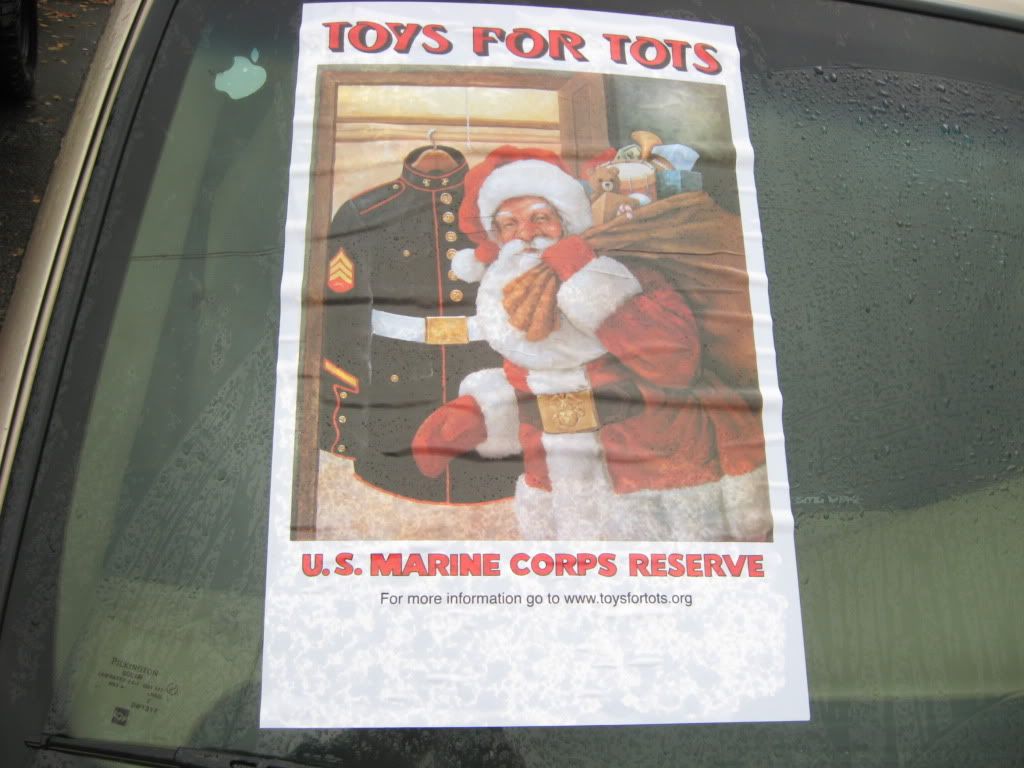 A group called "A Line In The Sand" was there, their mission is to prevent the closure of nearly 62% of Oregon Coastal Offroad Trails by the government.
Please contact them at
Stripedpandora@hotmail.com
if you would like to help support the cause, or PM me and I will send you a PDF of the signature letter that will be submitted en masse to help prevent any further trail closures.
Jones Creek Trail Riders were also there to show support and get their message out... these guys are doing some good stuff, and can use some support as well. Visit
www.jctra.org
for more info
A good group of people putting out some excellent products were there as well.... please visit
http://www.safeworker.com
and check out the awesome anti-fatigue floor mats they have...seriously...these things are awesome. The gave away a TON of them throughout the day, and every one was clammering to get their hands on one. The icing on the cake?.... they're out of Gresham, ....doing their part to abolish the bad rep associated with the name.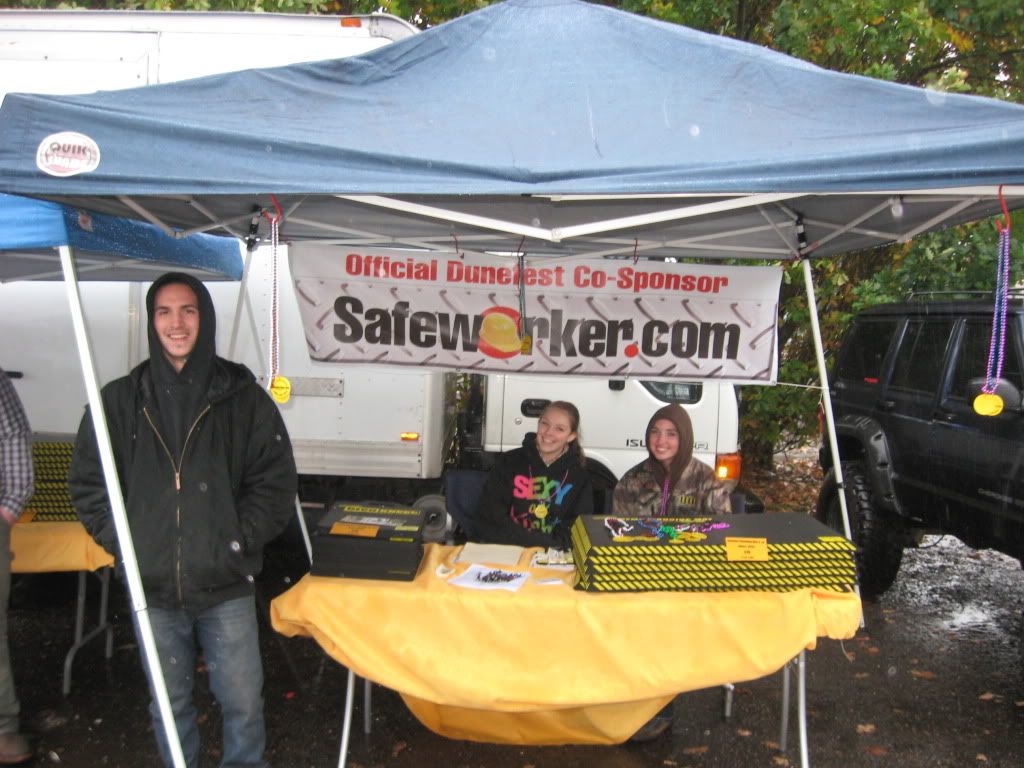 ---
5+" of lift, 33's, OTK, Armored, Lighted, Chipped, Winched & Locked up Front.
Another entry hailing from Gresham are the guys from Twisted Offroad
http://www.facebook.com/pages/Twiste...75196039160640
They ended up purchasing
$250.00 WORTH OF RAFFLE TICKETS, AND GAVE AWAY MOST OF WHAT THEY WON!
My hat goes off to them, and I look forward to working with them in the future.
Coming up clear from Albany was the owner of Total Metal Innovations, who donated a full set of custom Beadlocks.... Way cool guy.. glad to see word of this made it down south.
http://www.totalmetalinnovations.com
Stripe Line Vinyl & Graphics came through once again.
http://www.stripeline.net/
These guys have CONSISTENTLY shown support for the offroad community and are always extremely generous.
SWAG offroad came out to play as well, and made a generous contribution to the raffle:
Of course 4Wheel Parts came out and made the largest contribution to any raffle I have seen in years. I was literally giving away goodie bags they (Josh) had put together for a good solid hour. Big thanks to Josh and the rest of the team down at 4Wheel Parts.
Bri & Bub Offroad were there,
https://www.facebook.com/briandbub.offroad
...and as usual were spreading the word about Mountian Wave Search & Rescue and their support of Candelighter's a charity for children with Cancer.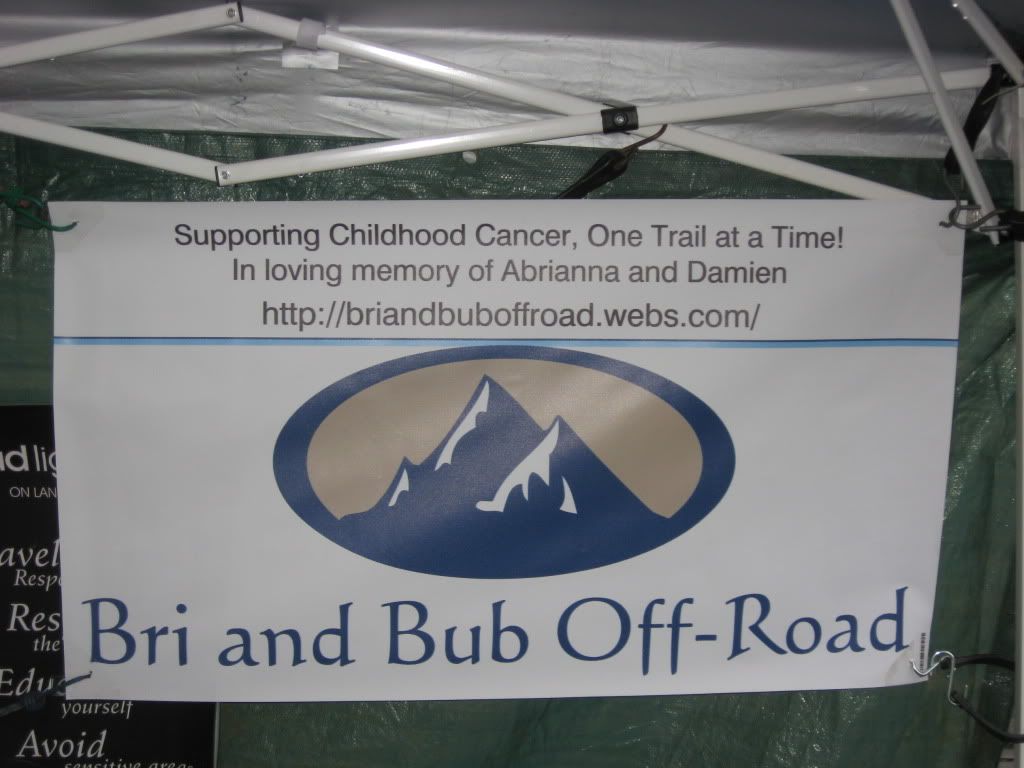 I was glad to see the involvement of Double Black Diamond Offroad hasn't wavered at all either....
But the event wouldn't have been possible if it weren't for the big three,
Grand Krawlers:
http://grandkrawlersoffroad.webs.com/
Jeep Tubes:
http://jeeptubes.com
And of course Jon and the crew from Those Guys Offroad (
www.thoseguysoffroad.com/
)
(who remarkably I didn't get a picture of... lol
But going back... I have to give credit where credit is due.... Tim Anderson, the owner of Jeep Tubes is full of character, and oozing with customer support. Not only did he show up with an impressive display, he was by far one of the most generous vendors there. Giving away HUNDREDS of dollars worth of product, and if someone won a particular item for a vehicle they didn't own... he made it right, and made sure they got the same credit or value of something that WOULD work for their ride. Tim is a guy who I plan on doing business with in the future, and I very much look forward to his future involvement with the local offroad community.
---
5+" of lift, 33's, OTK, Armored, Lighted, Chipped, Winched & Locked up Front.
By this time The RTI Ramp and the Teeter Totter were set up
I went back to check on my gear, and found it necessary to take some additional measures to prevent the torrential downpour from reaching my equipment:
I had also discovered that at some point I had not only dropped my bluetooth in the DJ booth but stepped on it real good as well.....
It was still early, but the lot was starting to fill up fast.
By the end of the day there were easily 100 vehicles there, and a good couple hundred people.
Some interesting vehicles came out as well.... some of which had some interesting stickers on them. These belonged to one of my favorites....
Another personal favorite: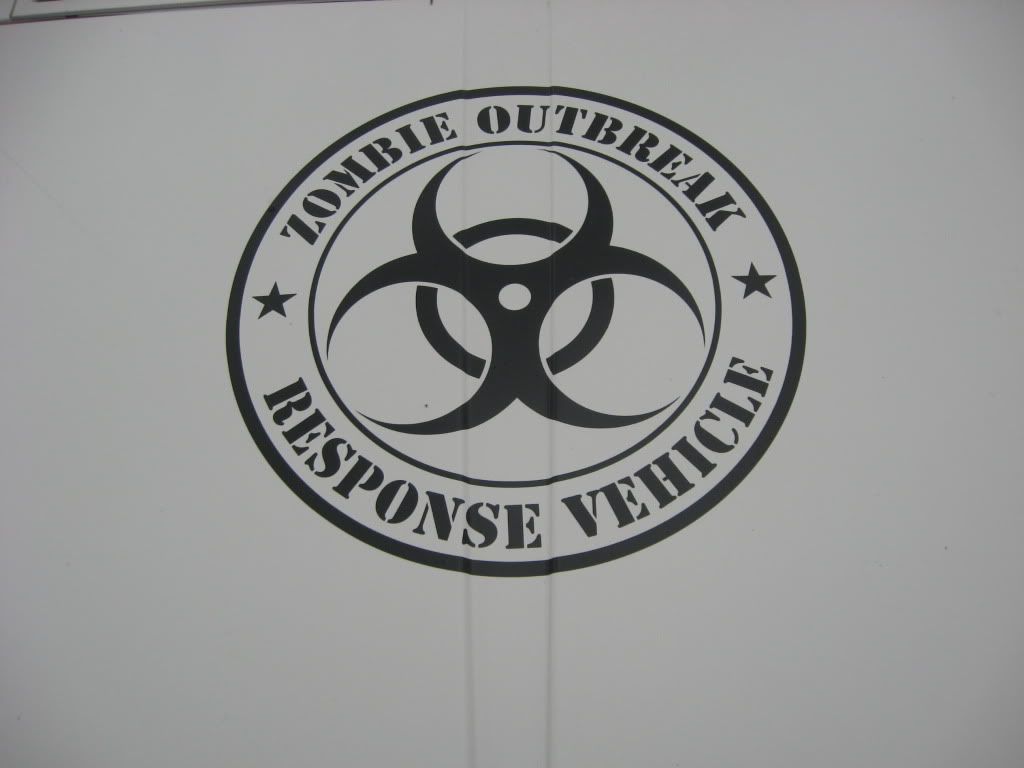 ---
5+" of lift, 33's, OTK, Armored, Lighted, Chipped, Winched & Locked up Front.
I saw this and had to grab a quick photo, a tire carrier, articulating reverse spot light, gas can, and back up camera ALL IN ONE!!!
One of the more interesting rides there was this propane powered Bronco...
Pretty cool if you ask me.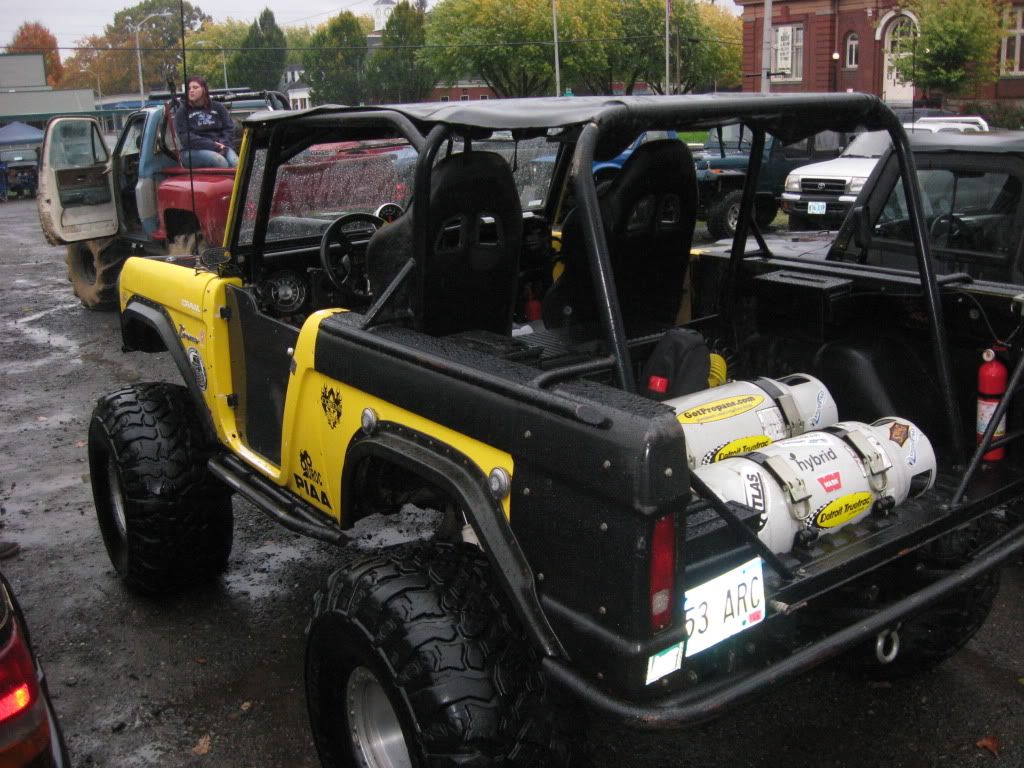 The front end suspension and steering on this thing was incredible:
The Teeter Totter and RTI ramp opened up and several people came out and played in the rain: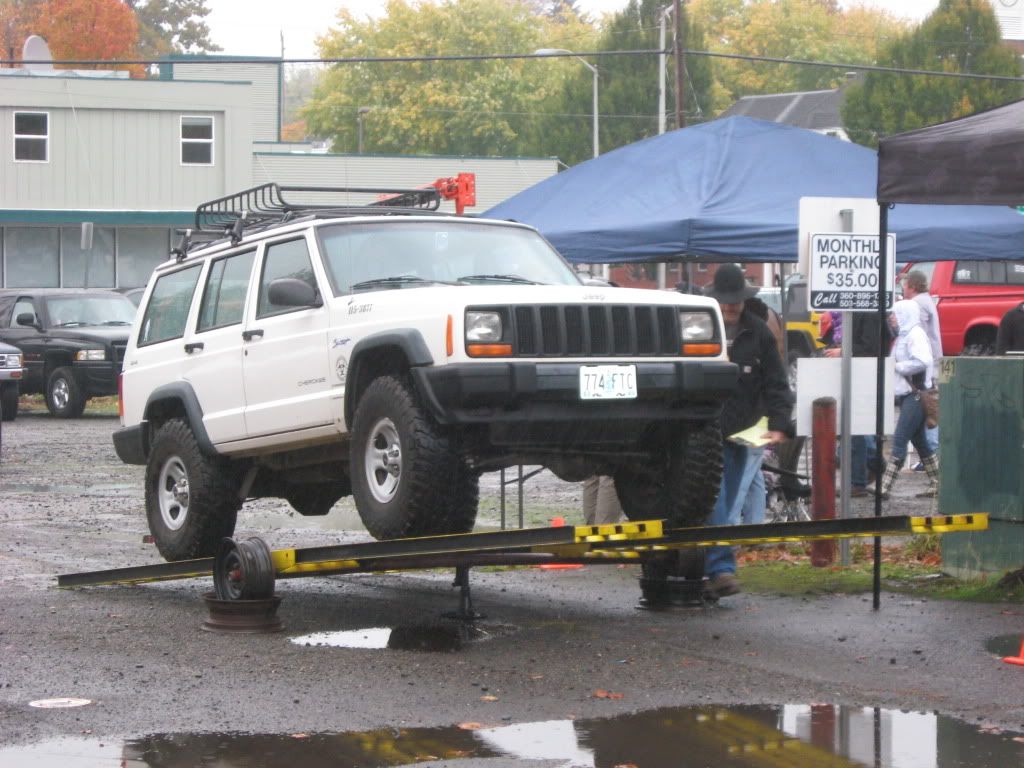 ---
5+" of lift, 33's, OTK, Armored, Lighted, Chipped, Winched & Locked up Front.
The La Dee Flats Trail system was two years in the planning and dealing with red-tape, and at the time of me writing this they're about two months into the construction of the trails. They're well under way to create a new OHV landmark in Oregon, and have already made history by creating the first legal Class II OHV area in the Tillamook State Forest.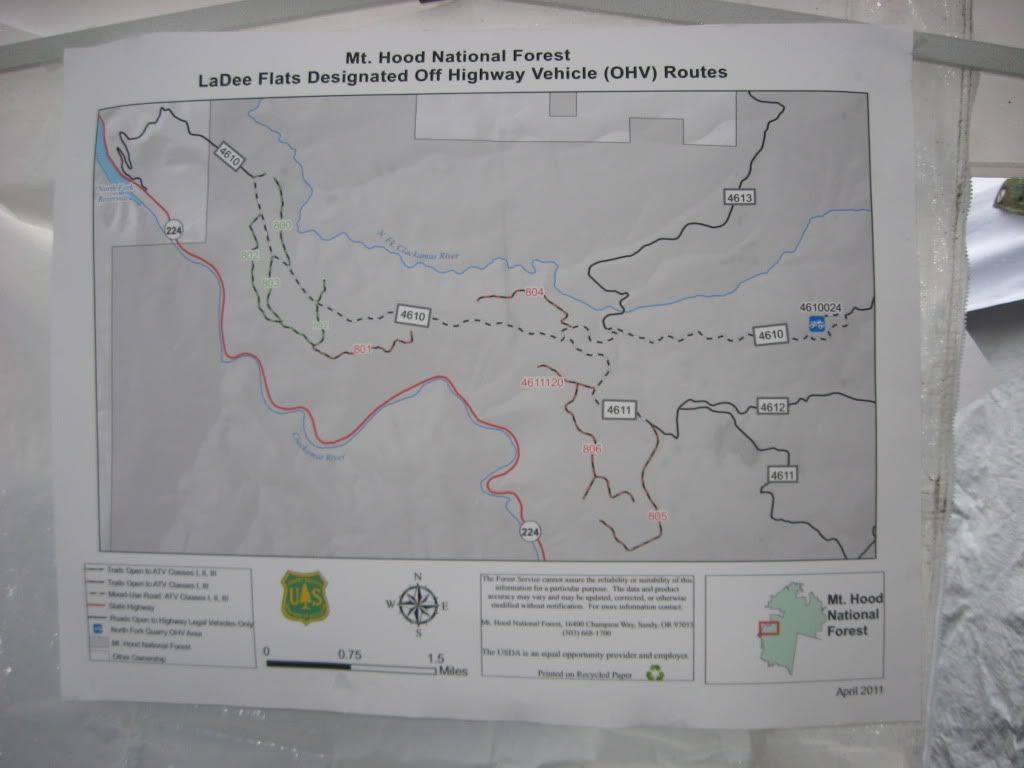 The $2500 that was raised today will go a long way to help in the cause of getting these trails built. I was very glad to be apart of this and I'd like to deeply thank Jon with Those Guys, and Chaz from Grand Krawlers for bringing me on board, and I'm very much looking forward to helping out on future events to support the La Dee Flats Trail System.
---
5+" of lift, 33's, OTK, Armored, Lighted, Chipped, Winched & Locked up Front.
Registered User
Join Date: May 2009
Location: Oregon
Posts: 321
Good to see it went well I completely forgot about it.
Registered User
Join Date: Feb 2011
Location: Aloha
Posts: 258
It really sucks working weekends :-( at least Oregonwolf got to attend for a bit.
---
Doris
Adventures of a 4 Wheeling Mom
https://www.facebook.com/4x4Mom
Currently Active Users Viewing This Thread: 1

(0 members and 1 guests)
Posting Rules

You may post new threads

You may post replies

You may not post attachments

You may not edit your posts

---

HTML code is Off

---