Registered User
Join Date: Mar 2012
Location: Redmond
Posts: 69
Opinions on Full Width Axles in WA
---
thinking of 1 tons (d60/14bolt combo) on my YJ and i'm trying to avoid narrowing axles for a variety of reasons. only worry is width restrictions on trails. anybody running full width or extra wide axles in Washington? what kind of troubles have you come across?
Also if you are, whats the overall width you're running? thanks for the input!
---
Check Out My YJ Build and Give me Advice!! : http://www.jeepforum.com/forum/f22/blue-95-yj-built-college-kid-w-part-time-job-1428767/
Registered User
Join Date: Aug 2011
Location: Yakima
Posts: 1,173
My brother had 14/60 on his 48 Willy's. It was right around 82" outside to outside of 37" MTR's. A lot of the trails he could follow just had to pick the right lines or get real creative turning in the tight trails around Little Naches / Rimrock.

Sent from my XT881freeze ray gun using JeepForum
---
Yakima Valley Mountaineers.
Registered User
Join Date: Nov 2008
Location: Everett, WA.
Posts: 657
Evans Creek has gatekeepers set at I think 78" on all trails.
---
Always bring a compass, it is awkward to have to eat your friends.

4X4XNORTHWEST.COM
Registered User
Join Date: Oct 2007
Posts: 440
There's a number of trails in the Naches area that are too narrow for full size truck axles as well.
---
Bill
member 141,234,541 of the red jeep club
Registered User
Join Date: Jul 2007
Posts: 2,353
PNW trails are not for wide rigs, unless of course exiting on to the main road looking like a bent up pop can is on the menu, or getting towed out is... PNW trails can, more often than not, be tight and technical and muddy and snowy and rocky. Traction is usually not an option, save for a day in August at Manastash. And, a heavy foot on the gas pedal will only help drain your gas tank, and bank account. Think finesse & skill and patience, or give in to 4% beer, 12% wine of 100% proof courage, and then be ready to pay the tab. It is what it is.
want it rite or rite now?
Join Date: Sep 2008
Location: Estacada, oregon
Posts: 5,999
Never measured it, the tires stick out an inch beyond the bushwackers with hummer wheels, 1.5" spacers to clear the ford brakes and high steer arm. Waggy 2" springs front and rear. Moved the frame mounts for the front to center it up and made hoops.The rear practically bolted in, just made rear shackles and shock towers. 12" travel front and rear. Customer wanted it big and functional...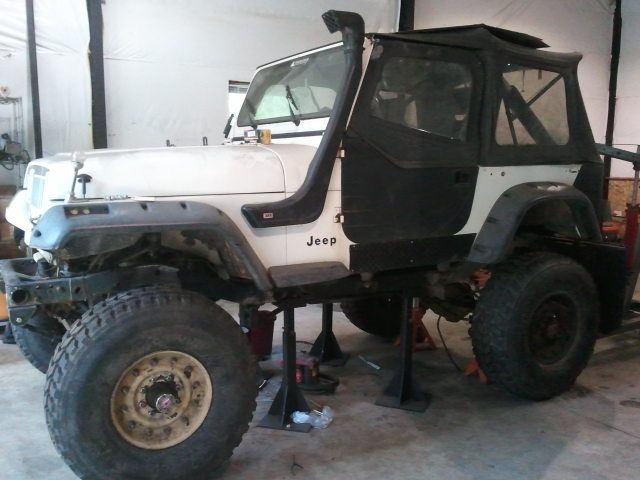 ---
I want your factory 07-up take-off/thrown out JK front/rear Lower Control Arms! Bent ones are perfect also as long as the bushings and cold cut rings are in good shape/useable



To view links or images in signatures your post count must be 10 or greater. You currently have 0 posts.


To view links or images in signatures your post count must be 10 or greater. You currently have 0 posts.


To view links or images in signatures your post count must be 10 or greater. You currently have 0 posts.


To view links or images in signatures your post count must be 10 or greater. You currently have 0 posts.


To view links or images in signatures your post count must be 10 or greater. You currently have 0 posts.






To view links or images in signatures your post count must be 10 or greater. You currently have 0 posts.



To view links or images in signatures your post count must be 10 or greater. You currently have 0 posts.


ASE Certified Master Tech/Fabricator @ jeepwest.com
Registered User
Join Date: Jul 2007
Posts: 2,353
Currently Active Users Viewing This Thread: 1

(0 members and 1 guests)
Posting Rules

You may post new threads

You may post replies

You may not post attachments

You may not edit your posts

---

HTML code is Off

---