There is a sticky in this sub-forum with some good areas to go wheel'n. But perhaps I should update the info on the different trail areas, as well as add some new areas I've been learning about. Here are some recommended areas, not all of them will be passable during the winter months:
Easier Trail Systems
Naches Trail, particularly the eastern half
North Cle Elum Trails
Durr Rd / Umtanum Ridge
Liberty / Table Mountain Area
Manastash Ridge (selected areas)
L.T. Murray Wildlife area
Wenas Wildlife area
Naneum Ridge State Forest
Ahtanum State Forest
Tahuya
Washington Backcountry Discovery Route
Land Management Agencies / Passes
The trail systems within the state are managed by basically two land agencies, the Washington State Dept. of Natural Resources (DNR) and the federal National Forest Service. Each requires their own passes:
Discovery Pass (DNR)
$10 per day or $30 annually, can be used with up to two vehicles. This is the pass for state lands and state parks. The DNR manages the following trails where you'll need the pass:
Durr Rd / Umtanum Ridge
Wenas Wildlife Area (co-managed with State Dept. Fish / Wildlife)
L.T. Murray Wildlife Area
Naneum Ridge State Forest
Ahtanum State Forest
Tahuya
Walker Valley (tougher 4x4 / ORV area)
Elbe Hills (much tougher 4x4 / orv area)
Reiter Hills (new, much tougher 4x4 / orv area)
Northwest Forest Pas (Forest Service)
This is $5 per day or $30 annually, and it can be shared among any vehicles you want. This pass is for "some" federal land throughout the northwest. Mostly needed if you park at trailheads. There is some confusion if it's needed for actual trail riding. Disbursed camping doesn't require the pass. And improved campsites have their own separate daily fees. 4x4 areas that (may) require the pass include / are on federal land include:
Naches Trail
Manastash Ridge
North Cle Elum Trails
Liberty / Table Mountain Areas
Rimrock (much tougher 4x4 trails)
Naches Trail
Detailed in the sticky. It's a fun trail but not super challenging or tight. The toughest portion is the western end with the hill climbs, some a number of narrow bridging (that the Grand Cherokee can easily handle) toward the summit, and muddy areas in the dark forest portions. The eastern half tends to be more dry and more open but with a rock/dirt mixed trail base with the occasional small root. It makes for very bouncy and slow travel but other wise easy. Near the summit is Government Meadows and a log cabin, both of which are about 200 yd off the Jeep trail right where the Pacific Crest hiking trail crosses. As mentioned, it's open from mid-July to mid-November. 3-day holidays and opening weekend are busy on the trail.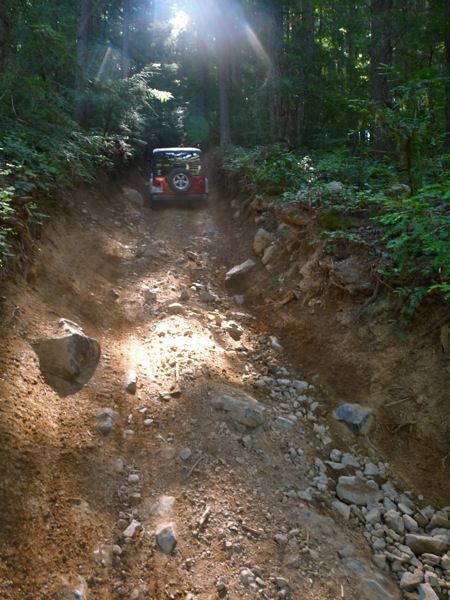 The very start of the western end of the trail. A semi-steep hill climb.
Some of the bridging near the summit
This is as tough as most of the eastern part of the Naches gets
North Cle Elum Trails
There are four trails north of Cle Elum / Roslyn, and beyond Salmon La Sac. They are easy enough for stock SUVs to drive up. The Fortune Creek Trail in particular leads up to Gallagher Head Lake which makes for a nice lunch spot at a pristine alpine lake. You can continue on beyond this on the Hawkins Mt. Mine trail for steeper hill climbs but nothing should otherwise be too challenging. Ditto for the Van Epps off-shoot. Seasoally closes mid-October throuh mid-June. However, given the 6,000 ft elevation there may still be snow on the trail well into July.
Fortune Creek trail in the N. Cle Elum area.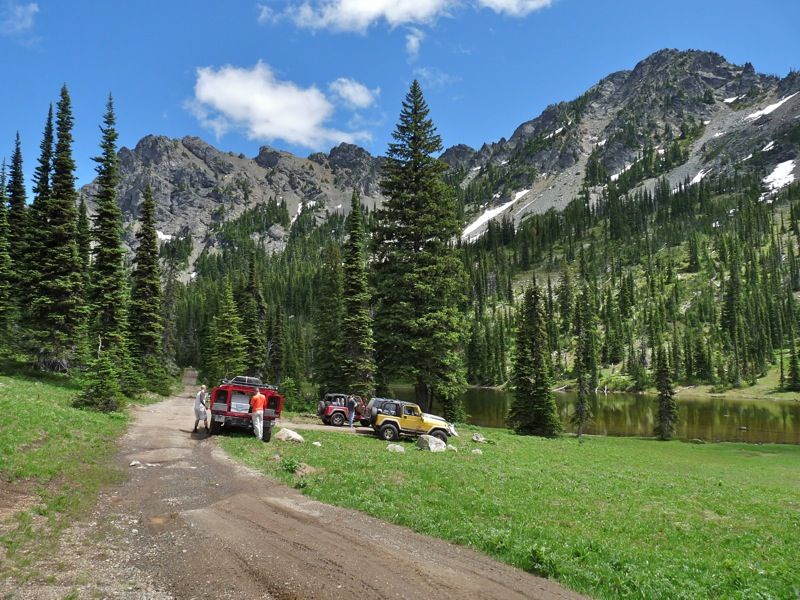 At Gallagher Head Lake.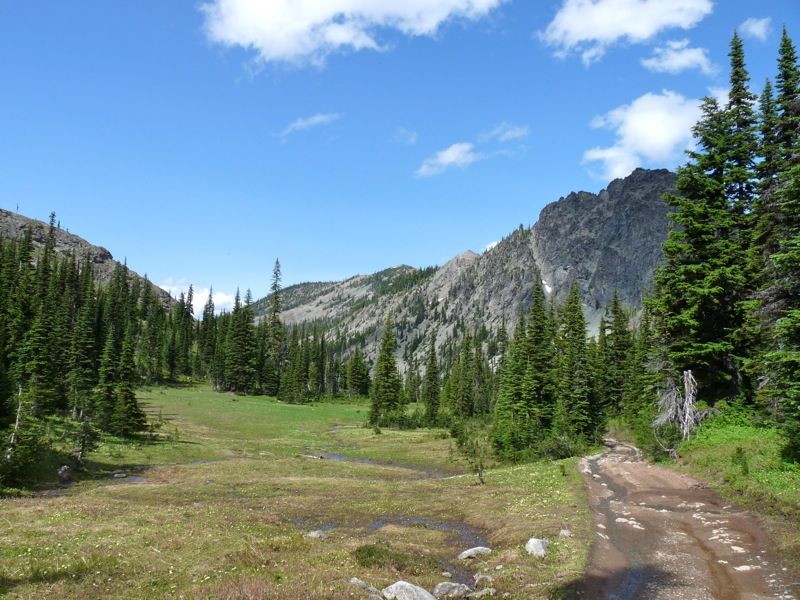 This is as tough as most of these trails are.
Beautiful scenery but very passable trails.
Durr Rd / Umtanum Ridge
This is part of the Wenas Wildlife area and is an old wagon road from the late 1800's between Ellensurg and Sellah to the south. Durr Rd is easy as it roll across a plateau, them drops through a cut and pops out mid-way up a steep canyon. The road then switch-backs down to the canyon floor, crosses Umptanum Creek (shallow water ford) and climbs up to Umtanum Ridge to the south. Then run the tridge east and west as far as you want. The whole route is easy an can be run in 2WD if you want. It also offers great views over the sparse, arrid hills of eastern Washington. I don't know how accessible this is in winter. If there is snow, it would be wise to stay off as the road into and out Umtanum Canyon is very steep.
About as gnarly as Umptanum gets. Coming up out of the canyon.
Fording the creek at the bottom of Umtanum Canyon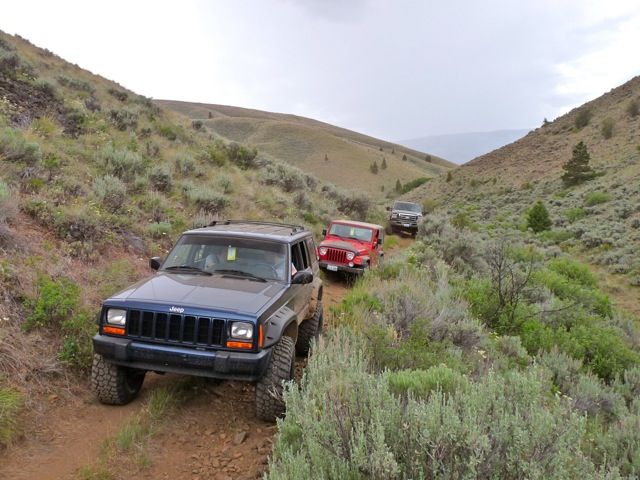 Driving up out of Black Canyon which is a short side
detour from the top of Umtanum Ridge
Liberty / Table Mountain
More 4x4 trail type conditions in this area. Brush and trees can encroach on the trail but otherwise the trails are easy in the dry. In the wet, however, it's slicker 'n snot. There are lots of trails in this area and you could easily spend about 2+ days exploring all of them. There are also some decent camping options, too. However, this whole area was ravaged by some massive wild fires this summer. I have no idea what will be open next season.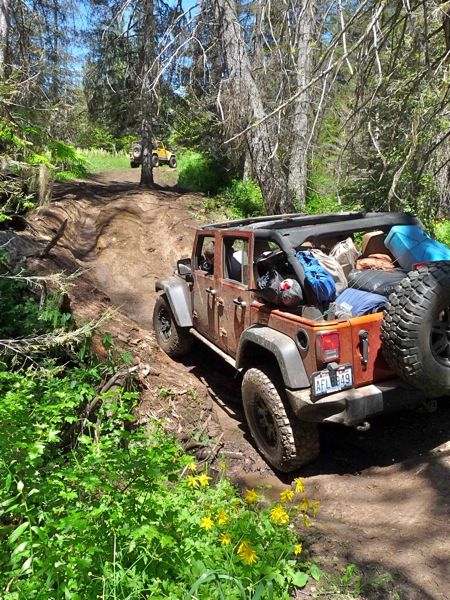 As wild and wooly as most of the trails get at Liberty in the summer.
Beautiful views, though.
Manastash Ridge
This is a HUGE ORV area that sprawls over 115 sq miles of territory south of Cle Elum between I-90 and Hwy 410. There is enough trails here to keep you interested for about 4+ days of solid wheel'n. Most of the trails are not bad and many of them a stock SUV can handle. . . though you might wish to take care. There is also a cool cave south of Hwy 410 that is fun to explore. LOTS of camping in the area.
You can also take the Naches Trail from Enumclaw to Manastash. And, to the east you can drop down Berber Springs Rd. to the Wenas area.
L.T. Murray Wildlife Area
These "trails" are quite easy. They are mostly unimproved roads in the state DNR green dot road system. You won't find much in the way of obstacles but it gives you a chance to get off the pavement and gravel roads. Right adjacent to the Manastash Ridge ORV area south of I-90 between Cle Elum and Ellensburg.
Wenas Wildlife Area
Green dot road system managed by the DNR. The Durr Rd / Umtanum route is part of this system. Again, nice exploration for stock rigs as there isn't much in the way of challengine terrain. The Wenas area ranges over the arrid, barren hills between Ellensburg and Sellah / Yakima. Immediately east and adjacent to Manastash Ridge area.
Naneum Ridge State Forest
Another green dot road system with trail / road conditions similar to Umtanum Ridge / Wenas area. They aren't super challenging but they'll be more fun than gravel roads and take you into remote areas. Naneum Ridge "forest" is north of Vantage and I think some of the road get you close to the Columbia river. Never been here. Might be a good place to check out in the winter as I don't think it'll get much snow. No doubt it'll be cold.
Ahtanum State Forest
Another Green dot road system between the Rimrock ORV area south of Rimrock lake and stretching east "toward" Yakima. Never been here but I think it'll be burried under snow in the winter. Most trails shouldn't be too challenging I've never been here to verify that.
Tahuya
This is an ORV area down near Belfair. It's mostly set up for motorbikes / ATVs but they do have two loop trails. One is an easy loop that doesn't require 4WD apart from perhaps some BIG puddle crossings. The other looks a bit more challenging. I went here years ago before they opened the new loop and . . . was bored. Haven't been back in well over a decade and the single new challengine loop is only 1 or so miles long. Not worth the drive to me. However, being only a couple hundred feed above sea level it should be open year round.
Washington Backcountry Discovery Route
A friend tipped me off to this and it would be fun to do some time. It's more of an overlanding route than a 4x4 route. The BDR starts at the Columbia Gorge and stretches to the Canadian border and runs right through the middle of the Cascade Mountains. There is some pavement travel but most of it is on some poorly maintain gravel mountain roads. Parts of it cross the Manastash Ridge / Umtanum Ridge (depending on which route you take) and another cuts through the Table Mountain area (near Liberty). It'll take some research on the specific route you want to take, though. If you did the full route it takes 4-5 days. But you can pick and choose particular segments.