So this is being done on a 2001 WJ with the front Akebono conversions already done. Others may have Teves style fronts... consider switching the Akebonos are awesome. Anyways. I used Napa Premium Rotors and Wagner Thermoquiet pads, love em love em love em. In my experience they tend to be completely quiet during break in, make noise for a couple hundred miles, then they go silent again
Anyways, here comes the pics!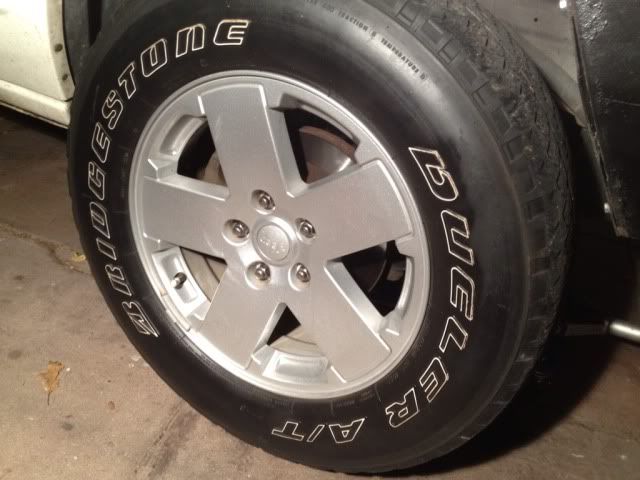 First you'll need to jack up one side of the front axle. I reccomend throwing a jackstand underneath for safety. Then take your wheel off and for extra safety you can slip it underneath the body uniframe rail.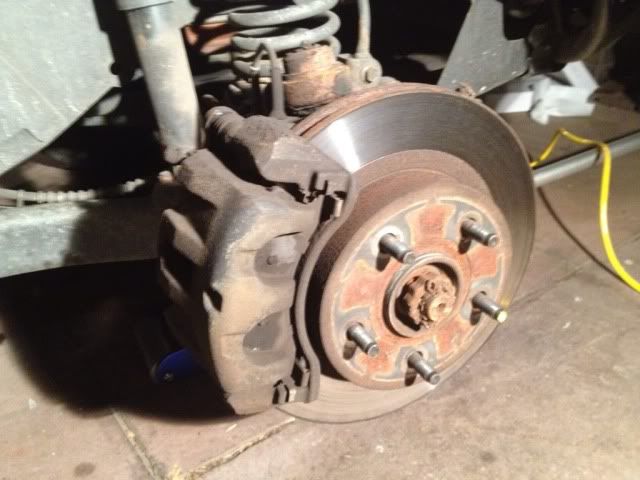 Now rotate the steering wheel so that you have better access to the caliper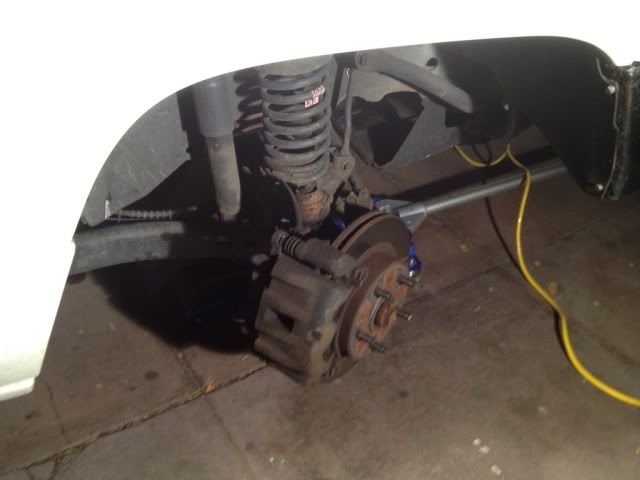 Give everything a good cleaning with brake cleaner.
I gave my bolts a shot of PB because they were in there well. If you're not replacing the rotors try not to get any overspray on them.
Using a (1/2"?) socket break the caliper slide pin bolts free (one on the top one on the bottom, identifiable by the rubber boot)
And get those bolts outta there
Pop the fluid cap for the master reservoir and use a clamp to compress the caliper a bit which will make it easier to slip it off. It helps to have a buddy keeping an eye on the brake fluid level just to make sure it doesnt overflow (that stuff is hell for the paint)
Then you'll find with some wiggling and possibly a flathead screwdriver prying between the caliper and the bracket that itll come right off. Hold it as it comes off and DO NOT let it hang by the brake line. Support it on a bucket or tie it up somewhere.
my old pads were disgusting and getting near the point where they needed replacement.
so go ahead and pop those pads off. If you're just doing pads stop here and skip ahead. If you're doing rotors continue on. Unbolt the caliper bracket with an 18mm socket. These can be in VERY tight and I used a 1/2" drive breaker bar to break mine free.
Theres the culprits right there
Got the bracket off and my rotors are about ready for replacement by my standards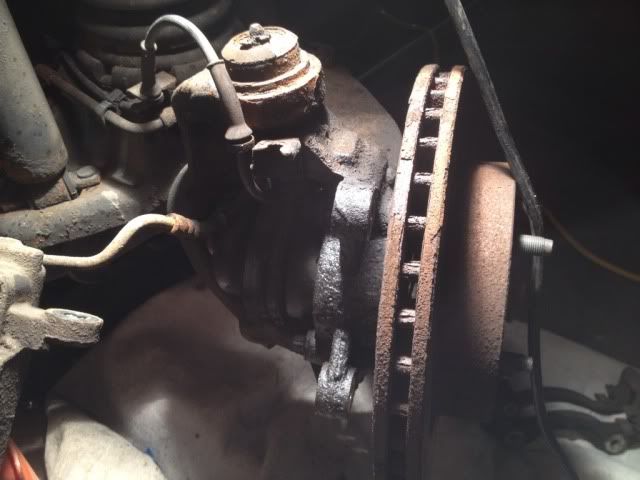 It should just pop right off else give it a quick tap with a hammer and it should break right free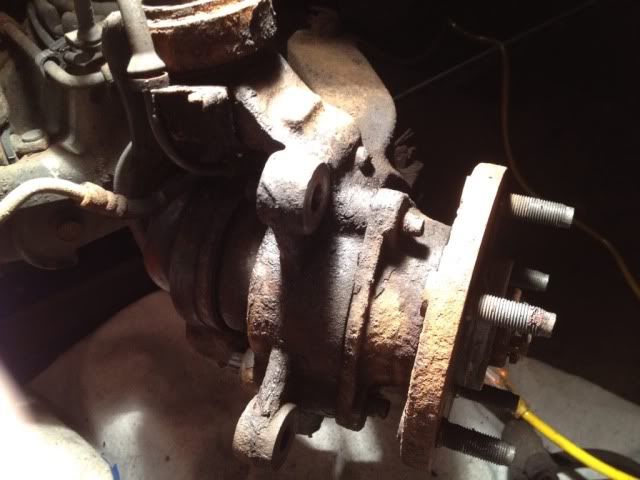 Here are my shiny new Napa rotors, spray them down thoroughly with brake cleaner to get the assembly oils off and try not to touch the braking surface with your inevitably oily fingers.
I like to wirebrush the mating surface of the wheel bearing hub down just to make sure the rotor is going to sit nice and tight and flush.
So go ahead and pop that rotor on there pressing by the center around the lugs to make sure its seated fully.
At this point move to your caliper bracket and using some pliers or a screwdriver pull the old pad slide clips off noting how they are oriented.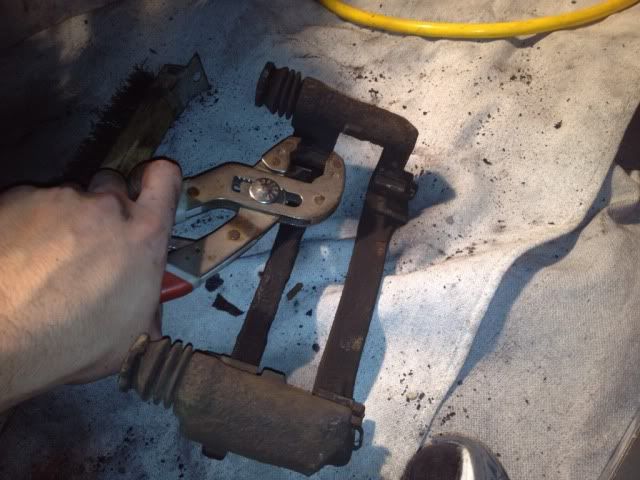 I decided to inspect my slide pins while I was there... it is common protocol to lubricate them... mine were pretty gross
so I pulled them out and cleaned them up real well
Put a generous amount of brake parts lube on them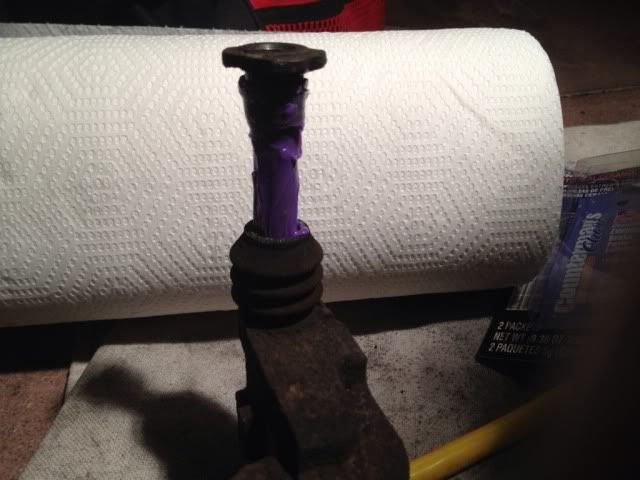 And slid them both back into place, the rubber boot should be seated properly around the divet
Now I put the new pad slides on like so, I remembered the orientation of the old ones but it wouldnt have taken long to figure out what was the right orientation. I also used my pliers to really clamp them in nice and tight they sit in an indent and occasionally due to tolerances and such will not seat perfectly by hand and need some persuading
So go ahead and bolt that caliper bracket back up nice and tight and then proceed to pop your new pads into place. Thermoquiets dont call for antisqueak but I put a bit on the slide arms anyways and have had no problems for 2000+ miles
Get your caliper cleaned up real nice with some brake cleaner and paper towels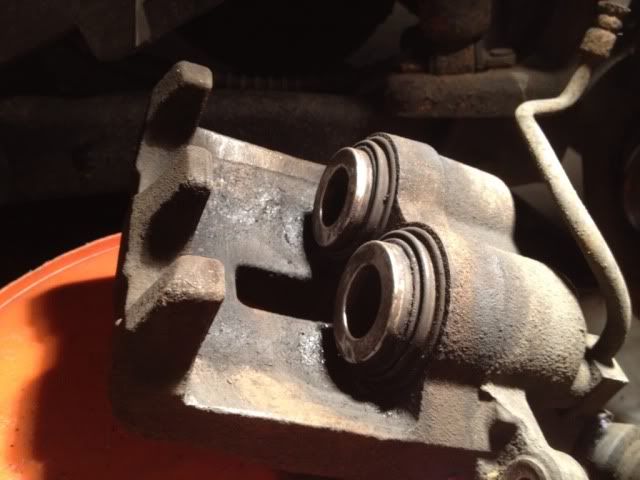 Then using a C-clamp I compressed each piston (good to have someone watching the fluid)
Then I threw on some more anti-squeal for good luck
Then go ahead and get your caliper into place and thread the bolts in. you might find it hanging up on the slide pins... just push those in as you seat the caliper.
Tighten those bolts (there is a spec out there but I have gotten away with bubba tight) and do a inspection of your work.
Repeat the same exact thing for the other side... congrats you just did your brakes and saved a whole bunch of money in the process. Get your tires back on and go for a test drive. Dont forget to make sure your brake fluid reservoir cap goes back on! Most pads will require a bed in procedure right away so its worth researching what specifically needs to be done for your specific pad in order to ensure maximum longetivity of your pads and rotors as well as the best stopping power. With these and my rears done I am able to easily lock up my tires and kick ABS on dry pavement so in the event of an emergency situation I know my brakes will not be my weak point. I am also able to get great braking power whilst trailering a 5klb boat which was my primary reason for upgrading the system.
Also when you start up your Jeep for the first time dont be alarmed if the pedal goes to the floor a couple times. You compressed the pistons remember? So just pump the brakes a couple of times and you should feel the pressure coming back. If it doesnt you have a problem and should check to see if you're leaking/spraying fluid anywhere, this is unlikely if you were careful with the caliper. After your first couple drives and bedding the pads in the pedal should feel much better. If you're still unhappy with it consider getting the brakes bled.