Registered User
Join Date: Jul 2012
Location: milton
Posts: 135
window tint
---
how hard is it to remove the windows on a 2000 jeep grand cherokee. im looking to do 35% metalized tint on top of the stock tint and on the front windows. just wondering how much tint and how tall i should get it
Registered User
Join Date: Aug 2012
Location: Salt Lake City
Posts: 354
Quote:
Originally Posted by damessor92
how hard is it to remove the windows on a 2000 jeep grand cherokee. im looking to do 35% metalized tint on top of the stock tint and on the front windows. just wondering how much tint and how tall i should get it
You don't need to remove the window to do it. So, just measure your window.
Registered User
Join Date: Aug 2012
Location: Auburn
Posts: 961
If you're doing the tinting yourself, ebay has laser pre-cut tint for most vehicles including the WJ. I tinted my front windows to match the factory stuff (%20) with laser cut tint ( I think the seller I used was
tint-pro (click)
). I've used the same seller to tint my last 3 cars. It's great quality and doesn't turn purple like the stuff you get at wal-mart does. And no, you don't have to take off your windows, but removing the door panels to tint the front and rear doors makes things easier.
Taken about 10 months after installation. I helped a buddy tint his truck with Wal-Mart tint and 6 months later it is starting to turn purple already!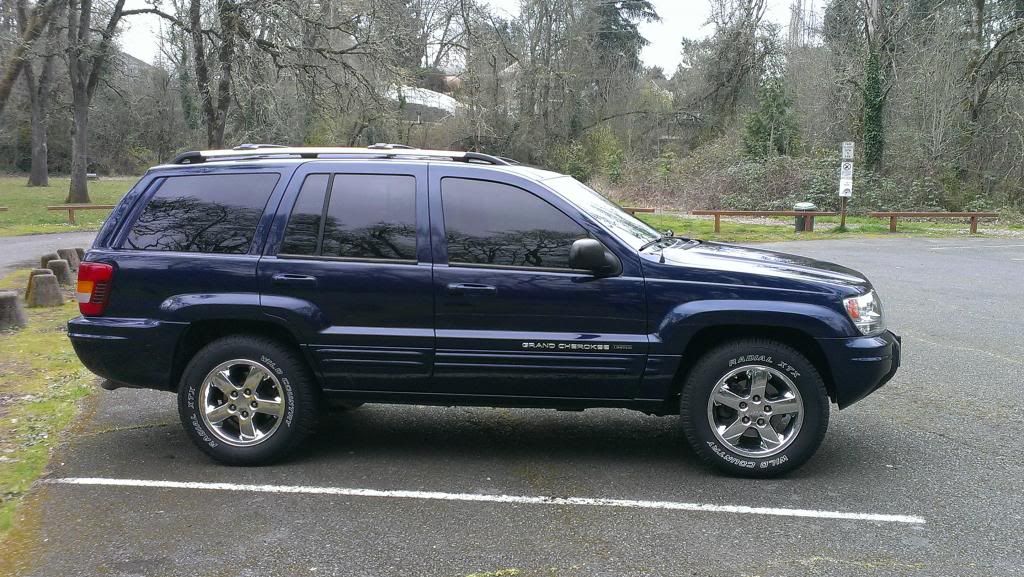 Registered User
Join Date: Mar 2012
Location: Elmsdale
Posts: 1,218
Registered User
Join Date: Oct 2011
Location: Brazil
Posts: 395
I will give all you guys props who do the tinting yourself. I tried to do it on my own and got so mad that I gave up. I couldn't get the tint to lay flat under the weather stripping on the bottoms of the windows and just ended up paying someone to do it.
Registered User
Join Date: Nov 2007
Location: UK
Posts: 555
That weather stripping pops right out and makes it so much easier. I managed to do my side windows but failed twice on the tailgate.
Registered User
Join Date: Apr 2012
Location: orangville
Posts: 2,841
For curved windows like the tailgate, you will need to use a heat gun.
---
The beatings will continue until attitudes improve!

HID Quad bi-xenon + foglight retrofit
http://www.hidplanet.com/forums/showthread.php?44572-Jeep-2000-Grand-Cherokee-WJ
Registered User
Join Date: Jul 2012
Location: milton
Posts: 135
thanks guys so much easier well my buddys going to help me do it and he takes the windows out to do it
Registered User
Join Date: Jul 2012
Location: milton
Posts: 135
how do you get it around the dot matrix around the windows
Registered User
Join Date: May 2013
Location: Denver
Posts: 599
There is a lot of how to DIY on Youtube made by pro's that do it for a living. Just do a search. A few cheap tools to get under weatherstripping and your set. Taking the windows out just makes it complicated. I did the fronts last year.
---
2001 GC Laredo 4.0 4x4 - Black l 2001 GC Laredo 4.0 4x4 - Silver
Registered User
Join Date: Nov 2013
Location: Arvada
Posts: 1,300
I learned for the dub jays that removing the weather strip helps a lot. I guess nothing is better then trail and error
---
As I roll down the trail,I hope my traction will not fail.But if I spin & begin to slide,please dear lord protect my ride
https://
To view links or images in signatures your post count must be 10 or greater. You currently have 0 posts.
http://fortcollinswheelers.com
Currently Active Users Viewing This Thread: 1

(0 members and 1 guests)
Posting Rules

You may post new threads

You may post replies

You may not post attachments

You may not edit your posts

---

HTML code is Off

---