What i have been up to
---
For the last couple of weeks, i have been working on my 04 WJ special edition. i was going to post in the "what did you do to your WJ today", but decided to put it all in one post.
i will be leaving for college in 2 weeks, so i decided that i needed to finally do some work that i have been avoiding.
Before last winter i got new tires (31's) and new wheels with different backspacing to give the jeep a better stance. I wasn't planing on doing any wheeling with this jeep so i did not lift it. but, i won a daystar gift certificate at a jeep jamboree that i used to get a 2in BB. so i installed that last week. after seeing how bad my shocks were i decided i needed new ones. so i bought some Bilsteins from Kolak.
[IMG]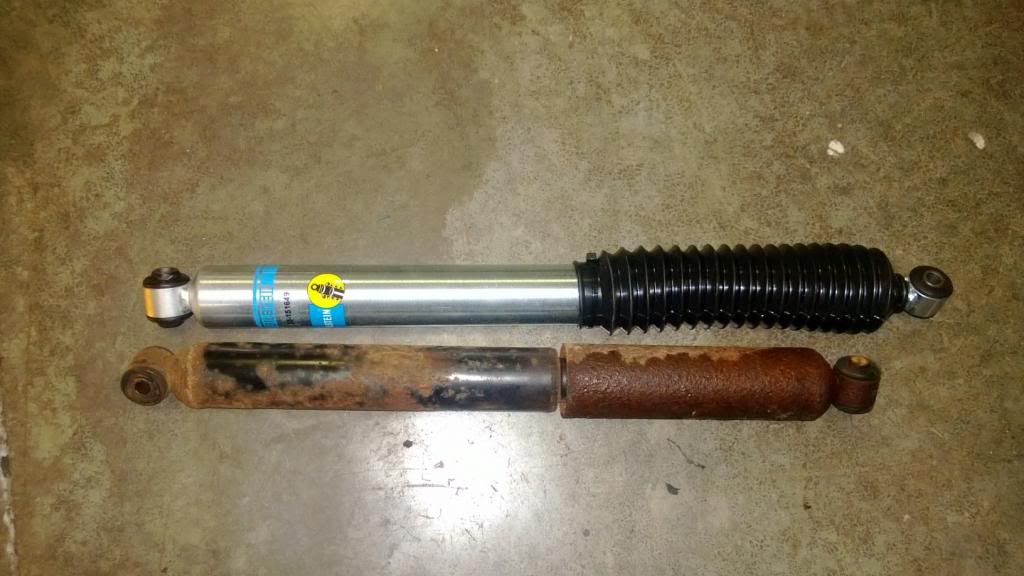 [/IMG]
now to the fun part. 3-4 months ago i ordered a front, and rear bumper from protofab. i wanted these metal ones mainly to get d rings, also to enhance the look of the jeep. It also helps that i was rear ended at high school which took out that bumper, and then i hit a deer which took out my front end....
So, after doing a bunch of cutting i got the front on, i think it looks nice. but the rear is a different story.
[IMG]
[/IMG]
Thats my sister's red WJ in the back, and if you look closely you can see you back of my dad's and I YJ.
It took me like 2.5-3 hours just to get the old hitch off becouse it was rusted on so badly (but that was the easiest thing i had to do so far). The rear bumper has a tire carrier so the thing weighs a ton which makes it hard to test fit it by myself. after rigging up a device to hold the bumper (consisting of 2 dollys, woden board, two jack stands, and two floor jacks) i was able to lift the bumper on the jeep, only to find out i had to do more cutting and re locate some filter for the gas tank. I also realized that i will also have to cut and move my exaust so it wont hang down below the bumper. Hopefully i will be able to finish the rear tomorrow.
[IMG]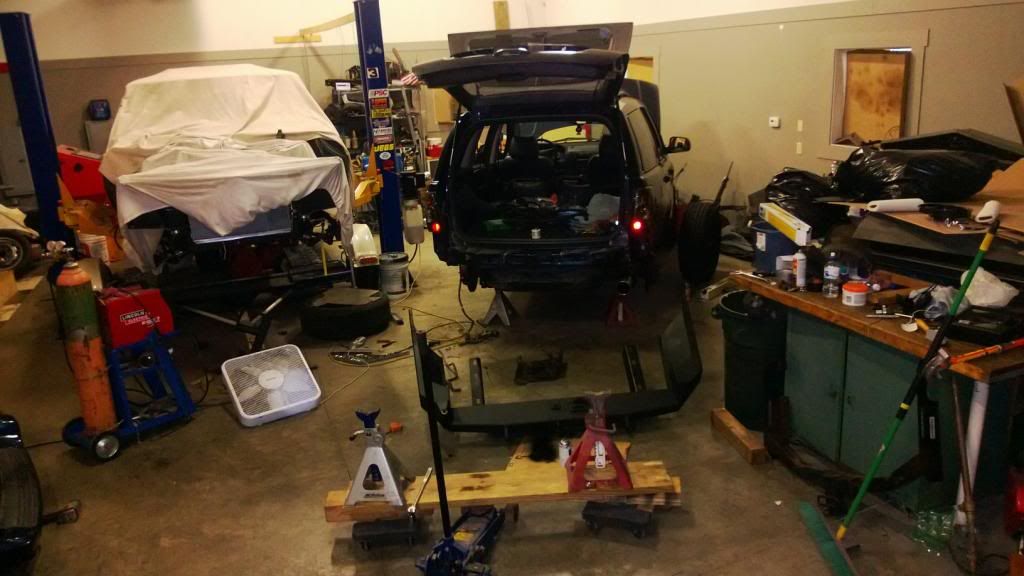 [/IMG]
[IMG]
[/IMG]
[IMG]
[/IMG]
Durring all off this, i also did the brakes on my sisters 2000 WJ, new power seat motors, new batteries in both WJ's, and rewired all of my interior LEDS.
thought i should post this since i never really post anything, and also just to show you guys what i have been working during the last half of high school.