Here's what I've been up to lately:
-New Pioneer Head Unit: Cost $450 after extended warranty, all of the extra hardware/components, and installed with the Bluetooth mic mounted nicely and USB inputs routed to my glove box (which was way too much considering I could have done it all myself for at least $100 less). Expensive, but it's a nice unit and sounds great even with the stock speakers and the stock Infinity amp still in the signal chain. It's a good starting point to build on. Again, too much money, and I won't make that mistake again, but at least it's done nicely and it took half an hour of sitting in a waiting room watching TV = no headache for me!
-Tinted tail lights (went a little darker than I wanted, but it will tie the black and white theme together nicely. Chrome delete is still a work in progress)
-Repaired some tears/rips in my front bumper with epoxy and other other stuff and it was a lot of work, but it's fixed. I primed, smoothed out, and repainted using Stone White (PW1) Duplicolor from Auto Zone and then plenty of clear coat, wet sanding, and finally polishing. Paint job turned out great, but if you look very close in person, the paint is a little "yellow" compared to the factory paint. I know there are two designations of Stone White from Duplicolor and I got the common one (PW1). Not sure if maybe the other one would have matched better but I'm going to do an 04 front end conversion and get it professionally painted down the road.
-Plasti-dipped my aftermarket ebay grill, front Jeep logo (still need to do al other logos as part of chrome delete) and lower portion of bumper. The grill looks pretty good, in my opinion, but I'll be getting an 04 OEM one soon and will keep the black and white them when I get it.
-Added a Smittybuilt rear shackle to my hitch with locking pin. Like it and I'm sure it will come in handy, but I need to sort out the rattle/clunk when I hit hard bumps.
-Cleaned throttle body and IAC (which were very black) and replaced spark plugs (a pain but not as bad as some made it seem). The engine always ran and idled well, but the idle is SO smooth and consistent now and throttle response and power increase is noticeable. I wasn't expecting it, but it seems to be back to that level of power that it had 5+ years ago where you would barely hit the gas and it just responds immediately and lurches forward and scares you a bit. It took me by surprise a couple of times. The intake and exhaust seem much more audible now for some reason and the power increase is noticeable. It has that quick throttle response and torque-y power that I remember it having when it was much newer. And I wasn't expecting it to feel any different so it actually scared me a couple times when the throttle responded so well
For what it's worth, to those who are skeptical, the spark plugs were ORIGINAL (100k miles) and corroded to the point they had almost twice the gap they should have. The throttle body and IAC was pretty covered with carbon deposit as well.
New head unit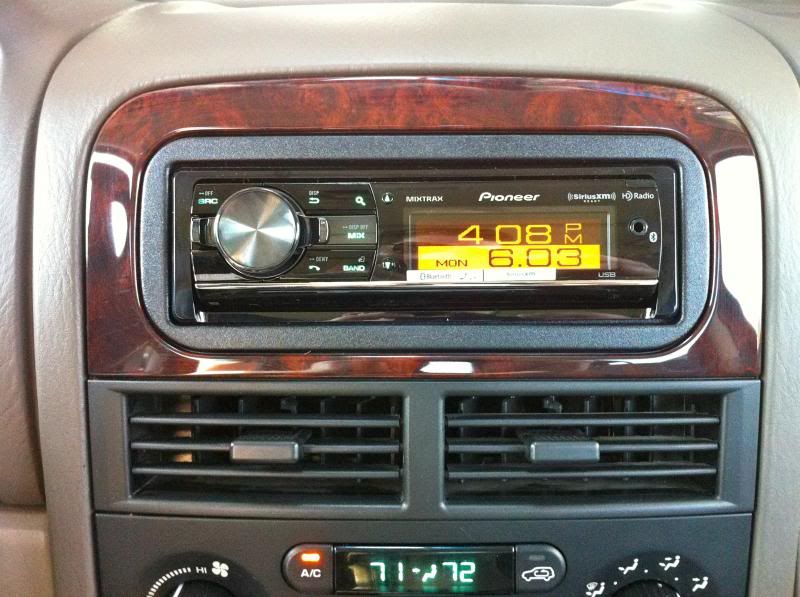 Tinted tail lights (not as dark in person) and new rear shackle)
Plastidipping and new paint on front bumper (slight mismatch with the rattle-can Duplicolor paint I used, which is more noticeable in the pic)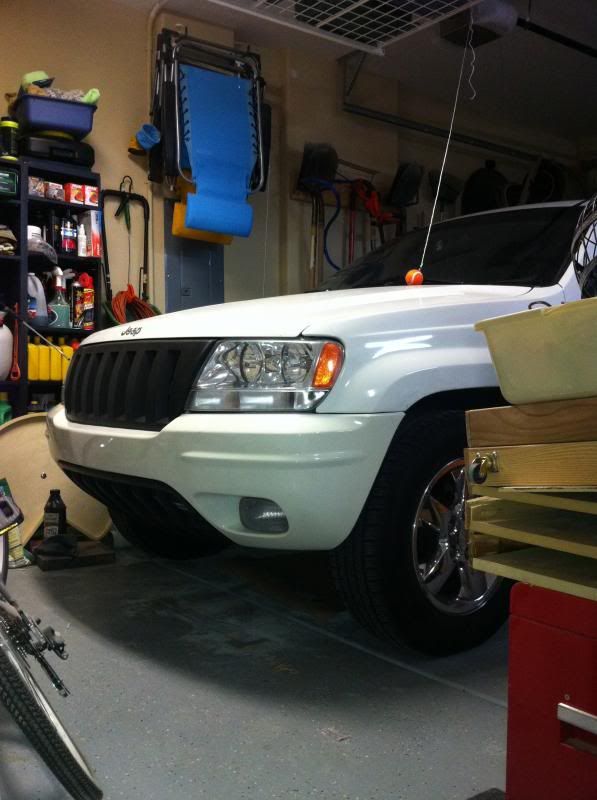 More bumper paint and Plastidip (black and white theme coming along and chrome delete getting there)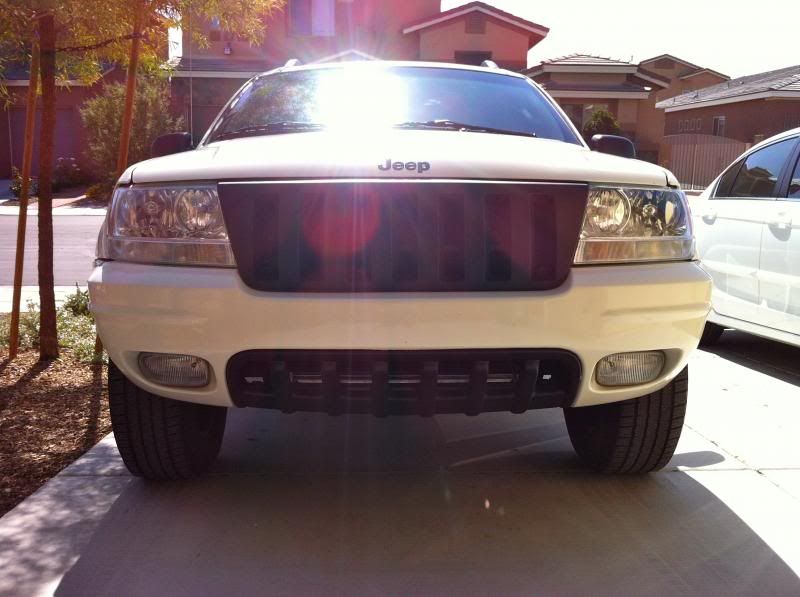 Cleaned up engine bay a tiny bit after throttle body/IAC cleaning and spark plug change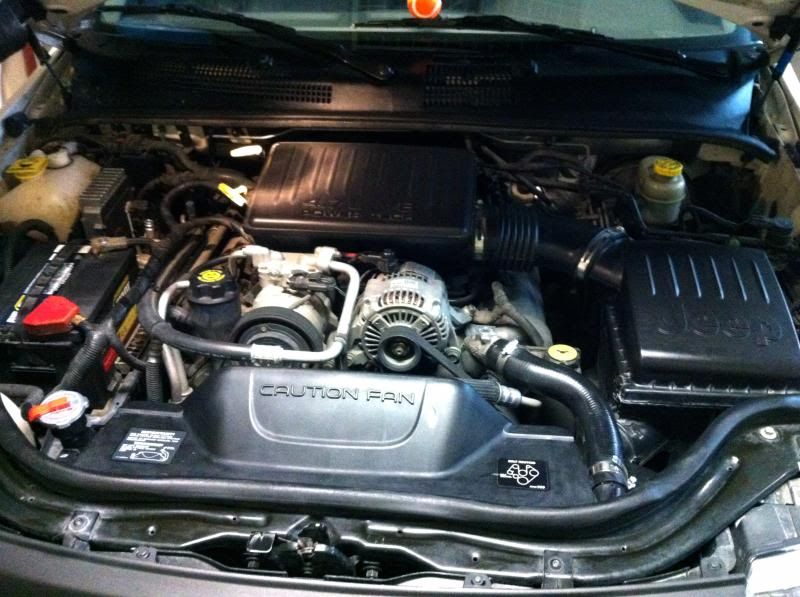 This is what the sparks looked like (original equipment with 100k miles). They are inspiring that the engine has run well all these years and seem in great condition for that old, but definitely needed to be changed and the vehicle runs much better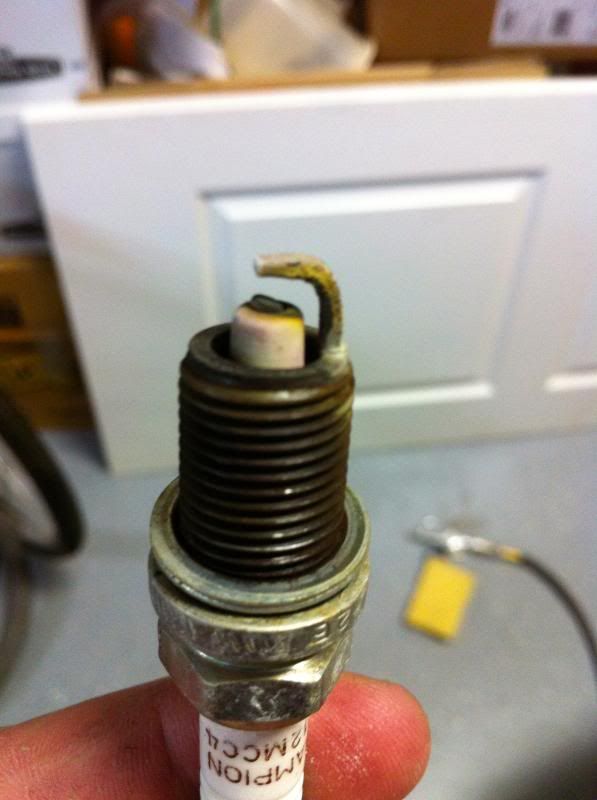 The WJ is running like a CHAMP now! Love it. I have a 3" Kolak lift and Goodyear Duratracs ready to go on as soon as the final pieces come, my OME HD springs that I've been waiting 2 months for. I currently have Bilstein shocks, OME 10mm spacers, all new spring isolators, JKS adjustable track bar, Moog Super Trail Boss steering stabilizer, and IRO rear extended sway bar links. Just need those damn OME HD springs and I'll be sitting on a 3.5" lift with 32" Duratracs! With that and some rock sliders, plus some some new non-chrome headlights and complete chrome delete (including wheels black'd), I should have a fairly nice Dub!