Registered User
Join Date: Feb 2011
Location: Bognor
Posts: 6,186
Quote:

It's nice to be able to keep my windows cracked while it's raining/snowing. The windshield doesn't fog up or anything. Plus I can smoke with out getting soaked. Also quiets my interior when on the highway with windows down, little wind is blasting me in the face, which is nice lol.

They are made for Sunroofs also, pretty popular over here actually
Thanks but I actually meant the one across the front edge of the hood!
Sent from my HTC Wildfire using JeepForum
---
If you can't fix it with a hammer, you've got yourself an electrical problem!
Registered User
Join Date: Jul 2014
Location: San Antonio
Posts: 90
Cargo Rack. $52 off Amazon painted black. Add 1/8" x2" x48" mild steel bars from Lowes $28 to drill and mount lights and Hi-Lift jack from (Aluminum rack is too light to hold up to a Hi-lift off road without the base steel.)
http://www.amazon.com/gp/product/B00...?ie=UTF8&psc=1
[IMG]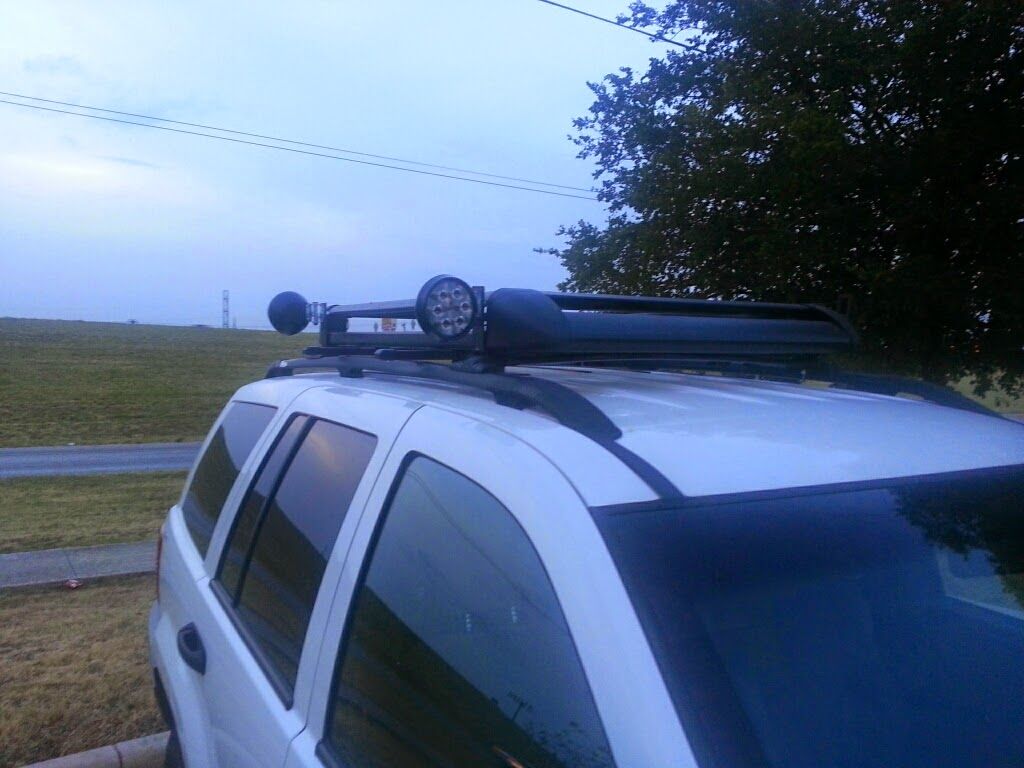 [IMG]
The Grotes LED tractor lights are another mod due to $100 limit.
JW
Registered User
Join Date: May 2010
Location: Bemidji
Posts: 17
Quote:
Sprayed bed liner all over the cladding, bumpers, and grill
$60
Attachment 618392
Did you just tape off the cladding and bumpers?
Registered User
Join Date: Jun 2014
Posts: 210
Tenneco steering stabilizer $40 (plus shipping and a boot which puts it at about $60)
Hella 500 driving light kit $70 (saving for these now
)
JGCJeeps 2.5" front and 2" rear BB lift $75
Wade by Westin in-channel vent visors $40
JGCJeeps dash speakers $40
Stant oil fill cap $10 (great upgrade)
---
2000 WJ Laredo, 265/70R16, 2.5" front and 2" rear BB, Black Rock steel wheels
Registered User
Join Date: Aug 2014
Location: Lone Tree
Posts: 60
Best upgrade I've done so far is all polyurethane bushings should cost lest then $60 for front and rears
Member
Join Date: Nov 2013
Location: London
Posts: 414
Quote:
Best upgrade I've done so far is all polyurethane bushings should cost lest then $60 for front and rears
This! And installed airhorns in the grille
Web Wheeler
Join Date: Feb 2007
Location: -----Fallon, Nv-----
Posts: 3,992
Registered User
Join Date: Mar 2013
Location: Conyers
Posts: 173
Currently Active Users Viewing This Thread: 1

(0 members and 1 guests)
Posting Rules

You may post new threads

You may post replies

You may not post attachments

You may not edit your posts

---

HTML code is Off

---