Quote:
Originally Posted by
sage39henry
I should kick myself for this but i believe it was a duralast one. Ha. And thats my plan to my mopar one. Can i only get one at a dealership? Sorry for my lack of education in advance but i am not sure what a bleeder valve is. Could you show me a picture?
No problem. Auto Zone IIRC, has two lines of t-stats, Duralast and Duralast Gold (someone correct me if I'm wrong). The Duralast Gold is a repackaged Motorad, which are a pretty good stat as they're 100% stainless steel and have the bleeder valve as well.
As for the Mopar stat, you can either order from one of the whosalers online/Amazon, Kolak here on the forum or locally at the Dealer.
The bleeder valve is also sometime referred to as a jiggle pin, and is the little brass pin pictured below: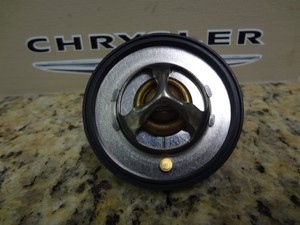 __________________
His:
'00 WJ 4.7 Limited- Some stuff
Hers:
'03 WJ 4.7 Laredo- Some more stuff
Build Thread