Registered User
Join Date: Jul 2008
Location: Arkansas
Posts: 304
Something died in there
---
Oh great....
I parked my 2000 WJ out on the slab for a couple of weeks last month while I had to keep my trailer under cover for a while.
Something climbed/slithered/crawled into the cabin, probably through the gear shift lever hole, or maybe some a/c vent... mouse, snake, gecko, lizard, etc...
and, of course, left droppings around, and then died.
So, in the left rear D-pillar trim is this dead stink, surely coming out of the slots that are just inboard of where the fuel filler door is located, maybe just aft of that, in the left rear interior corner.
I need to remove the D-pillar trim to extricate whatever is dead in there.
Do any forum members have any tips on how to remove the D-pillar trim under the left rear window, without wrecking the plastic or the retaining clips?
The SM shows to remove the liftgate upper trim by pulling downward, and hopefully not breaking any pins off, and then pull the D-pillar trim inward.
So, who's done it, and what to watch out for, other than deadness?
Thanks in advance!
Registered User
Join Date: Jun 2009
Location: Wisconsin
Posts: 1,028
Registered User
Join Date: Oct 2011
Posts: 1,065
My jeep was sitting for along time and I got in and it smelled horrible there was a dead rat under pass seat don't know how it got there!
Registered User
Join Date: Jul 2008
Location: Arkansas
Posts: 304
Ok, culprit located and removed... only one broken plastic piece, and that's the just-aft-of-center of panel support which is about 2" tall with a skimpy plastic shell mold pattern.... nothing a quart of JB Weld can't fix. Tip to those pulling panels... use a 1x2 about 16" long to reach down to the clip area, then rotate the stick to pry the clips out. The clips are open on one side, and this allows the clip end to get behind the steel hull. Of course, this will either bend the clip into a somewhat straightened form, pull the other gripper end of the clip off of the plastic fin flange, or tear the plastic flange off of the panel.... mostly, go very slowly.
Thanks, Falkon, for the URL to the panel removal writeup... greatly appreciated.
...and, here's the star: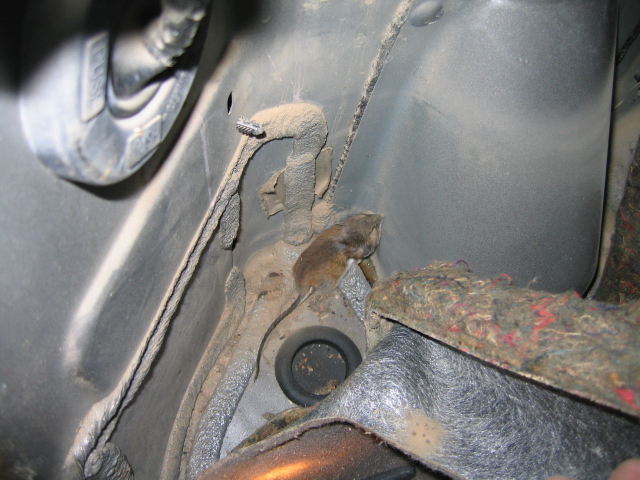 Registered User
Join Date: Sep 2011
Location: Red Deer
Posts: 150
Ahhhh I feel ya pain man ! The overhead computer in my wifes WJ was full of M&M's, Cheezies and mouse dirt, so we spent the whole weekend gutting the thing looking for dead mice, and found their nest in the roof
disinfection time !
Currently Active Users Viewing This Thread: 1

(0 members and 1 guests)
Posting Rules

You may post new threads

You may post replies

You may not post attachments

You may not edit your posts

---

HTML code is Off

---