Registered User
Join Date: Jun 2008
Location: Denville, NJ
Posts: 1,011
Replacing battery cables on your WJ
---
I'm sure a couple of you have thought of doing this seeing that WJ cables are terrible. My 2000 has had cable/corrosion issues for the last couple years. They are the solid ones and stretch after awhile so I could never get them super tight. One was also cracked. Me being a lazy bastard would neglect replacing them and just clean them up only to be left stranded four to six months later. Two weeks ago I went to go start it to drive it to work in the snow so I wouldn't have to take my other car. Nothing happened. I cursed. I went to work. I made it home anyway. Yippee.
I called the dealer that day after looking online for the part # and pricing. It was $154 for the whole harness from the dealer and they would have it the next morning. Sold.
This really wasn't that bad of an install. Take out old one, put in new one. Was done in an hour and half and probably could have been faster. With two people it would take no more than 1/2 hour.
The cables connect to the battery (obviously), one to the alternator, a ground down the front of the engine to the back of the engine block, one to the fuse box, and another plug/ground that goes behind the engine to the starter. The starter one was annoying. I tied it to the long end of a ratchet strap, dropped the hook end down, and pulled. Presto.
Wal mart even replaced the battery for free for me. Yay warranty. I also had to get a new one 6 months ago because of this, also free. Now everything is new and I don't have to worry about it again.
Point if this post: this really isn't that hard to do. Change your entire harness for a few bucks extra and never worry again.
Out with the old junk.
[URL=http://s253.photobucket.com/user/pete95sierra/media/image_zpsc565b962.jpg.html]
[/URL
New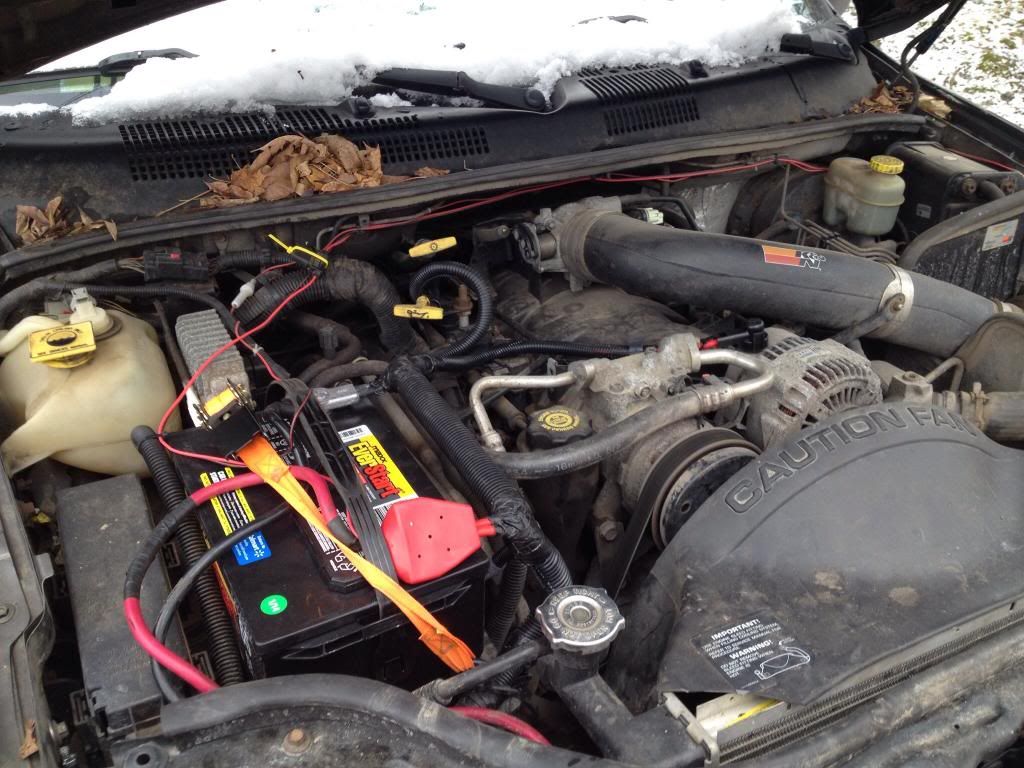 ---
KCCO
2000 WJ
2013 WK2
Registered User
Join Date: Jul 2010
Location: Boise
Posts: 2,093
only 154 total? i just spent $300 on mine.
Registered User
Join Date: Jun 2008
Location: Denville, NJ
Posts: 1,011
Yup, total. Where did you get it from?
---
KCCO
2000 WJ
2013 WK2
Registered User
Join Date: Jul 2010
Location: Boise
Posts: 2,093
shoot. I had bought them through a shop that was doing some other work.
Currently Active Users Viewing This Thread: 1

(0 members and 1 guests)
Posting Rules

You may post new threads

You may post replies

You may not post attachments

You may not edit your posts

---

HTML code is Off

---