Registered User
Join Date: Apr 2008
Location: Inverness
Posts: 468
Newbie question(s)
---
Hi guys. I know a lot of you do all your own work and all but recently i stopped doing anything on my cars etc due to health and stuff. Used to do all work on smaller cars i had years ago but tbh never fiddled with my Jeeps.
Oh its 1999 WJ 4.0ltr Limited UK(Euro) so i drive on right side :P
Had nightmare time recently with stuck/rounded/chewed lugs and just about got that sorted lol.
I have to get certain work done on my WJ to get it road legal (M.O.T. here in UK) and i had look see some of the prices that the garage wanted to charge me and did quick search on net. Before its been a bit hard for me in UK to get parts here for Jeeps but seems to be getting better thankfully.
Please dont laugh at the stuff im doing or askin cause i REALLY want to get back into it and need good advice (and simple at that lol).
in No Order;
Wheel lugs rounded - 90% done

Sort MIL error - check

"stuttering on gas down" - think done.Cleaned chamber and injectors etc but cant run on road till legal :/

Driver seat small metal breakge between runner and seat (weld) - to do

Rear Anti-roll(sway) bar rubber mounting worn replace - to do

Rear shock absorber leak, replace both - to do
Ok so question. Is it hard/how hard/easy is it to replace sway/roll bar bushes/rubbers? This is on read bar. Do i need anything weird or funny tool wise, what best way to do this?
2ndly Rear shockers. Done before on small car but not this size ( make a difference?) but again do i need anything out of the ordinary tool wise?
My stuttering under gas when it wanted to go like 2nd gear. I cleaned with carb spray and a bit of throttle etc following instructions from this forum. I hope thats what the problem is but the Jeep has sat for a long time ( 6 months unmoved then 6 months being started and moved slightly
) Probably going to get told to replace fuel filter (hard? how?) and something else i cant find here in UK lol.
Sorry for wall of noob text but hope you guys can help. Oh and im moving home in 4 weeks so need to get this done, its one of those jobs guys you know the "yeah its ok darlin' i'll do it at weekend " shots
(im also selling my 03 WJ cause its got..issues lets say ..previous owner had it dumped in river and its still not right i think plus i find rust now and blend doors are sticking sometimes (eek) where as my '99 is spotless albiet illegal to drive lol. Hmm wonder if i should swap seats over etc and cannabilize before selling ha)
---
Last edited by Mr_Grumpy; 08-05-2010 at

07:52 PM

.
That Rigger Guy
Join Date: Apr 2007
Location: Indianapolis, IN
Posts: 601
Quote:

Oh its 1999 WJ 4.0ltr Limited UK(Euro) so i drive on right side :P
Ummm... actually you drive on the left ;P
---
Mine '97 White, ZJ Ltd, 5.2, Up-Country Suspension, Kolak ignition, Kolak/Magnaflow Exhaust
Her's '98 Chargold ZJ Ltd. 4.0 2wd
Our 1st '97 White, ZJ Ltd, 5.2, The parts Jeep for 5 years...R.I.P. Sent to Pic-A-Part 5/17/2013

To view links or images in signatures your post count must be 10 or greater. You currently have 0 posts.

Right side of car left side of road but since its the car im talking about and besides was a play on words, right=correct ;p
Either way still could do with some advice
Registered User
Join Date: Mar 2008
Location: North Carolina
Posts: 56
Nothing special for the shocks or the sway bar. Pretty straight forward and easily accessible. I'd worry about the stutter last. Put some fresh petrol in and give her a run and it may clear itself.

Why not cannibalize the '03 ? It should be a straight swap for whatever you need.
---
WJeff
01 GC Ltd 4.7L
Thanks Wjeff. The garage want over 2.5 times the cost of BOTH shocks for them to do ONE shock lol. So as you can imaagine im not keen and want/hope to do it myself
I might and probably will cannibalize the 03 to some extent so long as the 03 is still sellable. Getting good prices here atm and they havent dropped in last year at all so good time to sell it.
Registered User
Join Date: Mar 2009
Location: UK
Posts: 20
Did you ever find out why it was 'stuttering'? Mine does it but it tends to 'clear' itself when I put my foot to the floor. At the mo it's not really a problem but prevention is better than cure!!
Not yet.Still stuck off road (but not the good off road sense lol)
Cleaned thoroughly with carb cleaner spray with the air filter and chamber etc removed. Blipped the throttle a bit while spraying into intake, which was quite coked/black. Hoping its helped because i did very quick blast round the block and so far seems to be ok but who can tell.


BTW does anyone have idiot instructions on how to get a lug nut off via chiselling? getting to end of sanity with these bastards lol.
Registered User
Join Date: Jul 2009
Location: Illinois
Posts: 327
chisel might be rough to use, and banging on it might harm the stud, but you could try it... ever hear of a nut splitter?
Maybe one of these, works kind of like an easy out, probably worth the $ spent.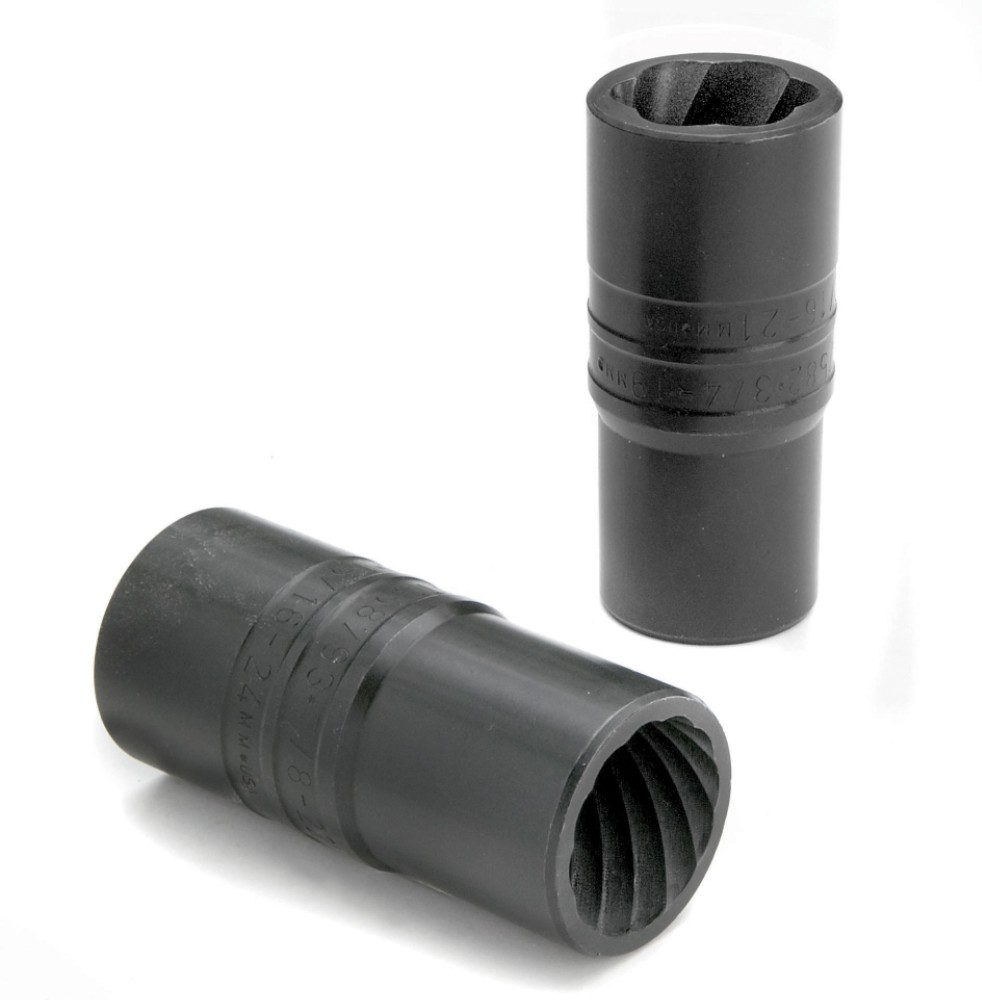 Yeah i got myself a nice little set of those, but they just ate the but and no matter what i did they just chewed it smaller and smaller and very nicely round
Started chisel but had to stop due to rain ( shock here in scotland) but will try again tomorrow. Dont really know what im doing and since the wheels for the dump ( i have replacement ) and i dont care about stud ( got two replacement ones) im gona batter that fker till it ...well...does something. Probably make it worse knowing my luck lol.
Failing that im getting oxy torch and burning that bastage off. It WILL come off this week. Meanwhile ive ordered my gabriels and sway bar bushes.
Currently Active Users Viewing This Thread: 1

(0 members and 1 guests)
Similar Threads
Thread
Thread Starter
Jeep Forums
Replies
Last Post
Question from a Newbie!

jeremyZJ1997

ZJ Grand Cherokee Forum

6

10-07-2007

10:10 PM

Newbie Question

NS Jeeper

ZJ Grand Cherokee Forum

2

03-04-2005

08:31 AM

Newbie question

01grander

ZJ Grand Cherokee Forum

3

01-04-2005

11:00 PM

Newbie question

Phalanx1999

ZJ Grand Cherokee Forum

12

09-11-2004

12:21 AM

Newbie question

rossj711

ZJ Grand Cherokee Forum

4

06-24-2004

01:08 PM
Posting Rules

You may post new threads

You may post replies

You may not post attachments

You may not edit your posts

---

HTML code is Off

---