Registered User
Join Date: Nov 2004
Location: Hot & sunny south..
Posts: 4,465
New(er) WJ Owner - Questions
---
Been here a long time, but haven't posted actively in a while. I still have the Cherokee in my sig, but it has 219k and was becoming an unpractical DD due to terrible gas mileage and increased maintenance needs.
I've always like WJ's and wanted one, but only 03/04 models as I was looking for a "newer" vehicle.
Well, oddly enough I found two within a week at dealerships right next door to eachother. The really odd part is they were both Columbia Edition, 2WD within 5k on the odometer of eachother. The first one sold, so I looked at and purchased the second.
Stats: '04 Columbia Edition, 4.7HO 2WD (yes, you read that correct... 2WD). I bought it with 84k on the odometer. The paint is GREAT, has sunroof, Infiniti, stereo, etc. I wanted a Limited or Overland but couldn't continue to wait for one to come along in my price range with the right miles, etc.
I really like it so far. I don't regret getting a 2WD. I still have my XJ if the need arises or I feel like pounding around offroad.
I do have a few concerns.
First, I have a nice clunk that's developed usually after it shifts into 2nd gear and I let off the gas at a lower speed. Sometimes when it shifts depending on how the throttle is modulated it will make the noise. It's like a thud/clunk depending on when it happens.
I looked underneath for anything obvious, didn't see anything. It's either coming from the trans or rear end but I feel it moreso towards the front indicating the trans. Is this something common? And how durable are the transmissions in these? It's smooth overall and doesn't have trouble shifting or anything.
Second, there is a small oil leak that slowly drips oil onto the catalytic converters. I didn't know it was there until I smelled it, and I didn't notice it when I purchased it. I crawled underneath and cannot pinpoint it. I would be really disappointed if it was the rear main seal. It only has 91k on it now. Is that a common issue with these engines? I assume the trans has to be pulled to replace it?
Third, when I set the cruise control, between 60-70mph it jumps in and out of overdrive like that's its job. It holds the set speed but just doesn't stay in overdrive. This is all on flat road. Any obvious reason why?
Fourth, it has a hanging idle sometimes. It will idle at 1,300 RPM, or sometimes 500 RPM. When it idles high it'll surge at a stoplight. IAC sensor? That's my first guess. If I rev it, it'll usually settle back to normal (750 RPM or so).
Is there anything else I should know about owning/maintaining? I need it to last for some time as I plan to hold on to it. It drives great and is in very good condition (CLEAN!).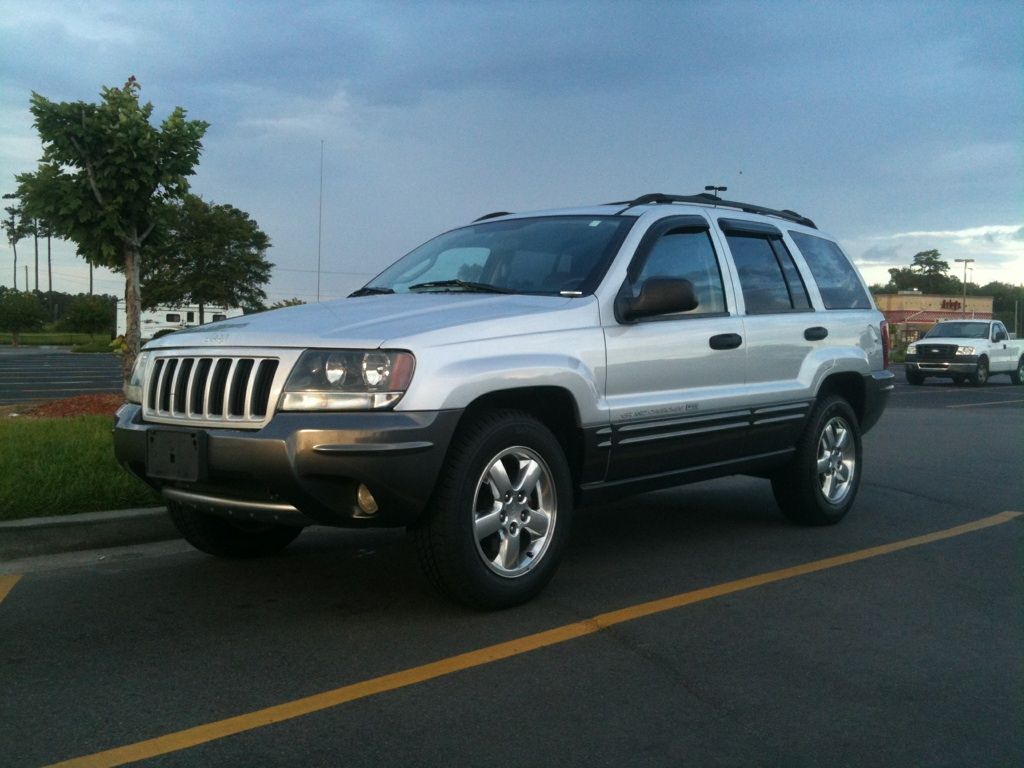 ---
'97 XJ... 4.0 4x4 AW4. 2" budget boost w/t-case drop.
31x10.5 Cooper Discoverer ST's on 15x7 Cragar Soft 8's.
Intake, Ported TB, TB spacer, Super 40 Flowmaster.
Baja Aux. Lighting.
Green Jeep Club #185, Nowhere to Wheel Jeep Club member #1
'04 WJ - Columbia Edition - 4.7HO 2WD
Registered User
Join Date: May 2008
Location: MN
Posts: 239
The cruise control and the idle issues is the TPS sensor. Typical issue. Wouldn't hurt to clean the iac also.
---
85' CJ7
Registered User
Join Date: Aug 2005
Location: Memphis, TN
Posts: 3,252
Since it was new, my 01 would make a rough 1st to 2nd shift (with what could be called a clunk) if I am slowly accelerating in 1st and then happen to ease off the gas just about when it should do the 1st to 2nd shift. Usually, it happens more or less accidentally because I don't normally drive like that.

At times I have noticed slight increases and then decreases in engine speed (100 to 200 rpms), but no change in vehicle speed, when driving like you. I worried about it for a while, but forgot about it. I think someone suggested that it was the AC compressor turning on and off.
Registered User
Join Date: Aug 2012
Location: South River
Posts: 219
How's the fluid level in your trans?

-Are you sure it's motor oil that's leaking?

-I had a trans fluid leak on one of my lines that I found by the burnt oil smell when it would drip on my exhaust. It was under a black plastic clip that holds the two lines together. It's a moisture trap. I fixed it by cutting it out, flaring the lines a bit and patching with rubber trans hose + two SS clamps. Been fixed for 14 months now, all good.
---
2001 WJ V8 QuadraDrive Stock
1966 Ford Galaxie 500 LTD, 390 CI (6.4L) V8 4V, two door hard top, black on black
Registered User
Join Date: Nov 2004
Location: Hot & sunny south..
Posts: 4,465
Thanks guys.

Changed the TPS that day and it did fix the high idle and cruise control issue. Seems it downshifts more as it should and doesn't have the same dead spot.

Galaxie - I need to check into that. It looked like oil, but I need to look into it further. I have added approx a quart of trans fluid since I bought it. So that may very well be the issue because there's no visible leaks elsewhere.
---
'97 XJ... 4.0 4x4 AW4. 2" budget boost w/t-case drop.
31x10.5 Cooper Discoverer ST's on 15x7 Cragar Soft 8's.
Intake, Ported TB, TB spacer, Super 40 Flowmaster.
Baja Aux. Lighting.
Green Jeep Club #185, Nowhere to Wheel Jeep Club member #1
'04 WJ - Columbia Edition - 4.7HO 2WD
Currently Active Users Viewing This Thread: 1

(0 members and 1 guests)
Posting Rules

You may post new threads

You may post replies

You may not post attachments

You may not edit your posts

---

HTML code is Off

---