LCA Bushings - how aftermarket bushings should and should not be
---
There are tons of aftermarket LCA's out there and almost all seem to have different bushings and setups that make them work. For this discussion I am looking specifically at poly bushings inside a tube on each end of the LCA. Inside the poly bushing is a spacer or sleeve. My question today revolves around the proper usage and sizing of this "sleeve" so the jeep is setup correctly and is safe. It may also save in having bushings destroyed in a short time frame.
here is the "new bushing"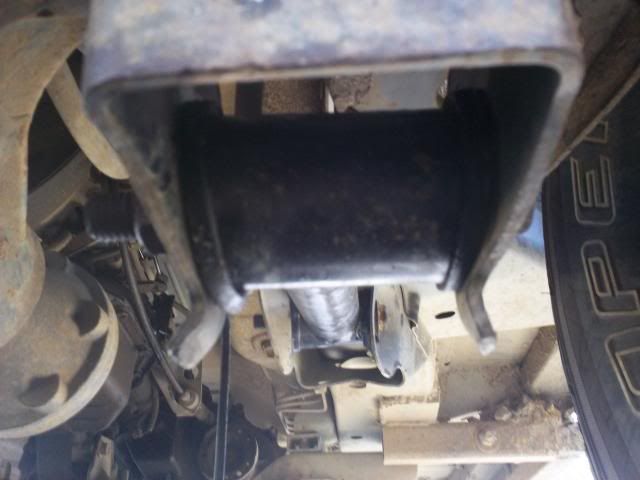 All looks good and fine, but what this picture does not show you is the fact that the inner sleeve is about 1/8 to 1/4 short from either end of the rubber "lip" on the bushing you see. This means when I torque down this bolt to 120 foot lbs, I squish the bushing considerably to where the lip is almost pinched off. My thinking is the inner sleeve should ALWAYS be flush or very slightly recessed with the outside "lip" of the bushing. This will allow the bolt to torque properly without squishing the bushing "lip" material. It will also hold it's torque better and will not change if the lip gets pinched off.
Soon these new bushings will look like my old ones on the passenger side:
I hope I am making sense. If you look at a factory control arm, the metal bushing in the middle of the rubber contacts the LCA brackets. Shouldn't the same hold true for the poly bushings. The metal sleeve in the center of the poly bushing should contact the metal and be roughly flush with the rubber of the bushing? I am currently working with my lift maker to see if they will correct the issue, as I am sure they send me the wrong parts from the beginning when I ordered all new bushings last year. Just hoping someone else will chime in with some suspension building knowledge.
Thanks