To start out you need a lot of tools to do it right. Below is a picture of some of the tools I used.
From left to right: Big pipe wrench, 1 1/8" deep-well impact socket (doesn't need to be an impact socket), seal puller (not needed but is nice), inch pound dial type torque wrench, 1/2" drive 200 ft-lb click type torque wrench, 1 1/8" socket with extension, 3/4" drive ratchet set. You only need one of those sockets more than likely don't recall using both. Things that aren't pictured that are a must are penetrating oil, 36mm socket, 13mm 12 point socket (this is a must).
To start out, loosen your lugs on the ground prior to jacking the Jeep up off the ground. Once that is done, jack the Jeep up and place jack stands under the axle. I went out as far as I could with the jack stands for stability. This is all on how you want to do it.
From there, straighten out the cotter pin on the center nut using a needle nose pliers. Pound it out and take off the notched spacer and spring washer from behind. This thread helps a lot, first couple steps. In fact I followed this for most of my install.
http://www.jeepslimited.com/index.ph...=28&Itemid=120
(Pics from
ArloGuthroJeep
)
Since we don't have wheels with holes in them to access this nut, you'll need a buddy around. Have them press the brake pedal and use your 36mm socket to break it loose. If you have air power, great. But it is doable with hand tools, I used a ½" breaker bar and the extension to the floor jack as a cheater bar. That worked fine. Break both loose.
Get your penetrating oil out and spray down the next 5 bolts that need to come out. 2 are 18mm bolts that hold on the caliper, 3 are to hold the hub on. You can see all of the holes where the bolts should be for reference in the second picture. The first picture shows the hub bolts, 13mm 12 point socket only. Don't be afraid to spray a good amount of penetrating oil and tap on the bolt head and let it sit for 5-10 mins. It will also help to turn the wheel to get at some of the bolts
Once you have the caliper off, have a stand or some zip ties ready. They are relatively heavy and shouldn't be held up just by the brake line. I zip tied mine to the coil spring as seen in the picture above. 2 zip ties was just fine for me. Once the caliper is off, the rotor needs to be popped off. Depending on where you live, this may be easy or really hard. I had a rubber mallet and beat the living piss out of them. Spray a little penetrating oil on the studs to try and loosen stuff up. Should look like this with the caliper/brake rotor off.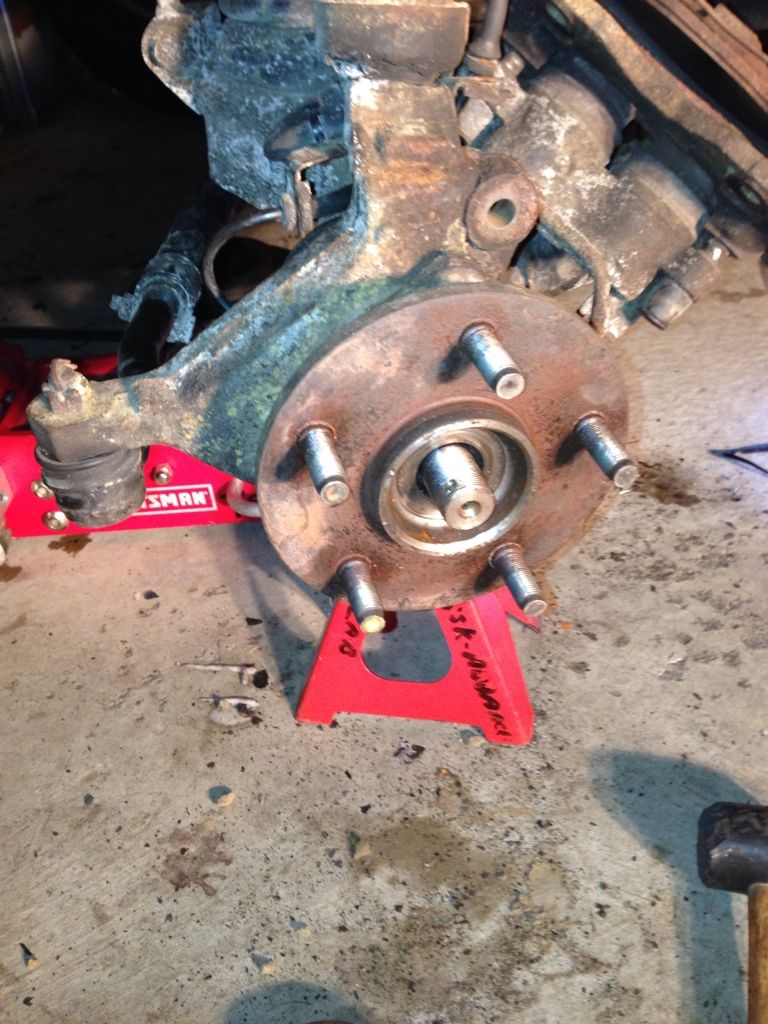 After they come off, the hub needs a little coaxing to come off. Rubber mallet works great here as well. Once these start to come loose and off, you can grab the axle shaft and start pulling that out. Do this to both sides. We are now ready to take some measurements.
Get your 1 1/8" socket and dial torque wrench. Per the service manual, you're supposed to spin the yoke a minimum of 10 times. I did this then hooked up the torque wrench. What you're looking to do here is to not capture the torque to start and turn the yoke, rather the torque to continue to turn the yoke once moving. I did 5-10 runs of this and took an average. What I did was grabbed the yoke with one hand and had the torque wrench in the other. Spun the yoke just barely to get it moving then for the remainder of the room left (which isn't a ton), steadily used the torque wrench to spin it. Doing this, I eliminated the initial spike of getting the yoke to move. Mine was between 10-15 inch lbs. Write whatever number you have down. I think it's supposed to be somewhere in the 10-45 in lbs range depending on how new the pinion bearings are. The most time intensive part is done. Wrench should look like the picture below with two needles, one is the current torque and one is the maximum torque seen.
(Pic from Google)
You'll need a 1 1/8" socket/ratchet and your transfer case to be in 4 Hi/Lo depending on which transfer case you have. Helps to move the skid plate too. One of my bolts just spins in the uni body so I just moved it out of the way. Assuming you have the front drive shaft out, get the socket and breaker bar/ratchet on the bolt inside the yoke and loosen it. It was on there with quite a bit of force so it might take a little grunt. Once the nut comes off, we have to get a yoke off. Some people do this different ways, I had a 2 jaw puller and that worked seamlessly. Be prepared to pull the seal and for some oil to leak before and after depending on shape. Carolina sent me a new transfer case seal as well. Looked like this.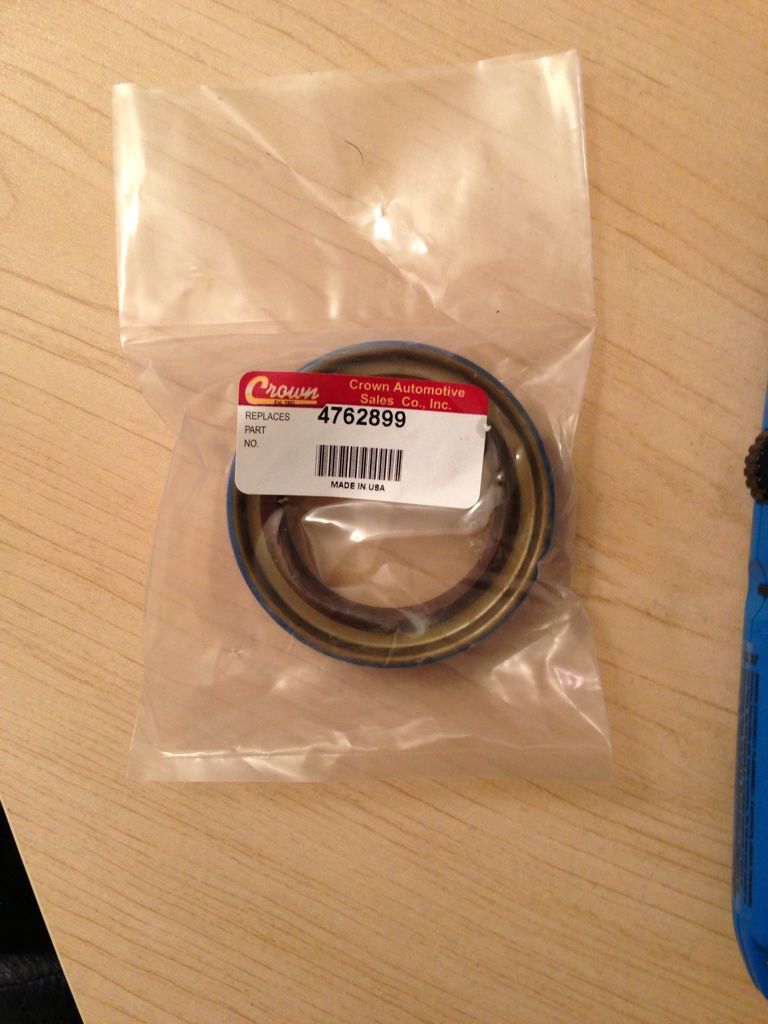 Old seal
Old yoke looks like this when it comes off. Has the green metallic disk around the edge, and I didn't end up putting that back on the new one. Wasn't sure if I was supposed to and it didn't want to come off.
Take a small 2x4 and pound the new seal into place making sure to seat evenly. Get the new yoke and install on the transfer case. In my case, from Carolina it should be the yoke on the double u-joint (cardan) side. Bottom joint in this picture. Believe the nut goes back on with around 150 ft-lbs torque. There is no crush washer here, so it's not as big of a deal.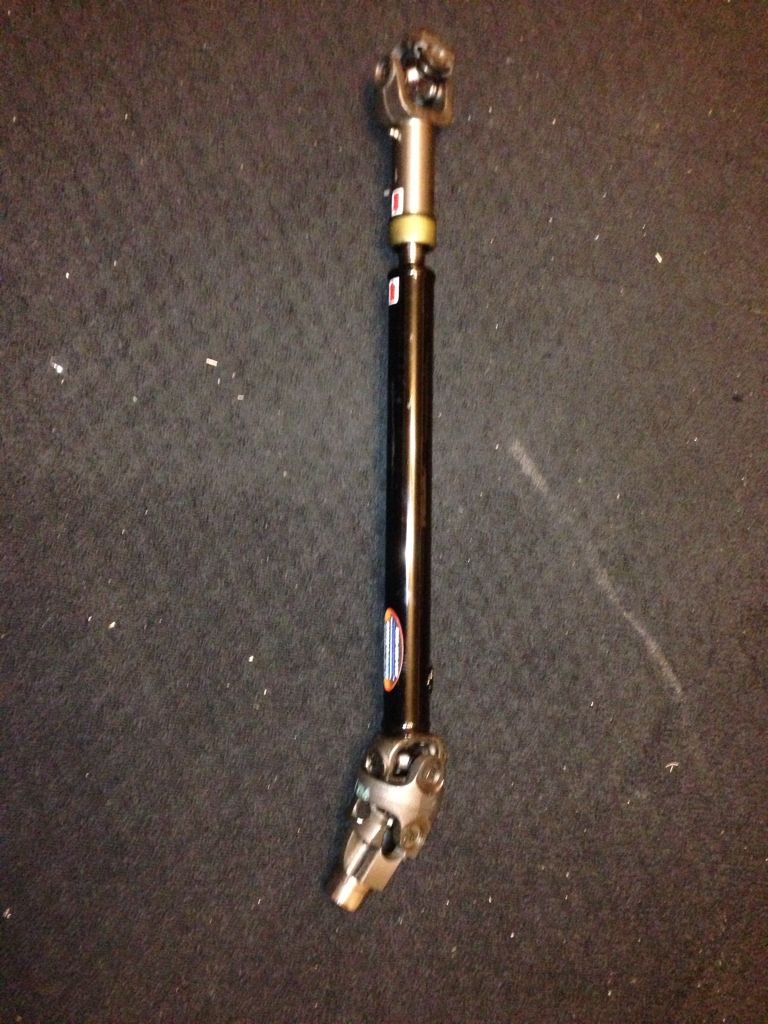 Should look like this once done.
To take off the front diff yoke is a different story. Nothing is hooked up to stop it from spinning other than jamming something in the carrier/ ring and pinion which we don't want. This is where the big pipe wrench comes in handy. Get it in the proper direction to bite and hopefully somewhere it can wedge against part of the frame or some other member to free up a hand. Again take your 1 1/8" socket and take the nut off. Air tools would work fine to get either of these nuts off, but I did everything by hand.
Make sure you have your measurements prior to this.

For this yoke I just hit it with a rubber mallet a couple of times and it came off. Replace the seal here as you're already in there with access and it's a mere $12 at Autozone. People at O'Reillys had trouble finding the right one, and I didn't want to pay $40 a seal at the dealer so I got a Timken one at Autozone for $12.
Link here
. Same procedure, pop it out your favorite way, some fluid will leak, put the new one in with a 2x4 tapping evenly until seated. Install the big washer/slinger after the seal.
Get the new yoke and get it properly seated. I used the mallet to tap it until seated right on the pinion shaft. Put the washer on the shaft and then install a new nut. These are $2 at O'Reillys and from what I read it's better to use new ones every time. Get your click style torque wrench and torque this nut to 160 ft-lbs right away. This will require you to reposition the pipe wrench. Once that is torqued, take all tools holding the yoke off, and grab the dial style torque wrench. Goal is to get the reading to be +5 INCH lbs more than what you recorded earlier. If it doesn't get to that, tighten the nut 5 more FOOT LBS and then recheck the turning torque. I believe you aren't supposed to exceed 380 ft-lbs as the crush sleeve is then useless. 160ft lbs might even require a cheater. Word to the wise, you might need an extension for this nut, but in theory that shouldn't affect your torque readings. Make sure there isn't any lateral play in the yoke, or any play for that matter. Should be like this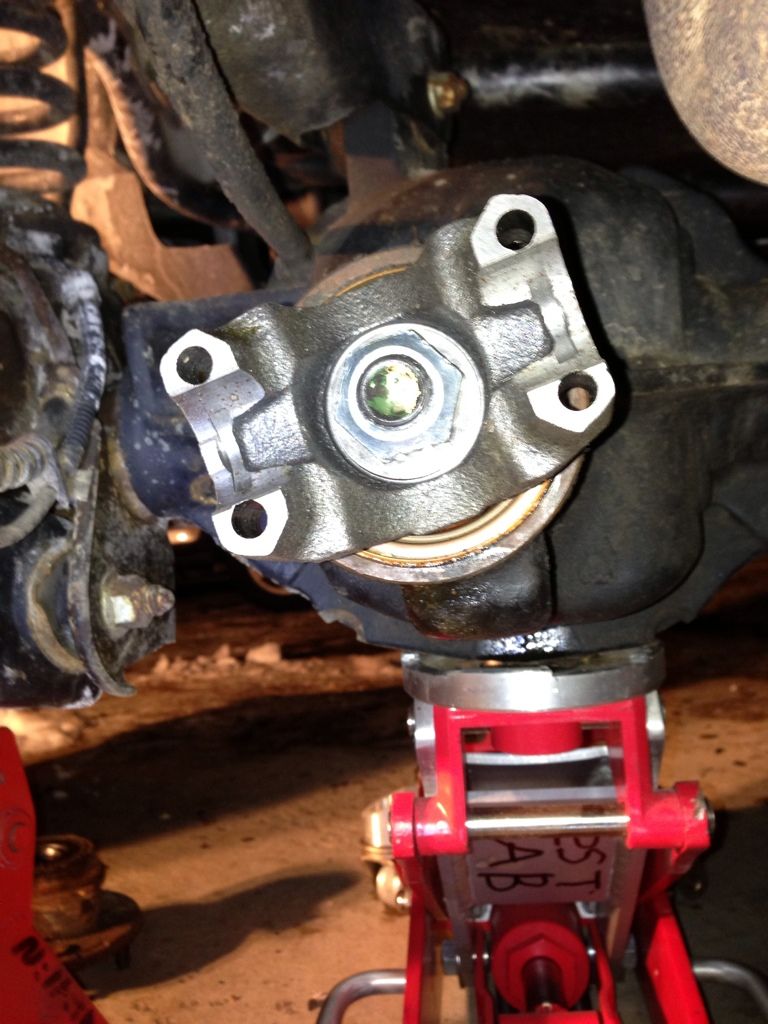 From here you are ready to install what's left: The driveshaft. I installed the transfer case end first. Carolina supplies four 8mm bolts for this end. Make sure to have the dots lined up as I believe this is for balancing issues. Hoist the shaft up there and install the 4 bolts. Carolina calls for 14-18 ft lbs on these I believe. Picture of this end done
On the diff end with a single u joint, they give you u bolts to connect. They look like this.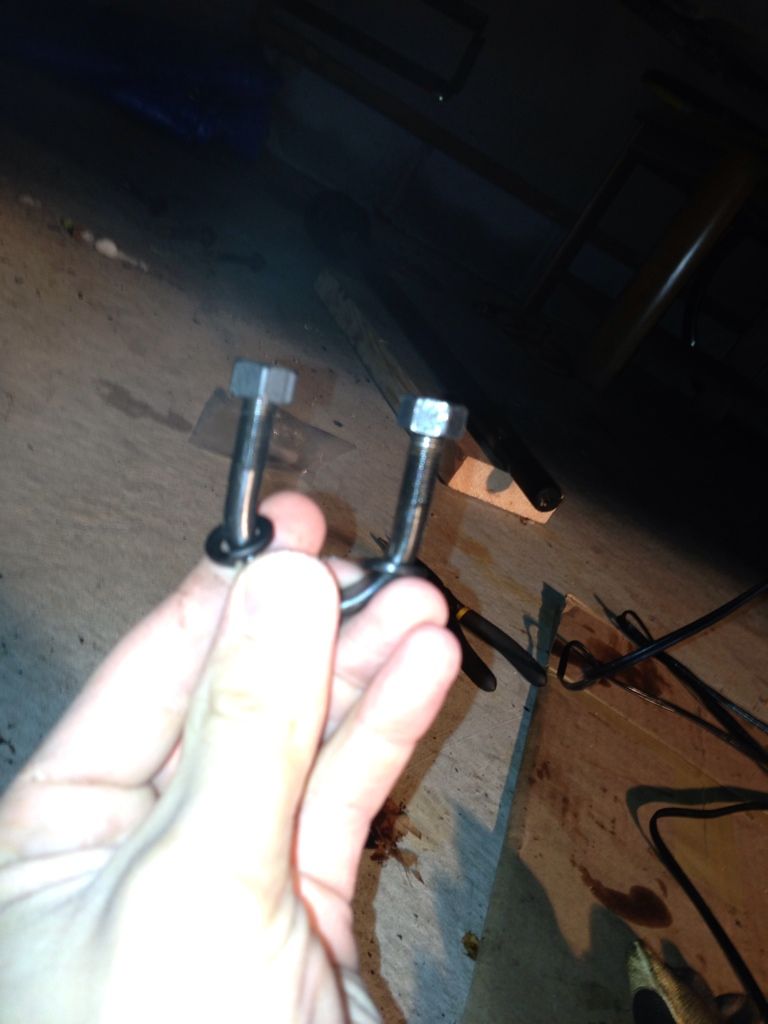 Hoist the end up and move the shaft in or out depending on where it needs to be, line up the dots and connect with the bolts. Believe they are 10mm with the same torque as the other ends bolts.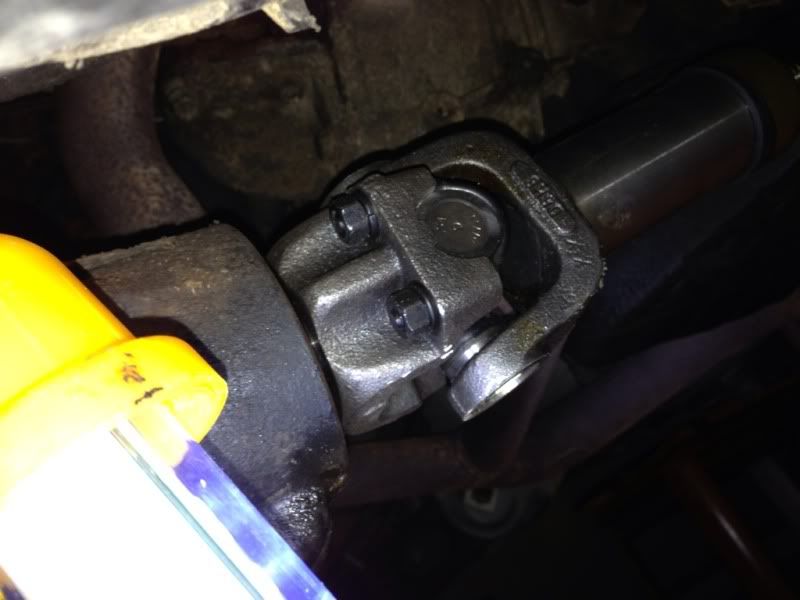 Following this, reinstall the axle shafts, trying to make sure that the ends don't touch the inside of the axle as it's caked with dirt and grease. Cleaning them prior isn't a terrible idea, at least the gunk at the ends. Re install the hubs, with the 13mm 12 pt bolts, torque to 75 ft-lbs. I wire wheeled the hub faces to make for a clean surface for the rotors to mate too, not a necessity. Brake rotors back on, brake calipers back on the rotors, install the two 18mm bolts, torque 75 ft-lbs will work here too. Put the axle nut back on with 175 ft-lbs. Will require a buddy to push the brake pedal. Install the spring washer, spacer and finally the cotter pin back on the axle shaft. Put wheels back on and torque lug nuts. The progression of assembly in pics below.
(Pics from
ArloGuthroJeep
)
The time is a little tedious, but beats paying a shop for something I knew I could do. Luckily I work in a lab that had all the tools I needed.
Thanks to Carolina Driveshafts for a quality product, haven't had any problems. Also without ArloGuthroJeep's write up of axle shaft replacements, I would have had to taken a lot more time. Check out his thread if you need to replace axle shafts.