Registered User
Join Date: Sep 2011
Posts: 298
Replacement GC Overland Pics
---
After my 2012 GC Overland 4x4 was crushed by a deranged deer - and my insurance came through and totaled my prior Jeep - I was able to find a 2014 Grand Cherokee Overland 4x4, Maximum Steel/Morocco Black interior - with the adaptive tech package and the ORA-II package which I really wanted. It also came with a single CD which I really didn't want.
It has been cold here and was unable to detail the new Jeep until today.
I still have to let the paint sealant cure 24 hours, then a coat of carnuba is going on for a deeper shine. These aren't the best pics but finally snagged a few this afternoon.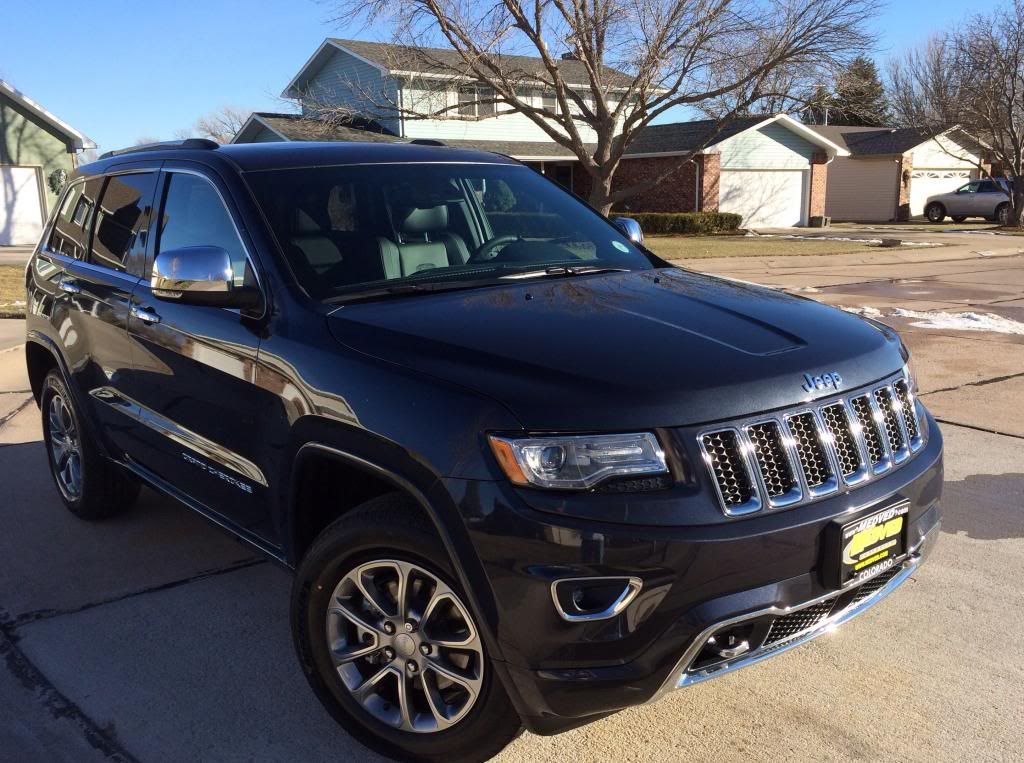 After a month without my Jeep - it's awesome to be back in the new ride.
Now I can start on the mods I want to do - to get it to where my old Jeep GC was.
Registered User
Join Date: Jan 2008
Location: archdale, nc
Posts: 636
Looks great!!! Now let's hear about what happened to the old one.
---
-2012 JKUS
-2014 GC Laredo
-2k xj
Quote:
Looks great!!! Now let's hear about what happened to the old one.
I had cruise control on @ 75 MPH, and a large buck mule deer (~ 350 lbs) leapt from a deep center median, making impact in the left front of the 2012 GC Overland I was driving. The main impact was to the engine compartment, with the radiator pushed into the engine block, the front hood latch was broken thus the hood came straight up into the windshield at 75 MPH, breaking the windshield and denting the top roof. I was able to pull over in heavy traffic on I-76 near Sterling, Colorado - and pretty much all the fluids were leaking, so shut off the engine. Two Colorado Dept. of Transportation employees witnessed this - and were about a quarter mile away. Luckily they dragged the deer carcass from the middle of the interstate, and all the Jeep parts, so traffic could continue. It was a little hairy there for a while.
It was a long process with the insurance company who eventually totaled my old MY12 GC Overland. I had done a bunch of mods so that was the sad part - but I was reimbursed pretty handsomely and found the 2014 Grand Cherokee Overland, with ORA-II and adv. tech packages.
Colorado State Patrol said if I hadn't been in the Jeep, I most likely would have been dead or seriously injured. I ended up with a femoral nerve contusion (painful!) and still going through some therapy for that, but it is much better than a month ago.
Here is one pic of the damaged Jeep after deer collision (I never even saw the damned deer!):
Before being damaged by deer:
Registered User
Join Date: Aug 2013
Posts: 153
Oh yea - I'd say any standard sedan that deer would have been in the front seat with you or worse...on you.
Registered User
Join Date: Mar 2009
Location: Aviano Air Base
Posts: 1,939
Nice looking replacement. Were you able to take off any mods from your old Jeep, like the rock rails, etc?
---
His 99 WJ Limited 4.7
Hers 15 Overland EcoDiesel, ORAII
Registered User
Join Date: Mar 2009
Location: Aviano Air Base
Posts: 1,939
Any idea what junk yard they sent your old WK2 too? That would be a great deal to pick up your mods from the junk yard for less than new.

On a different note, your new WK2 looks great. I'm not sold on the technology package as I'm not sure I want the adaptive cruise. I've yet to purchase a WK2 but it won't be too long. My warranty on my 08 Pathfinder is almost up and being gone often in the military, it's nice to have a warranty that my wife can count on with a new or CPO vehicle.
---
His 99 WJ Limited 4.7
Hers 15 Overland EcoDiesel, ORAII
Currently Active Users Viewing This Thread: 1

(0 members and 1 guests)
Posting Rules

You may post new threads

You may post replies

You may not post attachments

You may not edit your posts

---

HTML code is Off

---