Registered User
Join Date: May 2011
Location: columbia
Posts: 352
My 2011 renegade has the same issue with the side of driver seat...only like 4000 miles had it 10 months. Weigh only 155, definitely looks like maybe with in a year ill be having them replace it
Yes mine does this too. The cloth seats suck! This should be covered under warranty but I'm close to 36k miles and I don't think they will rip before that. Does any one know if Chrysler will replace seat cloth even after warranty? I'm not even done paying off the car. Poorly made
Registered User
Join Date: Feb 2012
Location: Franklin Square
Posts: 1,166
In the same boat. Have that crease and just odd wearing/pilling on the actual seat. Just hit 40k but been there a while. Jeep just needs to re-invent their seats. My '07 grand Cherokee held up better, but water would stain the seat. Rediculous.

Sent from my iPhone using JeepForum
---
2011 Liberty Sport
2 KC Slimlite[RIGHT] 130 Watt Long Range on JK Bar
TMS Aluminum Roof Rack Cross Bars
Cobra 75, Firestik Door Jam Mount, HD Spring, 2Ft Firestik
Dunlop Fierce Attitude M/T
Moderator
Join Date: Apr 2011
Location: Paterson
Posts: 1,128
I have the same problem with that crease I have now almost 70K mile on it and its annoying. Set a Recaros may be nice.
---
When you get knee-deep in a situation, floor it.
Registered User
Join Date: Jun 2012
Location: Cocoa
Posts: 29
Starting to notice the same thing, 2012 with just over 21k on it. Glad to hear I have things to look forward to, also that I'm not the only one.
I called jeep. They said it was definitely a known issue. They said to call Chrysler to have it documented on file under your Vin number and when it does eventually tear. They will "assist in cost options" whatever that means
Senior Member
Join Date: Mar 2011
Location: Basalt
Posts: 723
talking about this?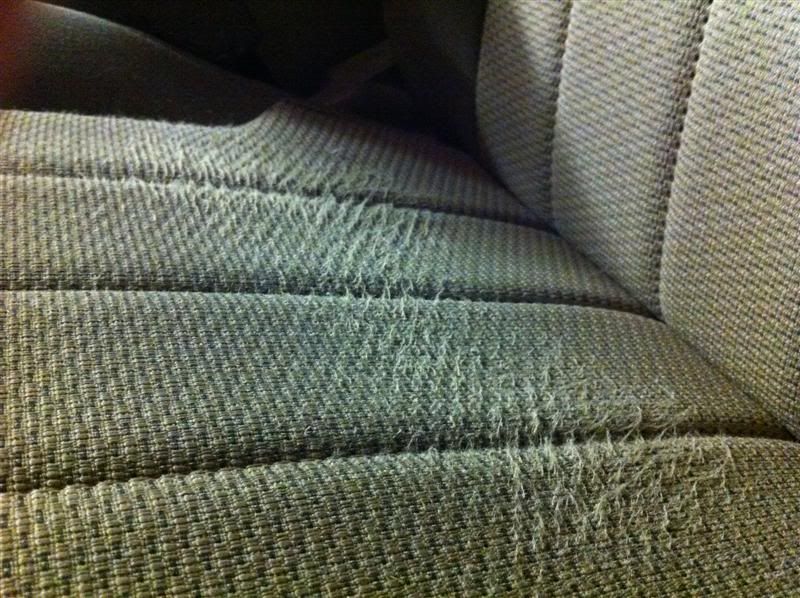 ---
Colorado Jeep Club Member #286
89 YJ 2.5L
OME 36R's, Bilstein 5100's, Bserk 5/8" shackles, 33x10.5 BFG's on 15x8

09 KK Sport 4X4
235/75/16 GY Slnt Armor
CB 2' Firestik
Fire/EMS Radio
Registered User
Join Date: Feb 2012
Location: Franklin Square
Posts: 1,166
Quote:
Originally Posted by Sagerist

talking about this?
Yup! Plus the crease right above the plastic molding on the side.
Sent from my iPhone using JeepForum
---
2011 Liberty Sport
2 KC Slimlite[RIGHT] 130 Watt Long Range on JK Bar
TMS Aluminum Roof Rack Cross Bars
Cobra 75, Firestik Door Jam Mount, HD Spring, 2Ft Firestik
Dunlop Fierce Attitude M/T
Registered User
Join Date: Nov 2012
Location: Clover
Posts: 1,064
Quote:

talking about this?
Mine is on the side by the plastic molding where your leg rubs the seat to go in and out. Mine isn't half as bad as others but Chrysler said it was a defective design of of the KK's. They are aware it. Have your dealer take a picture and send to to Chrysler. If they don't take care of it Chrysler said they would help with cost options.
Quote:

talking about this?
Mine is on the side where the plastic molding is. Where your leg rubs the seat when you go In and out. Tell your dealer to take take a pic and send it Chrysler. Chrysler told me that if the dealer doesn't help then Chrysler would help with cost.
Registered User
Join Date: Jan 2014
Location: Ankara
Posts: 46
I would like to see a photo it its possible
Currently Active Users Viewing This Thread: 1

(0 members and 1 guests)
Posting Rules

You may post new threads

You may post replies

You may not post attachments

You may not edit your posts

---

HTML code is Off

---