Registered User
Join Date: Nov 2012
Location: Philadelphia
Posts: 973
Towing while lifted
---
I have a 4 inch lift and am running 30.5 inch tires, so my hitch is somewhere around 23-24 inches off the ground. I'm looking at towing a 5x8 (single axle) or 5x10 (double axle) U-Haul trailer soon, about 600 miles.
I'm thinking I might need a drop hitch. How far down should it go for a Jeep my height? Looking to get the best trailer angle to avoid sway on the highway.
Is it worth getting an aux transmission cooler? I have the HD cooling fan already.
Do you have any towing tips that apply to a lifted vehicle specifically? Of course I will use tow/haul mode, leave lots of space, keep the speed down, and plan on braking early. I've towed a trailer before, just not with a lifted Jeep.
Thanks all!
LFH
---
2008 Liberty Sport 4x4 Automatic
Moderator
Join Date: Apr 2011
Location: Paterson
Posts: 1,128
I would do both. If you can stick with the single axle trailer it will also save you some money if you are driving over any toll roads or bridges. I didn't have hd cooling or a auxiliary tranny cooler - used a double axle trailer full of appliances, it ran pretty good but at around 200 miles sitting in traffic it had briefly shut down for a few secs then drove fine.
Be sure to have your fluids changed and full.
Good luck
---
When you get knee-deep in a situation, floor it.
Registered User
Join Date: Aug 2008
Location: Central OH/ Kilimanjaro,Tanzania
Posts: 5,946
Lauren, I forgot to mention over on LOST, I have towed my 6 X 10 enclosed from Toledo to Boston a couple of times moving my wife, and also from Toledo to Orlando moving my nephew, plus all over Ohio moving myself. Made 23 trips so far between the old and new place in the past couple of months, 165 miles one way, fully loaded to the gills coming south
Like mentioned over there, call UHaul and ask their hitch height/ measure yours and see how much you need . Wish you were closer, I have 2 / 4 and 6 inch drops here, at least two of each one, I'd give you what you needed
.
---
MUDD'S MOTORSPORTS
04 KJ JBA 4 IN COILOVER, 32s 4.10s
03 KJ JBA 2.5 T.C. LIFT, 31s 4.10s
Registered User
Join Date: Mar 2014
Location: Cypress
Posts: 615
lfhoward - I can't speak to the need of a aux trans cooler. I towed the largest U-Haul enclosed trailer 1300 miles with an F150, 4.6, auto. the trailer was loaded as was the truck, to include my Harley Fat Boy. the truck did fine, however, I never pushed it. I'd gain speed on the downhill to aid in climbing uphill, and never got below 50mph.
my recommendation - make sure the rear of the trailer is level with or slightly higher than the ball. it not, then you open yourself to trailer wag. I know this from experience. load the trailer heavier in the front.
good luck with your tow.
Registered User
Join Date: Nov 2011
Location: Middle
Posts: 36
Try to keep the bulk of the weight directly over the trailer axles. Make the trailer carry the weight not the rear axle of your liberty this alone will make the world of a difference with sway.

Depending on how much weight you anticipate carrying will determine the number of axles you will need for the trailer.
Registered User
Join Date: Feb 2013
Location: fort lauderdale
Posts: 173
the 6x12 needs 5 1/4" drop
and the 5x10 needs 6" drop
to have them leve and loaded with 300 pounds of thong
i have 4" as well.
i prefer the 6x12 uhaul trailer that is more stable
i have towed 4k pounds for 600 with no issues.
dual axle trailer drive better. they distribute weight better and have less sway and seem to me to have less drag. i feel my car work harder pulling single axle than a dual axle.
and recently towed a mini cooper on a car dolly for about 100 miles. total weight was close to 5k pounds, kk towed like a champ
don't have the pic with the mini on the trailer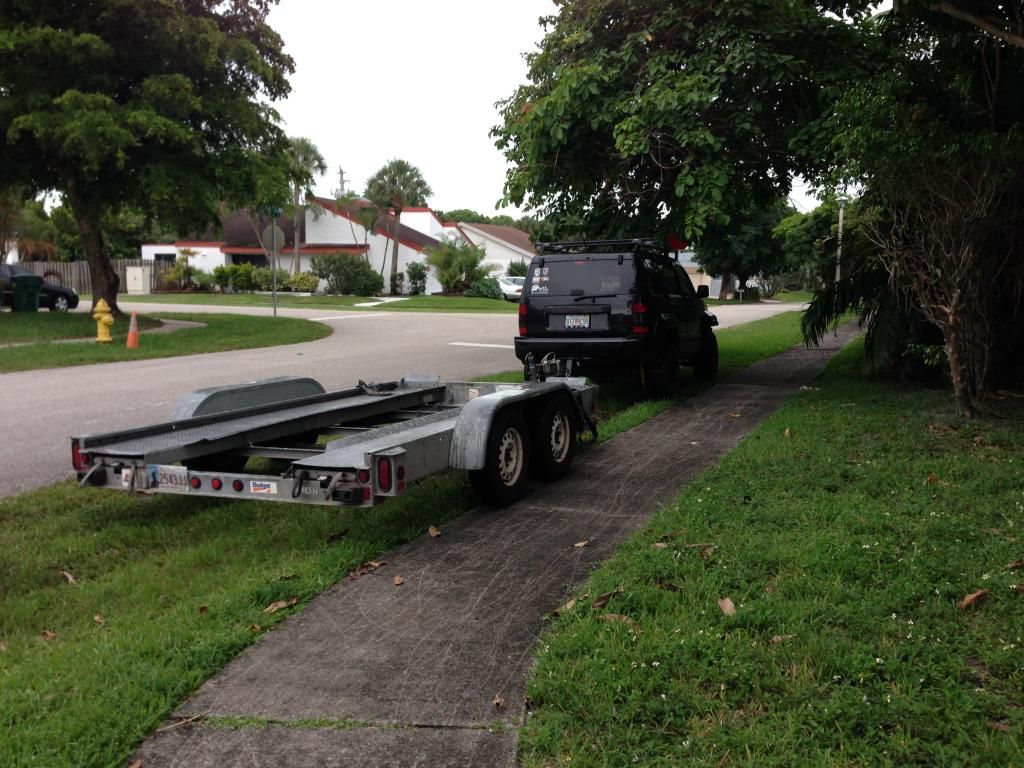 Currently Active Users Viewing This Thread: 1

(0 members and 1 guests)
Posting Rules

You may post new threads

You may post replies

You may not post attachments

You may not edit your posts

---

HTML code is Off

---