Registered User
Join Date: Feb 2012
Location: Franklin Square
Posts: 1,166
Curt 18115 Roof Basket
---
Anyone have this basket????
http://www.amazon.com/Curt-18115-Roo...I2R89S93VO0PQO
Main question I have is what is the diameter of the tubes. I would need to get mounting brackets for KC Lights but not sure which ones I would need. These are the ones I was assuming (or a cheaper equivalent)
http://www.amazon.com/KC-Hilites-730...=IWEPC72870AB8
Think Iam going to go with this basket. It is style that I like and you cannot beat the price. I may be able to get more durability out of a better name brand but only reason I am really getting it is to add mor lights up on the roof.
Anyone with experience with this basket with review would be greatly appreciated too!
---
2011 Liberty Sport
2 KC Slimlite[RIGHT] 130 Watt Long Range on JK Bar
TMS Aluminum Roof Rack Cross Bars
Cobra 75, Firestik Door Jam Mount, HD Spring, 2Ft Firestik
Dunlop Fierce Attitude M/T
Moderator
Join Date: Apr 2011
Location: Paterson
Posts: 1,128
I have a Yakima Loadwarrior, got a sweet deal on it; I added an extension stretch kit and you can also purchase light mounts for it. I have 4 light mounts I mounted on the front. Just saving my money for a good set a lights and a professional installer. I also plan on running 2 lights in the rear and a cb antenna inbetween the rear lights on its own bracket.

Check Yakima.com. Thule has the Moab basket, but Yakima has more goodies and also the larger Megaload warrior. I think Yakima is better.
---
When you get knee-deep in a situation, floor it.
Registered User
Join Date: Dec 2012
Location: nahant
Posts: 144
not sure.
---
seems like a hell of a deal, Ive got a garvin wilderness. Im not sure why they have it mounted to an electric car, and it looks a bit small on the rover. Im not sure, my garvin is no joke.
---
Richie from Boston
Registered User
Join Date: Feb 2011
Location: Holly Springs
Posts: 5
Show pics if you got the setup!! would love to see it before i go for one as well!

Thanks!
Registered User
Join Date: Feb 2012
Location: Franklin Square
Posts: 1,166
Quote:
Originally Posted by snwbdr09173
Show pics if you got the setup!! would love to see it before i go for one as well!

Thanks!
I actually think I'm deciding against this basket. It was a nice looking bracket for the price then I saw a car in my neighborhood that had a ROLA basket and it was very sleek looking for only about $30 more than the Curt. I have another thread on here to get feedback on that basket and another member actually posted with his KK and the ROLA an it really looked sweet.
Take a look at that one, you may also change your mind.
Sent from my iPhone using JeepForum
---
2011 Liberty Sport
2 KC Slimlite[RIGHT] 130 Watt Long Range on JK Bar
TMS Aluminum Roof Rack Cross Bars
Cobra 75, Firestik Door Jam Mount, HD Spring, 2Ft Firestik
Dunlop Fierce Attitude M/T
Registered User
Join Date: Dec 2012
Location: nahant
Posts: 144
Garvin Wildereness
---
[IMG]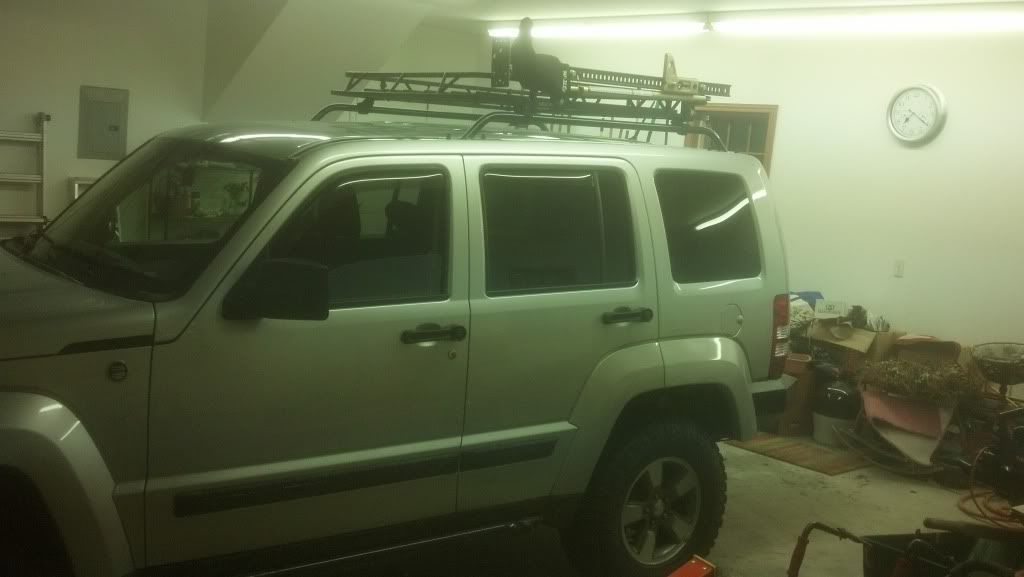 [/IMG]
Quote:
I actually think I'm deciding against this basket. It was a nice looking bracket for the price then I saw a car in my neighborhood that had a ROLA basket and it was very sleek looking for only about $30 more than the Curt. I have another thread on here to get feedback on that basket and another member actually posted with his KK and the ROLA an it really looked sweet.

Take a look at that one, you may also change your mind.

Sent from my iPhone using JeepForum
On Rocky Road Rails. Puttin Kc daylighters up topx2 and slimlites on bumper this weekend
---
Richie from Boston
Currently Active Users Viewing This Thread: 1

(0 members and 1 guests)
Posting Rules

You may post new threads

You may post replies

You may not post attachments

You may not edit your posts

---

HTML code is Off

---