Bonofied Suiter
Jeep Information
Year:
2003

---

Model:
Jeep Wrangler Sport

---

Engine:
4.0 Inline 6

---

Transmission:
42RLE Automatic

---

Transfer Case:
NP231 with Teralow 4 to 1 , 2 Low kit and Mega Short SYE

---

Front Axle:
Dana 30 with ARB Air Locker & Super 30 Cromoly Axles

---

Rear Axle:
Dana 44 with ARB Air locker Cromoly axles and Disc Brakes

---

Axle Gear Ratio:
4.88

---

Suspension:
Rubicon Express 3-1/2" lift with Adj arms 4-1/2" rear springs 1-1/4" body lift

---

Tires:
35X12.50R15 BFG KM-2

---

Wheels:
15" Eagle Alloy with Mini Monster Quiick Deflators

---

Armor:
Custom Rock Hard 4X4 Sport Cage with header controls, Rampage Recovery Bumper, Custom Rear Bumper with Tire, Fuel, & Jack Provisions, Savvy Alum Fuel Tk Skid, Savvy Alum Under Armor, Metal Cloak Front Fenders, Nemesis Billy Rockers, Metal Cloak Aluminum Corners, Metal Cloak Rear Fenders, Mini skids, Diff Guards,

---

Recovery Gear:
Warn 9.5ti winch with Amsteel Blue Syn Line, Hi Lift Jack,, Straps, Pull-Pal, Power Tank CO2

---

Accessories:
Cobra CB, Yaesu FT2800 Ham Radio, Sirius Radio, Lowrance Baja GPS, Sony CD, Sub Woofer, Warn wireless winch control, Dual Optima Battery System with dash controls, AEM Dryflow Intake System, Super Chip, HID, Headlights, 8"&4" HID driving lamps. 55 Watt fog lamps. LED 3W Rock Lights. LED interior lights, LED tail and backup lights, 8' buggy whip with LED light , Hard Top, Tube Doors, Smittybilt CRS, MORE MORE MORE

---

Future Modifications:
Beadlock Wheels, Aftermarket Seats

---
Far too many modifications to list.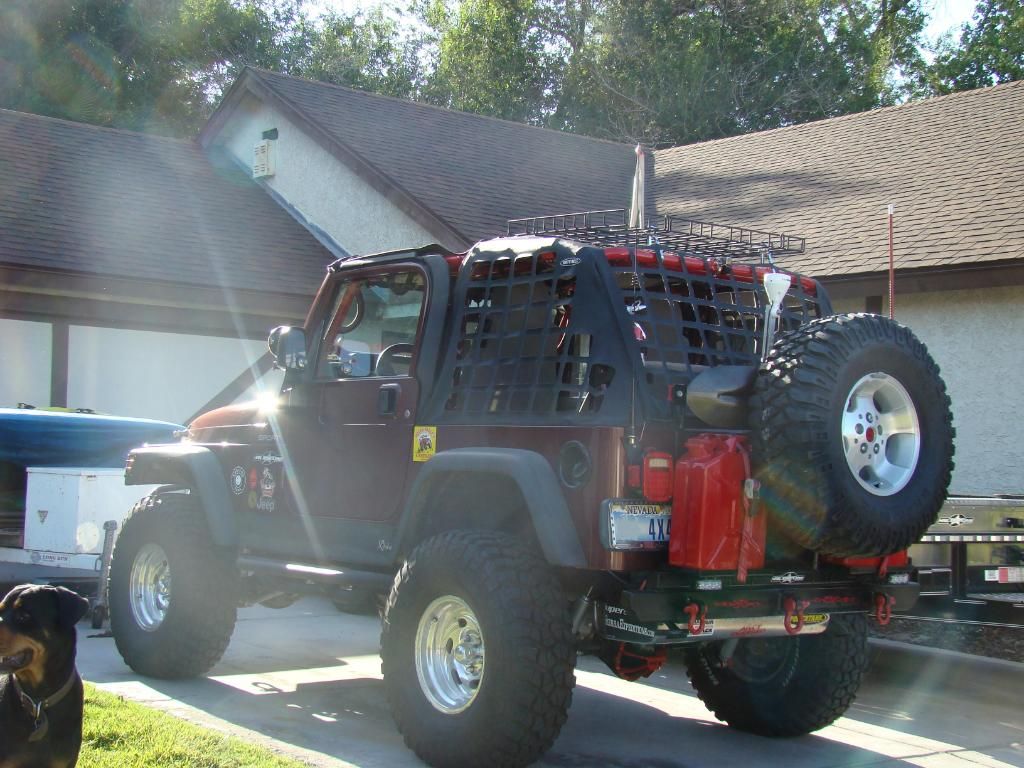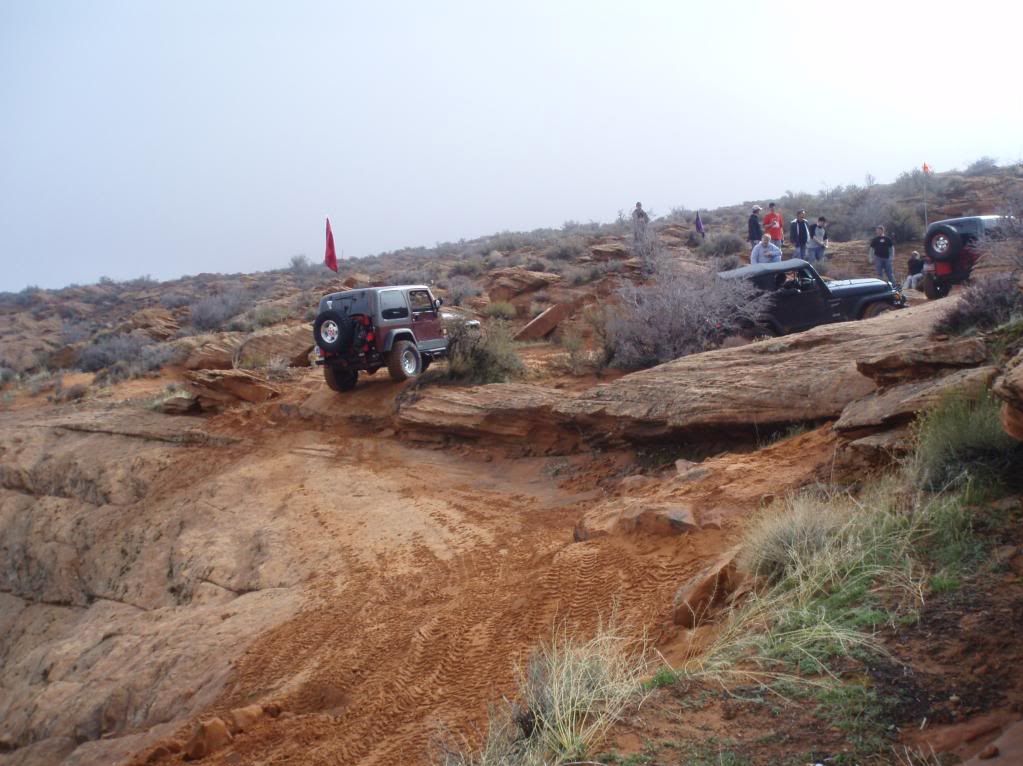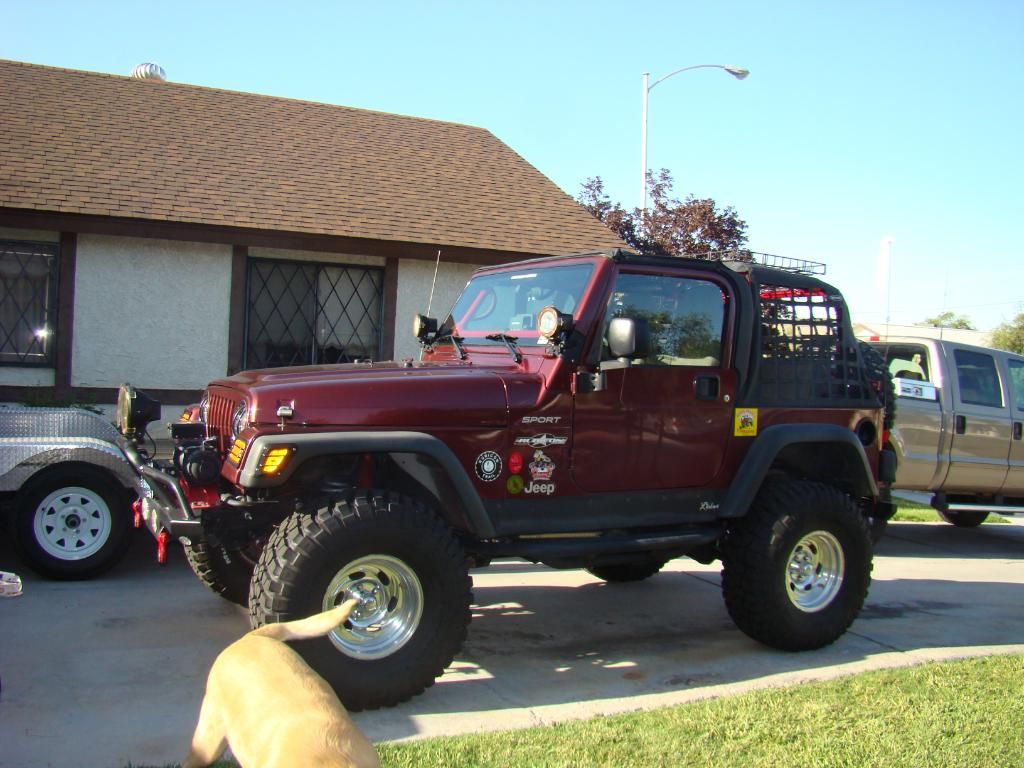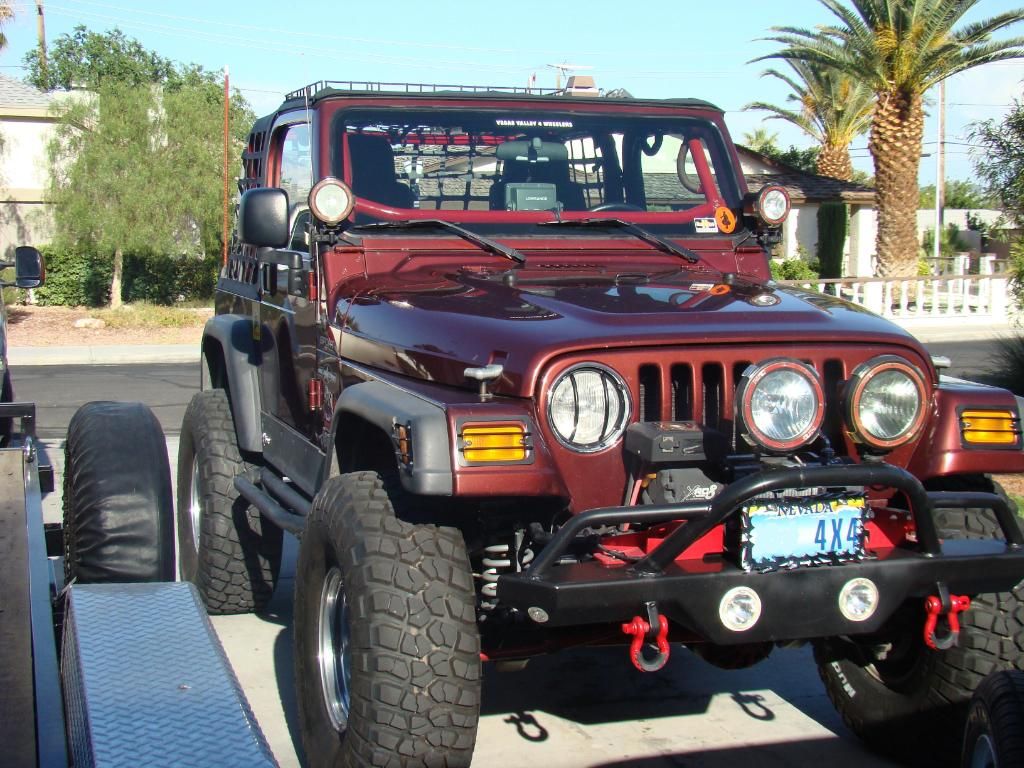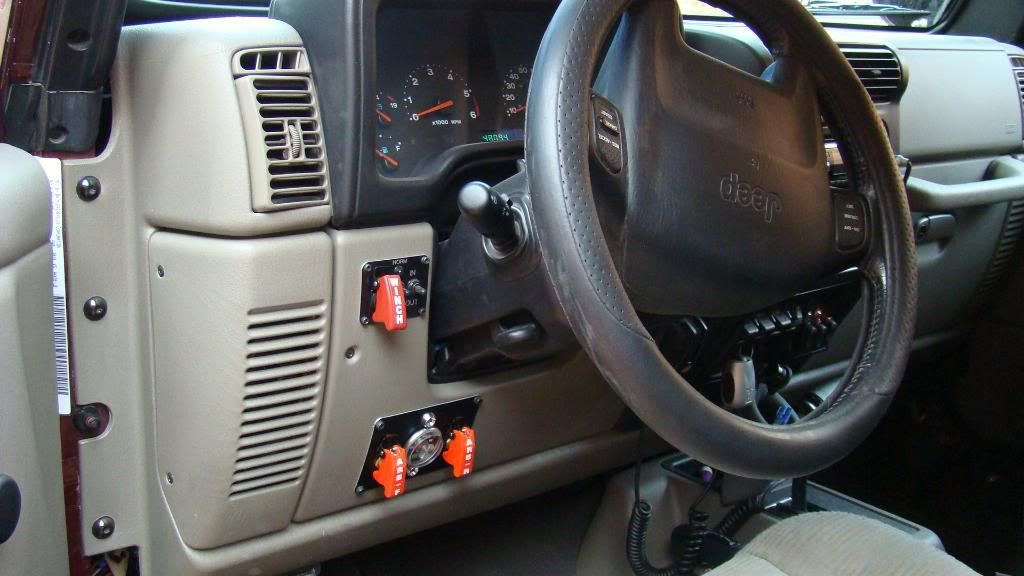 View wrangler97's Jeep
In cab Controls


So I'm jealous of the in cab controls you have set up. Looks like air lockers front in rear and winch on the dash? and the stuff on the roof.... do tell?

great looking Jeep

and if you have a build thread just point me that way, thanks!



View 45AUTO's Jeep

Who makes your rear bumper? Did the jerry can and shovel mounts cost extra? Is there a provision for an axe mount as well?



View Phishphan_TJ's Jeep

Would love to see some more pics of your over head console with cb and switches....is that you fabrication? Or purchased?
Jeep is amazing too LOL I'm so jealous!