Roy Jean
Jeep Information
Year:
1967

---

Model:
CJ5

---

Engine:
3.7l 225ci odd-fire V6

---

Suspension:
Re-arched stock springs, Rancho shocks

---

Tires:
Goodyear Wrangler

---

Wheels:
American Racing chrome spoke

---

Recovery Gear:
Koenig 10t PTO Winch

---

Future Modifications:
Interior rebuild, maybe a GM 4.3l swap sometime in the future.

---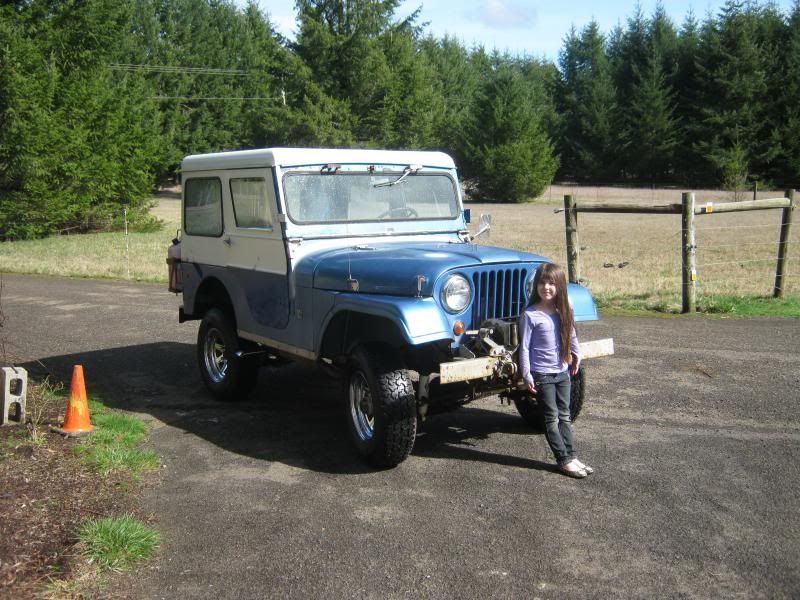 This is my baby. She's a work in progress, as all Jeeps are. She needs some body and paint work, but right now it's a bundle of fun. New interior mods are high on the list, then I'll get to grinding/welding/painting on the body. The old V6 runs too well to consider pulling it right now, but future mods might include a swap out for another 6, maybe a GM 4.3? I don't want too much power, don't want to start breaking stock running gear, which I plan to keep.

She has a Meier hard top, and Koenig winch, both installed at the dealership. The hard top is going to get reconditioned in the body/paint phase of RJ's fix-up.
View NewToJeeps55's Jeep

Hi, I am buying my first jeep and it is a 67 cj5 like yours. I wanted to know if im going to run into a bunch of problems with parts that need to be replaced. Below is the sellers listing, let me know what you think. SHould I pass it up or buy it for 1900? Thanks

Runs and Drives!!! 1967 Jeep CJ5
Not looking for tire kicking BS offers......
225 V6 Buick Dauntless 3spd, Original condition
Engine/Carb tuned a runs very well
New-water pump, starter, cap rotor points etc,
New master cylinder, rebuilt wheel cylinders,
And brakes have been gone thru
Brakes have good pressure and safe stopping.
Has HARD TO FIND hard top in great shape
And hard doors, all glass intact.
Four wheel drive works.
Parking brake drum rebuilt and works
The Bad- steering and suspension are worn and need work
Body has rust for age but nothing terrible .



View Pepper45's Jeep

Brother, for $1900, I'd jump on it if it isn't a rustbucket. Suspension parts are not that bad. NAPA still stocks just about everything.