Moderator
Join Date: May 2006
Location: Grand Forks, ND
Posts: 3,006
How To: Install Frankenlift II & Al's 4.5 Arms on CRD KJ
---
Decided it was time to make a few improvements on the 05 CRD I picked up last summer out in NH.
Looked around the web, there are a few write up's - but were not as complete as I would have liked, to coach me through the installation of a All J's Frankenlift II and Jeepin by Al's 4.5 A-Arms. I took a few notes and some pic's as I did this installation with the idea of sharing this with Any CRD KJ'ers that might want to do the same thing. Never done anything like a write up before - so bare with me as I'm pretty sure that this is maybe a bit windy of the explanation of the installation process. Well here we go. Hood up, rear wheels chocked, E-brake on, and starting on the passenger side front.
Side note, I may have to post this in a couple diff sittings as there are too many work things that prevent me from doing this in one fell swoop.
Plus limited to how many pics per post.
First remove the passenger side air box cover and move it onto the engine cover, don't get rough on the wires attached to the cover. Take out your air cleaner and set that aside - hopefully yours is not as dirty as this one was.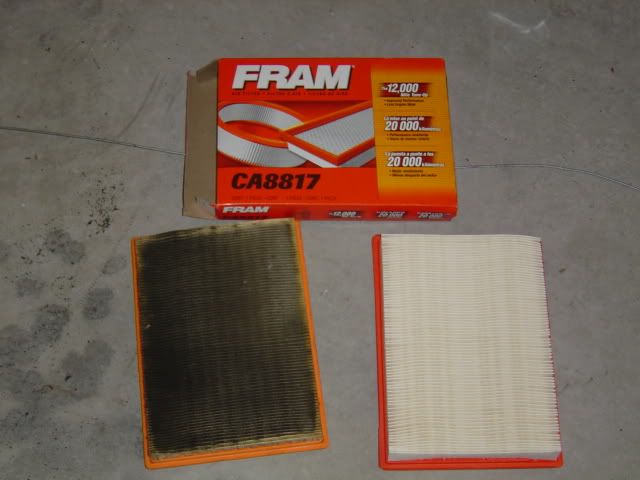 Then remove the intake off of the air-box with a 8mm socket or a 5/16 nut driver to loosen the worm drive clamp. At this point the air box can now be removed with a few hard yanks and it will come straight up (kinda
). Sometimes the little rubber grommets that hold it into the fender-well stay stuck to the bottom of the air-box. Pluck them off if they do and pound them back into the fender-well with the handle end of your BFH. It will look like this when done.
In order to be able to get at your top strut nuts and A-Arm bolts, you will have to move the power steering reservoir, the turbo solenoid, and remove a bracket.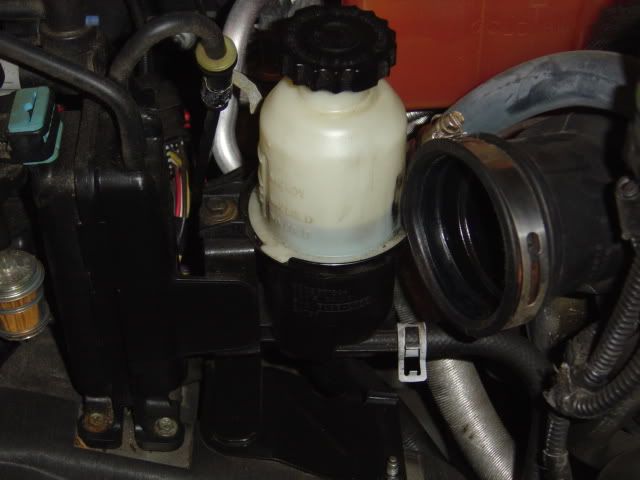 A 10mm deep-well socket, a 8mm, and a 10" extension for the back nut will be needed here. There are 3 nuts and one bolt for the power steering reservoir (one of which is under the PS bracket), and 2 more on the fender if memory serves correctly. Things should now look like this. And give you decent access later on to the four top strut nuts.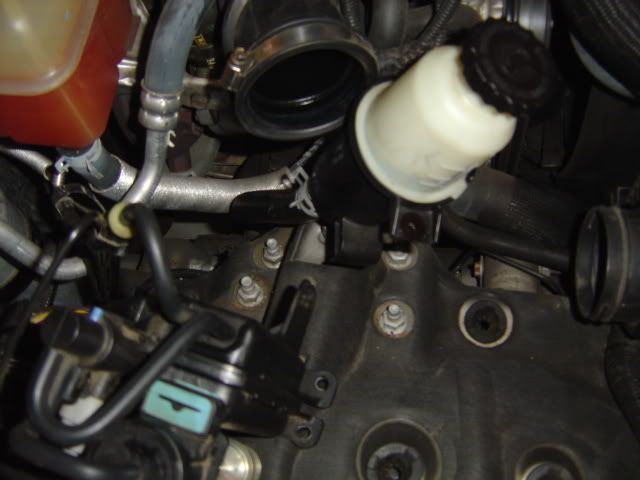 Moving on to the drivers side - time to clear an opening here as well. Remove your battery, 10mm for the posts (remove positive first), and 10mm for the restraining clamp on the firewall side of battery.
Now remove the items attached to the battery tray, there is a little tool although not mandatory - that helps keep from buggering up all the X-mas tree push in clips that need to be pried out. Harness, Bosch glow plug relay and such. It's also handy if you are removing things like door panels - not that that would ever need to happen.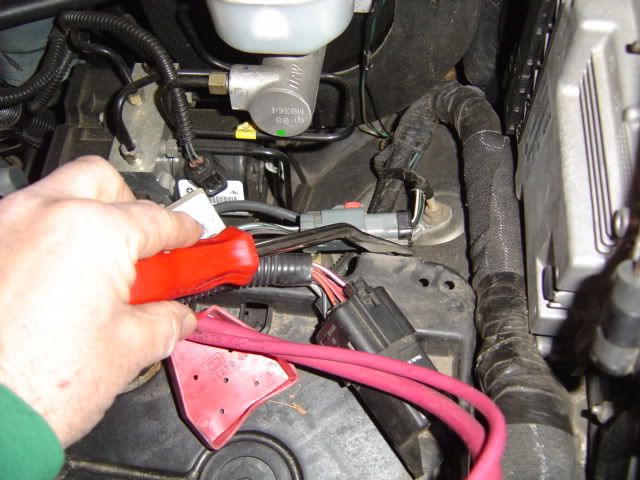 Remove the 3 battery tray nuts, 13mm and a 10" extension would be handy for the grill side one.
Next release the clips that hold the fused power center to the front of the batt tray (carefully these clips can break easily), Ya, don't ask why I know this.. Move the power center up and forward, then wiggle the batt tray out. Looking at our wiring harnesses with things removed - it is a wonder there are not more wire chaffing problems than there are. You can now see the 4 driver side strut nuts that will be removed a bit later.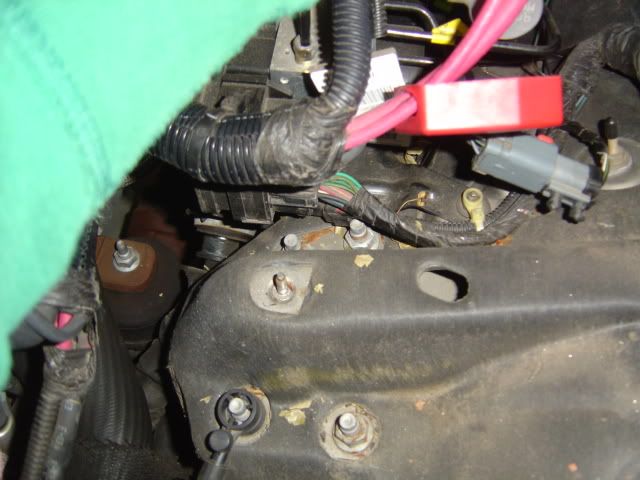 You should have your wheels chocked and E-brake on, time to break your front lug nuts loose, lift your CRD (I lifted from the lower A-arms) and place jack stands just behind the front lower A-arms - on the uni-frame. I started on the passenger side, so removed the left front wheel.
Loosen the upper ball joint nut with a 21mm, but didn't completely remove.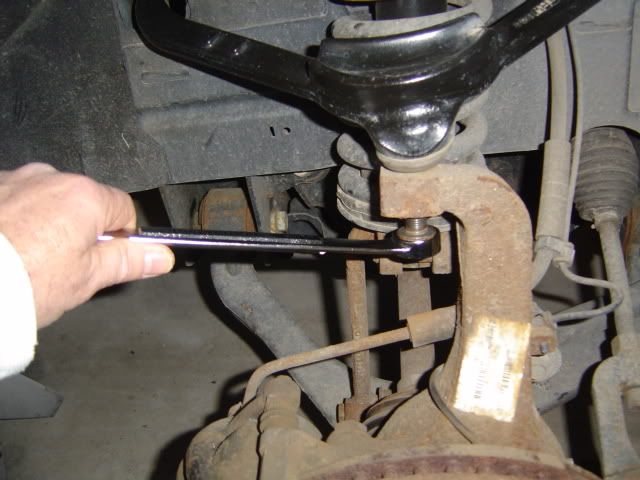 Now firmly rap the knuckle a few times with your 2 pounder until the knuckle releases from the upper ball joint. Don't bash it. After it releases, wire the knuckle to the the upper bumpstop plate so it has some support or place on a bucket or the like. I like the wire method. Remove the 21mm nut from ball joint.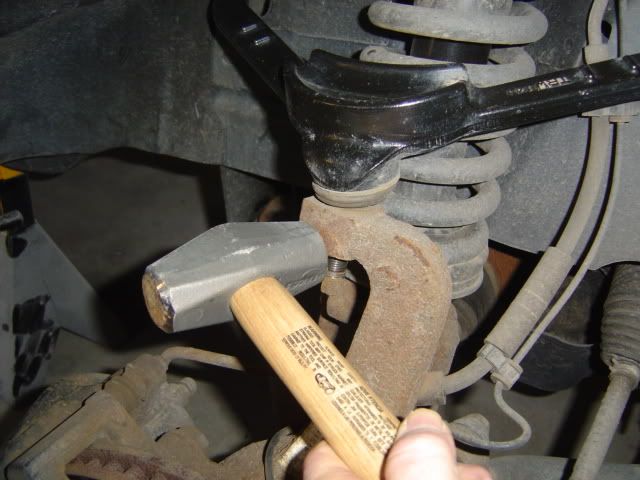 Time to remove the factory A-arm. Used a 18mm ratcheting wrench to break them loose & remove the nuts and flag bolts (no need for a second wrench) inside the engine compartment. There is not a lot of room here, be patient and take your time. The back one has the least amount of room. Don't drop your hardware - if it goes under the motor you'll be fishing for a while. Back into the wheel well - remove your factory arm.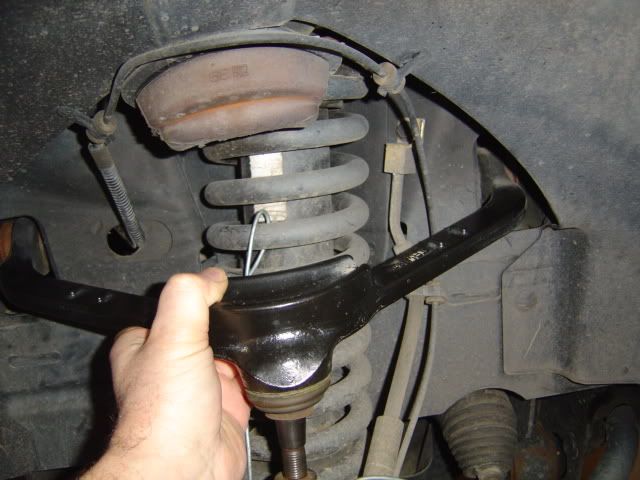 Now it is time for clearancing the pockets in prep for installing the new arms. That way your not listening to your new arms beating the inside of your pockets and hoping that they self clearance. Feel the inside of the pockets, and mark the outside of the pocket with a sharpie or other to the depth of the inside of pocket. Time to remove some metal. This can be done many ways. I chose to use a Bur bit and a Die grinder to have better control of the metal removal and a cleaner end product. Do not remove all the metal to make square corner as it could weaken the structure. You want to leave the corners rounded for strength. That is the advice that I received from All J's when speaking to them on the phone. Roughly speaking it was about 5/16ths in the front pocket and maybe about 1/2" inch the rear. Ideally they said to make things even with the bottom of the pocket but no more.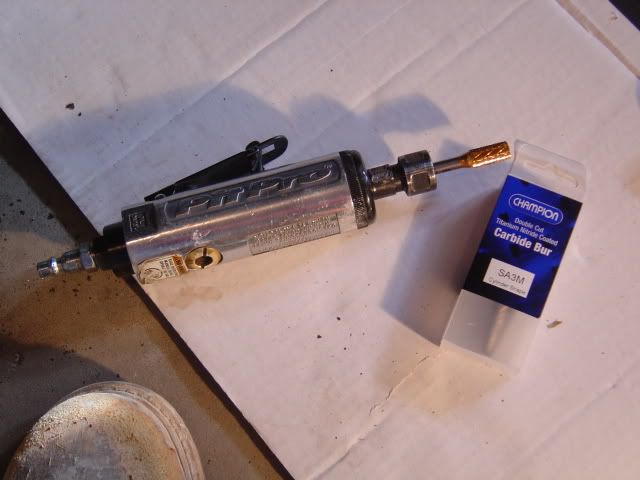 More to come in part II
---
05 TJ RME 42RLE with some things
05 KJ CRD 545RFE, GDE Eco tune, Franky II, Al's 4.5 A-arms, JK Rubi Moabs, Silent Armors 245-70-17's, Spidertrax Adapters, Rola Basket, Fumoto Valve, Pinch welds pounded - Sold 2015
---
Last edited by 95BadBoy; 01-23-2010 at

03:44 PM

.
Moderator
Part 2 - continued
With the arm out, you now have a good view of the front and back A-arm pockets. Pic does not show the marking lines. And then a little grinding, and the final opening.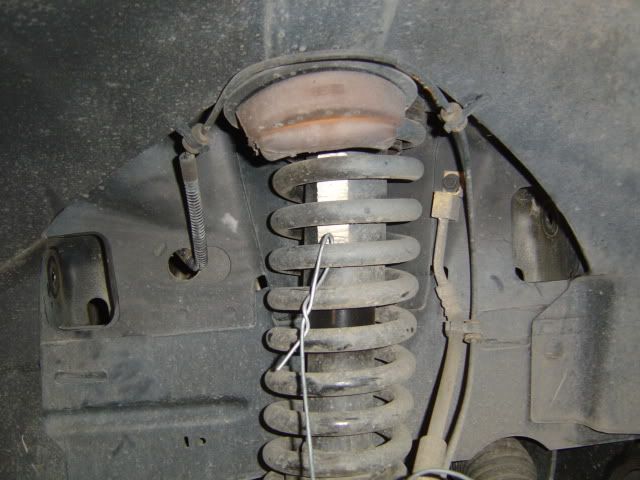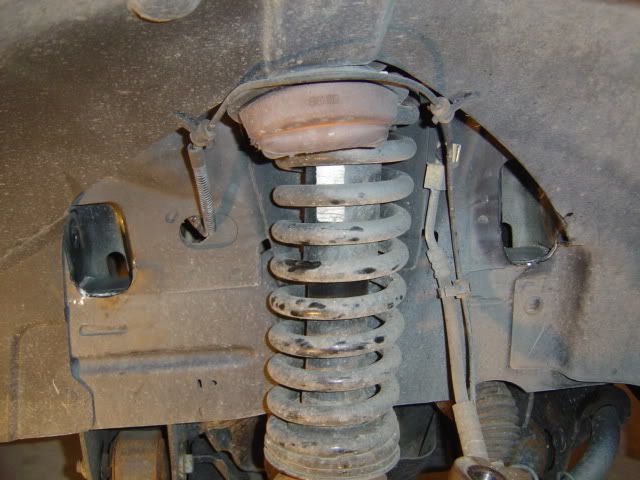 Then a little tape and etching primer and some satin black after that. After a little dirt gets on these, they'll look like factory.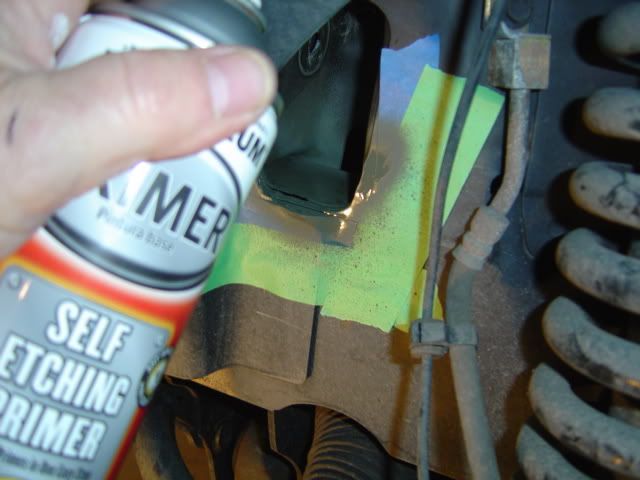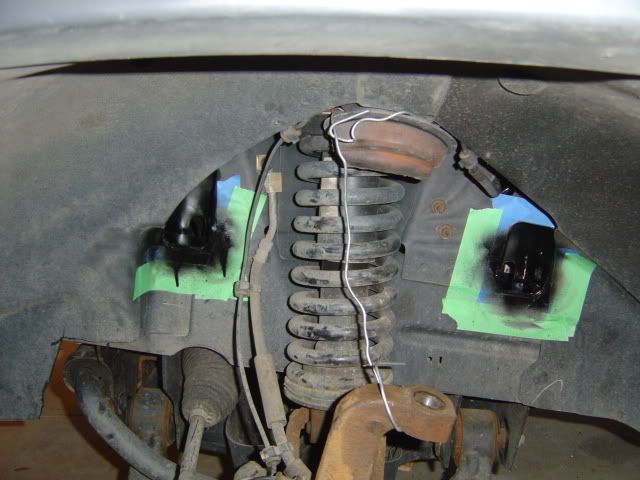 Just a comparison of the factory arm and the Al's 4.5 arm
Install your new Al's arm, insert both flag bolts and start the nuts. Again these are 18mm. These should be torqued to 90 ft lbs. I could not get my torque wrench in there, sooo mashed them as tight as possible with the ratcheting wrench.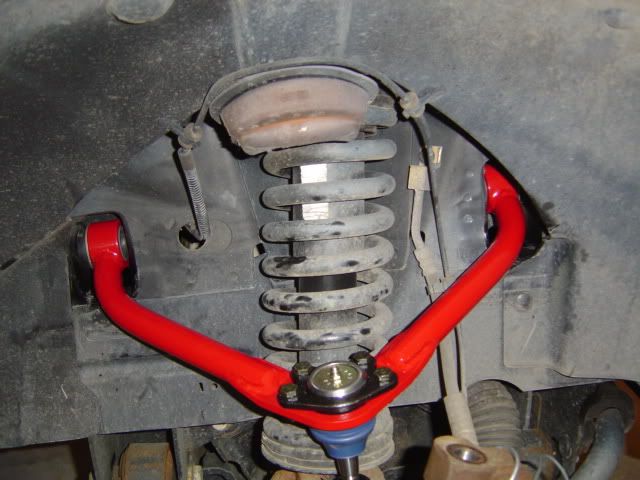 Now disconnect the lower sway bar nut (18mm) and remove the flag type bolt (is attached to the lower A-arm). This works best if you have both fronts on jack stands and fully drooped. Nut was rusted on a bit with this 05. Used a 18V battery impact, and the nut relented. Pic actually is from the reinstall after cleaning things up a bit, but shows you the location.
Now remove the lower nut on the clevis (21mm) and tap out the flag bolt, again this one was tickled a bit with the impact. Then remove the upper clevis bolt. Use a pry bar to open up the top of the clevis a bit to aid in it's removal. A couple of taps from your BFH may be needed to loosen, but was not called for on this one. Work the clevis down and off the bottom of the strut, and set it aside.
Up topside, break the 4 strut nuts loose. Then you may need a helper to hold the strut from underneath - or just wire it up to the upper bump stop to keep it from falling while you remove the top bolts. Remove the 4 nuts and set on engine cover or where ever. Back in wheel well, hold the strut and remove your support wire, and guide it down and out.
Struts are sided, so grab the new Franky one that matches the one you just removed - maneuver it up into the wheel well and support with the wire you just took off the old unit, maybe set a rubber mallet under it. Install the 4 strut nuts in the engine bay and torque them to 80 ft lbs. Remove support wire.
I really hate rusty stuff on any of my rigs, so the clevis needed a little cleaning with a high speed wire brush and some hammered silver rustoleum before reinstall. Maneuver the clevis over axle shaft and wiggle it onto the new strut.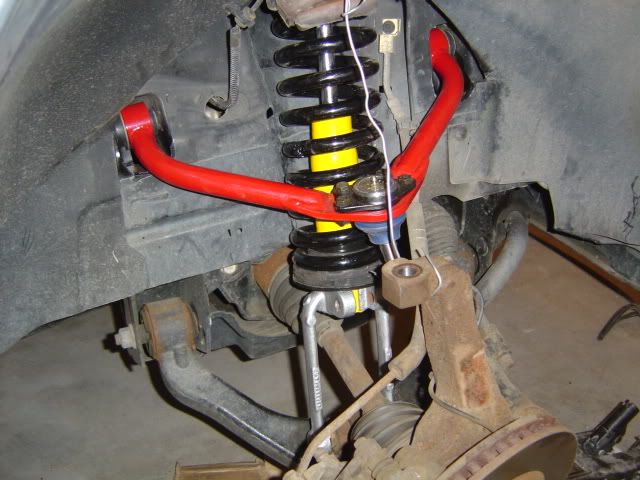 Reinstall the bottom bolt onto the clevis and torque to 110 ft lbs. Some places I've seen recommend that a ratchet strap was needed to pull the clevis in far enough to insert the flag bolt, did not have that problem. May only pertain to higher lifts on gasser models. Then install the top clevis bolt and torque to 45 ft lbs (seen both 60# & 45# for this). Do yourself a huge favor by putting a little anti seize on all of the bolts going back onto your Jeep. Does wonders for anyone living in the salt belt and only takes a second or two.
Remove the support wire attached to the knuckle and upper bump stop, mate up the the new Al's upper ball joint into the knuckle, install new larger nut and torque to 60 ft lbs, install cotter pin and bend the end over. There are some decent installation pics that come with the new Al's arms that pertain to the possible need of a washer above the upper ball joint nut before torqueing the nut down. Just mentioning.
Topside again, reinstall the power steering reservoir bracket. Install the turbo solenoid, then the PS reservoir.
Install the air box. On this one, it did not want to readily pop back into the grommets in the fender-well. Used the 2" BFH with handle side down, positioned over the 3 bottom tabs of the air box and rapped the top of the BFH with a rubber mallet a couple of times to re-seat them. Install the air intake tube onto the air box and tighten worm clamp. Put in your filter (new if needed) and install the lid. Back to the bottom, install the sway bar bottom end link to lower A-arm and torque to 85 ft lbs.
NICE !! Things are pretty much in place for the passenger side.
Now repeat this on the drivers side. A few things are different, like the upper A-arm nut closest to the firewall I accessed from the underside of the CRD, the CV shaft seems to be a little shorter - so a little less room. I opted to cover the CV boot with a heavy towel just in case - so as not to chance a rip, or tear a boot when removing the clevis. Didn't have a problem there but that would be a pain you don't want. Just saying. There is also a breather hose that is on one of the front strut nuts, it just prys off. Don't forget to put it back on at reassembly.
After completing the drivers side arm and strut , go topside and reinstall the battery tray and power distribution box over the tabs on batt tray. Then attach the harness and other items back onto the batt tray edges with the X-mas tree push pins. Hopefully you did not destroy the push pins during disassembly.
Drop the battery into the tray and install the batt retaining clamp. Install positive battery clamp first, then the negative - and tighten down the clamps.
Congrats, if all has went well - you are done with the front end installation & out of the engine compartment. And things look like this.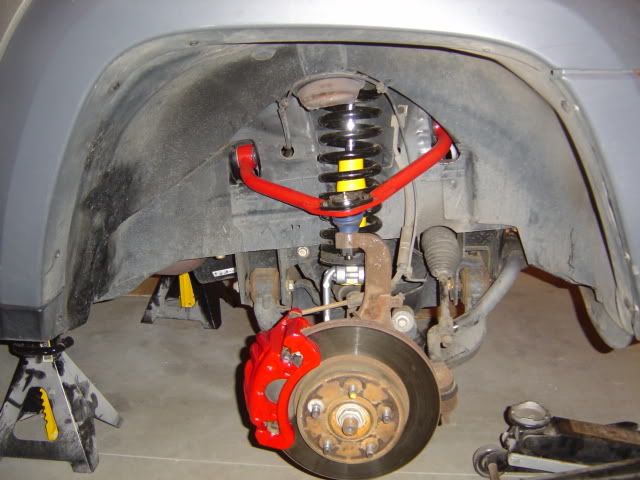 If you are doing spacers or adapters, put em on per manufacturers instructions. Mount the wheels and torque them to 100 ft lbs. Remove the jack stands, and chock the front wheels.
On to the rear - this end is a lot easier, soooo.. saved it for last.
Are your front wheels chocked? Your E-brake should still be engaged. Brake your wheel lugs loose. Place a 4 tn jack under the pumpkin & lift high enough to place jack stands under the uni-frame on both sides in front of the lower control arms (seemed like a good spot) so when you lower the jack the wheels are still off the ground. Remove your lugs and wheels.
Remove your rear shock, bottom has both 15mm and 18mm , top is 15mm. Repeat on other side. There is now enough room to wiggle out the stock coils with a little pushing down on the axel. Super easy at full droop.
Now use a center punch and hammer to make your mark in the center of the bottom spring perch on both sides.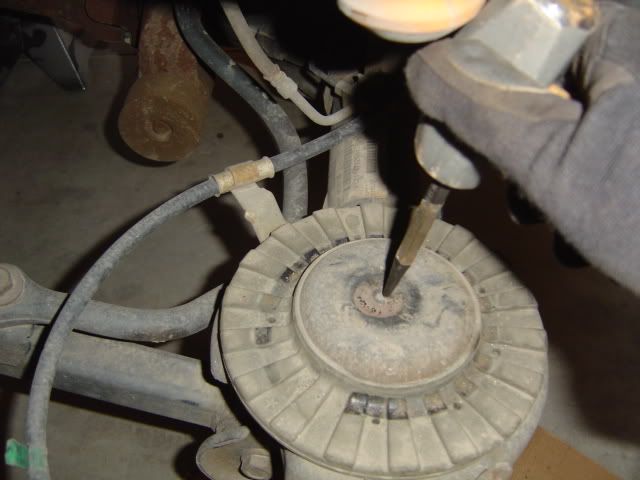 Drill out a 5/16's pilot hole (or a hair smaller) and thread the self tapping bolt (15mm or 9/16ths) that came with your Franky 1" rear bump stops through your pilot hole to get some treads worked into it. Remove the self tapper and duplicate this on the other side. Having done this on my TJ, and kinda done it before - I actually used a step bit to drill out the holes. It's shorter and knew how far to drill into the perch. Faster and easier. If you go too deep with a step bit though - you'll be picking up new self tapping bolts. Set bolts aside for now. Pics on next page.
Next page please
---
05 TJ RME 42RLE with some things
05 KJ CRD 545RFE, GDE Eco tune, Franky II, Al's 4.5 A-arms, JK Rubi Moabs, Silent Armors 245-70-17's, Spidertrax Adapters, Rola Basket, Fumoto Valve, Pinch welds pounded - Sold 2015
---
Last edited by 95BadBoy; 01-22-2010 at

11:53 AM

. Reason: Merge threads
Moderator
Part 3 - continued
Time to install the new OME CRD rear springs. I prefer to use spring compressors to squish them down to factory spring hight. Some people are dead set against using these and say to put bottle jacks between the axle and frame. Whatever- compressors are only as dangerous as the person using them, just use them properly. Your choice on that. Work your compressed springs into their position, pushing down on the axle some.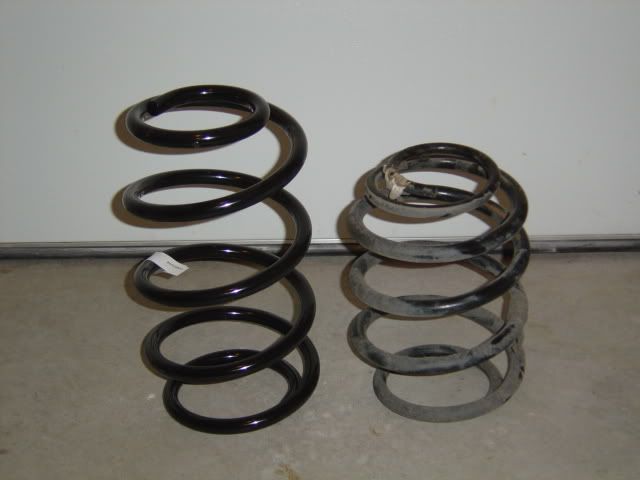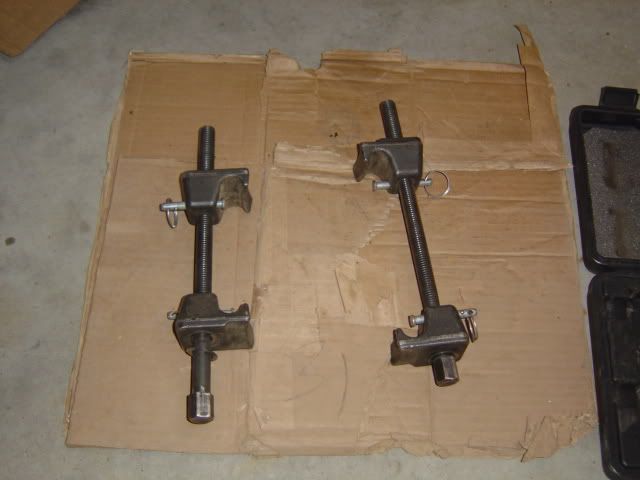 Take the tension off the spring compressors and remove them. One coil now in place.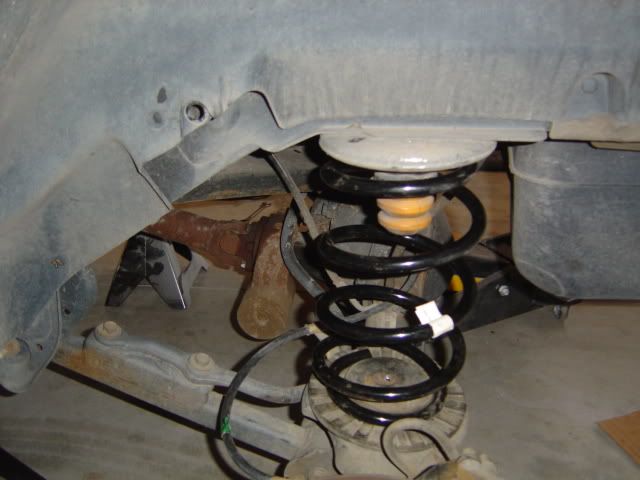 One side in - now rinse, wash, and repeat for the other side. Now with the springs in, install your new OME N132L shocks on both sides. Top bolt in first and bottoms. Torque the top bolt to 80 ft lbs and the bottom bolt and nut to 95 ft lbs. Finally install the rear bumpstops and snug up the self tapping bolt (don't crank on them). A little Blue Loctite on the self tappers will be in order.
If you are not using spacers or adapters - you are now done with the install end of things. Reinstall your tires and torque to to 100 ft lbs. Jack up the pumpkin and remove the jack stands.
Schedule a alignment, you may want to pay a couple of bucks more and use a place that has lifetime or 5 year unlimited alignments. The suspension is going to settle some.
Get your headlights aligned too, and you won't be blinding people you drive up on.
If you are using spacers or adapters - you must remove these clips (front and back) that were put on at the factory. Bad things can and do happen if you don't.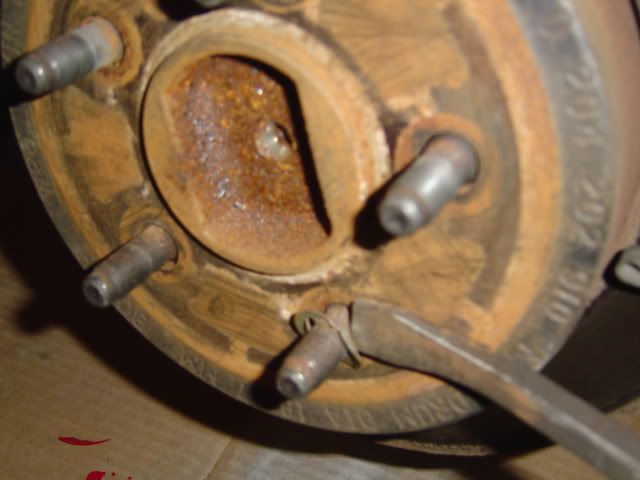 Use red locktite on the spacer lugs and torque to 100 ft lbs, check on these regularly.
Have seen several Jeeps that do not all have the same length wheel studs as others. If your wheel studs are not coming to the top of the spacer lugs, best be looking at pressing them out and getting the proper length ones pressed in. Really unenjoyable things could happen if ignored.
Hight before lift
After lift and tires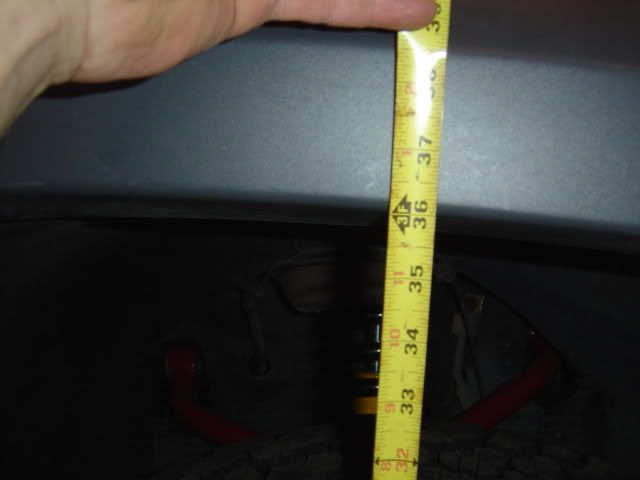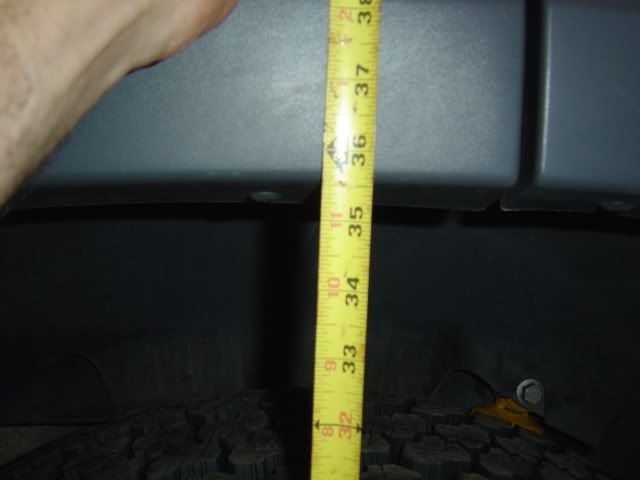 Front sits a little higher. Will see how things settle for a few months before making any adjustments to the rear.
Before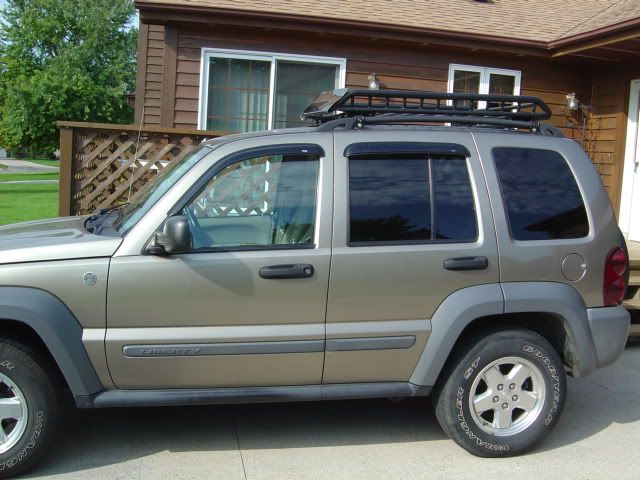 After
Hope this writeup is of some help to anyone looking to do this themselves on their own CRD.
All comments are welcome, good or bad. Not having done a writeup before, there will be errors I'm pretty sure.
---
05 TJ RME 42RLE with some things
05 KJ CRD 545RFE, GDE Eco tune, Franky II, Al's 4.5 A-arms, JK Rubi Moabs, Silent Armors 245-70-17's, Spidertrax Adapters, Rola Basket, Fumoto Valve, Pinch welds pounded - Sold 2015
---
Last edited by 95BadBoy; 01-28-2010 at

02:09 PM

.
Moderator
Finally got to getting the alignment done yesterday at Firestone.
It was almost undriveable after the lift, even just in town
- before getting it dialed back in. Have no doubt that the condition could have done tire damage quite quickly. Definitely go to your alignment shop ASAP if you don't want to scrub off your tires and have your friends doing this
.
---
05 TJ RME 42RLE with some things
05 KJ CRD 545RFE, GDE Eco tune, Franky II, Al's 4.5 A-arms, JK Rubi Moabs, Silent Armors 245-70-17's, Spidertrax Adapters, Rola Basket, Fumoto Valve, Pinch welds pounded - Sold 2015
Registered User
Join Date: Nov 2005
Location: beaufort, mo
Posts: 705
Quote:
Finally got to getting the alignment done yesterday at Firestone.
It was almost undriveable after the lift, even just in town
- before getting it dialed back in. Have no doubt that the condition could have done tire damage quite quickly. Definitely go to your alignment shop ASAP if you don't want to scrub off your tires and have your friends doing this
.
Great report. Definitely not a job for the squeamish.
---
06 Jeep Liberty crd- 245/70/16 tires, fumoto valve
03 Neon
96 Ram 1500, 5.2,
99 Harley Sportster
88 Ford 350 diesel dump truck
02 Northwing Maverick Legend weight shift trike
Registered User
Join Date: Oct 2008
Location: Elgin, IL
Posts: 184
Looks good! It's only difficult the first time you have it apart... after that, it's all really very simple.
You don't need spring compressors for the rear springs - just loosen one side of the rear sway bar, and jack up the opposite side of the axle that you're working on with a floor jack - this will make the side you're working on come down far enough to pop the spring in.
At this point, a lot of people opt to leave the rear swaybar out anyway.
---
To view links or images in signatures your post count must be 10 or greater. You currently have 0 posts.
Registered User
Join Date: Aug 2008
Location: Central OH/ Kilimanjaro,Tanzania
Posts: 5,954
Not too bad of a write up
after doing about a dozen now there are some little shortcuts I have found to make things quicker
It's easier to put the spring up in and only start the two outside nuts down on so it can swing some and get the clevis on easier ( at least for gasser's)
Rachet straps are needed on the gasser's no matter if its a Franky or regular OME, well at least the way we do it here in Ohio since we add and go as high as we can
Only hard part on CRDs is the left side taking care with the CV which I see you mentioned
Overall not a bad write up though
So what are you sitting at middle of the wheel to the bottom of the flare? I see where you measured but that means nothing in comparing amount of lift since the tires are included
Moderator
dcxman
It was actually kinda fun. Definitely not as easy as doing a TJ lift, but not that hard either. Had never played with a IFS before the KJ.
The only bad part was getting only 15 minutes here and twenty minutes there - to actually do the lift. Way too many part time things going on ya know.
Appreciate the good words.
yellowcoyote
Thank you. You are absolutely correct - it only looks daunting for a bit - if like me, you never fiddled with a IFS setup before. After, it seems like it was nothing to really fret about.
I know that spring compressors are not must have at all, but had them at hand and have used them before. Basically only takes about one minute or so with a little air at the ready. The rig is really just going to be a DD with a few hunting trips thrown in.
I chose to leave the sway bar connected, as the TJ gets wheelin duty whenever some planned fun is in the offing.
tommudd
Thanks Tom, the lift is so minimal (compared to a gasser) that tightening up the top nuts was not an issue at all. The clevis slid on almost as easy as it came off - I'm sure that is just because it is not a lot of lift going on with these parts. I'm thinking with the lifts going on the gasser's - the ratchet strap program would be mandatory. It's at about 21" center of wheel to bottom of flair. I did not put that in the writeup, as I was really only looking at the total lift on this one rig - before and after, for the use I was going to give it. The 245/70/17's are almost a dead mate size wise to 245/75/16's.
You guys are hittin something like 24" on gassers down there aren't you.
---
05 TJ RME 42RLE with some things
05 KJ CRD 545RFE, GDE Eco tune, Franky II, Al's 4.5 A-arms, JK Rubi Moabs, Silent Armors 245-70-17's, Spidertrax Adapters, Rola Basket, Fumoto Valve, Pinch welds pounded - Sold 2015
Currently Active Users Viewing This Thread: 1

(0 members and 1 guests)
Posting Rules

You may post new threads

You may post replies

You may not post attachments

You may not edit your posts

---

HTML code is Off

---