Registered User
Join Date: Oct 2011
Location: Logansport
Posts: 664
Advice on a potential buy. 2004 Liberty
---
Hello,
I was wondering if you guys could give me some advice, or information on things to look for when looking at a 2004 Jeep Liberty.
My cousin asked for my assistance recently in replacing her CPS in her 2004 Liberty and I managed to accidentally break off the sensor in the engine block. We come to find out, the actual reason for the vehicle not starting (MOST LIKELY) would be some wires under the rear of the vehicle near the gas tank, that were being chewed on and are now exposed.
Like I said, the two known problems with the car are:
1. CPS broken off in the engine block
2. frayed wires under the rear of the vehicle
Just today, my cousin asked if I'd be interested in buying the vehicle, in its non-running condition. What do you guys think would be a good price to purchase this vehicle?
Little rust, no body rust, 1 owner (my uncle used it for business, then bought it from his company for his daughter to drive) and the mileage is at about 18X,XXX.
Not knowing much else about the reason it is not running, what would be a good price? I offered her $500, and she threw back $1000. What are some other things to look for? And do you have any idea on how to resolve these issues? (I am aware that the second issue isn't really elaborated on, enough).
Thanks,
Jake
Registered User
Join Date: Nov 2008
Location: Upstate NY
Posts: 1,125
Here's the thing, you know the vehicle history since it was in the family, and you think you know what's wrong with it which sounds like nothing major. So if it was serviced regularly and not abused then I would offer them $500 like you did and tell them if you can get it running satisfactorily, I would tell them I would give them the other $500 which would total the $1,000 they want. They will be happy then and no family troubles. You can't be too picky for a $1,000 vehicle anyway. ( It's not running so they are not going to get a lot of money for it anyway and you are taking a chance.) Even if you had to tow it to a (good) dealer (gulp) and paid them to get it running you would not be upside down on it as you could part it out. (you said it was otherwise in good shape) And if you get it running, the KJ is actually a good Jeep.

As far as the 04 MY, that is a good year and before they changed the window regulators and had problems.

This is about all I can think of with the info you gave. I am sure others will chime in.

Let us know what happens.
---
Lifted, Skids, Hooks, Rails, Trail Rash..
War Veterans Jeep Group #31
Black Jeep Society #217
Thanks for the reply, that is a great idea. I'll definitely give it a try, and see where that takes me. On a side note, my buddy rear ended someone in his Liberty and has it just sitting on his property, so parts would be pretty available which is also a plus.
My cousin agreed to the terms of paying $500 up front, and then paying a couple hundred bi-weekly until we reach $1000. I'll probably be picking up the Jeep sometime this weekend if all goes well.

I could use some advice on towing the vehicle though, would a tow dolly work? I'm sure I'd have to disconnect the rear drive shaft to do so though. I'll be using a 1997 Jeep Grand Cherokee with the 5.2 to tow it. It's only about 30 miles, that i would need to tow it.
Moderator
Join Date: May 2006
Location: Grand Forks, ND
Posts: 3,006
Short distance, a tow dolly should do the job for you with the rear d shaft disconected.
---
05 TJ RME 42RLE with some things
05 KJ CRD 545RFE, GDE Eco tune, Franky II, Al's 4.5 A-arms, JK Rubi Moabs, Silent Armors 245-70-17's, Spidertrax Adapters, Rola Basket, Fumoto Valve, Pinch welds pounded - Sold 2015
Registered User
Join Date: Nov 2008
Location: Upstate NY
Posts: 1,125
Leave A/T in park and put T/C shifter in Neutral. T/C in "N" disconnects drivetrain. Then pull it with a towbar.
---
Lifted, Skids, Hooks, Rails, Trail Rash..
War Veterans Jeep Group #31
Black Jeep Society #217
Got the Jeep torn apart today, managed to get the CPS sensor out after a lot of persuasion and broken bolts. The previous owner (my cousin) NEVER washed the vehicle and lived briefly in South Dakota.
Apparently a creature or multiple have been attacking the fuel pump wiring module and have hacked it to bits as well. Does anyone know where I could find this part?
http://www.davesdiscountautoparts.co...FcU7Mgod_CoA9Q
The price is absurd. We're checking local salvage yards currently.
Pictures of the Jeep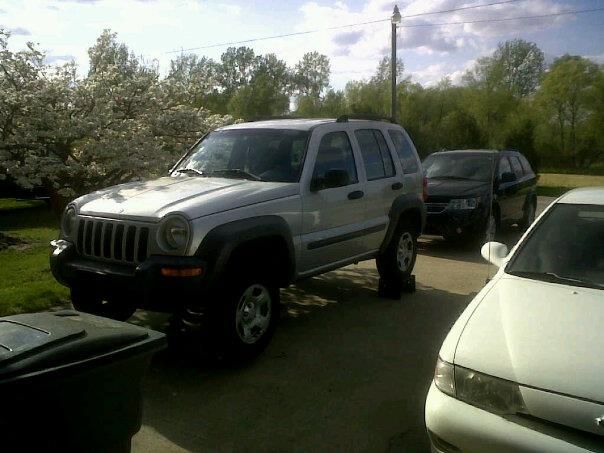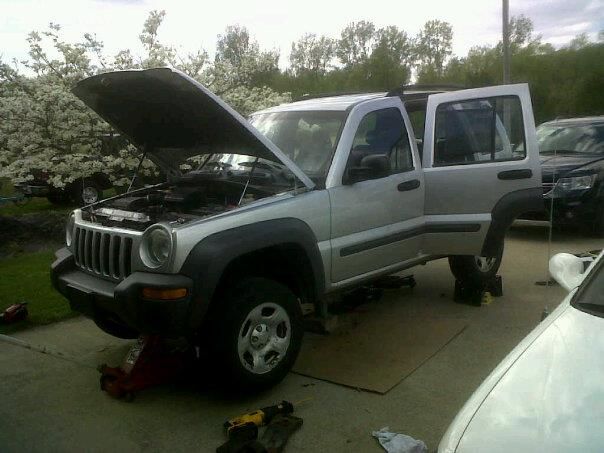 Registered User
Join Date: Apr 2013
Location: Fargo
Posts: 437
Try rockauto for the part. They are usually going to give the best price and have several options. Rockauto.com
I actually stopped at a local salvage yard that I never knew existed. Got the fuel module wiring and 4 cross member bolts for $32.10.
The numbers on the wiring harnesses are a bit different though, could it be because the Jeep was an overland edition? According to the yard, the Jeep was an 04' as well. The cross member bolt pattern was different too, 3 on each side of the transfer case cross member.
Wiring we pulled out (Chewed up)
(P)56010096AE
New one
(P)56010598ACA
*UPDATED*
I actually just found out that the Jeep I've been working on is a 2003, not a 2004. So Now I'm unsure if the wiring harness will work.
As said before, here is the part that I need:
http://www.moparpartsoverstock.com/p...6010096AF.html
and here is the part that i accidentally got:
http://www.moparpartsoverstock.com/p...6010598AC.html
Why is there such a large price difference and is there anyway to splice the harnesses together to make it adaptable?
Just a little update if anyone is interested, after a long day wrenching on the Jeep it has liiiiiiiiiiiiiife! I managed to solder the old connector that connects to the fuel tank breather/filter (attached to the front of the tank) onto the new wiring harness. I also had to deal with two wires, grounds, that needed to be separated. After a long day, drove the Jeep home which is about 30 miles and it drove pretty good.
Currently Active Users Viewing This Thread: 1

(0 members and 1 guests)
Posting Rules

You may post new threads

You may post replies

You may not post attachments

You may not edit your posts

---

HTML code is Off

---