Registered User
Join Date: Dec 2009
Location: VISALIA, CA
Posts: 9
Windshield Light Brackets
---
Hey fellow JEEPers! I just bought some windshield light brackets and wanted to know the best way to run the lights with the least amount of exposed wires. Any ideas or photos would be great guys. Thanks.
Registered User
Join Date: Sep 2009
Location: Texas
Posts: 1
i came down about 2 inches and over about 4 inches and drilled a hole throught the sheet metal, i pulled all of my wires through the holes and then wrapped them in wire covers. It looks pretty good since they both look about the same.
Registered User
Join Date: Apr 2009
Location: Winnipeg
Posts: 1,031
I loosened the trim cover on the base of the windshield and fed the wires up behind it and re-tightened it (JK) worked fine no drilling and minimal pinching on the wire loom .I`m using Light Force lamps , they put a bit of glare on the hood but not to bad and are very bright . They are also made of carbon fibre so no rusting and as far as being tough they shoot them with #7 1/2 out of a 12ga. !
Registered User
Join Date: Nov 2005
Location: Baltimore
Posts: 1,574
Not my Jeep, but this is the best I've seen. It's from this
thread
.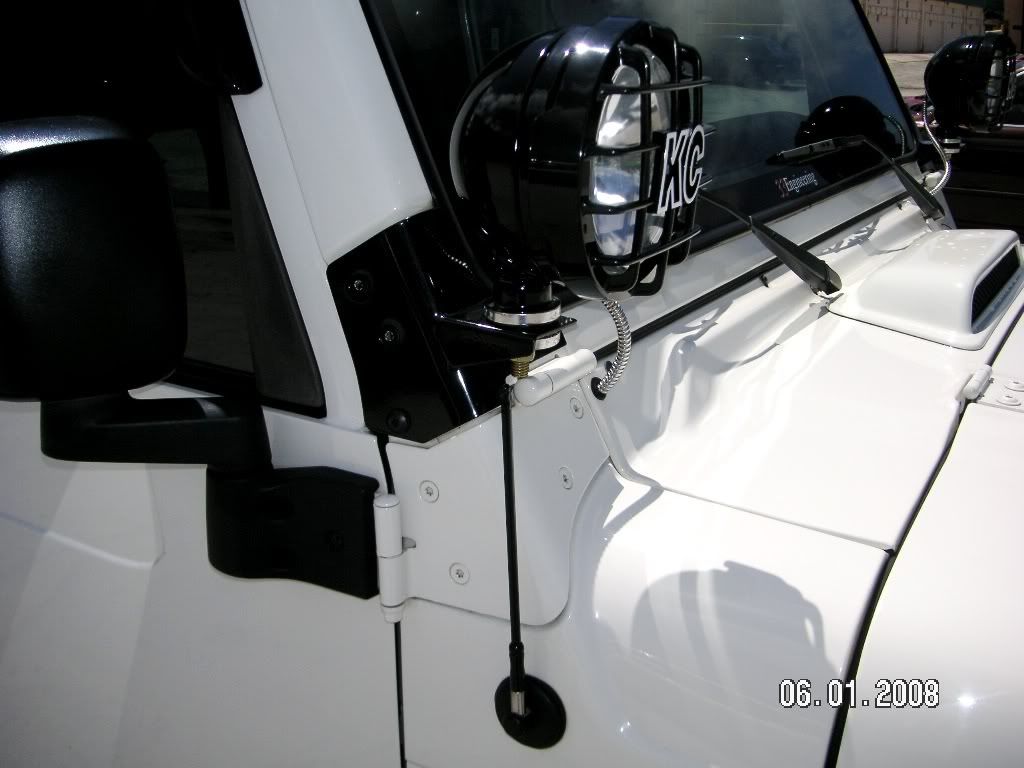 ---
To view links or images in signatures your post count must be 10 or greater. You currently have 0 posts.
Registered User
Join Date: Dec 2009
Location: VISALIA, CA
Posts: 9
Wow that loks really good. I juust finished and what i ended up doing was cutting a little peice of the corner off. Thanks for the help and ideas guys. I wish i had seen this picture first though!
Registered User
Join Date: Oct 2009
Location: Walla Walla, WA
Posts: 89
Registered User
Join Date: Oct 2008
Location: NORCAL/NORNV
Posts: 7,223
Checout for clearance, then drill a hole on each side for the grommett (probably came with your lights) then the install looks good, don't stuff them in a crack then it looks "temporary"
Don't have any close pics but willydiggers pic is close
JIMBO
---
Yellow Jeep No. 683

To view links or images in signatures your post count must be 10 or greater. You currently have 0 posts.

--YA GOTTA HAVE CLASS--
Currently Active Users Viewing This Thread: 1

(0 members and 1 guests)
Posting Rules

You may post new threads

You may post replies

You may not post attachments

You may not edit your posts

---

HTML code is Off

---