So I've been following a couple of trailer build threads, stealing ideas from others on the forums, or as I like to call it, "collective creative collaboration" LoL.
Sorry such a long first post, this is a cpl weeks of thinking and doing in one post, the follow ups should be shorter hehe
Anyhow, this past weekend HF was having a parking lot sale and the 4x8 trailer was $269.99 so i bit the bullet and brought her home. (
HF 90154 Trailer
)
The other thing that sold me on this particular trailer is the fact that its foldable. I have a small garage thats full of crap, only to get more full in teh coming weeks, and my HOA does not allow trailers to be visible from outside of the house
Of the threads I've been following (
ArmyRN's
&
Sahara707's
) they have approx 4'x4' trailers. I figured id want a 4x6. I have a lot of crap id like to haul, plus my YJ is my DD and this is the first non pickup truck ive had, so i figured id need the space. The thought crossed my mind about shortening the 4x8 like in a thread i cant find now, but I decided on keeping the full 8'.
Another reason for this, is a lot of guys have found that burying their cooler in the trailer isnt always the most convenient, so some are adding racks to the rear or tongue of the trailer to store their cooler or other items needing to be easily accessible. I really like this thought BUT i do NOT like the thought of shortening my tongue, and I think the rear of the trailer is a good spot for the spare tire, sooooooooooooo. I got to thinking (uh oh
)...............Leave the trailer 8', floor all 8', but only make sides 4'x6' and leave the open 2'x4' space at the front of the trailer. That way I have the extra open area AND loose no tongue!! I think i'll accomplish this by adding a piece of angle iron with 2 stake pockets on it under the deck, and cut holed for the stakes. That way the sides are still all removable for storage and using the trailer as a flat bed.
Anyhow, so I got her home and assembled: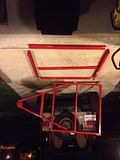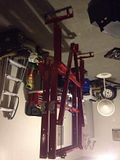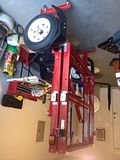 Looks good behind the jeep!
Thank GOODNESS for my FSM, it was SUPER simple to find the right color wires in the wire loom to splice in my trailer light plug!
So then off to lowes for lumber & hardware ($200!
)
I got all pressure treated lumber.
-3/4" plywood for the floor
-2x4s for the stakes (cut to 27-3/4" to give me 24" above the deck) 4 of them came out to be about 9 and a half feet, so 2 10' ers was perfect
-1x4s for the slats
I got all stainless or galvanized hardware (the selection was crap on the hardware isle of my lowes) Im also using T nuts
for the slats (again, an idea I saw on here).
So today i plan to get the trailer finished (if this rain lets up).
So far im really happy with the trailer, it was FAR cheaper than anything else I had looked at, as I was also considering one from tractor supply:
4x6:
4x6 with ramp: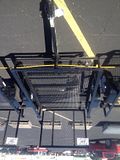 5x7 with ramp: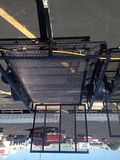 Bad thing about the TSC trailers is that the fenders are welded on, so upgrading to bigger tires would be a bit of a chore, and im not crazy about the expanded metal floor, as it would be a PITA to remove.
So next on my list is to upgrade the hitch, the 1-7/8" that comes with is, at least mine, is trash. Very stiff and difficult to hook up, so i'm not sure if i'll upgrade the ball hitch AND get an offroad hitch, or just go for the gold and get an offroad hitch.....must do blazer heater upgrade on jeep first LOL
Then i'm gonna look into bigger wheels. I think I can keep the same axle and just put 5 on 4-1/2" hubs and wheel spacers, a lot cheaper than a new axle.
The HF axle spindles on my trailer are NON tapered, with bearing & cup set part number 30205 which the Timken catalog says goes on a 25mm (.9843") shaft.
Northern tools has a
5 on 4-1/2" hub (part number 57205)
for $32.99 that fits a NON tapered 1' shaft. Im willing to bet that the .0157" falls within the build tolerances and therefore will be a direct replacement.
Then the wheel spacers, I just happened to get an e-mail ad from ExtremeTerrain.com that had
1-1/2" Spacers for $59.95
. Part number J12967.
That hopefully will put the trailer able to wear bigger wheels & tires for around $100. I'm sure thicker spacers can be had as well
I havent gotten serious enough yet about the new wheels to start measuring back spacing on the bigger wheels. Next time im at northern tool I'll try and remember to, so im not sure if 1-1/2" is even enough. But since I just have a body lift on my jeep so my bumper is stock height, I dont need a whole hell of a lot of lift to level out the trailer. But i DO want to get larger wheels for slower bearings.
So thats as far as ive gotten for now. Ill keep yall updated with pics and ideas.
Proceed with ya'lls questions, comments, concerns, flames, general BS, etc.