Registered User
Join Date: Sep 2005
Location: Shawnee
Posts: 15
Military Ammunition Trailer - What do you think?
---
I've been looking for a trailer for a while now. I came across this trailer for sale and have been thinking about how cool it would be to have something like this. I mostly want a trailer for camping purposes and have hoped to find a cheap M416 that I could fix up.
The seller says that it is in very good condition and is very heavy duty... He wants $200 for it. I know how heavy military equipment usually is... Even the small M416 trailers are stout. I have a feeling that this would be WAY too heavy for ol' buckwheat to handle.
Anyone know anything about these?
Administrator
Join Date: Jan 2003
Location: Escondido, California
Posts: 69,061
$200? Dang I would jump on it before someone else does, that's a steal if it's in decent condition!!
---
When you have a choice, buy American made.
I'm just worried its gonna be too much for me to pull around or else I would.... I almost hate finding cheap toys... My wife gets so pissed, haha.
Registered User
Join Date: Nov 2008
Location: Upstate NY
Posts: 1,125
Just get $200 from the atm and get it quickly........
---
Lifted, Skids, Hooks, Rails, Trail Rash..
War Veterans Jeep Group #31
Black Jeep Society #217
Registered User
Join Date: Nov 2003
Location: CT
Posts: 217
Quote:
Just get $200 from the atm and get it quickly........
Empty it only weighs approx 600lbs.
get it!!!!!!
Registered User
Join Date: Apr 2006
Location: Crescent Springs, KY
Posts: 1,140
In my research for an offroad trailer, I looked at those and the weight really concerned me. There are many different ammo trailers out there for very cheap (because they're so plentiful right now), but they can weigh in empty at more than my TJ is rated to pull, so I waited and went with the M416. You might want to post over in the trailer section of
Expedition Portal Forum - Powered by vBulletin
/index.php and see what they have to offer. There are a fair number of folks that are very familiar with military trailers and their use offroad.
HTH,
Adam
---
'99 TJ Sport, 4.0 I6, 5 speed manual transmission, Hi Lift w/offroad kit, Viair 450C compressor, Garmin GPS, Skid Row Engine/Transmission, steering box & radiator skid plates, Kilby gas tank plate, AtoZ Fab full length rocker guards, Performance Accessories 1" Body Lift, OME 2.5" HD springs & shocks, JKS trackbars front & rear, BFG AT 33x12.5r15, EBC Yellow pads and Centric rotors
Registered User
Join Date: Jul 2008
Location: Boston
Posts: 3,927
I would buy that for $200 even if my Jeep couldn't pull it. Cool trailer.
---
91 YJ
98 XJ
2 door love
The U.S. Army vaguely envisioned something bigger than a motorcycle, smaller than a truck, and undaunted by the most difficult terrain.

Registered User
Join Date: Oct 2009
Location: springfield, mo
Posts: 953
Quote:
I would buy that for $200 even if my Jeep couldn't pull it. Cool trailer.
agreed
empty the thing and put it to use
---
2004 TJ 4.0 5 speed, 2 inch body lift, barricade armor, 4.5 bds lift, 35 mtz, sye, and tons more
Registered User
Join Date: Sep 2007
Location: San Fran. East Bay, CA
Posts: 406
does it come with surplus ammo?
hehe
---
There is nothing worse than a brilliant image of a fuzzy concept. - Ansel Adams


To view links or images in signatures your post count must be 10 or greater. You currently have 0 posts.

I took all your advice and went for it...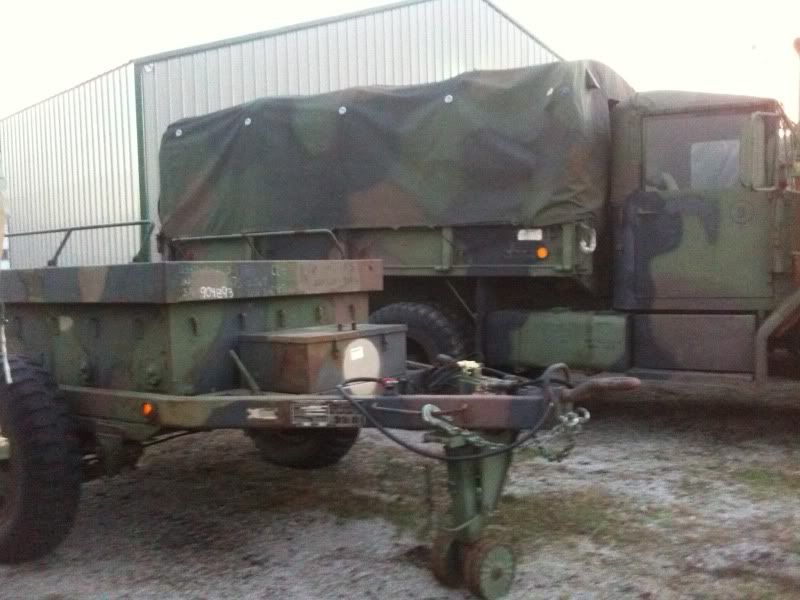 It was HUGE. This picture doesn't do it justice. I am 6'4" tall and the rails of the trailer came up to my chest. I love the style of it... But its too much for me.
I know its a good deal, but I wouldn't be able to pull it. It dwarfs my poor old jeep. Some of you guys may not have a problem pulling it though.
Its been for sale for over a month (probably because he spelled trailer wrong in the craigslist posting) It has new tires and it just has some surface rust from what I could see. Looks solid if anyone is interested in it.....
Registered User
Join Date: Nov 2009
Location: NW FL
Posts: 17
I would like to know if all surplus trailers come with a street legal title.
It looks like a super deal!
Oh ya, Kansas doesn't require a title for a smaller trailer (like I'm looking for) but I am not sure if this fits that category or not... What is the total dry weight of this trailer anyway?
Registered User
Join Date: Sep 2007
Posts: 397
There is no way I would of passed up that trailer. jmho

C.
Registered User
Join Date: Jan 2009
Location: Florida
Posts: 1,628
You definitely had a great deal with that trailer! What are your next plans?
Currently Active Users Viewing This Thread: 1

(0 members and 1 guests)
Posting Rules

You may post new threads

You may post replies

You may not post attachments

You may not edit your posts

---

HTML code is Off

---