Alrighty, this is my first time reviewing a product on JF, but this was too awesome of a setup not to talk about. I spend a good amount of time wheeling on forest service roads where there is no convenient way to air back up for someone without OBA, unless you can find a gas station nearby with a compressor. I had actually started looking into different vehicle mounted compressors, when read on another forum about a new high quality CO2 setup that was coming to market. After a bit of reading up on the setup, I was thoroughly impressed, so, two weeks ago, I ordered a 10lb CO2 Setup from
Instant Air Supply
So, here's what $218 got me:
The Tank, Regulator, Hose, and Quick Fists are also all MADE IN USA, which was a HUGE selling point for me When my setup arrived, I was immediately impressed with how well it was packaged. Everything was packed securely in paper, and nothing was rattling around inside when I gave the box a vigorous shake. As expected, then, all the components were in excellent condition when I unpacked it. Makes me wonder what the shipping departments of some of the bigger companies out there are doing...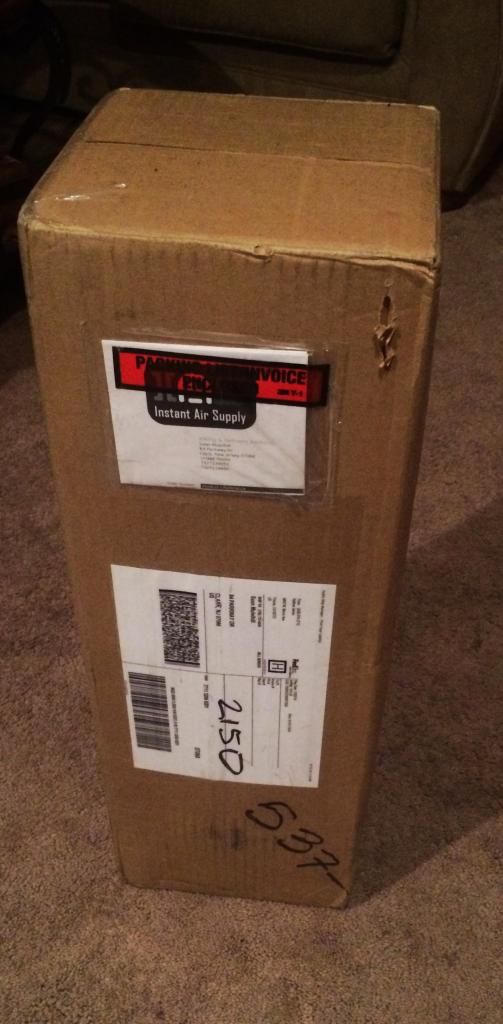 I then got around to inspecting each component of this package. The regulator is very well made, and I expect no problems from it at all. All the threads on the air fittings were in good condition, and fit together with no complaints. The 6 ball coupler is FANTASTIC. It really is a big improvement over the cheap couplers I have seen with various air compressors, where you will sometimes not get a solid connection, or that begin to leak over time. This coupler latches each time with a definitive snap, and the fitting can rotate smoothly in the coupler when connected. The air chuck clips easily and securely onto the tireís valve stem, and makes for a hands free operation of the setup once it is attached.
The 25í' hose that is provided is by far the nicest air hose I have ever used. The fact that it is thinner than most air hoses makes it much easier to work with, and it does not like to coil up or kink when it is being used. It looks to me like a durable hose that will stand up to a lot of abuse over the years. Plus, it is rebuildable. The brass ends on each end can be unscrewed and replaced easily with a few basic hand tools, meaning easy trail repairs if something did happen to break.
The quick fists made mounting a breeze, a few sheet metal screws and the tank was securely mounted in the back of my jeep. The straps hold the tank securely, but arenít a pain to use, the tank can be easily removed in moments.
All in all, I am thrilled with my new CO2 setup. It is great to have the ability to air up larger tires much faster than most compressors (I can air up one of my 33Ē MTRís from 8 to 25 psi in well under a minute, roughly 20 times per fill), or reset a bead if needed. Another plus I can run air tools on the trail if need be. It is nice to know that I no longer have to hope there is a gas station nearby to air my tires back up. I would highly recommend this setup to anyone, you canít get a quality setup like this for anywhere near this price.