Registered User
Join Date: Jul 2009
Location: Honolulu
Posts: 57
New Jeeper in San Diego
---
Got stationed to the West about a month and finally got my jeep transported in. Originally from wet and muddy Florida, hence the screen name , looking to eventually get out and take a trail ride with some nice and realible jeepers. I hate the idea of people that ditch others while trailing; seen it done before, not to me, but does happen more than it should.
Got my rear posi-loked and 4.56 gears done, riding on 33" Dune Grapplers and 4" PC lift w/3" BL and the snorkle is a must in Florida but have yet to see one installed here in San Diego. Right now, I have to fix my Throw-out bearing because it's rattling when is cold and don't have the clutch pressed in, I might do a whole clutch that will hopefully include the bearing needed-lowest estimate I've gotten on the labor is $375, any better prices out there? lol.
Any how, name's Rich and I'm in the Spring Valley area.
I know this thread would be probably useless without a pic, so here it is: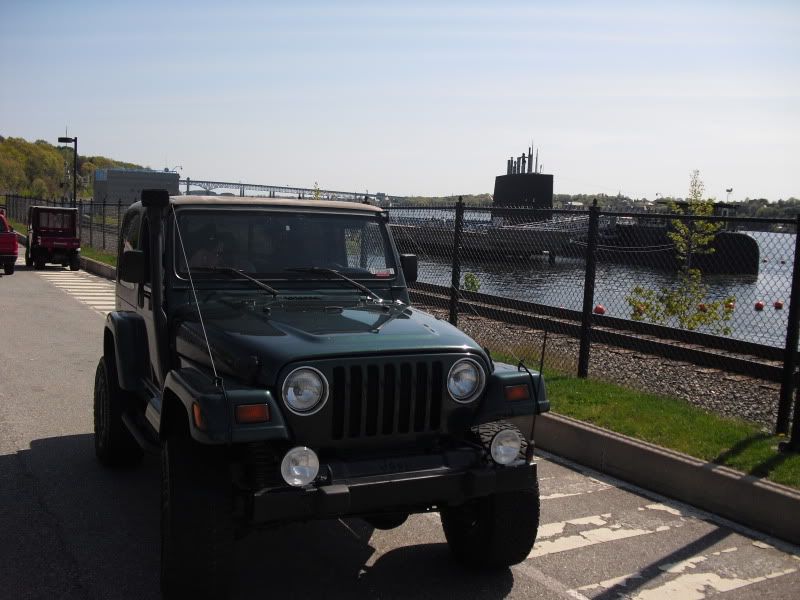 Any input or ideas are always welcomed,
Thanks
Rich
Moderator
Join Date: Jun 2007
Location: San Diego
Posts: 18,609
Welcome to SD. You're just in time.
http://www.jeepforum.com/forum/f262/...r-7th-1121576/
The jeep looks nice but we have no trees so you won't need the limb lifters and turn the snorkle backward to cut down on the dust getting in.
Never heard of anyone being left behind, though I'm sure it happens.
---
.
"The right to be heard does not necessarily include the right to be taken seriously." —Hubert Humphrey
.

To view links or images in signatures your post count must be 10 or greater. You currently have 0 posts.

Registered User
Join Date: May 2004
Location: San Diego
Posts: 5,441
We never leave anyone behind. Usually the ones leading the way are the ones that break down. You will love the desert. Little or no mud, but tons of dust.
Guy with jeep
Join Date: Jul 2008
Location: Sweet
Posts: 2,737
Registered User
Join Date: Jul 2009
Location: Honolulu
Posts: 57
Good to know no ones has gotten left behind!

That site with all the trails look pretty useful, if I knew where any of those were lol, I wouldn't go out alone anyways.

I was trying to install my stinger add-on to the stock bumper, but those damn tow hook torx screw were so rusted they borke and now 2 of 'em are stuck n have to figure out how to get 'em off tomorrow; other than that I wanted to replace the clutch before since the throw out bearing is making noises, but I'm pretty sure it'll be fine until I get the money to do a whole clutch.

When are you guys going out next?

Rich
Registered User
Join Date: Dec 2003
Location: San Diego, CA
Posts: 500
Currently Active Users Viewing This Thread: 1

(0 members and 1 guests)
Posting Rules

You may post new threads

You may post replies

You may not post attachments

You may not edit your posts

---

HTML code is Off

---