Quote:
Originally Posted by
crqflier
How many rigs usually show up for this event? Also, I was looking at the minimum equipment for the Black Cat - must have at least 32" tires. Are they super strict on that? I've got 31" BFG KM2.
There's usually a couple to a few hundred rigs, mostly Jeeps of various and sundry heritage. Last I checked there were 150+- pre-reg'd and there's always a lot more on-site.
They do a tech inspection at registration which they take seriously, safety items are of primary concern. A couple of years ago someone in our group didn't pass because he didn't have a required battery tie-down. If you pass they give you a sticker for your windshield...
In the years I've been going I've never seen anyway turned away from a run for not being at least close to the specs for a particular trail (you must have the tech sticker to line up for their runs and they usually ask at tech what run you want to attend). The main concern is that the rig and driver are capable of safely completing the run and not ruining everyone else's day with an extended recovery, trail repair or trail blockage.
Normally we go out, pay the registration, buy some raffle tickets, shirts and other paraphernalia mainly as a way to donate money to the group and support the sport. Then we go off and do our own thing
They generally start their runs between 8-9am, usually about that time we're almost motivated enough to set down the coffee cups. Last year on the Saturday am we waited until the scheduled runs got going and then headed over to play on Sand Dam. 15 minutes after we got going we towed Jimmy's Jeep back to camp while Wymore drove circles around it in his Dodge Ram.
We then hit as many trails as we could. Got back to camp, had an amazing dinner, drank copious amounts of adult beverages, went to the raffle and generally had a great time.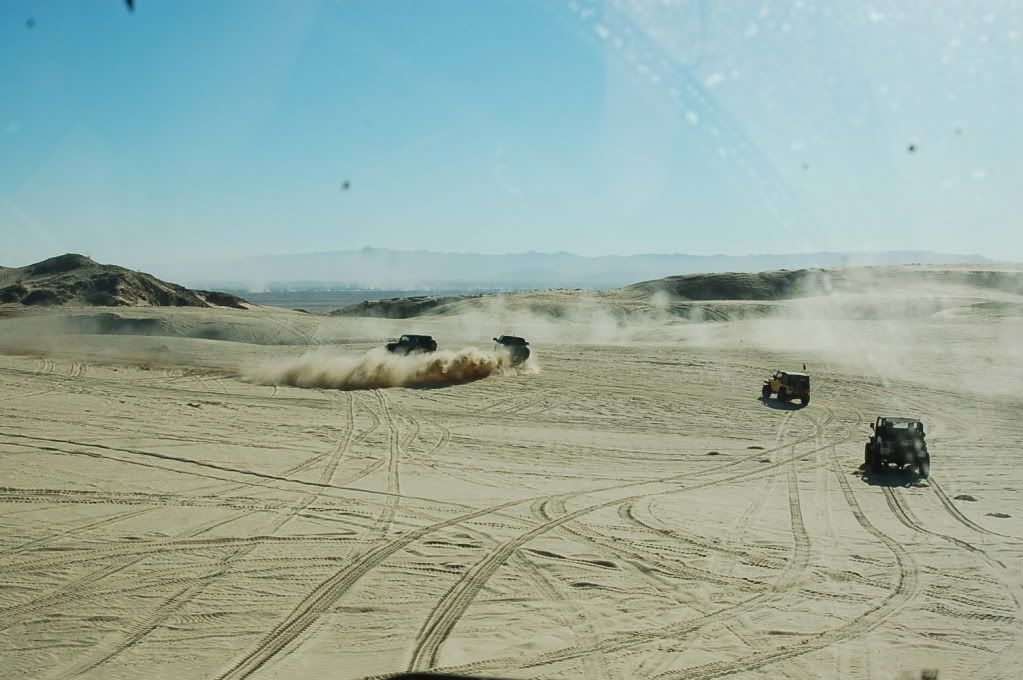 End of the first trail with the Blue Angels overhead