Registered User
Join Date: Nov 2011
Location: Irvine
Posts: 154
Cheap TJ Paint / Body Resto-- Basic Tools
---
My old 97 TJ had seen better days and I set out to get the body and paint fixed up and newer looking... I also used it as an excuse to get it to look just the way I want it (lets just say I don't plan on reselling, as you will clearly see in the end photos). Either way, the methods I used here don't require any special tools or access to a shop or garage... just the willingness to take a risk. I was in a "well, it couldn't possibly look any worse" type of situation, so I went for it with no regrets, although I did make many many mistakes along the way... For this thread, I am just going to explain how I went about doing what I did, and add some tips I wish someone would have mentioned or I should have known about.
My whole "experience" is documented on my build page here:
http://www.jeepforum.com/forum/f22/9...ation-1324173/
I'm posting here in the paint and body forum kind of as a
how-to for anyone who has an old jeep that has been beaten up or gotten into one too many fender benders
(where your outlook goes from "I don't want to mess up my jeep any more than I have to" to "this thing is too beaten up to drive around town anymore"). If you can't justify spending that much money on it, you don't have access to a real garage, have a limited amount of tools, don't have any buddies in the paint and body field, and don't have a lot of experience yourself in the area but still want to go for it, this information should help you out.
The poor girl...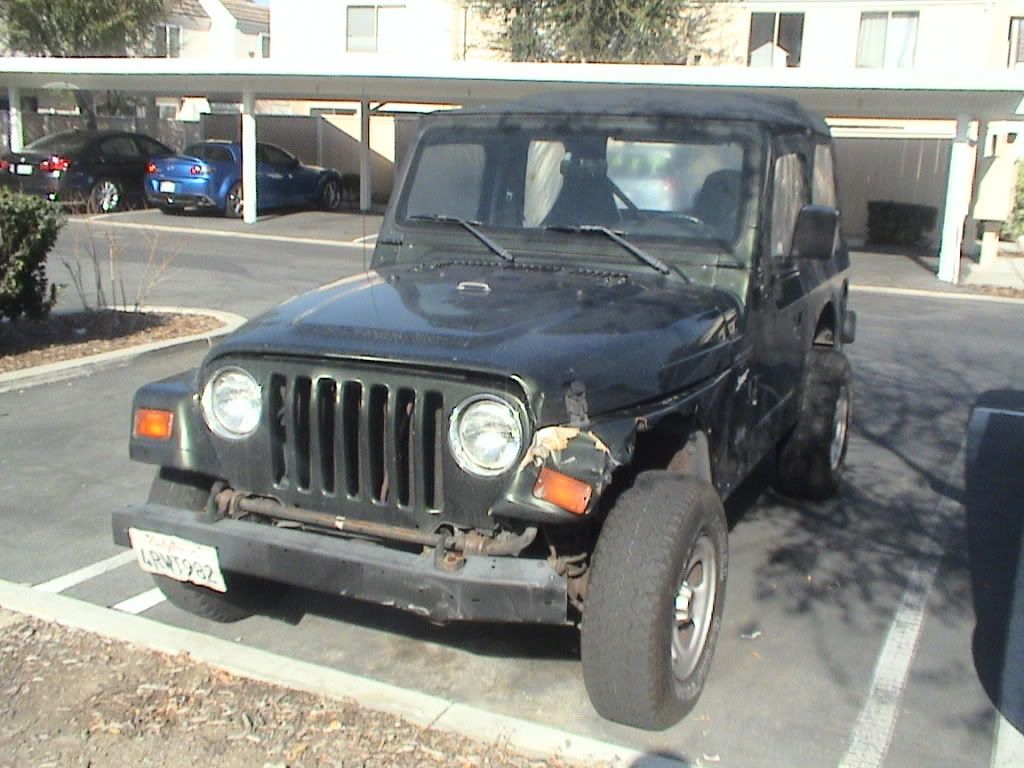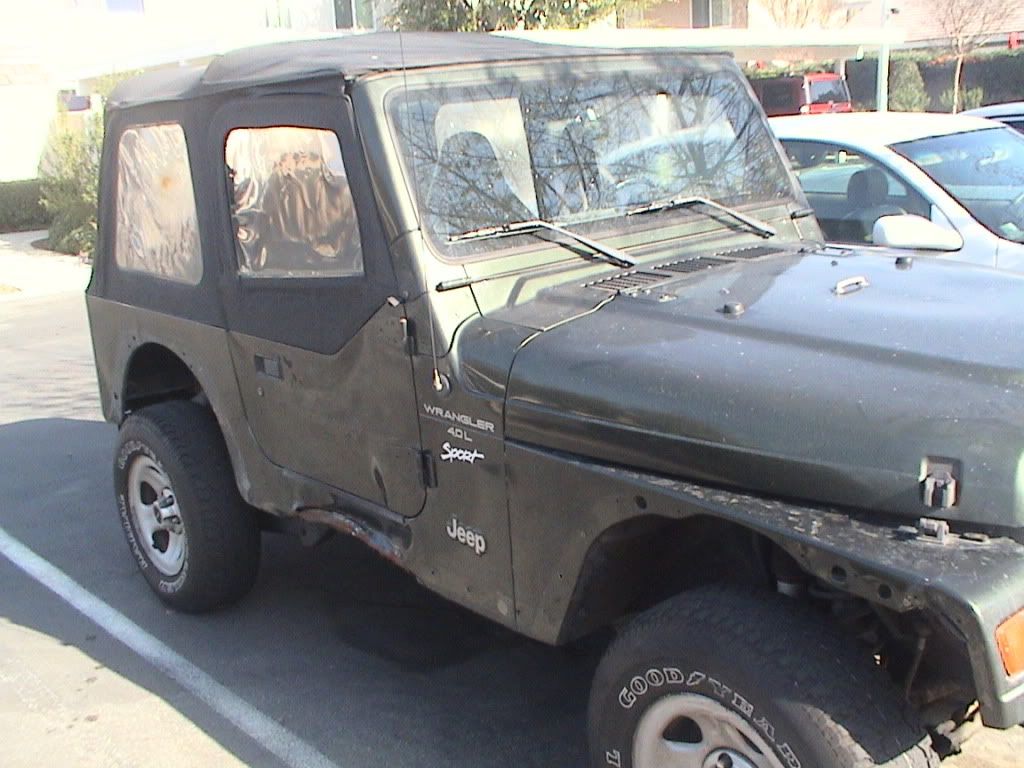 ** DISCLAIMER: If your frame is damaged or you have mechanical damage, I'm not going to tell you what to do here. Make the smart choice for anything where your safety is in jeopardy. This post focuses on paint and body **
MUST HAVE tools and supplies for low-budget body work:
1) nuts and bolts (optional stainless self tapping screws) / drill
2) screwdrivers
3) Socket wrench set. Depending on what you're doing to your jeep, you should also invest in the torx bits too (star shaped). Chrysler goes crazy with these things (wtf chrysler!?!?)
4) something big, metal, pryable, blunt, and heavy and a hammer. Duct tape and an old rag too.
5) Can of bondo
6) 60 grit, and 100-150 grit wet/dry sandpaper
7) Handheld saw with metal cutting blade
8) Metal file
9) Loctite Freeze n Release or PBlaster
10) Dense foam block or sanding block
*optional: self etching primer. Not using primer is more risky, especially if you don't know whether or not the paint you're using will stick. Using primer is more of a guarantee it will stick. I'll tell you from my experience that the rustoleum enamel paint and spray cans, and the rustoleum bedliner spray will stick directly to a sanded clearcoat surface that is clean. So far it's been over a year in the socal sun and no signs of peeling. I also can tell you that in my experience, the rustoleum enamel went on right over bondo without needing primer. It required more coats because the bondo absorbed some of the paint for the first two coats. It's safe to say you won't need primer to put enamel over your existing clear coat, but it is recommended for bondo'd and plastic surfaces.
WHERE TO BUY budget body pieces and plating.
1) For body parts, I went with
http://www.discountbodyparts.com/
If you live near one of their hubs you can do will-call pickup and save a ton of money on shipping. NOTE: GET CAPA CERTIFIED. It's not much more money but everything fits better! Remember if you were in an accident, everything might not line up the same way even if you go CAPA certified. Hardware and anything attached to the original parts are NOT included so save them!
2) If you can't just replace the part like a fender or hood and don't have access to welding materials (i.e. rockers or any part of the tub) there's probably a diamond plate piece that will fit right over your damage. Nobody but you has to know what lies beneath :-) I would recommend
http://www.jeepdiamondplate.com/
Barry over there is the best, he's very helpful, and not to mention, they ARE the cheapest price for good quality, US made diamond plate. He ships fast and the product is reliable.
3) I recommend ebay or amazon for all the little things such as turn signal lenses, etc. Don't buy them until you are ready to install them so you have time to do your return if they turn out to be crap. NOTE: avoid "thejeepwhse" on ebay! I bought a hood latch from him but couldn't install it for a few months. After installing it, it broke immediately. He did not help me at all so it was a waste of money. For something this important to your safety, I'd suggest going with the dealer to know you are getting the right quality. Hood pins worked much better for me anyway. I suggest the Daystar scuff plates if you're doing pins. Metal on metal plates is not a good idea, the daystars are urethane, look nice, and have just enough give so you can get the fit nice and tight. It's an inexpensive ($15 to $20) upgrade for the best quality parts.
MUST HAVE supplies for Low Budget Paint:
(there's thousands of posts all over the internet about the roll on job, but I'll add some things that would be important to know)
1) 400, 600, 800, and 1000-2000 grit wet/dry sandpaper
2) spray bottle (use an old windex bottle and clean it up well)
3) old rags
4) tack cloths
5) mineral spirits
6) masking tape
7) high density foam rollers (the bigger ones make the work faster). You can get the kit which includes the handle and tray.
8) 2 quarts rustoleum professional for the whole jeep. "Topside" will last a year longer in the sun from what I've heard.
*If you're only spraying, you won't need anything from #7 or 8, instead get rustoleum professional rattle cans (grey label), or if you want to do a nice bright color, you can use duplicolor engine enamel, If you're going to bedliner, the best quality for the price is DEFINITELY rustoleum bedliner spray. Duplicolor engine enamel is awesome, but for some reason, they just don't know how to make a good bedliner. AVOID any duplicolor bedliner products, just trust me. They don't stick well no matter how good the prep is, they bubble up, they get all spongy and porous inside when you sand it down, if you spill anything on it, it gets all discolored, it gets soft and peely just from the sunlight, and just doesn't look that good either. The rustoleum on the other hand works fantastic and is surprisingly strong even for being the cheapest. The texture isn't as thick, but it's thick enough for me. You can add more coats to get a more built up texture.
Optionally, you might want to spray your gloss paint as well. If you have a few old blankets or towels, and 10 feet of space surrounding your jeep, I'd suggest rattle canning over rolling. I know it seems like spraying will make a big mess, but if you mask well it's really not that bad. Just make sure your top is off and your plastic windows are removed from your doors if you're going to spray. Most of my "overspray" from spraying was within a foot of the intended target. I masked and sheeted up to 4 feet on the jeep surrounding the area I was spraying to be safe. Little specks of paint will get inside your jeep, but they can easily be wiped down with an old rag and some mineral spirits. By the time they land on your jeep, they are dry enough to not stick permanently.
*Rattle can versus rolling*
Rolling:
you don't have to mask and sheet as much, but the paint takes longer to dry (more bugs and dust to sand out), and you have to do more coats (8-10 coats to get your thickness up). Trust me when I say the most time consuming AND most important part of the low budget paint job is the sanding inbetween coats. The further along you are in your number of coats, the more time it takes to sand with higher grit paper. Also a downside to rolling is that enamel paint takes forEVER to fully harden (I've heard, literally, years to be peak chemically resistant). What does this mean? This means that if one of those special (really acidic poop) birds drops one on your paint, you'll be surprised to see your original clear coat and a big crater where the poop landed when you wipe it off. The solution to this is to use hardener. I can't find anyone who will sell hardener where I live, but I heard tractor supply sells it. I'll just say from experience, if you're going to roll and spend so much time doing this, use the hardener. Otherwise, you'll be saying "alright that's it, it's finally perfect" and see a bird poop crater the next day.
Rattle can:
You have to do more masking and sheeting and please don't spray paint with a neighbor parked next to you. 10 feet is all the buffer you really need to spray though. Believe it or not, spray can paint actually ends up with more texture than rolled paint (requires more time to sand the coat), but it goes on thicker and you don't need to do 8-10 coats. 3-4 good coats is plenty of build from a rattle can. Additionally, you won't need to mix your own hardener. From my experience at least, the rustoleum professional AND duplicolor engine enamel rattle cans have something in them to help the paint with its chemical resistance. I originally rolled the whole jeep, then sprayed both products mentioned above in some areas. I got a huge crater after a month of drying when a bird pooped on my rolled coat (it was on there for about a day), and I've also had to wipe off several bird poop marks (also on there about a day) from both of my sprayed areas as well. The poop came right off the sprayed areas without doing any damage... so I concluded that spraying is more chemical resistant than rolling without using hardener. Spraying will cost a little more money. Rolling is about $50 for the 2 quarts, mineral spirits, rollers and hardener. To do 4 coats sprayed on the whole body of a wrangler, you're looking at about 12-15 cans at $8 each. So it would cost around twice as much but is still cheap relatively speaking.
So while you think about whether to spray or roll depending on your circumstances, let me show you some general redneck jeep body work guidelines (I have a feeling that rednecks, body shop professionals, and even shade tree mechanics will cringe after reading the rest of this post, but hey, it worked for me!)
If you have to replace a fender, just unbolt everything attached to it, starting with the window fluid, remove four bolts from the front by the grill, three more behind the wheel, four attaching it to the next panel by the firewall, and four on the back of the wheel well (attaching it to the HCU tray bracket). Use Freeze and Release or PBlaster for the tough ones before you strip it! Then put it all back together in reverse order.
Before: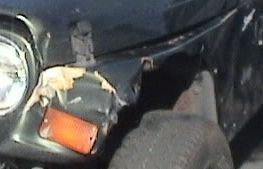 After:
If you have to replace a hood, just remove all the hardware attached to the inside of your existing hood (save it!), remove the 3 bolts on each side of your hinges from the top with the torx bit, get a buddy to help lay the new hood down, reattach the hinges, and reattach the hardware to the inside. My replacement hood didn't have holes pre cut for the twin nozzles for the windshield washers. I could have drilled out the proper holes but I just took the washer fluid line and hooked it up directly to the one precut hole in the middle. It works. Don't forget to put your hood latches back on and make sure they are lined up right. If you were in a front end accident and the hood latches don't line up, I would suggest doing hood pins. There's plenty of writeups on how to install hood pins. I used
this guide
from SaxManClay to do mine. I can't agree more that your scuff plates should be urethane. My grill was a little bent up, so I chose to use the cheap (thinner) hood pin set from AutoZone with the Daystar scuff plates. The hole in the plates was a little bigger than the diameter of the pins I used, but it worked to my advantage because the pins didn't come up perfectly straight due to the bent grill. The urethane plates also have a little give in them so if your pin is rubbing on it a little bit, it will eventually rub itself a little groove so it closes nicely. I plugged in the original holes used for the hood latches with some bolts. I also had a broken windshield tiedown on my hood, so I just plugged the holes with some hardware as well. Also I'll add that the hairpin cotter pins are more secure and stay put better than the ones that look like key rings. 50 cents each at the hardware store.
Now for everything that isn't as easy as "unbolt and replace." My new hood wasn't lining up properly (due to the bent grill), I had an inch of overhang over the driver's side headlight. I used some masking tape to make my line, then cut it down with the saw and metal cutting blade. This takes a long time to do (5 minutes per inch of cutting I'd say) but it is possible to get through sheet metal (and even the factory TJ bumper) with a hand saw. Lay down a towel on anything you don't want to scratch! Once the main cut is made (be careful it's sharp), smooth out the edges with a metal file. Since I had to cut into the bevel on the side that had overhang, I made a similar cut on the other side, and tried my best to bondo the shapes on both sides to match a little more closely to where it's not too easy to notice, or at least symmetrical. Basically I had to create a slightly different shape on the other side, that was also something I could also shape with bondo on the more heavily cut side. Don't go crazy with bondo and build up inches of it, but to a certain extent, it can be used in areas like this as kind of a modeling clay to make small shaping adjustments. To make the job easier for the first "shaping" coat, you can use your metal file and cut it down quicker. With this type of work, the more time you put into it, the better result you get. I put a lot of time into what I did, and stopped when I felt satisfied with the look... I could have gone even longer for better uniformity but I decided it was good enough and I wanted to do a textured bedliner finish on that part of the hood anyway... everyone has their own "happy with it" point :-)
Original hood:
I didn't get a picture of the replacement hood showing the overhang, but here's a picture of some bondo repairs I made to the original hood before I replaced it due to something embarrassing and unrelated haha: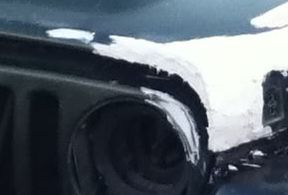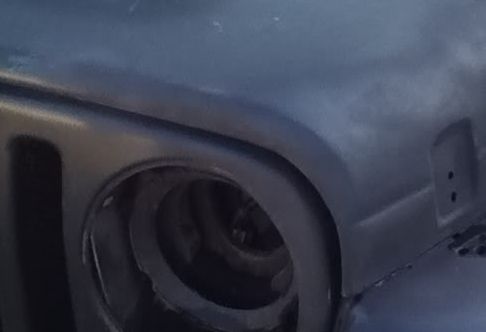 After installing the new hood...
Finished photo of the side that had overhang after the whole process: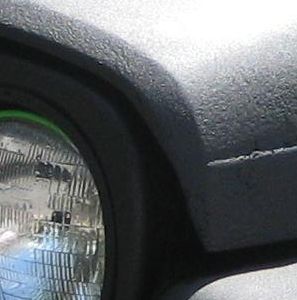 The other side after cutting it to try and match and shaping with bondo:
Bondo Tips:
Don't let the bondo hang freely supporting itself, it has to have some kind of metal to be stuck to in order to stay in place. Put it on higher than you need and cut it down until it's right. After you're finished making the shape, then do a thin layer over the top to fill in pinholes. Then sand down everything except the outer edges with 100-150 grit, and finish by spending a little more time getting the edges (transition to regular paint) sanded really really well with 400 grit paper (wet). Then sand the whole thing one more time with 400 grit wet. You will know you are done when you see a long series of layers around your edges (such as different shades of pink for your different layers of bondo, clear coat, base coat and primer and even bare metal portions of your original paint if you've sanded it a lot. The more distance between the layers the better. Also note that the more solid your sanding block is (i.e. wood) the quicker your sandpaper will cut. I typically sand with a dense foam block. I got one on ebay for about a buck. I also used a semi-hard sanding block I got from the auto parts store for about $7.
Honestly, its astonishing just how much you can fix with some bondo, a metal file, sandpaper and a lot of time. Start by cutting out any metal that is necessary, or smashing it back out as close to it's original position as you can, then figure if you need to do any shaping or molding, fill over your intended line with bondo, cut it down to where you need it, then blend it smooth. Here are some areas that I used the "smash/cut, fill over, shape, blend" strategy on my TJ:
PASSENGER SIDE DOOR
Before:
After smashing it out as much as I could with a hammer and pipe wrench:
After a couple fill-in layers of bondo:
After shaping my fill-in layers with a metal file and sandpaper:
Primered and some more smoothing with 100 grit:
Finished the doors off with bedliner: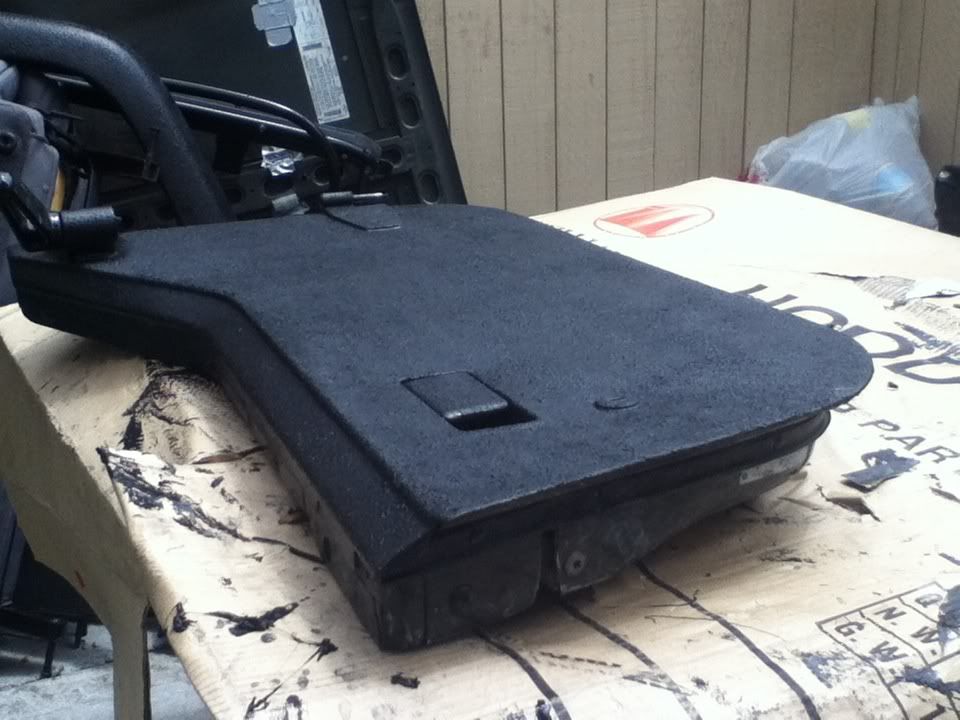 CORNER:
Before: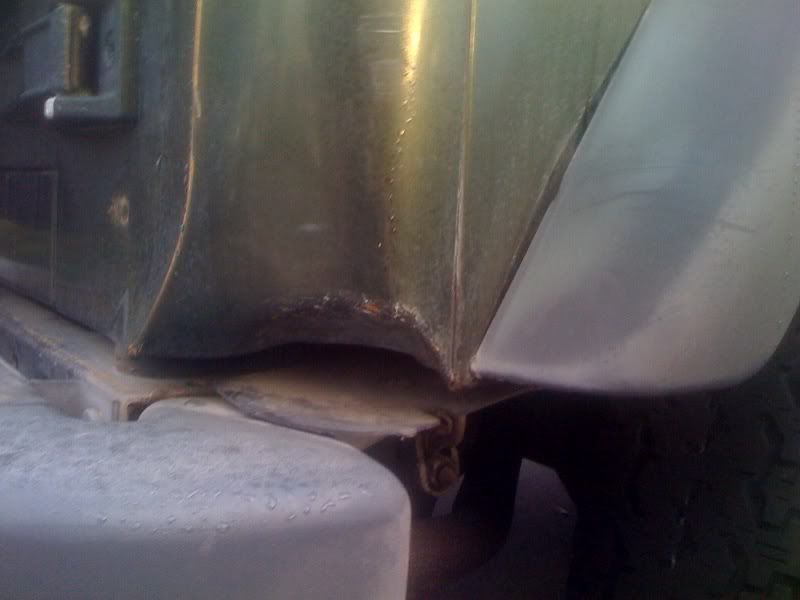 Bondo'd up:
After: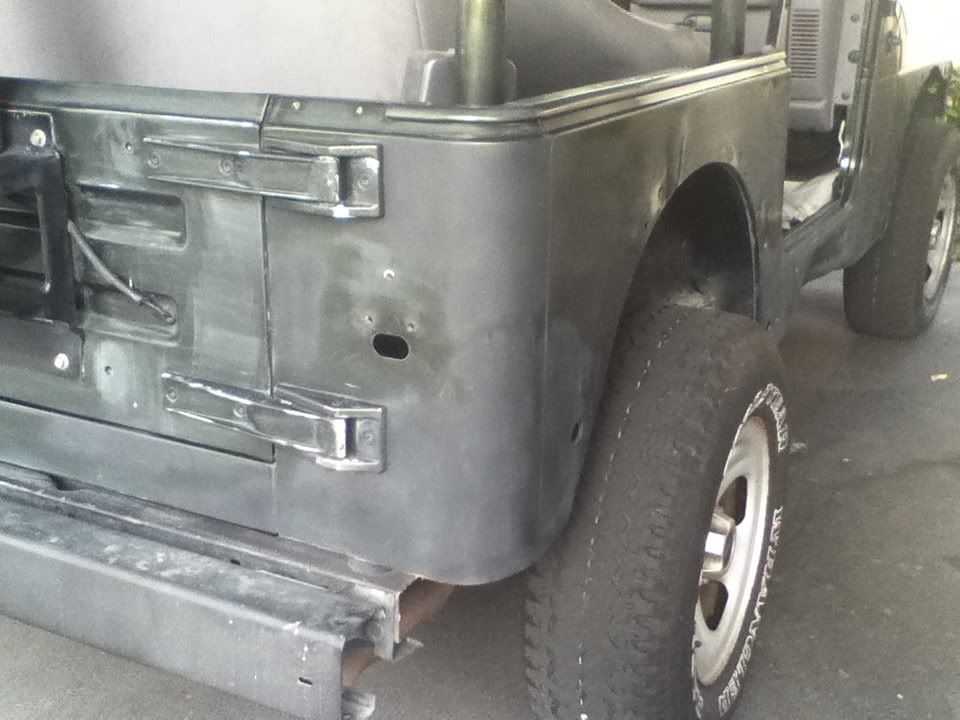 Finished with gloss paint: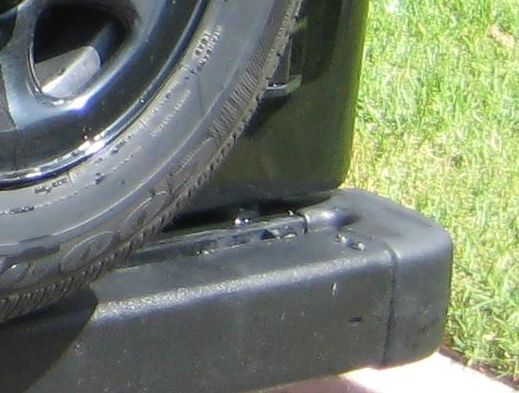 You can apply this same strategy to make a shorty bumper out of a bent bumper. Yes the handheld saw with metal blade will cut a TJ bumper too! (thanks Cowboyup94) The key ingredient in doing something like this without spending money is TIME!
Before:
After Cutting: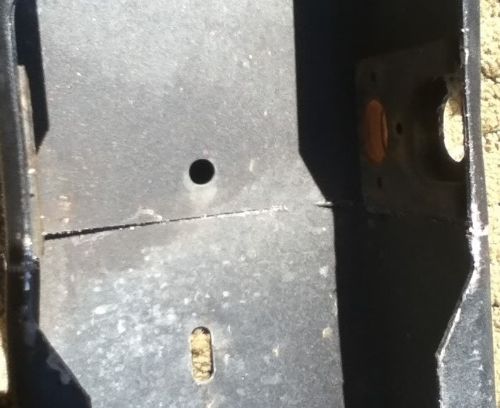 After filling in with bondo: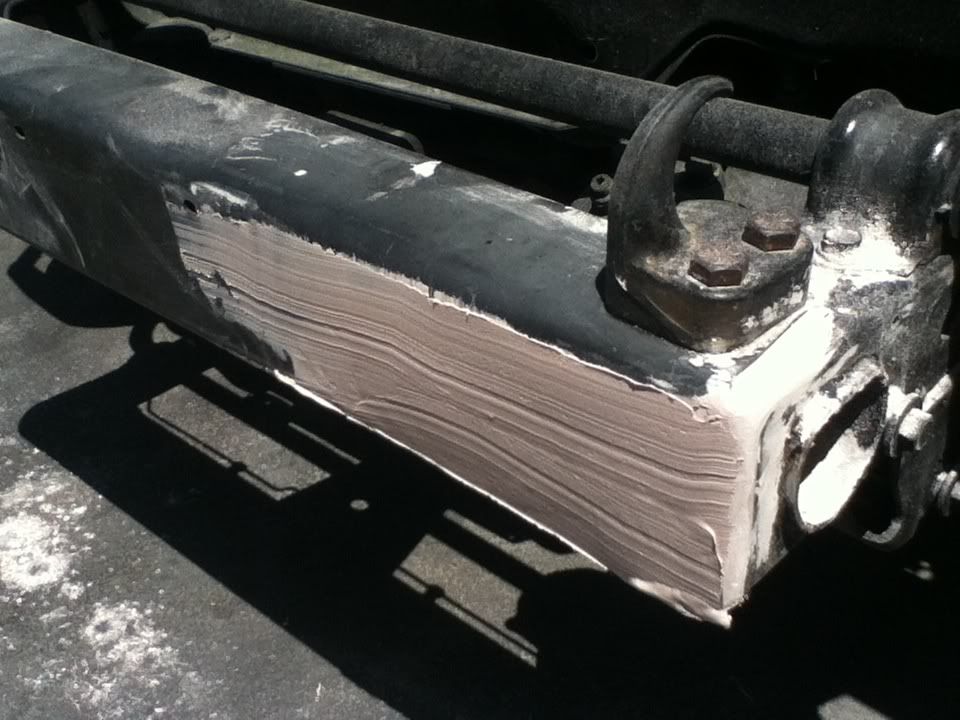 After:
DIAMOND PLATE COVERUP:
Cringe if you will but it really does work. I literally had to show people the inside of my tub to prove to them that my rocker really was all smashed up underneath the plate. I found plates for just about every part of the body over at
www.jeepdiamondplate.com
. Barry also does custom pieces for you too. If you really wanted to, I'm sure he could build you a whole jeep shell out of diamond plate, so wherever you have damage that can't be replaced by changing out the body part, just cover it up with a piece of plate and do the same on the opposite side for symmetry. Diamond plate is pretty easy to install, and I got free self tapping screws with my order. Even though the self tappers would have held it in fine, to make sure it was nice and secure in there, I also drilled out 4 holes for each side and attached them with locknuts and bolts... just in case any vibrations put a little force on the self tappers.
Before: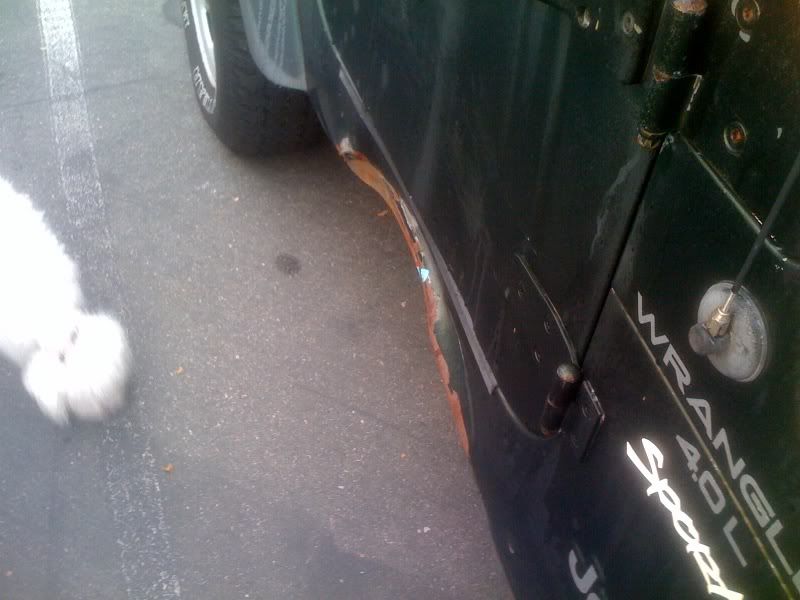 Before installing the plate, I went to town on the caved in rocker with my piece of metal and hammer. I pried at it and smashed at it until it was close enough to being back in the right physical position.
Then I mock fitted the diamond plate. There was still some gaps between the plate and the panel, so I again filled it in and evened it out with bondo, particularly around the area where the diamond plate stops.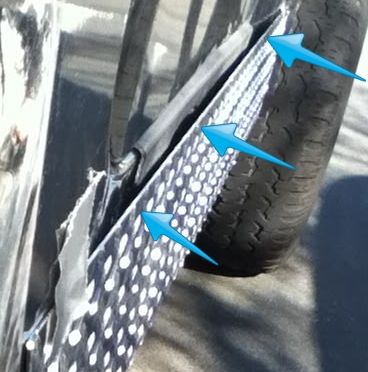 Tightening up the bolts got it to fit in pretty much evenly. Here's how the diamond plate turned out (sorry car needs a wash):
A few tips: Support the self tappers by using some locknuts and bolts drilled through your panel as well. I also used loctite on everything before I secured everything in place, and I made sure to get a good couple coats of spray paint down on the area before putting the plate in (to prevent any bare metal that could rust, especially where water will take longer to dry in the gaps). I also got rid of all the rust with a metal grinder on my drill (since it wasn't going to be visible anyway) and went over it with rust reformer as well.
*Rust Removal Procedure:
1) If the surface is going to be covered up or have bondo over it, use the wire paint stripper bit on a drill. You can knock a whole lot of rust away in a short time.
If the surface is going to be painted, use 150 grit sandpaper to strip down all the rust for this step.
2) Spray with rust reformer
3) Sand with 400 grit
4) Spray with primer or just start painting
NOW, ONTO THE PAINT:
So there's been PLENTY of guides posted up all over the place for the roll on method, so I won't beat a dead horse. I'll just add a couple tips I wish I would have known before starting. I found a lot of good information searching through
The RolledOn Forum
A lot of good patient and helpful people there as well.
So, if you are ROLLING:
1) Wet sand the whole thing well with 400 grit first. * You know its well-sanded when the whole thing is dull and there are NO gloss spots (like I mean zero gloss spots... this is important)
* Wet sanding tips: use a harder sanding block material for flat surfaces, use a more flexible sanding block for rounded surfaces, and be gentle on the sharp corners. I've used everything from blocks of wood to kitchen sponges for my sanding blocks. Also remember to constantly be rinsing off as you continue to wet sand. That sanding dust buildup can be a little difficult to deal with if it is left there.
2) Wash it well with dish soap, look for cakey or chalky sanding dust buildup and make sure you get it all off. Tip: a pink eraser will help get this off fast! Run a wet shammy over it and press down with your finger to see if there's any remaining dust. Sometimes it requires a little extra scrubbing if you've really done a lot of sanding.
3) Go over the whole surface with a rag dampened with mineral spirits. Let it dry for a few minutes in the sun.
4) Mix up your tray of paint and MS. About 50/50 is good. Add a capful of hardener to each tray.
5) Wipe the surface down with a tack cloth.. you can cut your packet of tack cloths up into quarter pieces and use one piece everytime you have to wipe... they last a while.
6) Roll it up! Nice and thin. Spread it around on the surface by rolling back and forth. Use the lines of your body to split the job off into sections. Once you've finished a section, go back to the previous section with a relatively dry roller and go back over the top one more time (this cuts the texture down and pops bubbles after that area has had some time to dry) Let the first coat dry to the touch (when your fingerprints stop showing up you're ready) and do a second coat. Average dry time for me on a 75 degree day is about 3 hours.
7) Sand with 400 grit
8) Repeat step 6 and 7, but change up to 600 grit paper, then 800, then 1000. Go up to 1500 or 2000 if you're using dark paint such as black. 1000 is typically fine for anything lighter.
9) Once you're all done sanding for the last time and you've got it consistently dull with no gloss spots, then go ahead and polish it up. Polish with LOW RPMS with anything foam. Use a rotary, use a little DA or even a foam bit on a drill.. just something foam that's not spinning fast and can be pressed down to evenly distribute the polishing force. If you've taken the time to sand carefully and thoroughly, this step should be a breeze. You are not trying to correct anything in the polishing stage, you're just shining up all the work you've already done. Going over the area once or twice with the foam pad and
MEGUIAR'S ULTIMATE COMPOUND
with low RPMS is all you need to get it done and ready.
If you're not happy, just put a few more coats on and do it again!
NOTE:
Here's what happens when you don't initially sand well enough for your first few coats. As you add another layer, and another, and another, the roughness compounds itself. Then at the end, after all that hard work, you find that you need to REALLY sand it down well to finish the job, and you do all the extra sanding you should have done in earlier steps at the very end, this is how it could end up polishing up:
Remember how spread out the layers were supposed to look to show that you've done a REALLY good job getting bondo work nice and smooth? Well that's what just happened here. This is a sign that I sanded too deep in that spot, or burned through by spinning the foam pad too fast. Don't get discouraged if you see little blemishes like this, it just means you need more paint and / or you needed to sand a little better at the beginning (remember, 100% dull no gloss spots)
SPRAYING:
Anyway, I got sick of rolling, especially after I thought about all the time it takes to fix mistakes. The whole process goes a lot quicker with spraying, and you can get a lot more material down a lot faster.
Other than masking and sheeting, the spraying procedure is about the same, except you will only need about 4 good coats.
Get the original paint nice and prepped the same way.
Spray 2 coats (don't be afraid to go a little heavy right here, you can spray 8 inches from your surface to get good buildup, drips are correctable at this stage too)
Sand with 600 (600 should quickly cut through any drips or heavy buildup)
Spray 2 more coats, this time let's just say "medium" coats, give yourself a little more room between the nozzle and your surface, lets say about the distance from your elbow to wrist.
1000 grit wetsand and polish. If it's dark paint, do the 1000 grit wetsand, then cross hatch a 1500 - 2000 wetsand over it before polishing.
I rolled everything then sprayed the hood and some other areas where birds can poop, etc. I also went with some bedliner on some areas as well.
Spraying tips:
Don't get too panicked if you mess up your spraying, you're going to sand it all out anyway.
Mineral spirits on an old rag will take all the little specks off the parts of your jeep you don't want painted.
Bedliner tips:
I'll just say it one more time, DONT use duplicolor bedliner this stuff SUCKS!
Rustoleum is the way to go!
For rustoleum at least, prep with 400 grit, no coarser! It is strong but it goes on thin. Use multiple coats to build the texture back up.
If you want to make the finish a little more sparkly matte, start with a medium distance (wrist to elbow) spray distance, then back off and mist it while the coat is still wet.
If you're going to do this, you will need to rub it with a kitchen scrubber and hose it off well before applying another coat, otherwise you're creating air bubbles from the loose particles you made by backing up and misting it.
Move your arm at a consistent distance, and your whole body if you can. Move first then push on the nozzle while you are already moving. Practice how you will move with the can in your hand before spraying.
Alright there you have it! A cheap way to fix your old, dirty, fading, smashed-in heep into a shiny, glossy, "custom" (but still old) heep using basic tools, not too much cash, and lots and lots of time and sweat!
Have fun and
post your pics if you've done anything like this too!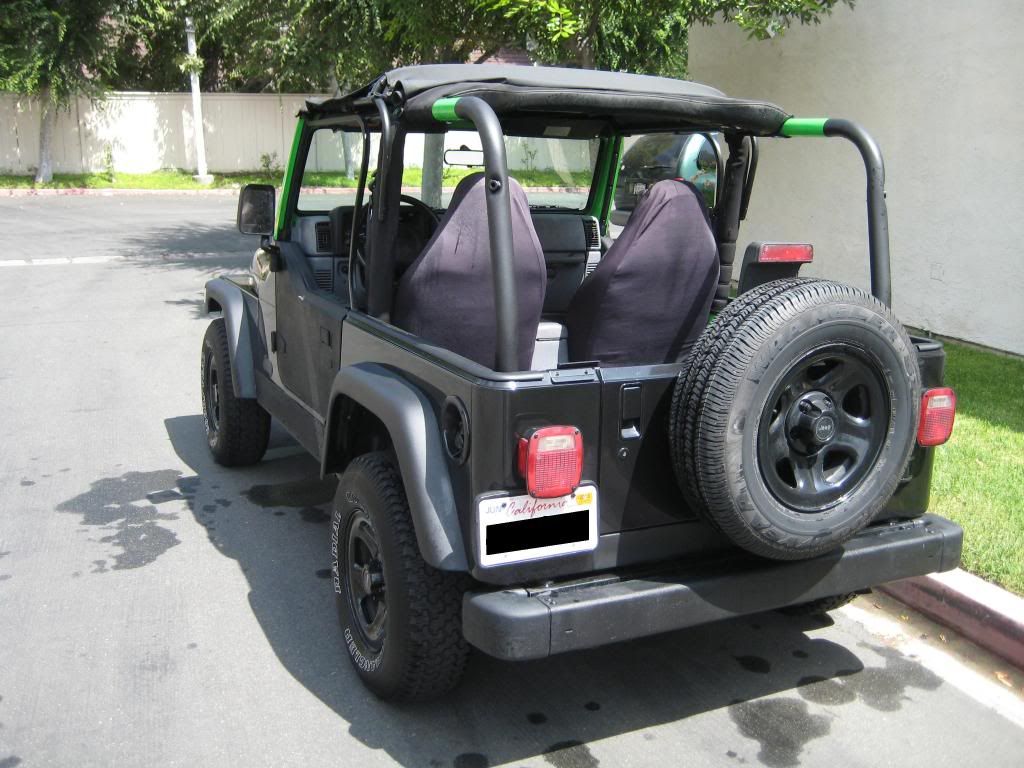 If you don't like the gray look of the bedliner, you can clear it. I didn't originally want to do this because I thought you had to use matte clear which is hard to find. I just decided to use my leftover cheap rustoleum gloss clear on the bedliner. Here's how it looks (at night), sorry still need to post a daytime pic. (also added some outline scallops with my leftover green)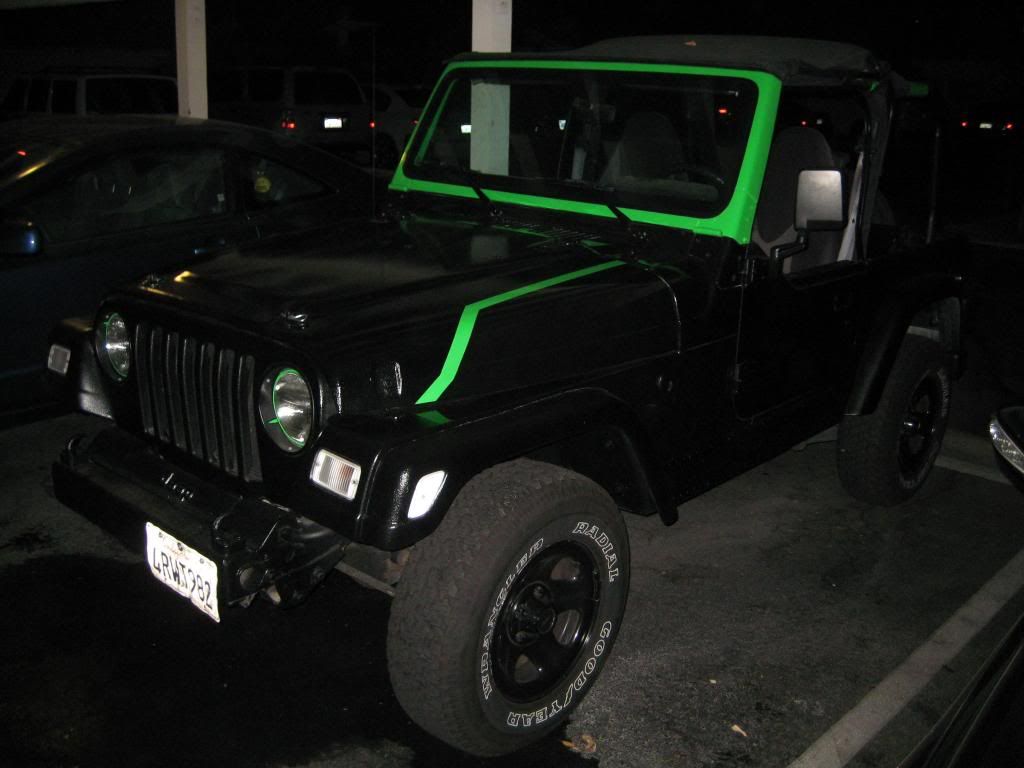 Currently Active Users Viewing This Thread: 1

(0 members and 1 guests)
Posting Rules

You may post new threads

You may post replies

You may not post attachments

You may not edit your posts

---

HTML code is Off

---