TNT Customs - Rock-Tek Long Arm Upgrade [LJ]
| | |
| --- | --- |
| | Rating: |
Product Information
| | |
| --- | --- |
| MSRP: | $2,295.95 |
| Average Price: | $2,066.67 |
| Manufacturer: | TNT Customs |
| Recommended? | |
| Company Website: | http://tntcustoms.com/ |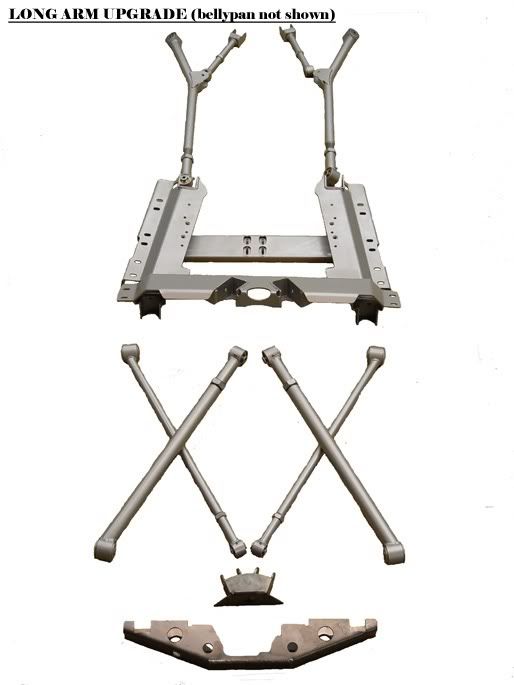 TREKSTMOffroad Equipment long arm suspension upgrades provide maximum performance and value. Do you have a rough riding il-handling short arm lift OR a poorly designed long arm kit? Do you want more from your Jeep and its suspension? Our Rock-TekTM long arm upgrade provides maximum articulation and unmatched wheel travel for ultimate off road traction; all while maintaining predictable, safe and secure on-road handling.

Wrangler owner's have high expectations for their "rock-crawler" Jeep. Street manners usually take a back seat to trail performance. At T&T Customs, Inc. we asked ourselves, Why? Enter the Rock-TREKSTM dual-triangulated rear suspension. Our design goal was simple - build a suspension that dominates any terrain and drives better than stock on the pavement.
High Performance Suspension Solution

No matter what terrain you choose, the Rock-TekTM long arm suspension design has superior geometry and components - the competition doesn't want to see this system on your Jeep, it is simply the best suspension design on the market. Over built parts, removable belly pan skid plate, dual triangulated rear suspension and our original Y-LinkTM front control arms give you the suspension to tackle the toughest terrain.
Finally a suspension designed for your Jeep for the way it should be driven - anywhere you want to!
Dual Triangulated TRI-4 four link

The Rock-TekTM suspension is specifically designed for tackling the most difficult terrain. The TRI-4 rear suspension is designed to cycle vertically throughout articulation to eliminate rear-steer commonly found in lesser suspensions. Aggressive geometry coupled with a flat roll center will make your Jeep stick to even the steepest climbs or radical off camber situations.

Lower arms are manufactured from 2" x 0.375" 1026 DOM tubing, to handle anything they may come in contact with, and upper arms from 1.50" X .250" 1026 DOM. All control arms have 2.50" of adjustable length and feature rebuildable Flex joints and poly bushings.
Front Y-LinkTM High-Clearance Radius Arms

All TREKSTM long arm suspensions come with our Y-LinkTM High Clearance Radius Arms. Their original and unique design offers the following benefits:

* Clearance over obstacles
* No loss of turning radius
* Allows for deeper off-set wheels
* Driver's side lower arm provides driveshaft protection
* Fully adjustable components allow for pinion angle and wheel base configuration

5pc Modular Belly Pan sys

All TREKSTM long arm suspensions come with our innovative 5 piece modular belly pan system. The belly pan system is the new mounting point for all control arms for the long arm suspension. This unique design offers the following benefits:

* Removable skid plate - without supporting the transmission
* Independent transmission crossmember
* Stand alone rear suspension crossmember
* Transmission and Transfer case service without removing the suspension

Standard depth pan gains 5/8" ground clearance over stock crossmember. Our high clearance pan gains 1 3/4" over stock

All Rock-TekTMlong arm suspension come with a full length weld on truss assembly that fits your rear axle. The competition claims they have a truss for their triangulated rear suspensions; however, it really is just a bolt on bracket attached to failure prone stock bracketry. Don't be fooled, pick a suspension design that actually has a truss that welds on - yes it adds some work to the installation - the resulting piece of mind that comes from the extra work is worth the effort. An added bonus of a weld on truss assembly is an axle housing that is fortified against bending that can be caused by extreme terrain coupled with over sized tires.

Our Rock-TekTM Long Arm Suspension Upgrade is designed for those wanting to upgrade to a high quality long arm suspension without limitations. This upgrade will provide a noticeable improvement in on road handling, returning your Jeep to better than stock. On the Rocks you can expect a significant improvement in the ability of your Jeep, even in the most extreme situations. If you want more rear wheelbase right out of the box, select a Rock-TekTM rear wheel base stretch upgrade when placing your order. This kit comes with longer control arms and new upper rear coil mounts giving you a way to get to the magic 100" wheelbase.
This Product Includes:

* Rear Truss - stock axle
* Y-Link Assembly (Long) - Driver
* Y-Link Assembly (Long) - Passenger
* Y-Link Upper Control Arm Assembly, pr
* TREKs 5pc Modular Bellypan
* Rear Triangulated Lower Control Arms
*
Rear Triangulated Upper Control Arms




NOTES:

*High Clearance Upgrade - Requires 1" body and 1" motor lift. 97'-06' models may require floor and transfer case shifter modifications along with body and motor lift. 03'-06' Rubicon Models will require floor and transfer case shifter modifications along with body and motor lift. All models with a 6-speed manual transmission will likely require floor modifications to gain additional clearance between the transmission and vehicle floorpan.

*Front 'Stretch Arm' Upgrade - Includes 2.5" longer front lower control arms. Will require steering and trackbar modifications.

**Front Stretch Upgrade - Includes longer front arms, lower coil mounts, front frame crossmember, drivers side & passenger side inner and outer steering plates, steering linkage components and Swayloc dual rate swaybar. Requires cutting and welding of vehicle frame.

**Rear Stretch Upgrade - Includes 3" longer upper and lower control arms, coil spring relocators, new lower coil mounts.Requires trimming of body and aftermarket high clearance fuel tank.
bu5150's Reviews

Price: $2,000.00
Pros: Works awesome
Cons: Zero
Recommended? Yes





Comments: 5th suspension I've had in the LJ...started with a budget boost and progerssed to the TnT system...great company and awesome suspension.



Roknut's Reviews

Price: $2,000.00
Pros: Great flex. Dog legged front arms. The rear 5" stretch.
Cons: Belly pan is a pain in the A** to put on and take off. Not all of the bolt holes lined up correctly.
Recommended? Yes





Comments: Good overall design with the dog leg front arms being a plus for clearance. Belly pan is a hassle to remove and put back on. Would highly recommend welding the nuts to the inside to eliminate the need to reach in the pan to hold them in place while tightening the bolts. Love the 5" stretch in the rear.



Recoil's Reviews

| | |
| --- | --- |
| | 06-06-2010, 08:24 PM |

Price: $2,200.00
Pros: huge joints. great craftsmanship and amazing articulation. On road manners are better than ever.
Cons: None
Recommended? Yes





Comments:

Install went really well. and the adjustability of this setup is amazing. I absolutely love making this choice