Smittybilt - Smittybilt XRC front stinger
| | |
| --- | --- |
| | Rating: |
Product Information
Hello,

This is going to be a review about the SmittyBilt XRC front Stinger I got for my 1992 Jeep Wrangler.

Shipping and packaging:
When the bumper arrived at my front door step, it was in a much larger box then i thought it was going to be in, roughly 4'H x 4'W x 1.5'D, so it was a rather large box. Once I got the box open, I couldn't even see the bumper, it was wrapped in cardboard, Styrofoam and saram wrap which took quite a bit of cutting to get unpacked. So there is no way the bumper can be damaged during shipping.

My Intial Thoughts:
Once I got it unpacked and finally got to look at it, you can really tell this bumper is strong. Its painted with a textured powder-coat that seems to be very durable. I inspeceted all the welds, they are all done mechanically, and look as tho they are very strong and wont fatigue or fail. Now time to bolt it on.

Mounting
Before I got this bumper, I had heard that some people have been having a hard time getting this bumper to fit, well that was not the case with me, it bolted right on, holes lined up just fine. The bolt holes are a little large, but they include two(2) washers so it was very easy to secure. The Bumper includes 2 spots for D-rings. All in all it was very easy to mount this bumper, it took about 20 minutes to mount, and that includes removing my old one, so it literally bolts right on, at least it did on my YJ.

Mounting Lights
One thing the bumper as lacking was holes for Offroad lights, I had two lights on my old bumper. so, I drilled holes in the flat plate between the hoop on the stinger, for two 7" lights, which fit perfectly and i think it turned out very nice.

Final Thoughts
For a great looking stinger at a great price, this is an awesome bumper. I highly recommend it. I couldnt find any bad things about this bumper. It looks good and im sure it performs as good as it looks when the time comes ( which hopfully you will never need to use a stinger ). I have nothing bad to say about this bumper, it really is all good things.
here are some pics: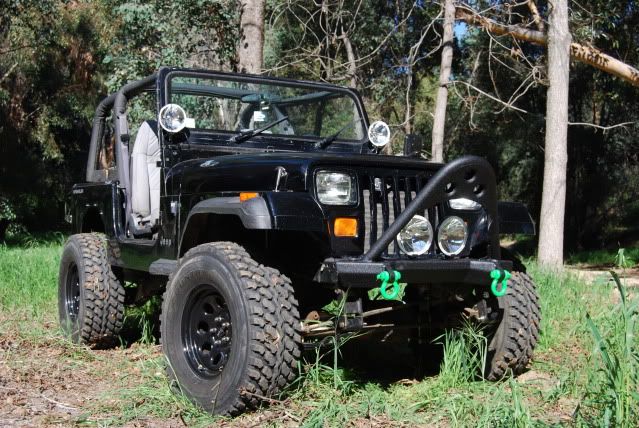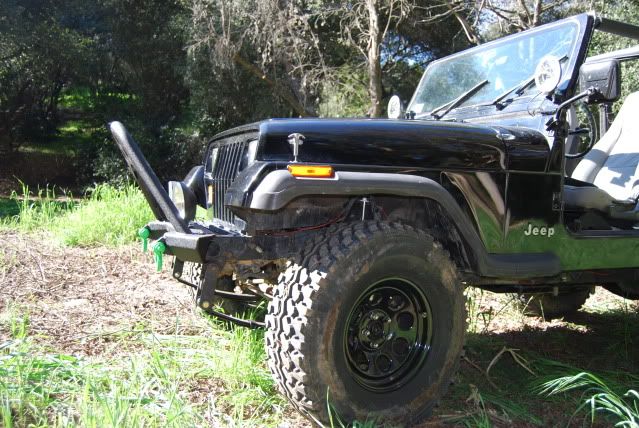 TJBadCompany's Reviews

Price: $270.00
Pros: Badass, Roll Protection, Winch Support, Tow Point, Aggressive
Cons: Holes in front whistle on the freeway
Recommended? Yes





Comments: I love my new XRC Stinger. It made my Jeep look way more aggressive and I can't wait to get my XRC winch.. Bumper whistles above 70 mph though.



Blakerall90's Reviews

Price: $1.00
Pros: Great bumper. No complaints
Cons: N/a
Recommended? Yes





Comments: So far I have had no issue with this front bumper.



obxcarolina's Reviews

Price: $1.00
Pros: decent metal and coating.
Cons: did not line up sent back the replacement wasthe same. ended up making the holes bigger and threw on some welds to keep piece of mind
Recommended? Yes





Comments: see above. all in all not a bad bumper but it would have been nice if i could have just bolted it on



cheftrail's Reviews

| | |
| --- | --- |
| | 01-25-2013, 11:59 PM |

Price: $250.00
Pros: Light weight yet strong. Easy install, great looks! Price.
Cons: none
Recommended? Yes





Comments: Looks great, especially with my winch! If you want functionality, great approach and killer looks this is the one!



Ben8822's Reviews

Price: $239.99
Pros: super solid has D-ring holes winch ready
Cons: wide
Recommended? Yes





Comments: Its great, super solid and looks really sick
The sides of the bumper come out right next to the wheel well so If your doing some rock crawling you might hit that first.



awill110's Reviews

Price: $338.95
Pros: great finish and looks really strong, solid all the way around
Cons: sticks out more than I would like
Recommended? Yes





Comments: I really like the design of this bumper! The one thing that I did not like is that the bumper sticks out a long way. I think it would be better if the winch plate was tucked away a little so that it doesn't block the radiator and so that the bumper isn't quite so long. Also, it was shipped directly from the manufacturer and it wasn't packaged very well. Because of the weight and the poor packaging, some of the finish was chipped off and the box was destroyed by the time it got to me.



Ag06TJ's Reviews

Price: $245.00
Pros: It's a rather clean stinger, and serves its purpose moving trees out of my way, or just keeping my winch safe.
Cons: The powdercoat leaves a bit to be desired, and I'dve liked for the D-ring mounts to have had a little tighter fit to the rings.
Recommended? Yes





Comments: Just what I've said in my Pro's and Con's. I enjoy the appearance, and the clean welds and aesthetics help keep my Jeep looking clean.



saharacrazy19's Reviews

Price: $250.00
Pros: Welded beautifully. Looks awesome
Cons: None
Recommended? Yes





Comments: Good overall build. priced well.One of the best looking stingers.



TheStigX's Reviews

Price: $200.00
Pros: Bumper looks good, reasonable price
Cons: Stinger doesn't seem that strong, powder coat
Recommended? Yes





Comments: It's a good looking bumper, got it for $200 for a show room model. The power coat will chip off but Krylon Rust Tough makes it look new again. It adds character to the Jeep, makes it a little unique even though it is a popular product if that makes sense.



spencer14's Reviews

| | |
| --- | --- |
| | 01-26-2012, 09:48 PM |

Price: $249.00
Pros: Very strong and well built for the price, went right on, all holes lined up perfect on my 97 tj
Cons: none
Recommended? Yes





Comments: Ive had no problems with smittybilt products for the price you cant beat them



Bilicki2007's Reviews

Price: $90.00
Pros: looks good
Cons: n/a
Recommended? Yes





Comments: looks pretty damn good



kennyboobear's Reviews

Price: $199.99
Pros: Very Stout and fitment was very simple
Cons: Crappy powdercoating
Recommended? Yes





Comments: Was a great buy. Picked it up a year ago, and it's been stout since day 1. Having said that, I did have to cut into the sides a bit to allow my Currie Anti-Rock to not interfere with it. Overall am very pleased with the bumper.



Skaboosh's Reviews

| | |
| --- | --- |
| | 01-29-2011, 10:51 PM |

Price: $175.00
Pros: Heavy duty. Fits very well. took just a few minutes to put on.
Cons: I can no longer sit on my front bumper and drink beer. Also as mentioned there is no place for lights so you do have to make your own if you aren't running a winch.
Recommended? Yes





Comments: The powder coating on my bumper was done well and has had no issues flaking. I traded my highrocks for smittybilts and haven't looked back. The stinger provides good protection for the grill. The tow points are very solid and have held up well. If you're looking for fender protection go with the SRC but if your like me and are going or have gone to tube fenders or MCE's it's great. Although I don't know how well the stinger would hold up if it ever needed to be used but it moves civic's, prius' and shopping carts out of the way with ease.