Registered User
Join Date: May 2015
Location: Greene
Posts: 1
YJ Ground Up Build
---
So long time reader, first time posting anything. Always loved all the different builds and threads so I thought it time to have one of my own.
The Story: I had a 2dr XJ for a couple years, loved it, put a junkyard lift on it, lots of other small things...and then I got in an accident and totaled it. Actually a somewhat minor fender bender but one of the frame rails got pretty kinked right around one of the engine mounts. It just wasn't worth it to try to fix it.
So, junked my beautiful jeep became. I kept my eyes out for a new one but didn't want to spend to much money or anything (I am a poor college student). A couple months ago I found a old yj on craigslist, that I grabbed for $450.
The jeep had been a farm jeep for 10+ years, then a man bought it with the intent of taking the transmission for his wrangler. Unfortunately (fortunately for me) he removed the tranny and then realized that it was not the one he needed... So he threw it in the back of the tub and sold it to me.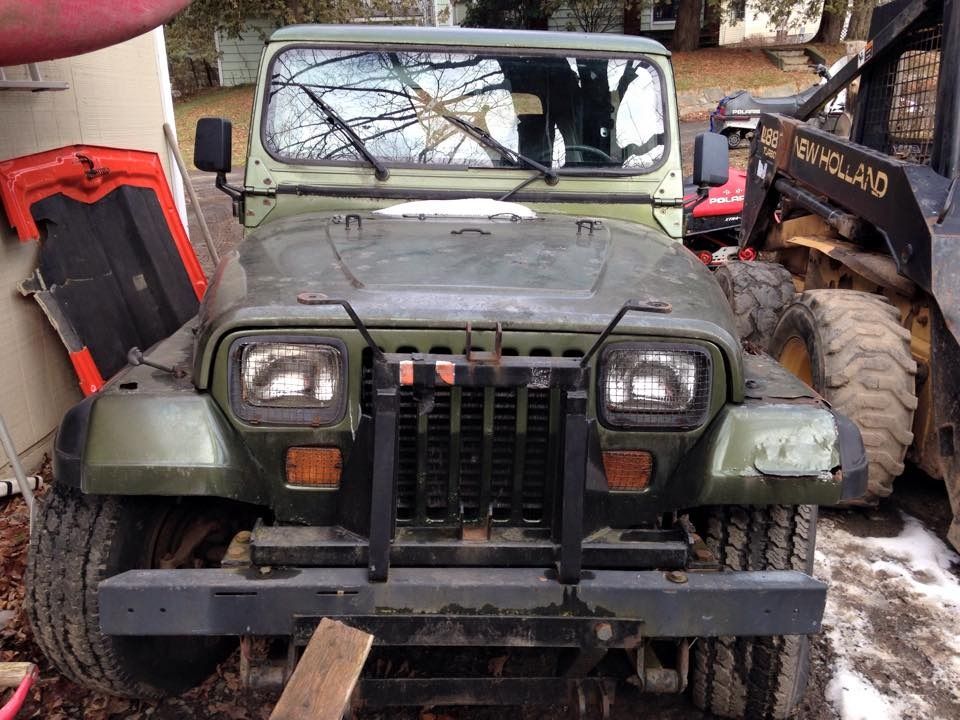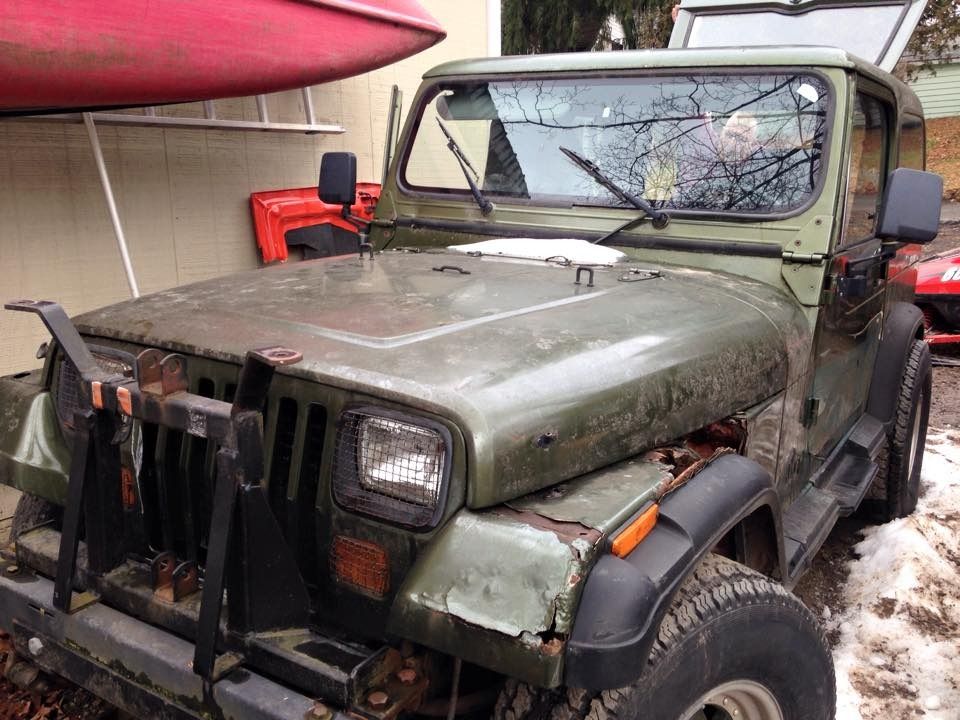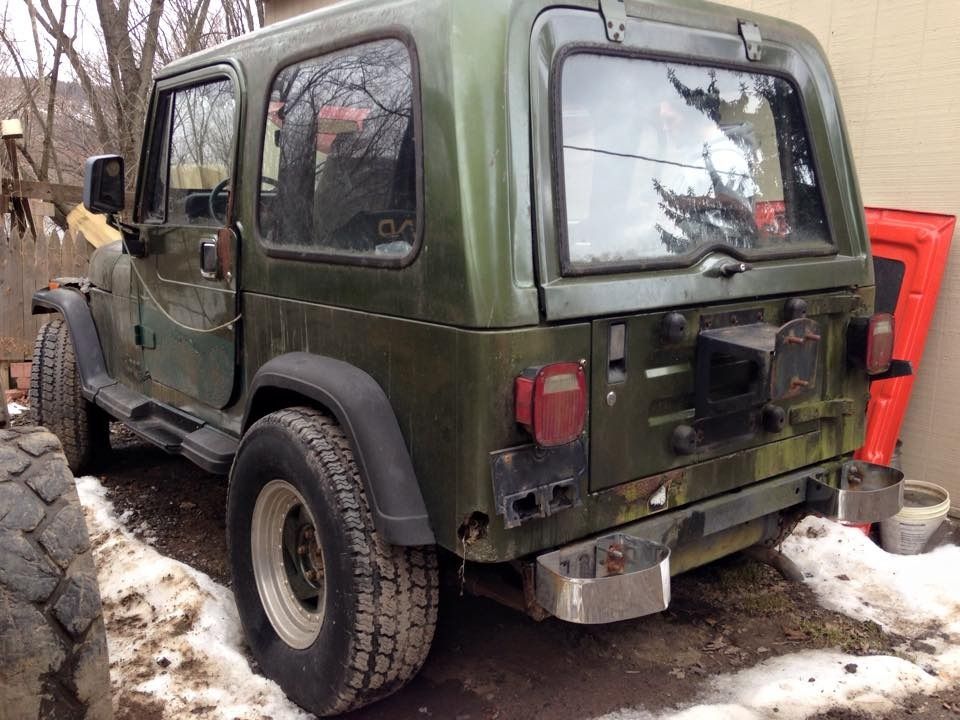 Jeep was in pretty good shape all things considered. Frame rails were in very good condition, definitely some body rot but nothing that isn't fixable.
The Plan:
The engine and tanny in the Cherokee were both in great shape so my brother and I pulled them with the intent of transplanting into the new wrangler, which had a 4.0 AMC 242.
Prior to removal, basically just cut the front out to make it easier: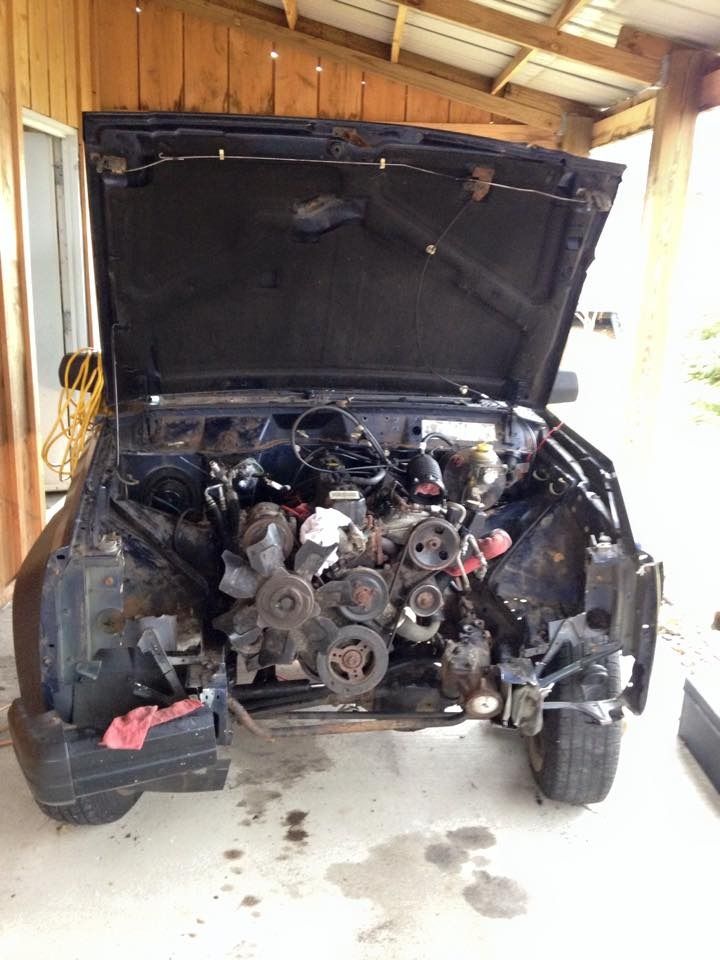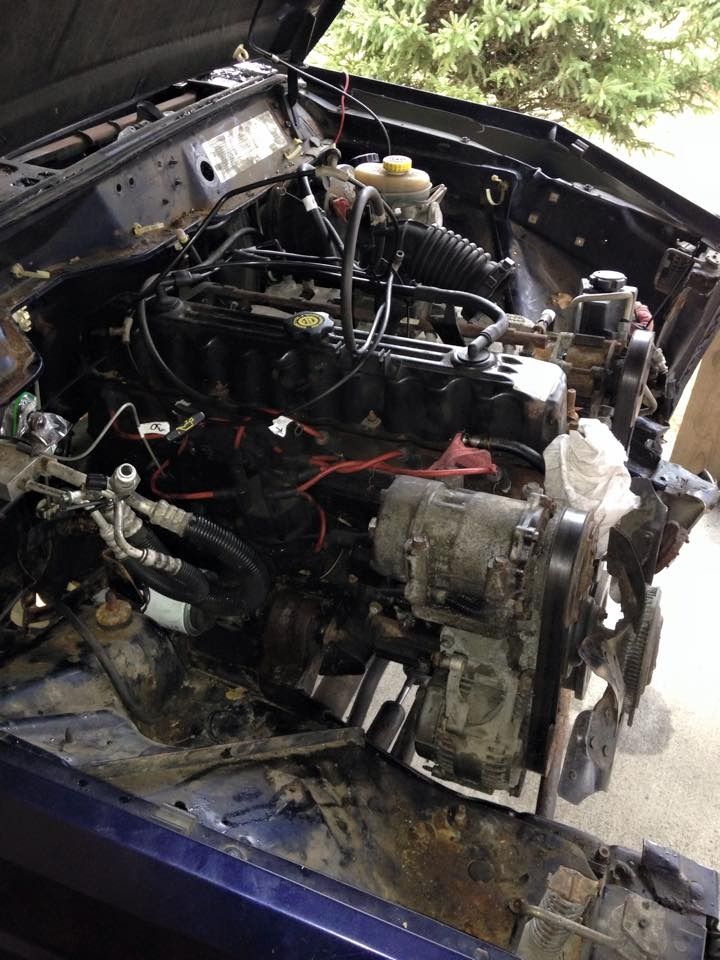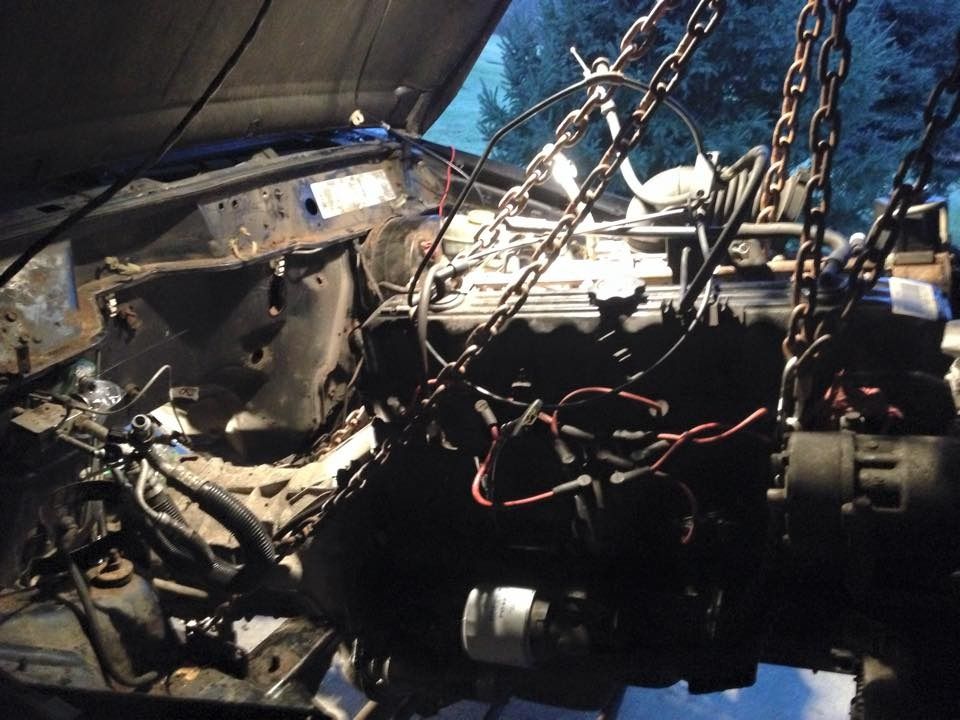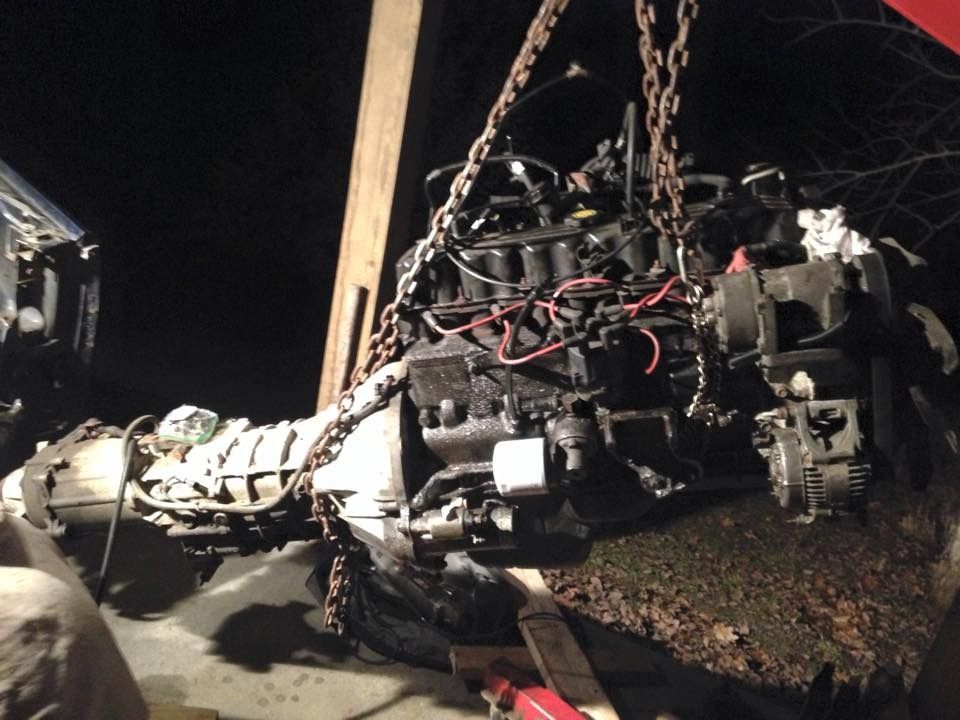 We pulled it over Christmas break when we were home from school...very very cold...
Then the new(old) yj was rolled in and engine removed from that...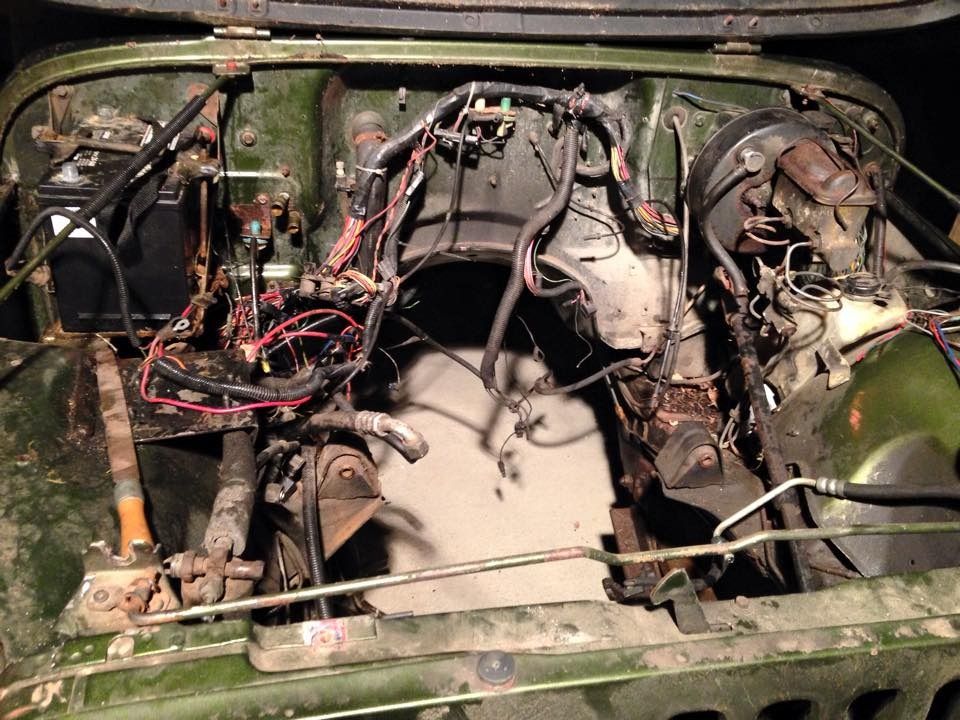 Not sure what to do with that yet, or the yj transmission, but we will just tuck them away in the shed for now ha ha. Maybe one day we can make a rat rod.
With that out, we decided to completely tear it down and build it up from the frame.
So we started removing pretty much everything we could: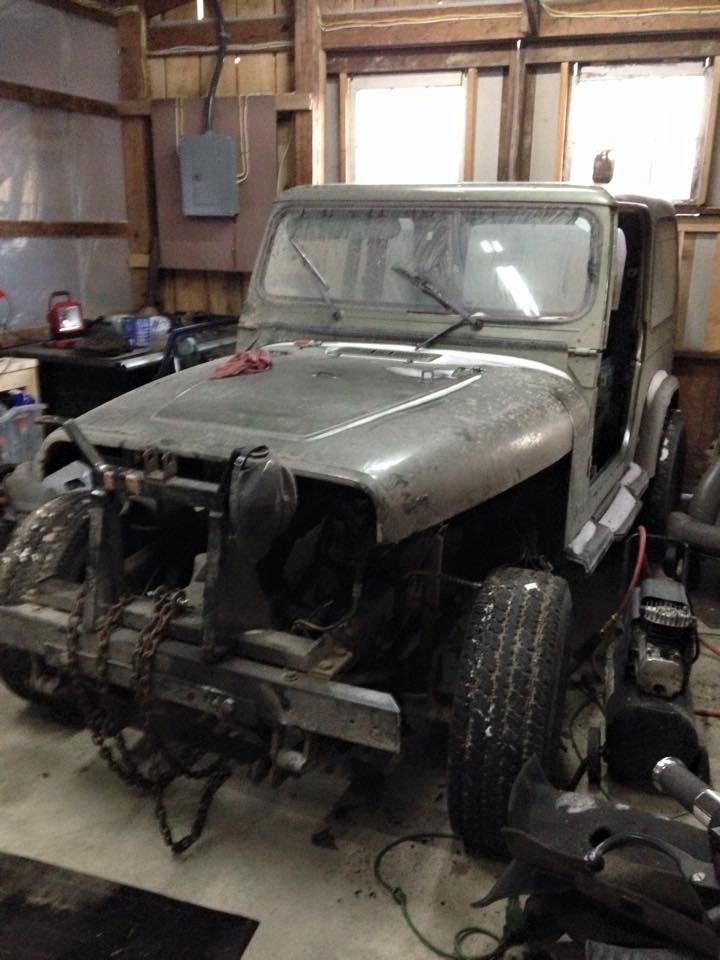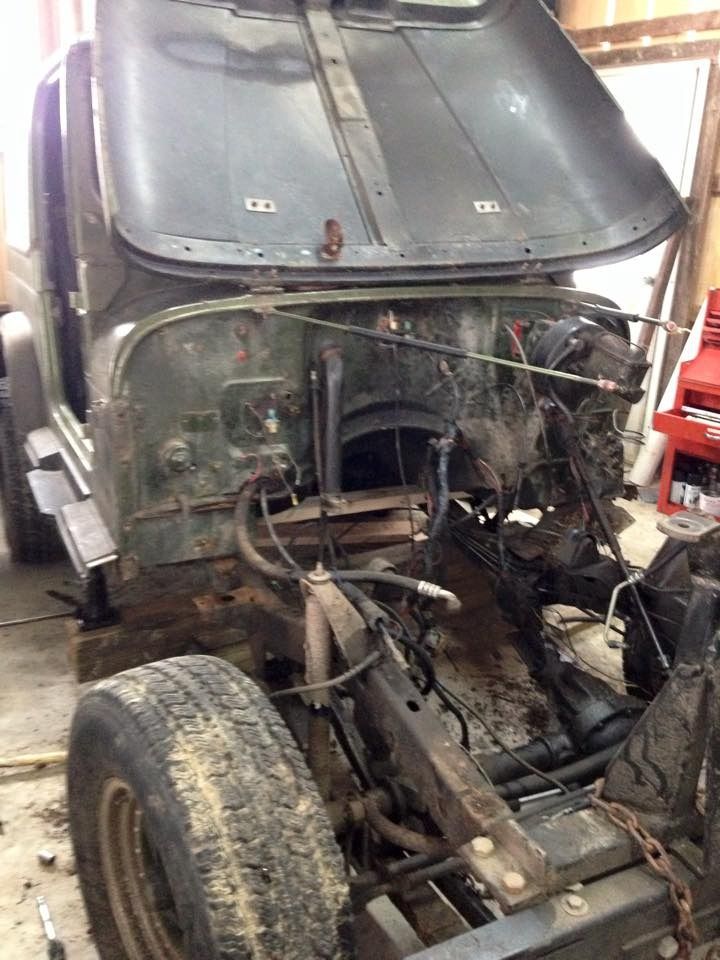 Then we split the frame and tub. The body mount bolts were pretty degraded but the mounts themselves were in good shape. 3 of the bolts had to be cut off but all the rest came with the help of a braker bar.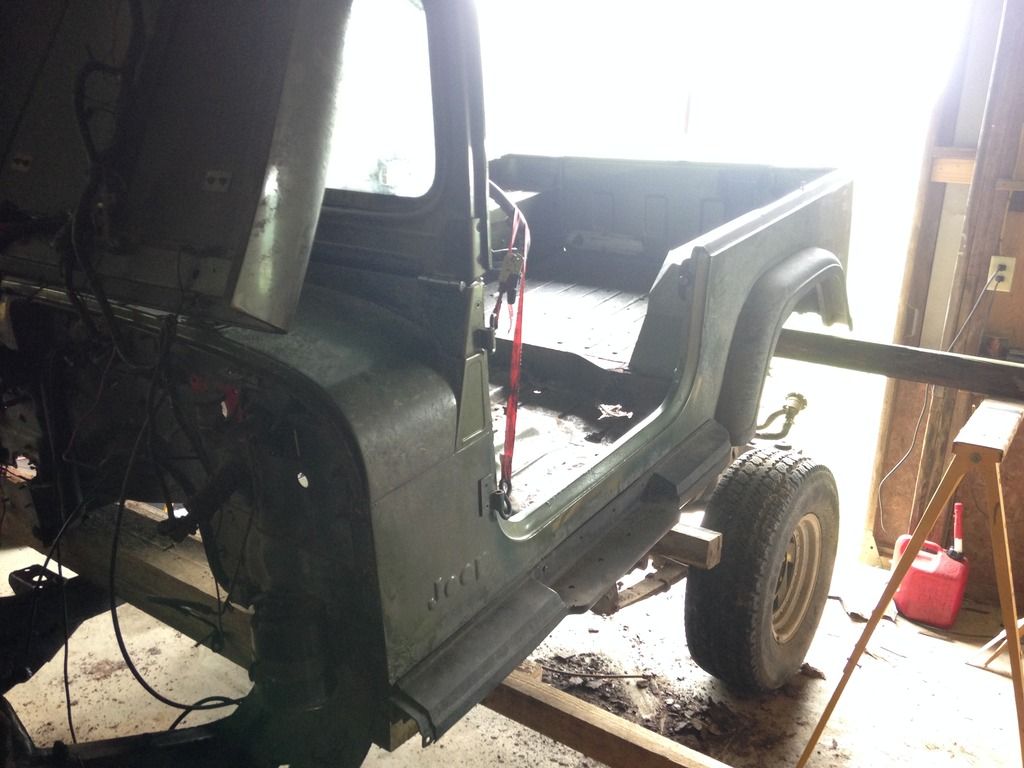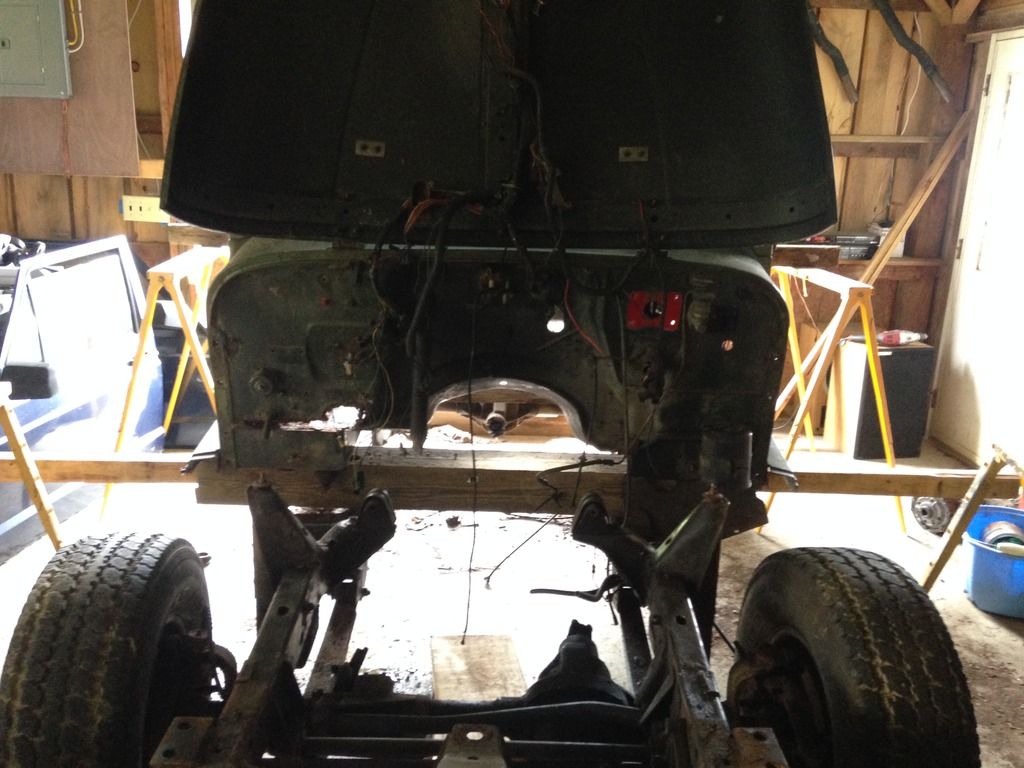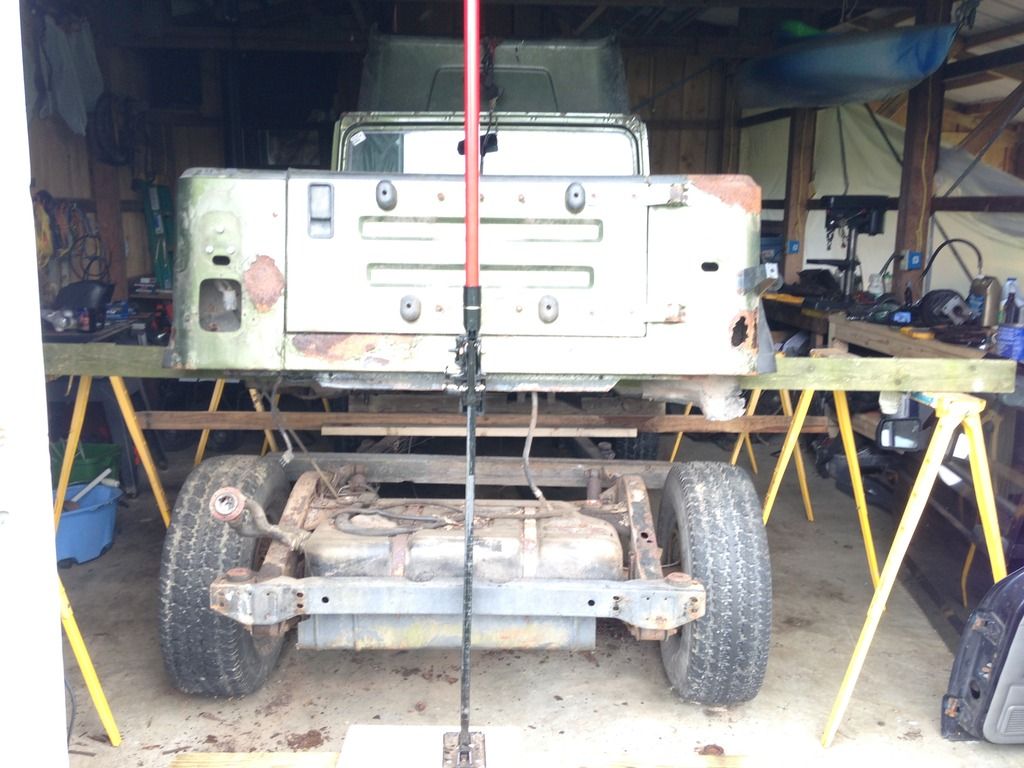 With that done, I put in some quality time with just me, the frame, and a wire wheel. After hours of grinding, a picture began to emerge. The frame was in great shape, just a few small spots about the size of a quarter that will be easy to patch.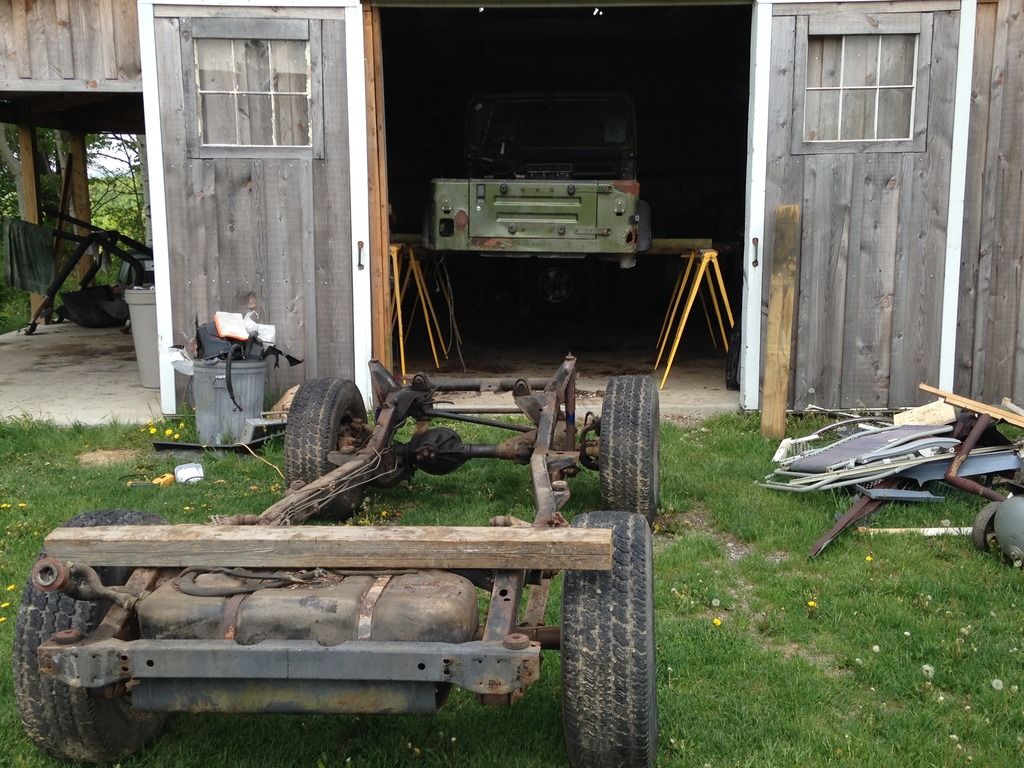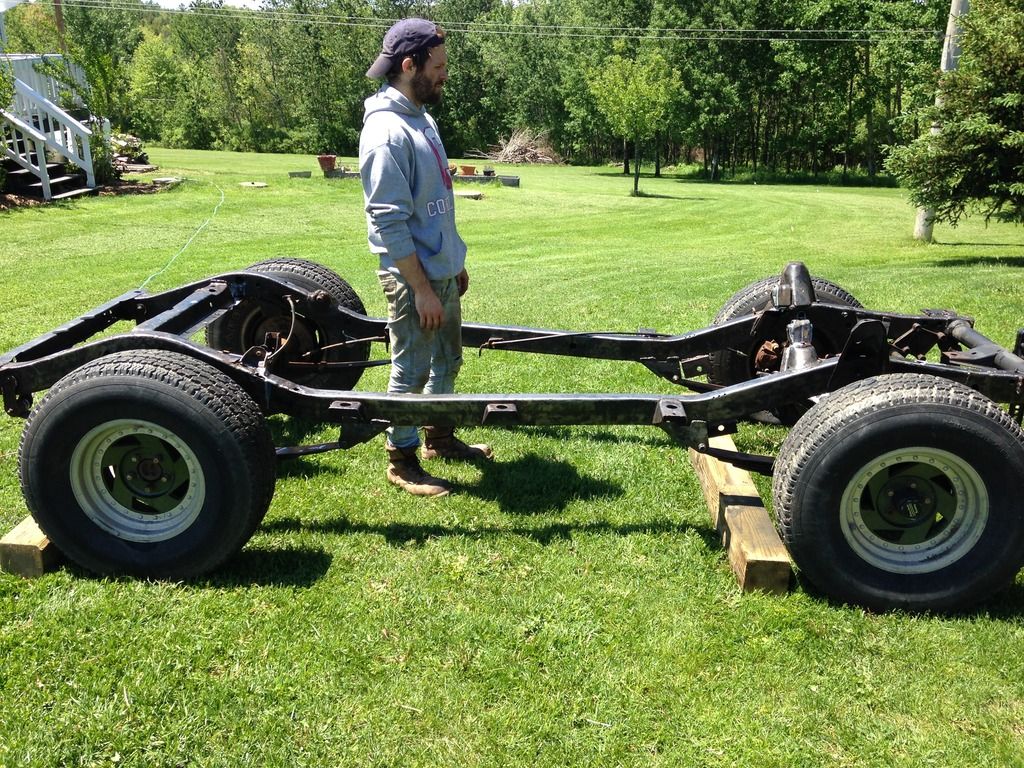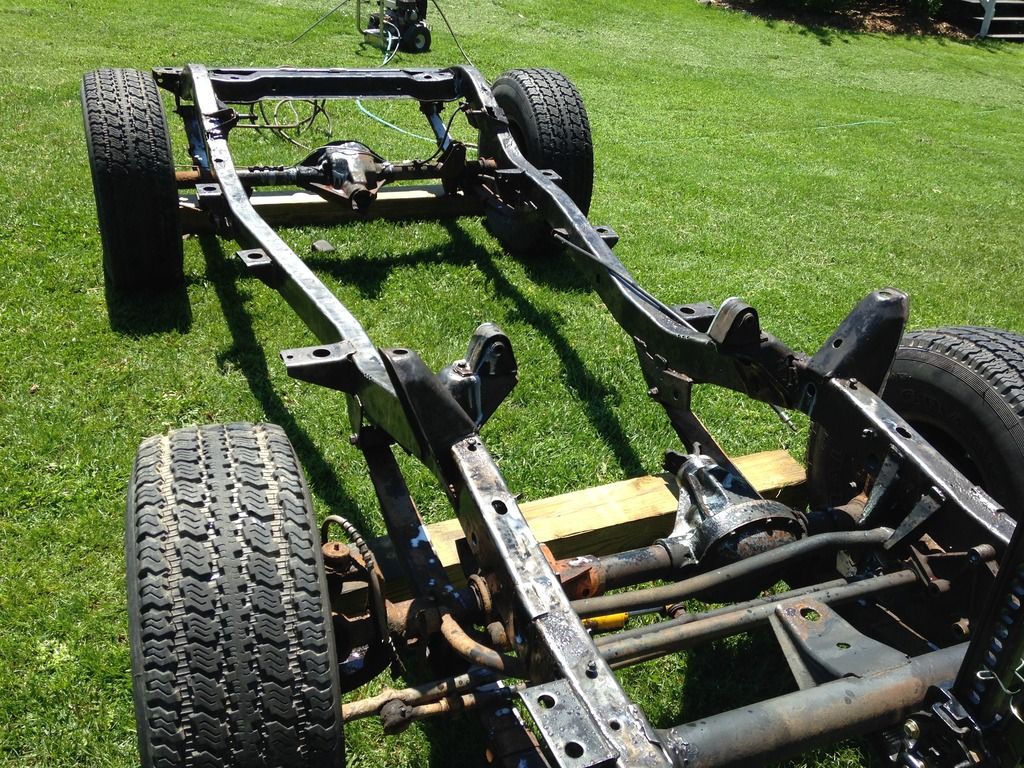 We pressure washed the whole thing and blasted the inside of the rails to clear out any junk and jacked the front end up pretty high to run out any water left. Then we ran a torch all along the rails to dry up any water that may be trapped. With that done, we took a flexible wand and hand pump and coated the inside of the rails with oil. The outside we wiped down with acetone and then painted with a bed liner. I wanted to use Herculiner (great results in the past) but unfortunately no stores around me had any in stock and I didn't want to waste a beautiful day. So I used the Dupli-color bedliner instead. It took about a quart, went on pretty well. Very similar to Herculiner just not as textured, it didn't have those rubber granule things in it. Anyway, that's where it is now. Planning to replace the leaf springs, shocks, and bushings at some point in the next two weeks.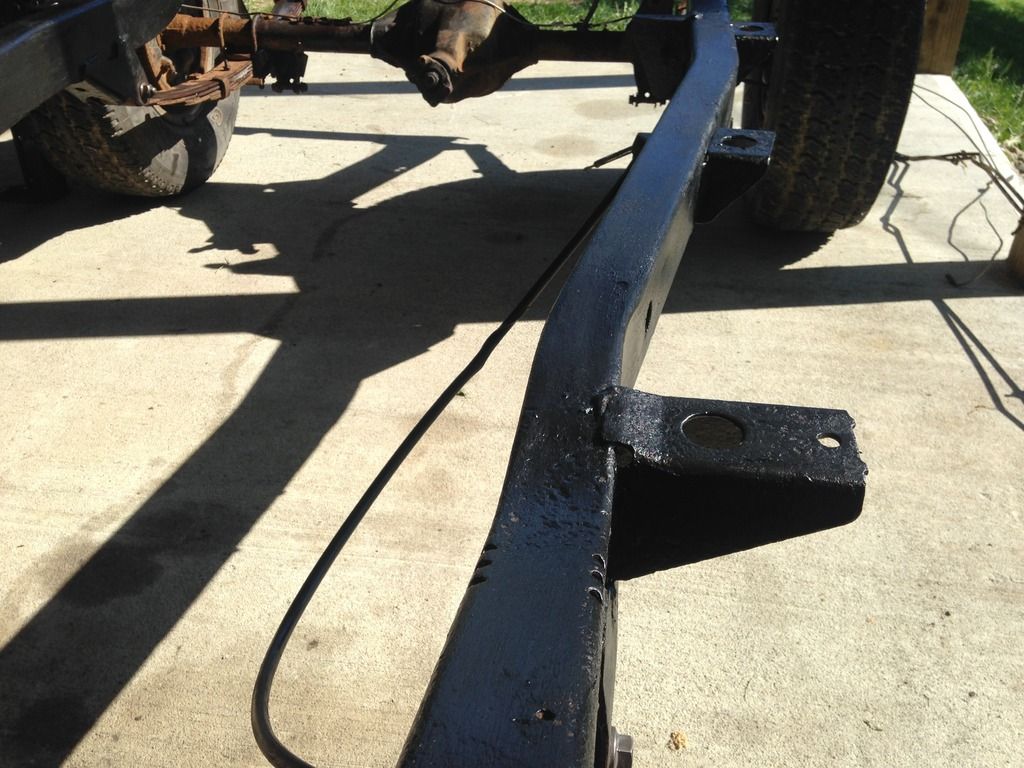 ---Dislcaimer. This is my first post, so I guess it will be 30 days (and 25 other posts) before my pictures become visible.---
Registered User
Join Date: May 2011
Location: ringgold
Posts: 463
I can see them just fine. Good start to the build. Can't wait to see the progress.
Currently Active Users Viewing This Thread: 1

(0 members and 1 guests)