Registered User
Join Date: Aug 2013
Posts: 27
Get some Christmas lights down there, lots easier to see what's going on down there
had to cut off sway bar bracket to get u bolt plate on. But got rear end on just gotta do the front and do some measurements. Shes coming along
Registered User
Join Date: Mar 2010
Location: Tampa, Fl
Posts: 230
So what's your plan with the jeep?
Registered User
Join Date: Oct 2011
Location: brantford
Posts: 1,311
coming along alright I see, with that much lift what are u gonna do for a drive shaft in the rear
---
its a rusty one

http://www.jeepforum.com/forum/f22/90-yj-frame-swap-build-up-1434246/
Registered User
Join Date: Aug 2013
Location: Denham Springs
Posts: 7
What size tires you plan on running?
From what ive been told i can fit 36" tires and still get decent flex but i gotta check around
Registered User
Join Date: Jan 2011
Location: Tupelo
Posts: 937
you gonna name it "flipper....if your gonna go swampin it should look like this...at least thats what i plan on using this for
my jeep...lol...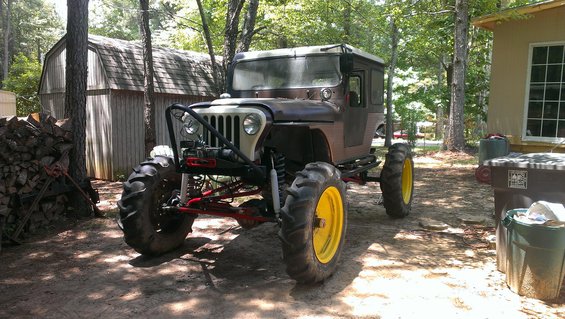 ---
Be carefull while Hugging the Trees...They leave dents on your Jeep....

Shhhhhh I'm not crazy...It's just the voices in my head
Dang man thats a nice setup! I am gonna run 35 " super swampers" on 15 x15 wheels. Id like to get some tractor tires but running short on funds with the gears, driveshaft brakes, etc.
RIP one good jeeper
Join Date: Aug 2009
Location: Ripon
Posts: 20,368
Mother of God...
---
Luck Favours The Prepared
Registered User
Join Date: Mar 2010
Location: Pittsburgh, PA
Posts: 846
---
89 YJ S, 2.5L/AX-5/NP231
99 WJ Limited, 4.0L/42RE/NP247
93 YJ, 4.0L HO/32RH/NP231 - Sold
Registered User
Join Date: Oct 2011
Location: brantford
Posts: 1,311
so how'd it turn out
---
its a rusty one

http://www.jeepforum.com/forum/f22/90-yj-frame-swap-build-up-1434246/
Currently Active Users Viewing This Thread: 1

(0 members and 1 guests)