Registered User
Join Date: Jul 2008
Location: Landenberg PA
Posts: 154
XJ Outsiders 96 Cherokee Build (Slow)
---
Itís time to start a build log of my 1996 Jeep Cherokee. This will not be a super fast build I work a lot of hours and have a six month old daughter that occupy a lot of my time. I get about 1 day a month to do stuff to the jeep.
I used to be a TJ guy. I loved my TJ. The more I wheeled the more I realized I was not going to want to keep beating my DD to death in the mud of Wharton State Forest in NJ. At the time I was wheeling with a bunch of guy from a Ranger Forum and the wife and I were planning on starting a family so I gave in to my love of the late 70ís Full size Broncos and bought a 78 Bronco with a 460 and 4 inch of lift and 35í SSR Super Swampers. I took it out one time wheeling when I flexed it out the body ripped 6 of the body mounts through the floor. When I got home I was pretty upset. The guy I bought it from hid a lot of his half A$$ floor repair with new carpet and a nice thick coating of undercoating. The Bronco got dismantled and I kept the axles and the 35ís I scrapped and sold the rest of it. I looked at some YJ and CJ then I finally brought to realization I loved the Jeep XJ it could be a great DD if needed and family wheeler. So the search was on.
I found this 1996 4 door Cherokee a mechanic was driving around. It was love at first sight; it had pretty rust free floors, new exhaust, and ran like a top. The interior was another story it was covered in dog hair, smelled like wet dog and motor oil and the carpet in the rear looked like a cat scratching post.
Jeeps Current State:
Current Jeep Specification:
Year | 1996
Engine | 4.0 L
Transmission | 5 speed AX Ė 15
Front Axle |Hp Dana 30 |Open| 3.07 Gears
Rear Axle | 27 spline Chrysler 8.25|Open|3.07 Gears
Suspension | Front is 5.5 bastard lift of Rock Krawler arms, Rough country Springs and Rubicon Express Track bar | Rear is 5.5 bastard lift using dodge van leaf and S-10 pack
Tires/Wheel | 31x10.5 BFG AT | Stock Steel wheels
Electrical and Electronic | 40 Channel Cobra CB
Steering | Stock
Armor| None
Other/ Interior
Table of Contents
---
Page 1|Lift
Lift
---
Total Cost $625
For the lift I pieced together the front lift from used parts found all over the place. It consist of 4 inch Jeep TJ Coils form Rough Country, 2 inch BB spacer, and stock isolator. The control arms are Rock Krawler adjustable upper and lowers. The track bar and bracket are Rubicon Express adjustable. I chose the Jeep TJ coils because they should have been good for 3 inch of lift. With the worn stock isolator and 2 inch BB spacer I figured about 5.5 inch of lift. Currently the jeep is sitting at more like 7 inch. There is 24 inches form the center of the unit bearing to the flare.
For the rear I got a 1 inch Boomerang shackle from a full traction lift. A set of van leaf springs form a Dodge Van leaf and the full pack minus the overload from a ZR2 S10 to create a bastard pack. The Dodge Van has the funky oval busing. I did not want to use a rubber bushing in the front so after digging around on the internet I found out that a lot of the 70ís B body Mopars ran an oval leaf bushing sure enough they are a direct fit and use a 9/16 inch bolt. For the smaller rear bushing I was planning on using a Dakota bushing since it has a sleeve. This did not work out since all of the leaf spring bolts where rusted so bad the threads just stripped out. I tapped all 4 of the bolts to a 9/16 course tread bolt and used the bushings included with the kit. The bushing kit is Prothane 41009 Rear Leaf Spring and Shackle Bushings. The rear also needs to get lowered too it is sitting at 24 inch as well. The ZR2 S10 Spring is basically a 3 inch lift spring for a standard 4x4 S10. I am hoping swapping the main leaf of the S10 with the second leaf of the van will give me the drop I need.
In My works Parking lot At 7 inchs of lift still.
Well worked on the Jeep on Friday. I need to get this thing lowered to 5 inch of Lift form the 7 it currently has.
To get a little more drop out on the suppension to aid in geting the springs out I slip a bottle Jack and a 2 x4 between the shock mount and the Unibody Rail. I can get about 2 inch out doing this be for I get a little nervious.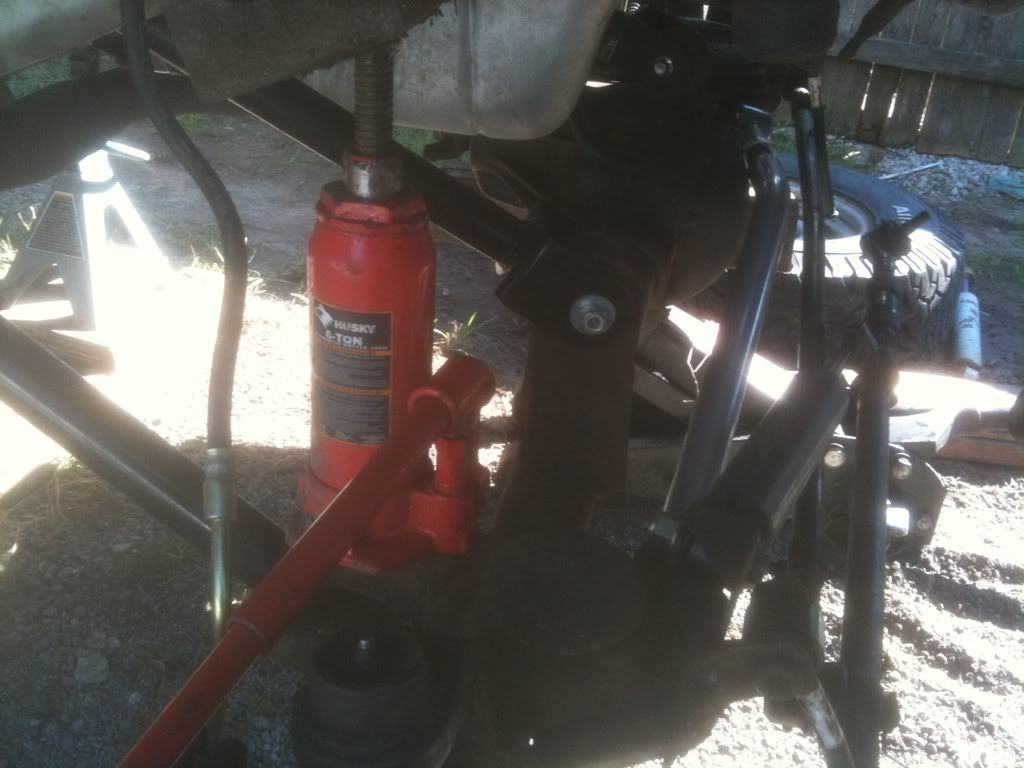 I also had to run down some issue I was haveing with Death Wobble for 50-60 Mph.
So started running down the list. In
The Real "Death Wobble" Fix
thread.
Track bar mount was loose.
I tourqed them to spec. Then went and checked all the other bolts.
My Steering box space was pretty shot and one of the spaces I was a large nylock Nut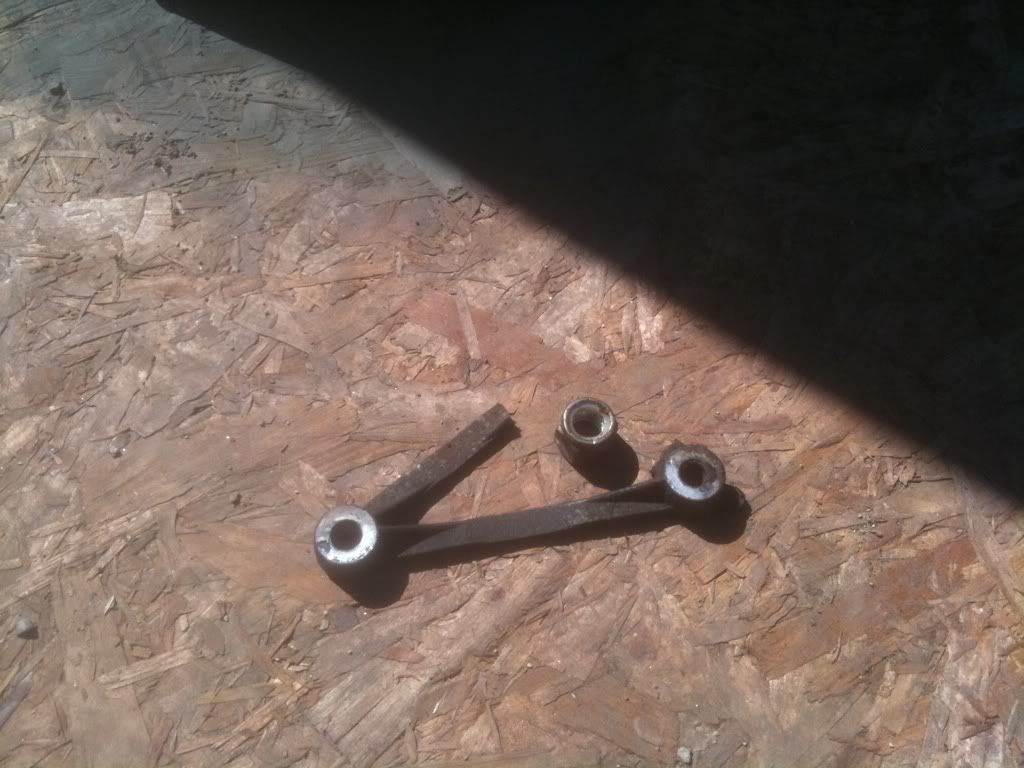 I replaced this with this 4 bolt brace from JRC offroad.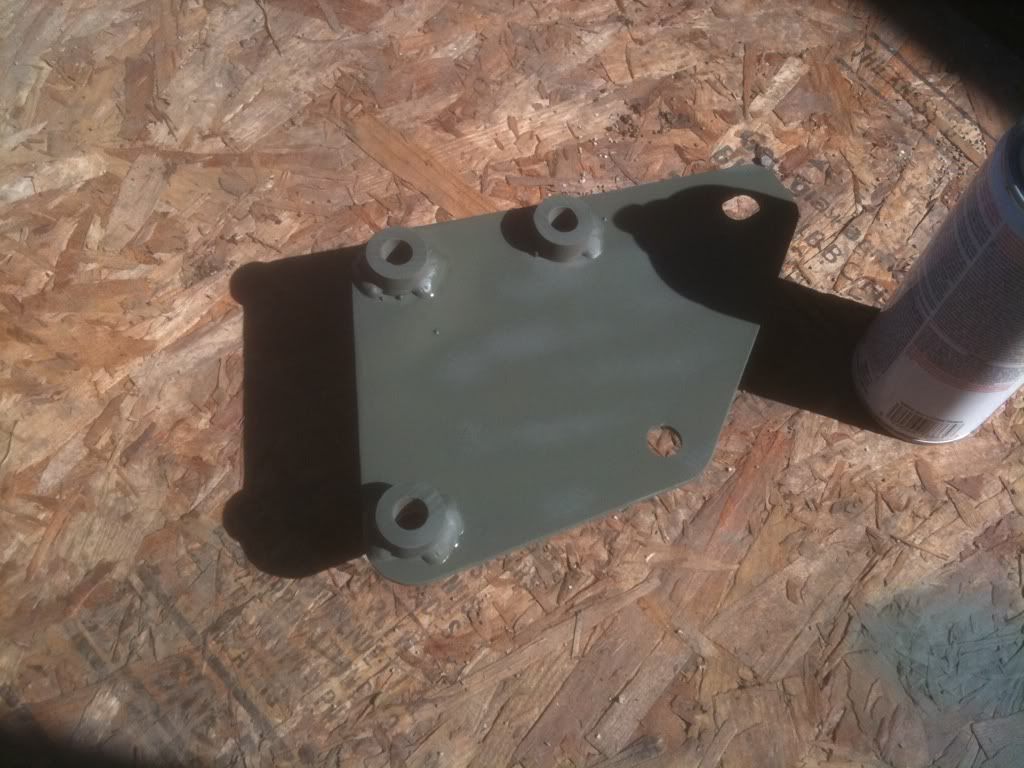 The Rough Country shock I bought off a guy here on the board where beat. The shock where in great shape but there was no gas in the shock. So I replaced both with some Billstien 5100'S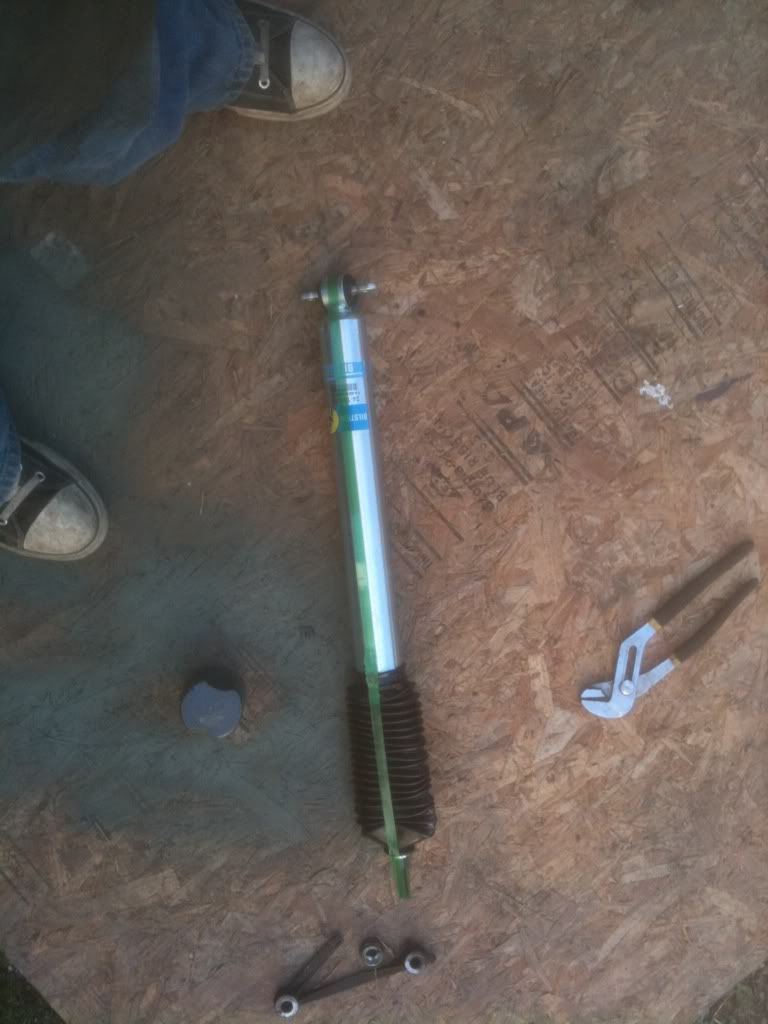 The 78 ford bronco swaybar links i was running snapped durring a major case of the death wobble. I replaced these with some of Rough Countrys disconnects 4.5-6.5 of lift. They are about 1/2 the price of the RE gen 3 kit. and seem well maid.
Last thing I replaced was all the stock link age in the steering with Stock Parts and set the toe. I have 1 ton chevy tres at the house i just could not find the DOM to put it all together.
I greased it all with Amsoil Syntetic grease. I love this product.
I ran out of time friday so the rear is still sitting at 7 inches. The jeep has the rake of an 80's IROC
Roled over the 199000 mile mark on the test drive. I am now death wobble free.
Rear Axle
---
Finally got some time to work on the Jeep some. I started prepping the D44 rear. This D44 is out of a 2001 Rodeo. I chose this axle because I am planning on going full width on the front. Well J truck or Waggys with the cheif package full width 65 WMS to WMS
Here some info on the 98 and up Isuzu and Passport HD D44
63 WMS to WMS
Factory ratios of 4.10, 4.30, 4.56(2 wheel drive drum brake only Rodeo)
Steel center section
Dana 60 Size pinion
3.125 axles tubes
12 inch vented disk brakes
Thicker axle shafts than a stand d 44 that neck down at the 30 Splined ends Iíll get the measurements.
98 optional track lock
99-EOP Track Lock standard
With a little clearencing in the housing you can run JKs 8.8 diameter D44 gears
For perches i chose TNT customs ubolt eliminators.
for the brakes I am making custom hard lines to use my existing brake line and still be compadable with the metic fiting at the soft lines to the caliper
Once i Finish cutting down the Hp Ford Dana 44 to the J truck width and welding on the brackets I will swap the axles and 35's into the jeep.
Well thought I'd check In. making a little progress the ford d 44 is at my buddy's shop he is helping make the brackets and narrowing the axles. he has better tool options. I am narrowing the drivers side tube by 2 inch for wms to wms of 65 ish. 44 from 79 f 250 the axle shaft on the d side is 18 5/8. I will be using a driver side shaft from a j10 it is 16 5/8.

Sadly working on the jeep is mainly repair work. Got heater core to replace,tstat, and all the floors :-(
Well it's been forever since updated this thing. The jeep is hacked up mess. All the fender are trimmed in and ready for the bushwacker flat flares. Swapped I the isuzu 44 rear it's out of a 99 so it's like 63 wms to wms tires are 35x12.5 Mtrs the fronts rocking the 31 till tomorrow
Fronts tires went on last night
Registered User
Join Date: Oct 2013
Location: Harrisburg
Posts: 27
Registered User
Join Date: Sep 2012
Location: oroville
Posts: 719
Nice ride height. And i really like the 2 tone look. That gives me ideas.
---
02 grand cherokee, hp60 14b, 42s. Stazwork, triangulated 4-link, rear leafs, homemade bumpers and sliders. build thread
To view links or images in signatures your post count must be 10 or greater. You currently have 0 posts.

Registered User
Join Date: Nov 2008
Location: The Northwoods of Minnesota
Posts: 272
Looks good man. Long term build for sure.
---
'15 Trailhawk - Eco Green, V6, Nav, Tow, Cold Weather. Wrangler All-Terrain ProGrades 245/70R17.
Stuck In The Garage!
Join Date: Jul 2009
Location: Chambersburg
Posts: 5,881
Nice Build so far...

SUBSCRIBED!
---
To view links or images in signatures your post count must be 10 or greater. You currently have 0 posts.
In preparation for re plumbing the fuel, brakes, evap lines, new gas tank. I put together this line straightener for $30. Does not work as well as the 300 one I used at my buddy shop but gets the job done. Definitely not my design. Thanks inter web
Currently Active Users Viewing This Thread: 1

(0 members and 1 guests)