Been slacking off lately/enjoying time not married to my fab tools. Since march I have dropped springs rates in the rear and noticed improved handling. I still need to revalve my rear shocks, which I know will help a ton. Last time I had it out I was cruised through two whoop sections at 60 plus with no issues. Im happy with it but I know it could do much better.
Figured I would post the rest of the rear end pictures. Before I tore it apart to paint and prep for the up coming season.
I cut the rear frame to make room for clearance of the coilovers and to make everything in the rear fit better
This is the rear end all mocked up with shocks and wheels.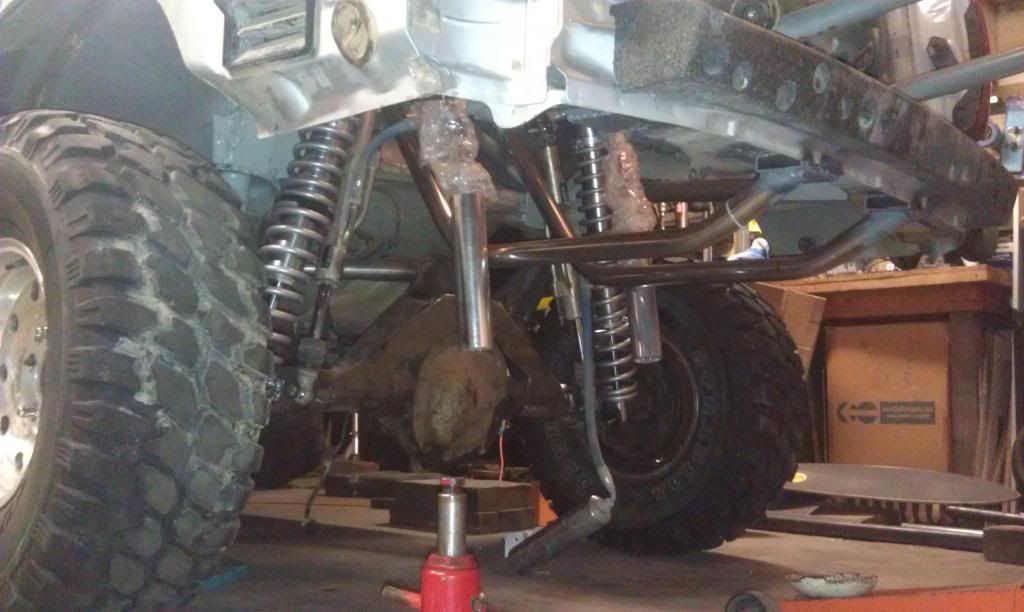 I only added a few pictures because I feel rear axle shock mounts and trusses are a dime a dozen online. I have more pictures if anyone wants to see something specific, I just left them off the save bandwidth (waiting someone chime in and tell me I used the wrong term)
Now that gas tank story I was talking about. So when I first installed the bronco tank I had frame rails to squeeze it between. The tank was a little larger than the hole i was putting it into so i used my BFH and bent the flange that seals the two tank halves flat. When I got out to TDS i was filling it up and noticed fuel leaking from one corner...
After a failed 2am attempt at jb weld I called a junkyard near by who by gods graces had three broncos. When I arrived it appear that the 90 and 92 bronco tanks were gone but the 88 was still there so I had the guy start pulling it out. while this is happening my brother and I went walking around looking for treasures. We ended up finding the tank from the 92 bronco around the corner and underneath another truck. So we grabed that tank and after some cleaning, swaped it for the bad tank I had. It even used the same fuel pump
. After some
and a couple hrs time I had the new tank swapped in and we were on our way. Big thanks to the guys at Desert Truck and Auto Parts for the tank