The White Jeep Build
---
Well first off, I name all my jeeps by color hence the name of the thread, simple right?
I currenlty have four jeeps: 95 XJ, 93 XJ, 88 XJ, and 84 CJ-7. This thread will be about the 95 XJ. I bought it in October of 09 with a 3in "lift" utilizing 1''+2'' spacers up front and 1.5" home made block and 1.5'' shackle with stock shocks front swaybar links broken on ford ranger tires and wheels. The main plan for this one is a capable weekend wheeler that i can drive cross country. i have the other three to get crazy with lol
Current specs are:
4.0L 153K
AW4
NP231
D30/C8.25 (27sp)
4DR
Manual doors/windows (which i now prefer after the wiring disater that PO of my 88 bestowed upon me
)
RC 3in coils
RE Superflex LCA's
RE GenII disconnects
bastard pack+ 1.5 shackle
RC nitro 9000's
2 hella 500's on the bumper
4 Baja lights across the top on a home made roof rack
235/75r15 treadwright atg's
Hear are some pic's of when i bought it(after the tires/rims: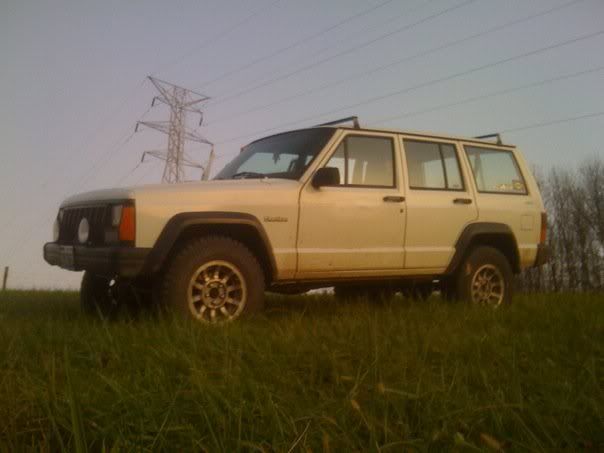 After lights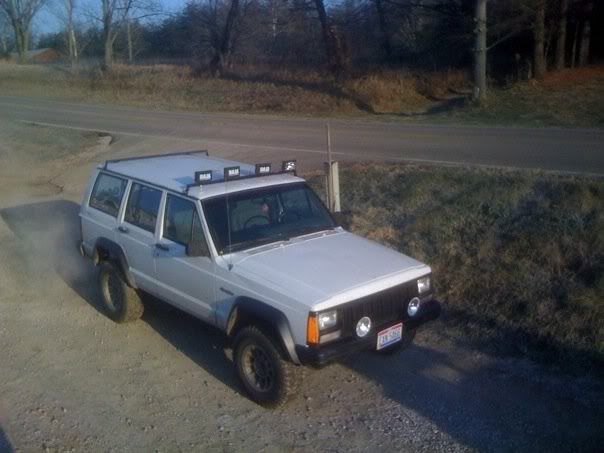 Next stage of the plans are to ditch the block/shackle setup with either the bastard pack i made or my RE 3.5 leafs i have waiting(need stock shackles that aren't rusted through.
Extended Rear brake lines
C4x4 tow/brackets off the 88
steel gas tank skid,
T-case skid
rear hitch off the 88
get all the maintence up date
CB
Reverse lights
Treadwright 31"mtg's either stock wheels with spacer or Soft 8's
plus other stuff i forgot to add (i have list somewhere
.....)
enjoy
---
Last edited by ruff88xj; 04-02-2010 at

04:27 PM

. Reason: typo's