Hey, so I'm a long time lurker, first time poster. I guess the simplest reason this is my first post is because of that nifty little function called the "Search" button...I havent had a need to post any questions because all mine have been answered by the extensive knowledge of the Jeep Forum community. So to all of you un-sung heros, I thank you.
Now, to the build;
I am very new to this, and this is my first Jeep. I bought it a few months ago with hopes that I would turn it into a worthy off-road vehicle that could help me find some trout streams off the beaten path. I bought a completely stock 1999 Cherokee Sport. It needed some small maintenance repairs to start, front rotors and pads, and the wheels were rusty and tires worn. I did the brakes right away and my father-in-law hooked me up with alloy rims and better tires he hauled off his TJ just after he bought it.
So this is how it looked then;
[IMG]
[/IMG]
The first of the performance upgrades I decided on were a suspension lift and new, bigger rubber. I went with a 3.5" Rubicon Express Superflex kit with new leaf packs. I went with this kit because I liked the superflex control arms, and that it included sway bar disconnects.
I decided that I would do all the work myself, with the help of a few friends. The amount of research I did gave me the confidence to through this in....afterall, isn't installing a lift just unbolting old parts and bolting in new ones?
Thought we might have bitten off more than we could chew right out of the gate when the cut disc had to come out to remove the first bolts! The side steps had to come off because they were in the way of the front leaf spring bolt, and even though I soaked everything in PB Blaster, the bolts still didn't want to move. I wasn't planning on putting the side steps back on anyways, so we just cut them off.
[IMG]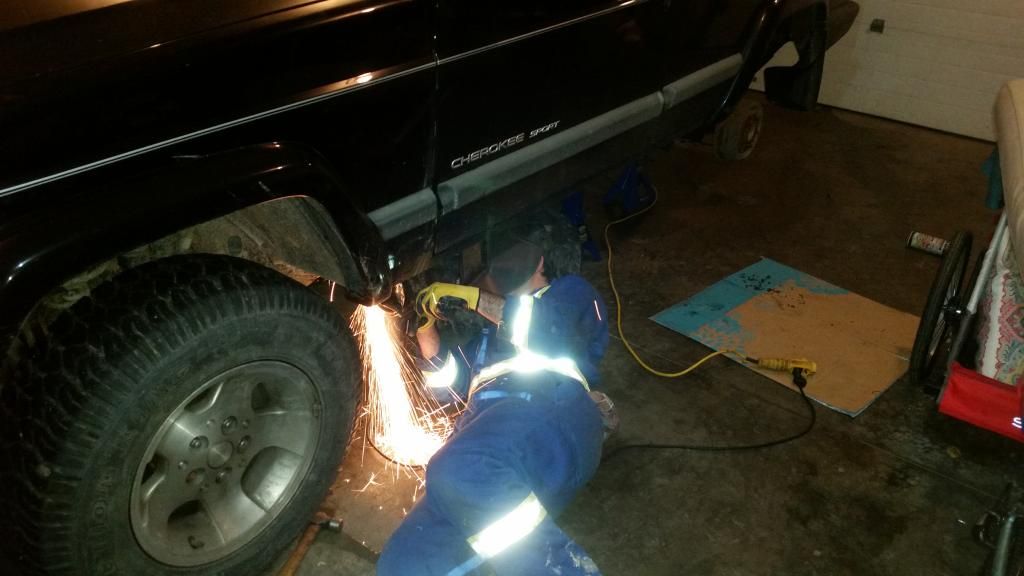 [/IMG]
The next bolts to come out were also a pain; Front leaf spring bolts. We did manage to get the bolt to turn, but it got stuck in the bushing sleeve and again the cut disc and saws all to the rescue. Inexperience extended our work time to, as we cut the leaf spring off, even though that wasn't really necessary.
[IMG]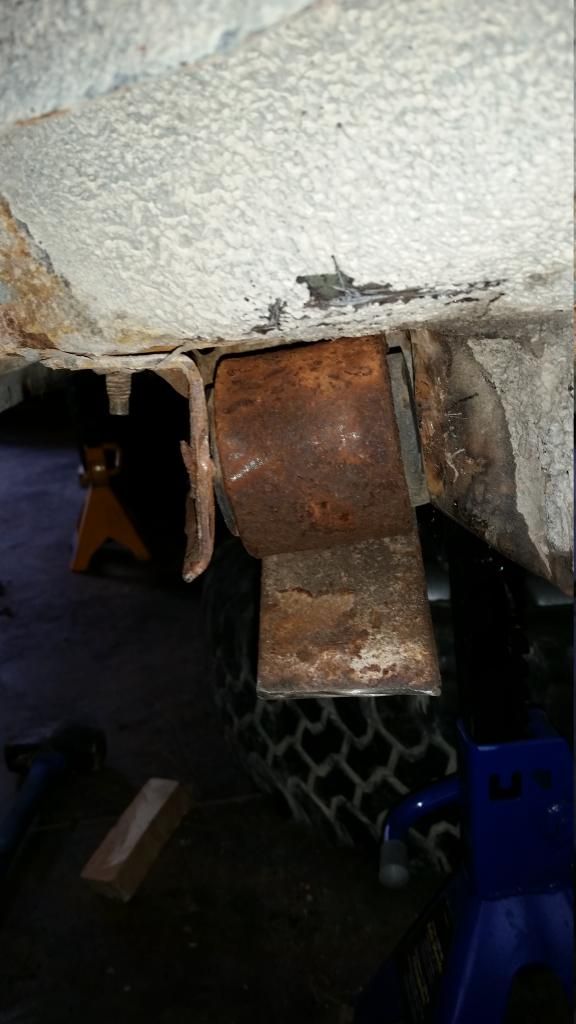 [/IMG]
And of course, along with everyone else on this forum, the rear shock bolts broke on both sides. I did my research before hand, so I was both expecting this and prepared. I found this video and this trick worked like a charm.
http://www.youtube.com/watch?v=n49HdnVEgEE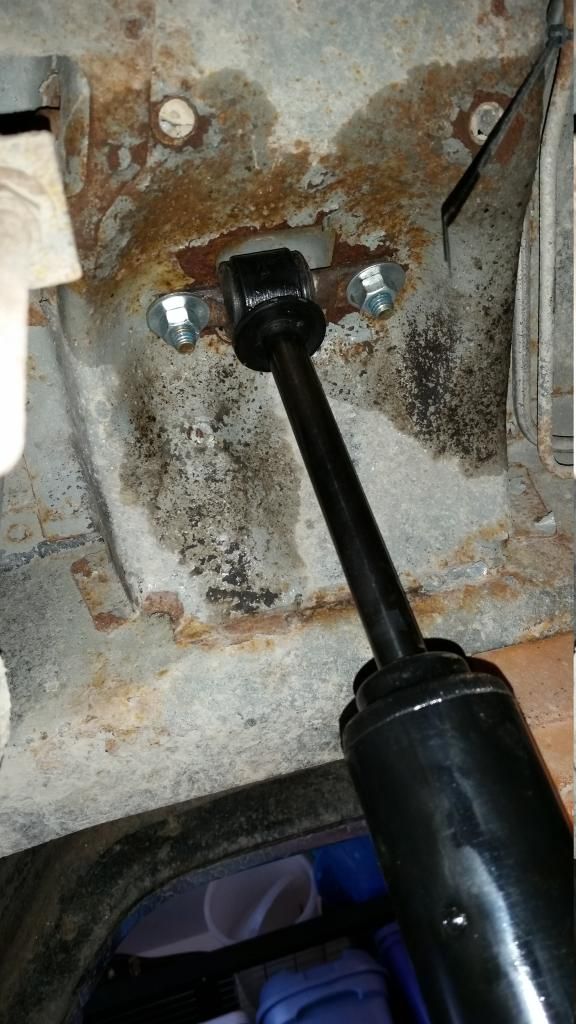 The only other issue I had was (and inexperience at work again) I had mis-identified my axel as a Dana 35, when it was indeed a Chrysler 8.25. Luckily, the local 4WheelParts store was able to exchange for me and we installed new brake line, bled the brakes and bolted up the rear.
[IMG]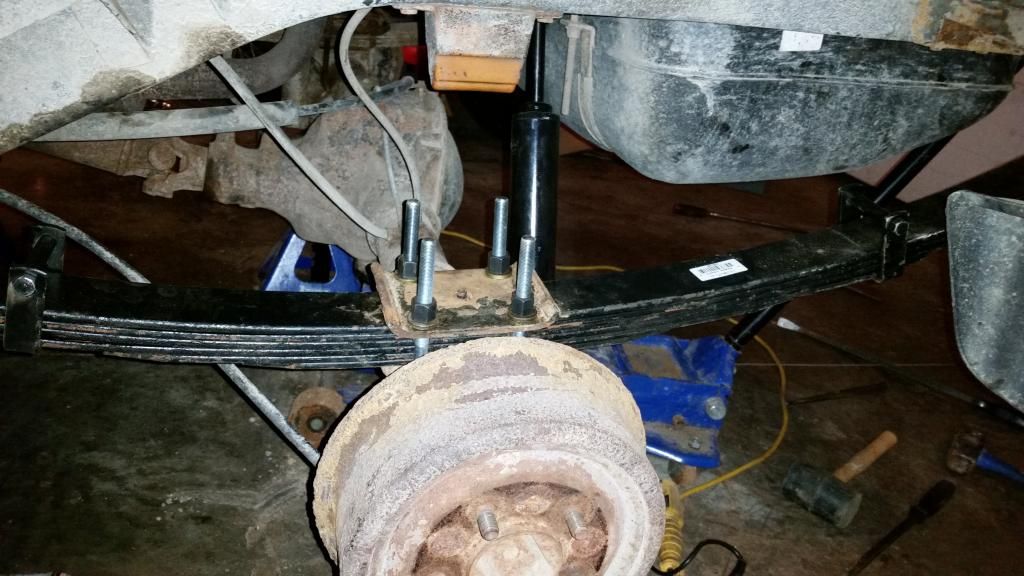 [/IMG]
On to the front, which I found much more straight forward. But I needed to muscle **** around a bit more, even with a spring compressor and the sway bar disconnected, I still had to flex a bit to get stuff in.
[IMG]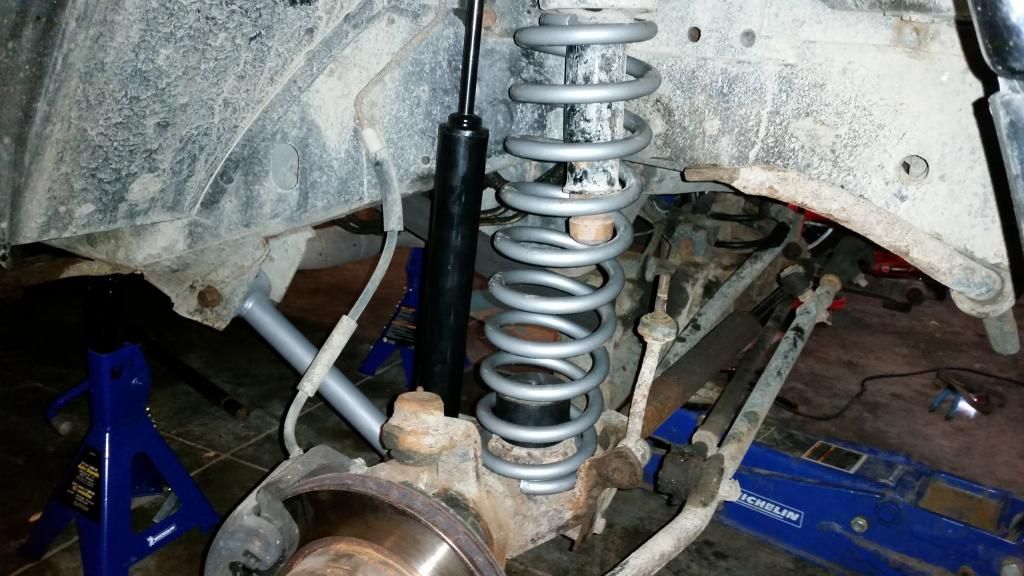 [/IMG]
The biggest pain in the *** of the whole job was the front driver's side upper shock bolt. Because of its slightly awkward position in the Jeep, we couldn't cut it off from the top, had to go at it from the bottom. Major pain, it was over an hour on the cutting disc to get it out. This is what was left;
[IMG]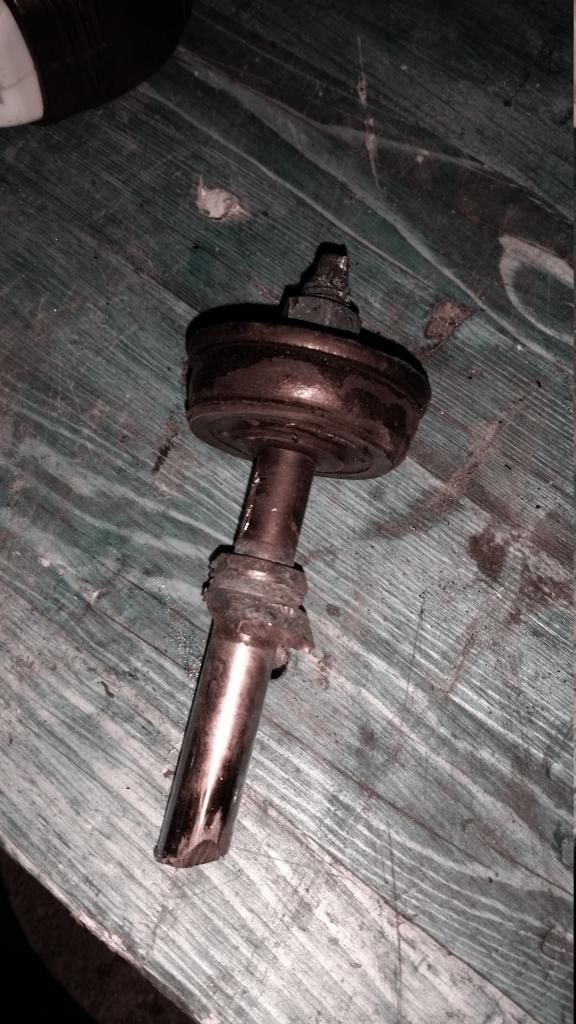 [/IMG]
So thats the story of my first ever lift installation, and I loved every minute of it. I still have a couple things left to it to 100% complete it as I ran out of time; I still need to install the transfer case drop and the sway bar disconnect. And next week I will have 31x10.5r15 Goodyear Wrangler Duratracs installed.
Here's how she stands as of right now.
[IMG]
[/IMG]
I guess the stock suspension was pretty sagged out, because my 3.5" lift kit gave me 6" in the back, and 5.5" on the front!
Next on my list of to-do's;
-install sway bar disconnect
-install transfer case drop
-install new rubber
-get front bumper and winch
-rear bumper and tire carrier.
After that, the sky's the limit.
Thanks for reading and check back for updates, and thanks again to those who shared their issues before me.
-upliftmofo