I thought I would start this build thread to keep track of everything I do and so I can get opinions from everyone on what I am doing.
Already Done:
4" Lift Kit (unsure of the brand)
20" XD Rockstars with 32" Nitto Terra Grapplers (Traded wheels and tires and $100)
NP231 Transfer Case 23 Spline (Craigslist for $150)
Buchanan 1.5" Seat Risers
Wishlist:
Ford 8.8 Rear Axle
Corbeau A4 Seats in Red or have the original seat redone in red
Monstaline the Interior of the tub black
Monstaline the exterior of the tub white
Monstaline the underside of the tub black
Crate Inline 6 Engine
AX-15 Transmission
Soft Top and Frame
Hard Top
Full Hard Doors
Poison Spyder Trail Cage Upgrade Front & Rear with Grab Handles
Poison Spyder Hood Louver
Smittybilt XRC Front & Rear Bumper with Tire Carrier
35" Tires or larger
Chassis Saver from Monstaliner before bed liner
Poison Spider TJ Hood Louver
Metalcloak Overline Tube Fenders
Metalcloak 4" Overline Flat Flare
Metalcloak Full Corner Guards
Metalcloak 4" Rear Flare
Poison SPyder TJ Ricochet Rockers
Brown Dog Motor Mounts
12/8/13
Bought the Jeep from my cousin. It has a blown 4 cylinder engine so my plan is to replace it with the I6. I know that a lot of people on here would recommend a V8 or a diesel swap but this is my first major project so I am starting off slow. Basically the whole Jeep was trashed and what wasn't trashed on the Jeep my cousin pawned to fund his bad habit. So basically there was no radio, speakers, soft top, soft top frame…nothing. He had a windjammer top on it that was trashed. The back window on that top was held up with safety pins. The only good thing on the Jeep was the tires which he had put on about 350-400 miles before the engine blew on him. Here is a picture of how it looked when I got it.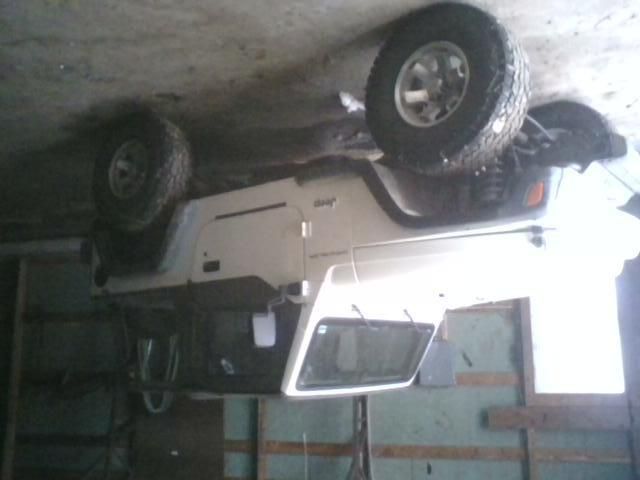 The entire dash was caked in mud as well as basically every part on the interior of the Jeep. I tore out all the carpet and took out the dash and basically stripped the entire interior in preparation of the Monstaliner interior that I will hopefully be getting to soon.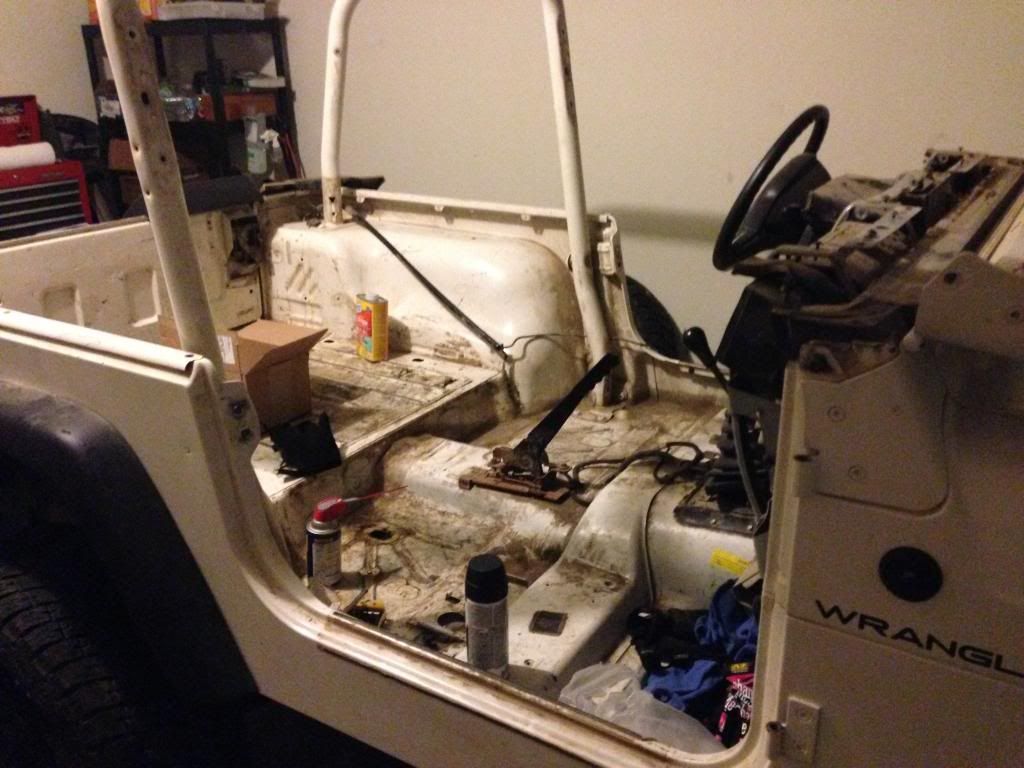 The seats were also torn and the plastic over the gauge cluster was broken and the windshield is shattered. Needless to say he didn't take very good care of the Jeep. Anyway I was looking around on craigslist because I knew I was going to need a AX-15 transmission to replace the AX-5 transmission and a 23 spline transfer case to replace the 21 spline transfer case. I found a 23 spline NP231 out of a cherokee for $200 so I called the guy and offered him $150 and he took it so I plan on rebuilding that with all new internals. Also while I was on craigslist I found a guy with a set of 20" Rockstars with the 32" Nitto's for $1200 which I know most of you guys probably hate those wheels but I really like them so I threw my wheels and tires on craigslist for $900 and ended up selling them for $800 so I called the guy with the Rockstars and offered him $900 and he took it. The best part is they came with a matching spare so I got 5 wheels and 5 tires for $900. I'm pretty excited about that.
Here are the wheels and tires I had: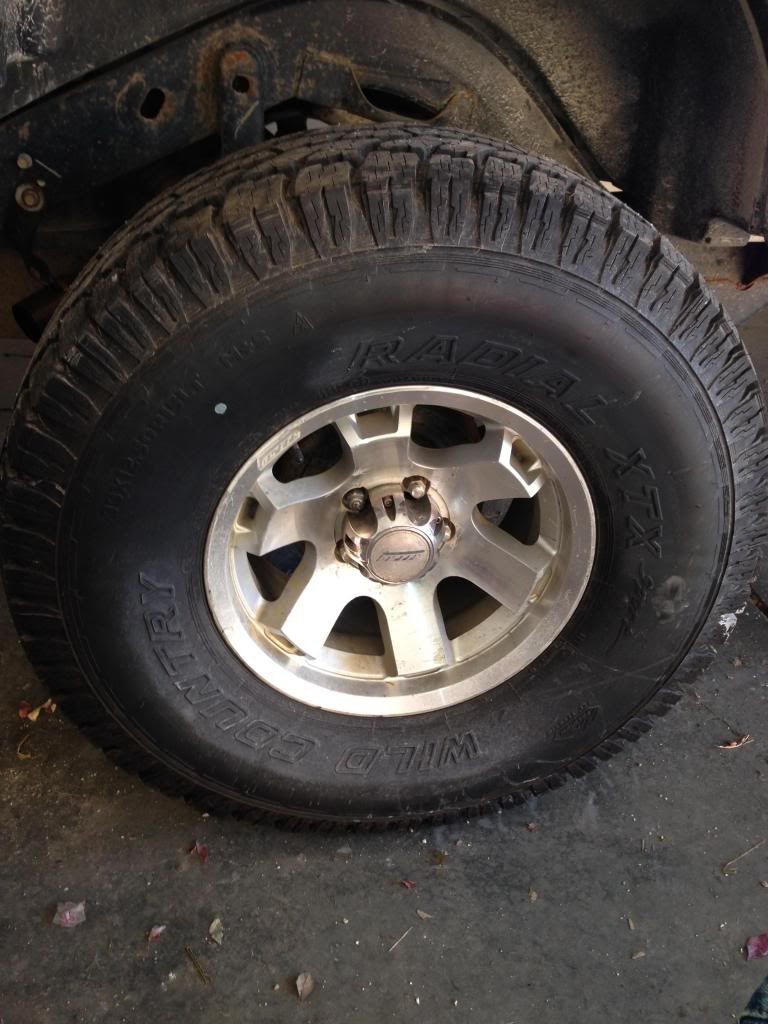 Here are the Rockstars: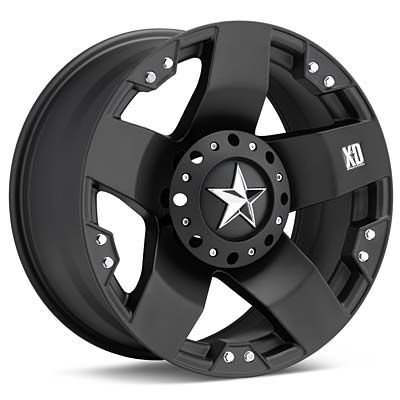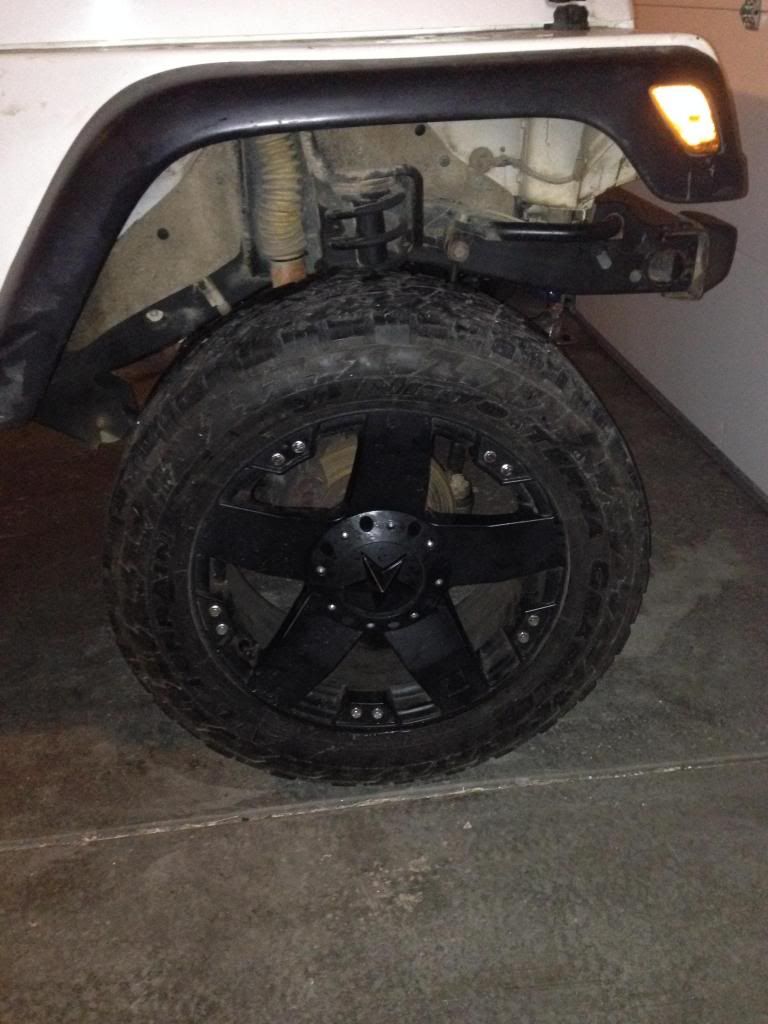 Anyway that is all I have done for now but I have big plans for her. I plan on Metalcloak flat fenders and rear corners, Poison Spyder cage upgrades and maybe rock sliders, hard top, full hard doors, replace/recover seats, Poison Spyder hood louver, Smittybilt bumpers and tire carrier and a Ford 8.8 rear axle. Thats just the beginning I am still planning a ton of things to make her look nice!