Actually, there has been a little progress. However, since the weather is finally nice, I expect very slow progress on this build while I maintain a few things on the 2005, and maybe even get some wheeling in, among other things. (I have a new steering stabilizer that needs to be installed, and I need to figure out what to do about the brakes. I need an upgrade, but word around the campfire is the Vanco kit is no longer in existence, or unavailable indefinitely, and that was really my only choice.)
I started the cut for the highline: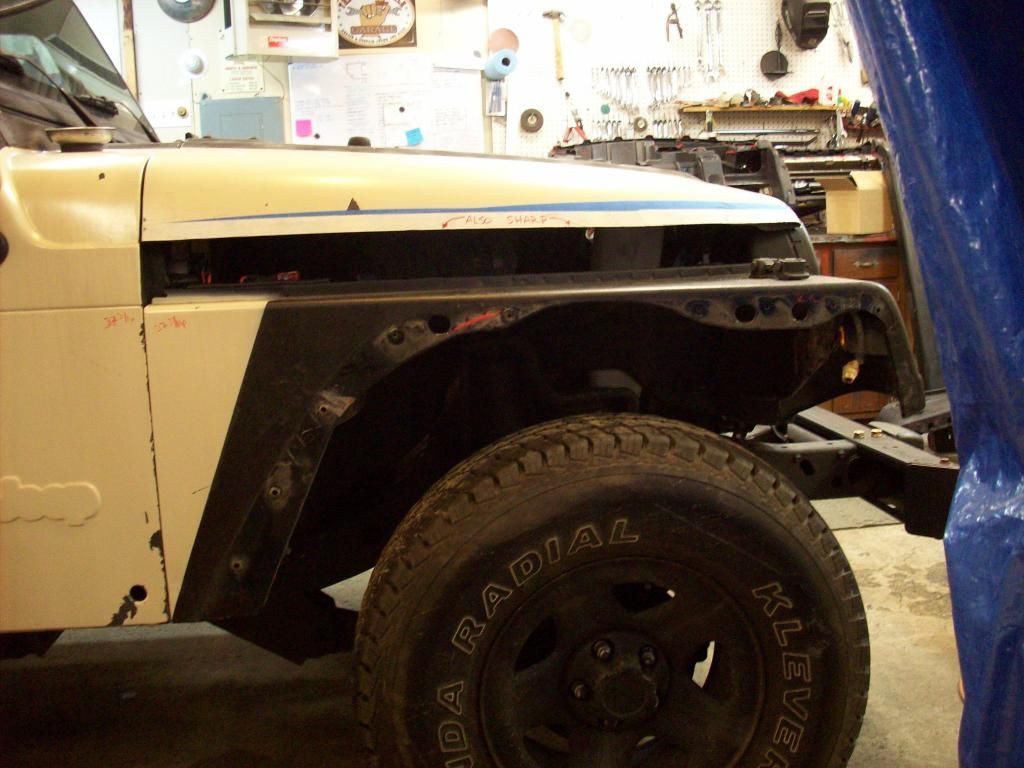 I used my jigsaw with a new blade to make the cut. I thought this would be easier to keep straight than anything else I have in my cutting arsenal. I cut the driver side first and it's pretty straight. The passenger side came out a bit better. For that side, I put some tape on the hood, then merged two of my squares and drug it across the top of the fender and the tape, making an indentation 3.5" above the fender. I then put a couple more layers of tape on that line and it helped keep the saw nice and straight. This is how I will do my next one.
I started fitting up my fenders, which I bought as a DIY kit from a small vendor here on JF. My initial impression is not that great. None of the holes line up correctly. The tub side are cut too low, making the piece too high, and the grille side don't line up at all (holes are spaced ~2.5", the grille is spaced at 3".) Nothing that I can't overcome, but it's going to add time that I don't have to make everything fit correctly. I should have just bought the tubes and cut the rest myself so I could control the quality better.
Right now I have the front fenders removed and I've been driving it without a top, fenders or front turn signals, and tape on the hood.