Next I had to deal with the transmission fluid leak that was driving me crazy. Turns out it was the selector shaft seal. I'm still having issues with this off and on. I've replaced it a total of 3 times and after about 8 months it will start leaking again.
Eventually I wound up having the annoying ignition problems these engines are prone to. My solution:
Thats the ford style ICM ($25 rather than $105 for the identical Jeep one) with the plugs switched to the jeep style. I also moved it to the fender where it gets more air-flow to keep it from overheating. This worked beautifully.
I took it wheeling (nothing crazy, mostly just trails for fun) and camping quite a bit. Though I didnt get too many pictures of it.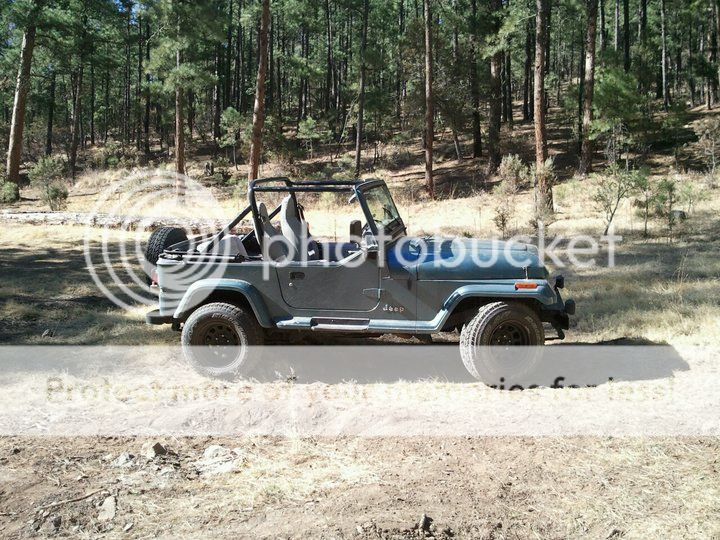 I also wound up replacing the canister ignition coil with a true TFI style coil which again provided noticeable improvement:
Last February I finally got the funds together to lift it and do some other work to it.
Here's all the stuff ready to go on the jeep:
Bottom of the rocker panel prior to the lift:
Bottom of the rocker panel after the lift:
Thats a RE 2.5" lift kit. I couldnt be happier with it.
Here it is post-lift but before the new tires:
And with the new 31" duratracs:
I also purchased a custom-built rear bumper / swingout similar to what BESRK makes and had the reinforcements welded to the frame:
This was to pull the little off-road camping trailer we started making payments on to purchase from a friend:
Next came the Chile Challenge: I ran 4 trails that year, though I didnt get any pictures of the jeep in action as I was the only one in my vehicle.
A shot of one of the extreme trails at the Chile Challenge:
This is the way I drive it 9 months out of the year:
Another camping trip:
Installed an auto trans cooler to help with towing the trailer up into the mountains:
Electro-luminescent gauges that my (then) fiance purchased for me for christmas. They were for 91-95 YJs but with a little modification they work, and only the clock doesnt light up.