Ok, this is the point where someone needs to slap me around and tell me to finish some projects before ordering more parts
I have decided to centralize all of the accessory wiring. I am going to set up a board or box to house a fuse panel and relays, with a common 12V and ground. I figure with a 50" light bar, pair of duallys, 13" light bar, CB radio, winch, sub amp, rock lights to come, camera setup to come, etc. it is time to get this cleaned up. The amp, winch, and this setup should be the only items connected directly to the battery.
I started by ordering 10 relays with female connectors with pigtails. The female connectors are not completely necessary, but they make the connection fool proof and the color coded wires will help my brain, and it needs all it can get these days. I don't need 10 today, but of course will be adding items as time goes on...rock lights, cameras, rear lights, etc. so better to have extra ready to go now.
I really like the Blue Sea fuse panel as it comes with a cover and labels. Under that cover is a 12 terminal fuse block with ground panel, all with common 12v and ground. What I don't like about this item is the cost. It comes in around $50 shipped. With the concept in my eye, and a cheaper price on my mind, I found this panel. It is a marine fuse panel (14 fuse pictured, but mine ordered with 10) that has all of the same features as the Blue Sea panel, except for the cover. It uses spade connections vs the screw-type of the BS panel. I like the cover and the screw-type connections, but I liked the $19 price tag of this one better.
My next step is to decide whether I will mount these to a flat panel or inside a box. I like the idea of a plastic 'project box' like you can get from Radio Shack. The fit will be tight, which is fine other than the process of mounting everything in there. The option to seal it water tight is appealing; however, I am not really sure that is necessary considering nothing is that way currently.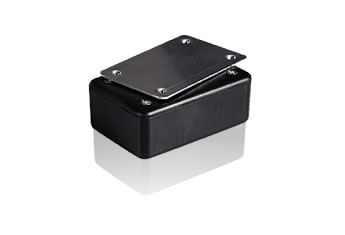 The final step is going to be finding a multi wire loom that I can run from the box behind the dash to the switches. All of my lights are and will be switched using custom OTRATTW switches.