So one of my many small projects it making a tailgate license plate/third brake light/cb antenna mount. There are a couple options out there for this, but I had the sheet steel, so why not make my own....not to mention, the version I am copying does not have much room to add a 3rd brake light as I am wanting.
For reference, this TNT version is the design I am working off of....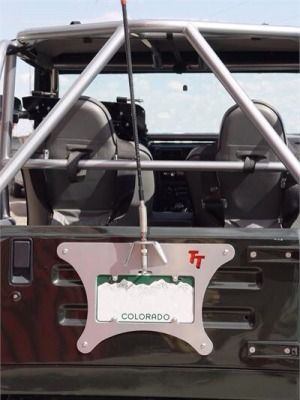 I cut the sheet to the basic size I needed to work with. Next the four main bolt holes were lined up and drilled. With the plate hanging, I was able to line up the license plate, which determines where the 3rd brake light and cb antenna will go.
To keep 5-0 happy, I bought a set of plate LED light bolts on ebay for a couple bucks. From what I have seen, they are plenty bright.
For the 3rd brake light, I found a short LED bar. I have 4" round LED tail lights to go in, so I wanted to keep all of the rear lights LED for the same intensity and look.
The CB antenna mount will go in about the same place as with the TNT version.
Once the 3rd brake light is located for good, I can determine how high I will cut the bottom radius. I will also do the side curves at the same time.
Since there is no need for all of the material behind the license plate, I will cut out most of the plate behind it.