Current build pic.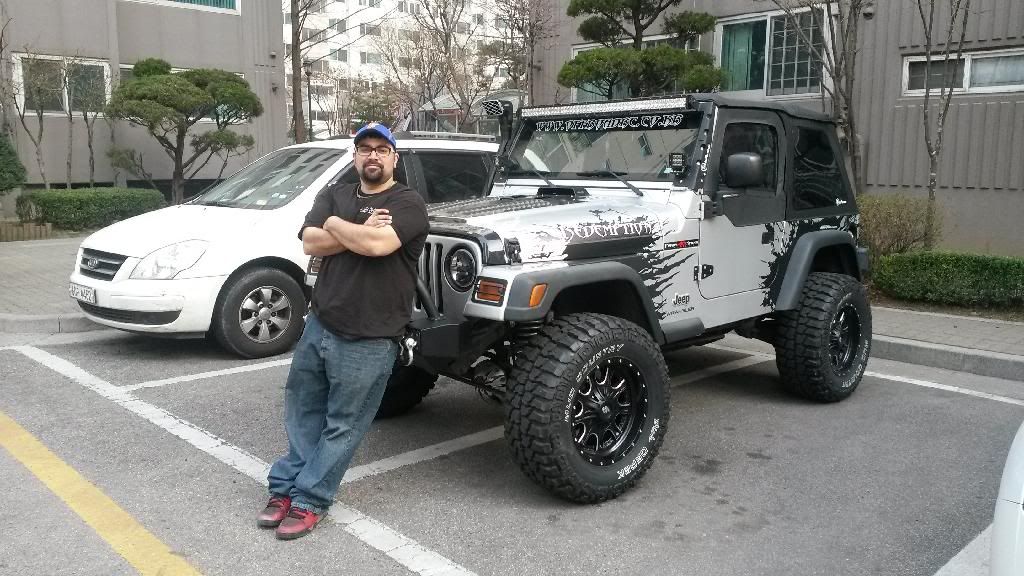 Jeep Name: REDEMPTION
Mods:
INTERIOR:
TREK ARMOR Front Seat covers with Custom grey Molle webbing and logo.
TREK ARMOR Rear Seat Cover
TREK ARMOR Paracord Graphite/Black Grab handles front and Rear
TREK ARMOR Fire Extinguisher Holder
TREK ARMOR Graphite Pouches
TREK ARMOR First AID KIT
SMITTYBILT Over Head Gear Panel
SMITTYBILT REAR DOOR MOLLE Panel and Pouches
SMITTYBILT Door Panels
KIDDE Silver Electrical Fire Extinguisher
MOPAR Rock Key
ELECTRONICS:
OPTIMA Yellow Top Battery
SPOD overhead switch Panel and SOURCE
BOSS 7 inch Touch Screen BT In dash Player
ENGO 50 Inch LED Bar SPOT/Flood Combo
ENGO E2 LED Flood Lights
TRUCK-LITE LED Head Lights
ISAW action Cameras Front and Rear
Infinity Speakers front and rear
EXTERIOR:
HMF LED BAR Windshield Plus Mounts
Rough Country Stubby Hybrid winch Bumper
Rough Country Bumper Light bar
Rough Country BUMPER D Rings
Rough Country 3.25 Lift Kit
Rough Country 1.5 Wheel Spacers
Rough Country Steering Stabilizer
Rough Country Rear RCX Diff Armor
Poison Spyder Hood Louver
Poison Spyder Front Diff Armor
Antenna X Offroad Antenna
Painted Headlight Bezel Flat Black
AVS Aerostyle Wind Jammer
Rugged Ridge Black Billet Grill Inserts
Rugged Ridge XHD Billet HOOD Lock downs
BESTTOP NX Frameless Trek TOP
MOTIVE 4.88 Gears and Bearing Kits
SMITTYBILT Rear Tail light Guards
Rugged Ridge Front Reflector guards
Drake Brushed Aluminum locking Fuel cap
MOTOSTK Custom Graphics Film 3M 1080 Brushed Aluminum Film
BUSHWACKER Cowl Scoop 3M wrapped Brushed Aluminum
ARB SAFARI Snorkel 3M wrapped Brushed Aluminum
Jeep Support the wave Decals YAAAA! Support the Wave!
WHEELS AND TIRES:
Dick Cepek Mud Country 33x12.50x17
Large Rim Group LRG 105s 17x9
Ordered and Enroute via the USPS
Metal Cloak stocker knocker Rock sliders
VIPER 5000 Alarm and Motion detector
Spiderwebshade Silver TJ full Cage
Poison Spyder Steering Armor
Poison Spyder winch fair lead
TJ MAD GRILL will be installed tomorrow!
Carolina Metal Masters LED Bar Locking nuts
ENGO 20 inch LED bar waiting on HMF brackets for front bumper.
Story: My Jeep Redemption is not just a jeep but a symbol for me. The name Redemption was given for 3 reasons. When I was a soldier back in 2000 I owned a 99 Tj and as a private in the 82nd Airborne only had enough cash to pay for the insurance, the payments and life. I couldn't do anything I wanted to and it was then sent to South Korea and couldn't take it with me. While I was away my mother had an accident in the jeep almost totaling it, coming back now married to a Beautiful Korean girl I was then sent straight to IRAQ and she stayed in Korea. After my tour in the sand box I went back to the states and then left back to Korea to live and work. Jeeps not being a common vehicle here they are rarely seen and very expensive in Korea. I then seen a JEEP parked at a local parking spot for people coming in and out of Country on tour and it sat there for 2 years. I stopped everyday for a year hoping for a sale sign and it never came, finally I took the a pic of the license plate and took it to the Local Police on base and they tracked the owner down for me. I contacted him and after a month of bugging the crap out of him he sold me a 2003 TJ with 27,000 miles for $3500 Dollars. The jeep was in almost excellent shape minus not having a top and for 2 years a little weather had gotten through the bikini top, some mold and alot of cleaning had to be done, and after 6 hours of steam cleaning it was like new. Being 100% completely stock I went to work and this is what it's become. Redemption for the jeep being abandoned for 2 years, Redemption for my first TJ and me not getting to get here to her full potential and Redemption for myself, we all seek it. Id also like to note all these upgrades have been done since Nov 2013 when I purchased the Jeep. The transformation and obstacles I've had to overcome with living in Korea have been crazy, getting parts here is an absolute nightmare as well as finding a shop to assist with things. I live in 25 floor apartment and most my upgrades have been done in my Basement garage at 1am in the morning due to my job and my kids. It has not been an easy ride but dang fun and rewarding when the necks break looking at my creation. Built Not Bought, Project Redemption from Seoul South Korea.
Now for some pics!
How she sat when I got her
Top off and cleaning a bit
Dead battery replaced with the Optima!
The guy steam cleaing the hell out of it!
I got to actually put the 27000th mile on her!
As soon as I got her home my boy fell in love!
My Boy with a couple of our RCs hiking!
Thanks for looking. I have a couple upgrades I will post soon!
Brandon aka LIK