Hey Guys,
Brandon aka LIK here. Just wanted to let all know a bit about me and my Jeep Build here in Korea.
Well first off about the Jeep its a 2003 SE TJ with 27000 Miles on it and only cost me $3500! How do you ask, well its not a bad story.
In Korea and on base you really cant have more than 1 vehicle, you can have mulitple but you must have command approval. Well me always wanting a jeep we drove by the for sale lot every sunday after church and there sat a silver jeep with no for sale sign and not parking permit. Well we drove past it for about a 8 months until I decided to find out if it was just abandoned and in my mind im thinking FREE JEEP! haha, but after visiting the local Military Police office and them giving me the run around for about a week I found the local owner. I tried to contact him for about a month and then final was able to talk to him and he basically already had a car registered and motorcylce and couldnt register another due to our strict rules, I offered to but it and he said sure let me come up with a price, I said sure and he would call me back tomorrow after he check the Blue book. Well after checking the blue book on it, it was about 12500 for it and I was like damn the wife is never gonna let me get it for that so I was a little nervous about what he was going to ask for it. The jeep had been sitting for about 2 years in the same spot with only a bikini top and a bestop cover over the front and back so needless to say it had mold growing on top of the mold inside haha. This being known the guy didnt want to over charge me and said he had checked the bluebook and he thought they were crazy, he told me he would ask 4000 strongly negtioble haha so I said basicalyl because Im american I gotta ask for it for 3500 and he accepted LOL! I couldnt believe it and I still cant that I got the jeep for that price. It had a dirty inside and a dead battery, thats it, 27,000 miles. So I turned around a put a optima yellow top battery in it and drove it away, spent another 160 bucks and got a guy to come out and steam clean it for 6 hours and it now looks brand new on the inside and im having a blast shopping for it! Thanks for reading through all that and if you did good job haha. I hope to build and share with you guys the whole way and with your help hopefully build an awesome rig.
Just a bit about me, I also build and own an RC car shop that specializes in OFFROAD cars liek the Axial Rubicon and Wraith. I love building and hopefully will build an awesome shop jeep with your guys help!
Current build pic.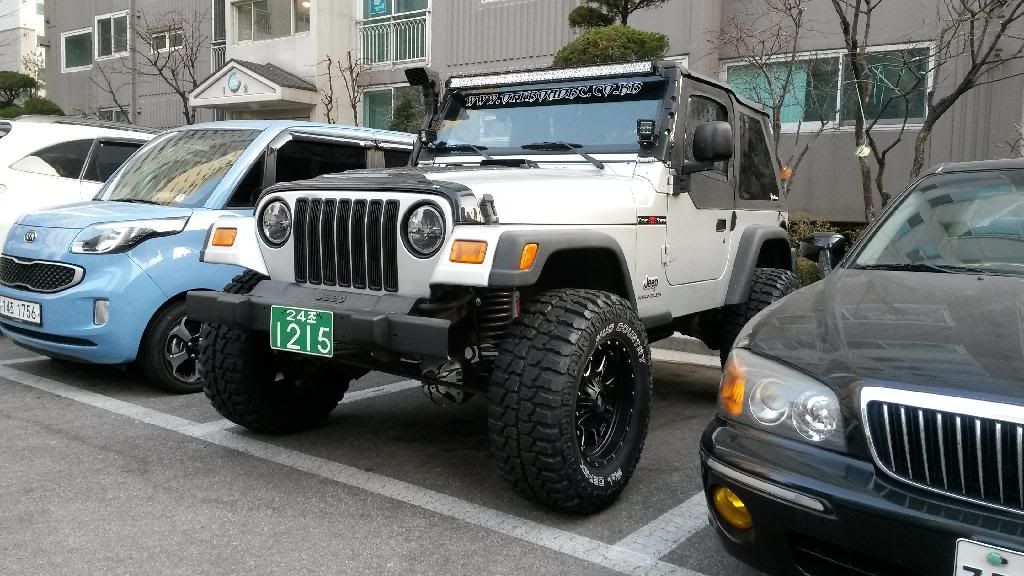 Rough Country 3.25 lift kit
Motive 4.88 Gearing
Front Poison Spyder Diff Cover
RCX Rear Diff Armor
RCX 1.5 Wheel Spacers
Dick Cepek Mud Country 33x12.50x17s
LRG 105 17x9 Wheels
Truck Lite LED Headlights
Rugged Ridge Billet Grill inserts
AVS Wind Jammer
Poison Spyder Hood Louver
HMF 50 inch LED and Plus Mount
Engo 50 inch LED Bar
Engo E2 FLood Lights
Safari Snorkel with Brushed Aluminum 3m wrapping
SPOD and Source Switch Panel
Trek Armor graphite and black grab handles front and rear
Trek armor Front and rear seat covers and custom silver Molle Webbing
Trek Armor graphite pouches
Smittybilt GEAR over Head Panel
Smittybilt Rear Panel and door panels
Optima Yellow Top Battery
7 inch BOSS Single Din Flip Screen
Bestop Trek NX frameless Soft top
Bushwacker Hood/Cowl Scoop
Thats it so far!
Now for some pics!
How she sat when I got her
Top off and cleaning a bit
Dead battery replaced with the Optima!
The guy steam cleaing the hell out of it!
I got to actually put the 27000th mile on her!
As soon as I got her home my boy fell in love!
My Boy with a couple of our RCs hiking!
Thanks for looking. I have a couple upgrades I will post soon!
Brandon aka LIK