Registered User
Join Date: Mar 2011
Location: ferndale
Posts: 23
TJ Budget Build Turned Daily Driver
---
So I bought this 98' TJ with a 4.0L, 5spd trans and 180k for $1,800. It was going to be my summer toy/project. I planned to do a mild lift, run 33's and just enjoy it. In Michigan we have a lot of mud, and thats just not what I am into. Ya it looks cool splattered all over the Jeep but it is just a mess and ruins so much stuff. So I wanted to make this more of a trail Jeep, run 33x10.5 or 33x11.5's if I could find them. Had planned on a 3-4" lift, then I discovered how much more work and money is need for a 4".
I bought some use spacers for Jeep ($70), some used Rubicon springs to ditch the old saggy springs ($60), and a new in box 1" body lift for $50. Then I started looking into shocks and what else I would need. I came to the conclusion that a Zone Offroad 3" lift would actually end up costing me less then trying to piece together this frankinlift. So Starting last weekend I posted some of my stuff for sale, sold the body lift and spacers right away. Still have the springs.
This Jeep is going to be my daily now as my F150 has to much rust and I would rather get rid of it then watch the rest spread. I hope to get another truck in a few months, as I am really a truck guy.
I got the Jeep in March, it came with both tops, an insta trunk, a blown bass tube, dry rotted tires that don't hold air to well, but the only real rust to speak of is on the drivers side rocker.
Here is a pic of it the day I brought it home.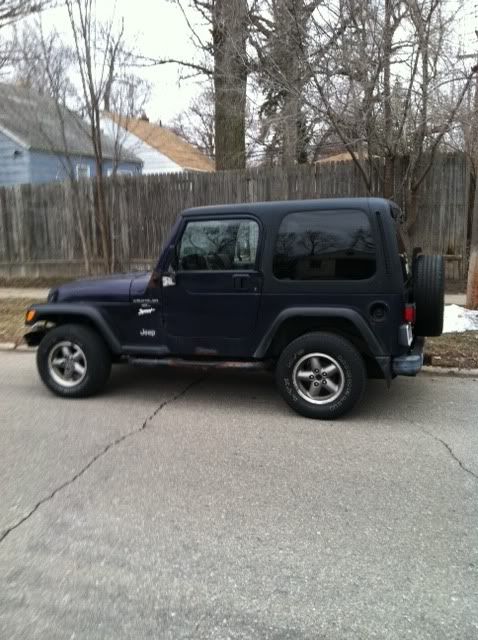 Here it is a few weeks later after I trimmed the front bumper and put the soft top on. Its the original soft top, the side windows aren't bad but the back window is tough to see out of. All zippers work and only one small hole. I also installed the Big Boy seat brackets to relocate the drivers seat. I am 6'4" and this really made it a lot more comfortable to work the clutch. I also removed the rear seat and seatbelts.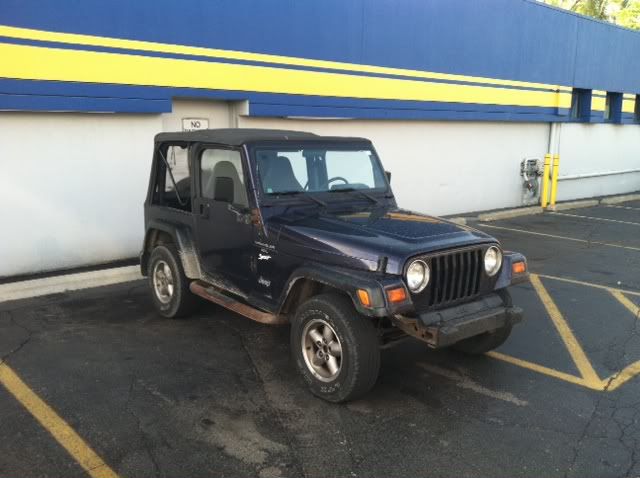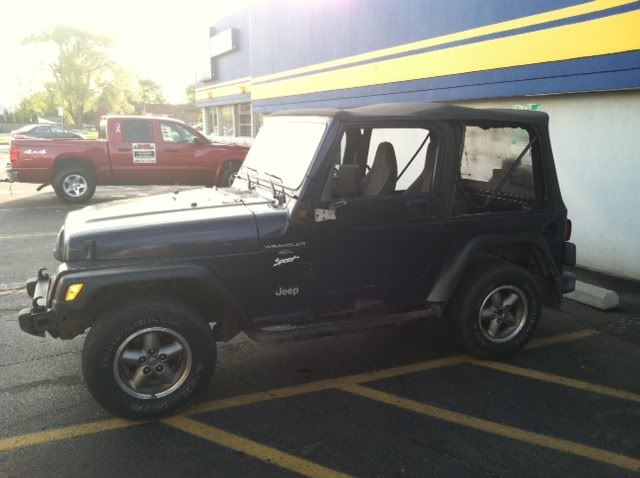 Registered User
Join Date: Mar 2011
Location: ferndale
Posts: 23
Since having the Jeep I have replaced the leaky exhaust manifold with a brand new in box Banks that I got on craigslist for $200. I ordered the gasket from the dealer and the whole process took me about two days because the first try I did not get it properly seated on the front dowel.
I have also replaced the water pump, thermostat, that metal coolant line that runs into the water pump, and the upstream o2 sensor. It has a newer radiator that is about a year old, so I am hoping the cooling system will be good for a while yet.
Here is the old manifold.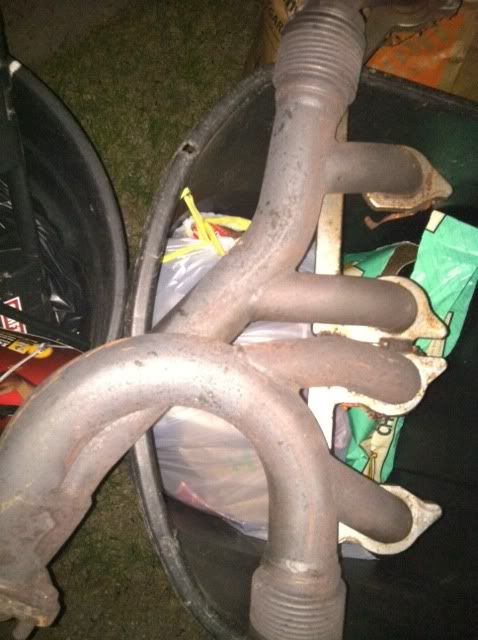 I have also picked up a Tomken rear swingout tire carrier with 2 jerry-can holders for $50 on craigslist. The owner provided me all the hardware and all the original paperwork. I am waiting to put this on until I can either repaint it or get some bed liner on it.
In related news it looks like I am putting an offer in on a house today. This would be me first home so the 3" lift and 33's is going to take the back burner. I think I am going to put the rubicon springs on to freashen up the look and run 31"s for the next few months or so to get me by.
I have this week off work so I ordered the gallon kit of monstaliner and did the promo with free shipping and a free quart of chasis saver. I figure this will be a great time to address the rust on my rockers, gut the Jeep and do the bed liner inside since the carpet is shot. I still have my truck so I want to get this done while I can allow the appropriate amount of time for the process.
I am on the lookout for some rocker protection to cover up the repair/touch up, and I am going to try to get those step bars off again this week. I really need air tools but I might just cut them off at the mount for now.
Currently Active Users Viewing This Thread: 1

(0 members and 1 guests)