So I bought this 98' TJ with a 4.0L, 5spd trans and 180k for $1,800. It was going to be my summer toy/project. I planned to do a mild lift, run 33's and just enjoy it. In Michigan we have a lot of mud, and thats just not what I am into. Ya it looks cool splattered all over the Jeep but it is just a mess and ruins so much stuff. So I wanted to make this more of a trail Jeep, run 33x10.5 or 33x11.5's if I could find them. Had planned on a 3-4" lift, then I discovered how much more work and money is need for a 4".
I bought some use spacers for Jeep ($70), some used Rubicon springs to ditch the old saggy springs ($60), and a new in box 1" body lift for $50. Then I started looking into shocks and what else I would need. I came to the conclusion that a Zone Offroad 3" lift would actually end up costing me less then trying to piece together this frankinlift. So Starting last weekend I posted some of my stuff for sale, sold the body lift and spacers right away. Still have the springs.
This Jeep is going to be my daily now as my F150 has to much rust and I would rather get rid of it then watch the rest spread. I hope to get another truck in a few months, as I am really a truck guy.
I got the Jeep in March, it came with both tops, an insta trunk, a blown bass tube, dry rotted tires that don't hold air to well, but the only real rust to speak of is on the drivers side rocker.
Here is a pic of it the day I brought it home.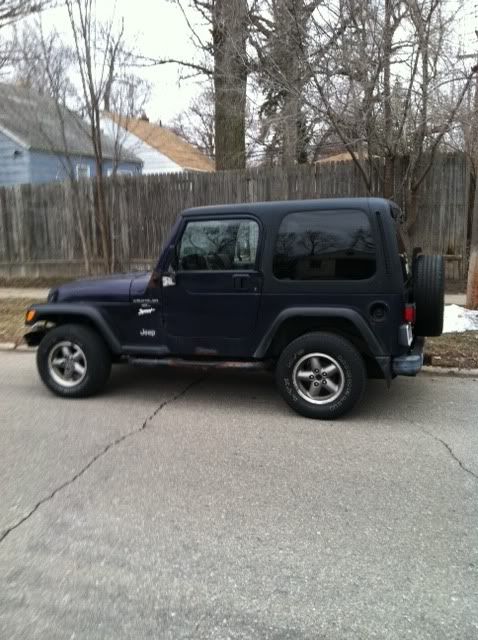 Here it is a few weeks later after I trimmed the front bumper and put the soft top on. Its the original soft top, the side windows aren't bad but the back window is tough to see out of. All zippers work and only one small hole. I also installed the Big Boy seat brackets to relocate the drivers seat. I am 6'4" and this really made it a lot more comfortable to work the clutch. I also removed the rear seat and seatbelts.