A Teenager with a Dream
---
Alright guys! As promised, here is where I will start my YJ Build Thread. I'll start by telling a little bit about myself and how I became a jeeper, and then we will get into the humble build.
I am Carlos Chavira, A 2012 high school graduate out of NC and soon to be student at Southeastern University in Lakeland Fl. I will be studying Youth Ministry and later taking that where ever I shall be led! This is now my second jeep. My first was a 1986 jeep Cherokee XJ. Bought stock and built it up a little bit.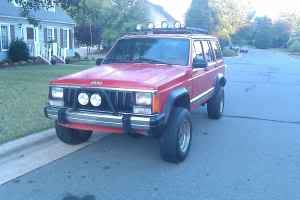 I loved that thing, but something else had caught my eye.. My girlfriend knew a guy who was trying to sell his wrangler, and I immediately made myself in the market for one. This one.
that is a picture taken from the PO's driveway.
I sold the XJ and bought the YJ in November of 2011.
It didn't take long to get that top and doors off, even if it was a December day in NC.
except for the wheels, it was pretty close to stock. It wouldn't be for long!
---
Luck Favours The Prepared