Super Slow Silver TJ Build
---
have been a long time lurker, but thought I would finally start a build thread now that I am doing some mods. Some of you may recognize me from the Off Road Action website and Facebook page. I grew up around the vintage and still love it, but the TJ is a lot more practical daily driver and camping rig than a CJ-5.
I bought this about a year ago. It is a 2005 TJ with a 4.0, 6 speed manual transmission, Dana 44 rear diff with disc brakes and factory limited slip. The previous owner installed a Warn rear bumper that is ready for the spare tire carrier, as well as a K&N replacement filter. Honestly, I was looking for a 4Runner, Xterra, XJ or Grand Cherokee but memories of my old YJ popped into my memory bank when I drove past it on the lot. Granted, it was not the V8 powered YJ on 40's that I used to own, but I did not want that. The open air "Jeep Thing" thoughts made me catch the bug again. In hindsight, it probably would have been more practical to find something like my lifted Grand Cherokee that I used to have. It was in great shape with low miles, though.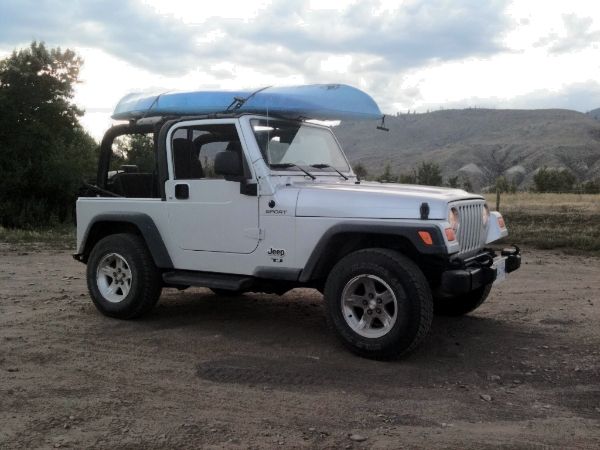 The previous owner chased me down one day and gave me the history on the Jeep. He traded it in to buy a 4 door JK. It was wheeled, but also maintained very well. Royal Purple synthetics all through and the thing was spotless. It did have some body work done on one side, though.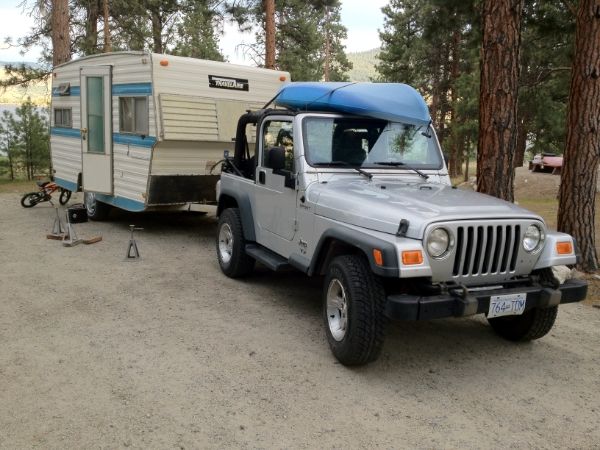 (Towed the ex g/f's trailer once. It actually handled not as bad as I thought it would!)
The object of the build, if it is even a real build, is for the Jeep to be a daily driver that I can do some mild four wheeling and camping with. I am lucky to have a new gf that love exploring as much as I do and has researched and organized the last few trips. She loves mud, however. Ugh. I have to start getting her to clean the Jeep after and see how much she likes it. My mudding days are over...The YJ on 40's was a bear to work on when mud keeps falling on you. Not much into the rock crawling stuff either, but will do it when needed. Do not mind the medium stuff, but not a fan of driving over rocks taller than my tires.
I want to keep a low centre of gravity. I have a picture in my head of what I want. My bank account says different. I am trying to pay the credit cards down. So for the next year, it will be little mods with a big emphasis on getting out and enjoying the Jeep.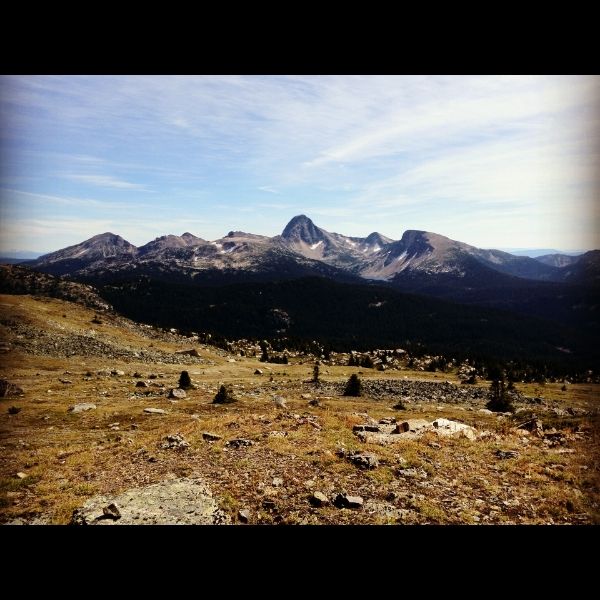 (Do I really need to go totally hardcore if I can get views like this in a stock TJ with careful driving?)
I have done no real mods over the last year. Flipped the mirror and swapped the sun visors. Exciting, eh? But I did get out and had fun!
Stage 1:
Basic Maintenance (diff fluids, clean air filter, clean IAC, coolant flush,etc)
Trim Frt Bumper
Repaint Flares
Homemade Swaybar Disconnects
Storage (I have a few ideas rolling around)
CB
Steering Box Skid Plate
Oil Pan Skid
Sliders
Relocate Breathers
Fire Extinguisher
Stage 2:
2 to 3" Lift (Most likely OME or another brand with Bilstein shocks)
1" Body Lift
33 x 10.50 Tires On Stock Rims or Metric Version On Rubi's
Tummy Tuck
Motor Mount Lift
Raise Fuel Tank
Fuel Tank Skid
Currie Anti Rock
---
Wes Kibble-Kamloops, BC
www.offroadaction.ca
http://www.jeepforum.com/forum/f22/super-slow-silver-tj-build-1531646
My Super Slow Silver Build